Self-Care Goals: Including Fashion & Style into Self-Care
Fashion and style can be used as a form of self-care!
More than a year and a half into the COVID-19 pandemic, the world is starting to feel a bit bigger day by day. But even as the world starts to open up again, we may still find ourselves burnt out from having to balance a million and one things including work, grocery shopping, the kids, planning upcoming functions, and oh, can't forget the dogs too! With the stressors of the pandemic still in play on top of all the daily to do's and routines, we need self-care more than ever!
The good thing is people are starting to prioritize self-care more and more now. From social media and TV to workplaces and politics, the concept of taking a moment to check in with your mental and physical state has become a mainstream idea. Yet, with so many roles to take on every single day, it's hard to find five minutes to yourself.
At Connected Apparel, we believe that fashion and style can be a form of self-care. After all, when you look good, you feel good, right?! We believe that you can incorporate 15 minutes of self-care during your daily "let's get ready for the day" routine!
But did you know that there are 8 types of self-care that we can attend to? Keep reading to learn more about types of self-care and how you can incorporate fashion and style within every category.
Looking good helps us feel good!
Being mindful and deliberate about what you choose to wear for the day is a great way to build up your self-care goals. Your intentional style choices can help ignite your inner confidence. But while this concept is simple, building the habit takes a conscious effort to achieve.
Dressing in a way that makes you feel put-together turns out to be a great (and easy) way to practice a bit of self-care every day. So, instead of quickly throwing on anything you can find in the morning rush, get into the habit of putting some time, care and consideration into what you wear on a day-to-day basis -- not just on the days when you have a special meeting or event to attend.
What does this look like? When you're getting ready for the day (or if you're choosing your outfit the night before), be deliberate about what you choose to wear. Ask yourself: "How do I want to feel today? Comfortable? Chic? Strong? Vibrant?" It's all possible!
Taking the time to choose an outfit you love, feel good in and that expresses your uniqueness shows the world around you that you take pride in who you are and that you are achieving your self-care goals . When you emanate positivity, you receive it in return.
8 different types of self-care and how to incorporate fashion into them
When you think of self-care, what do you think of? Emotional self-care? Physical self-care? Mental self-care? You're not wrong! Those are all forms of self-care, but did you know that there are 8 different categories of self-care we can attend to that affect different aspects of our lives?
These self-care categories include:
Professional self-care

Social self-care
Practical self-care
Spiritual self-care
Financial self-care
Emotional self-care
Physical self-care
Mental self-care
We're here to give you tips on how you can incorporate fashion and style into each of these categories.

1. Professional self-care
Professional self-care focuses on the things you do related to your career or work life. Practicing self-care while at work will lead to a more balanced and fulfilled work life, making you more productive while reducing stress. This can look like staying organized, setting boundaries with your boss and coworkers, evaluating your work load, taking mental health days, and making it a point to eat lunch away from your desk.
The easiest way to incorporate fashion and style into your professional self-care routine is to dress the part!
There's an old adage that says "dress for the job you want, not the job that you have." If there's a job or position you want, show up every day like you already have it, down to your professional style. Not only will this make you look good and feel great, but you can also channel that positive energy into your desired position while increasing your confidence to go after it.
And if you're looking for the perfect work dress that will make you look good and feel great, we recommend you try our Lisa dress! Lisa is our best selling dress and it's no wonder why. She's versatile, she's figure-flattering on all body shapes and sizes, and she comes in different styles, including the fuchsia Lisa 2.0 dress from Connected Apparel's Spring Collection and the classic black Lisa 2.0 dress, which is perfect professional style for year round! Explore more versions of the Lisa dress here.
While you're "dressed the part," channel your inner Wonder Woman!
Amy Cuddy, an American social psychologist, introduced the concept of Power Posing in 2010 when she suggested that standing in "high power" produces power by increasing testosterone and decreasing cortisol levels. In other words, standing in "Super Hero Pose" increases confidence allowing you to perform measurably better, according to a scientific study.
Not sure how to do a Super Hero Pose? It's easy! Stand all, put your feet apart, keep your chin up, and place your hands on your hips with your elbows bent. Think of our all time favorite female superhero, Wonder Woman, right before she goes into battle. Not only was she a strong woman who handled her business, but her accessories were always trending!
Need a visual example of the Super Hero Pose? Check out this clip from one of our favorite TV shows, Grey's Anatomy. Dr. Amiela Shepherd practices the Super Hero Pose right before going into surgery. Spoiler alert: The patient lives!
So, go ahead! Channel your inner Wonder Woman and practice your Super Hero Pose right before a big presentation, job interview, or whenever you need a small confidence boost. Don't forget; YOU GOT THIS!
Social self-care focuses on the actions you take related to nurturing your relationships with others including family, friends, coworkers, neighbors, and local communities. We are social beings and we require social interactions to feel good, loved, and overall, a sense of belonging.
With the pandemic keeping people apart, this can look different for everyone. For those that feel safe to socialize in person, this can mean brunch with your girlfriends, going out on dates with your significant other, and having weekly family dinner. For those that prefer to keep their distance, this can look like FaceTiming with your relatives who live out of town, throwing a Netflix viewing party with your friends, or playing with your dogs.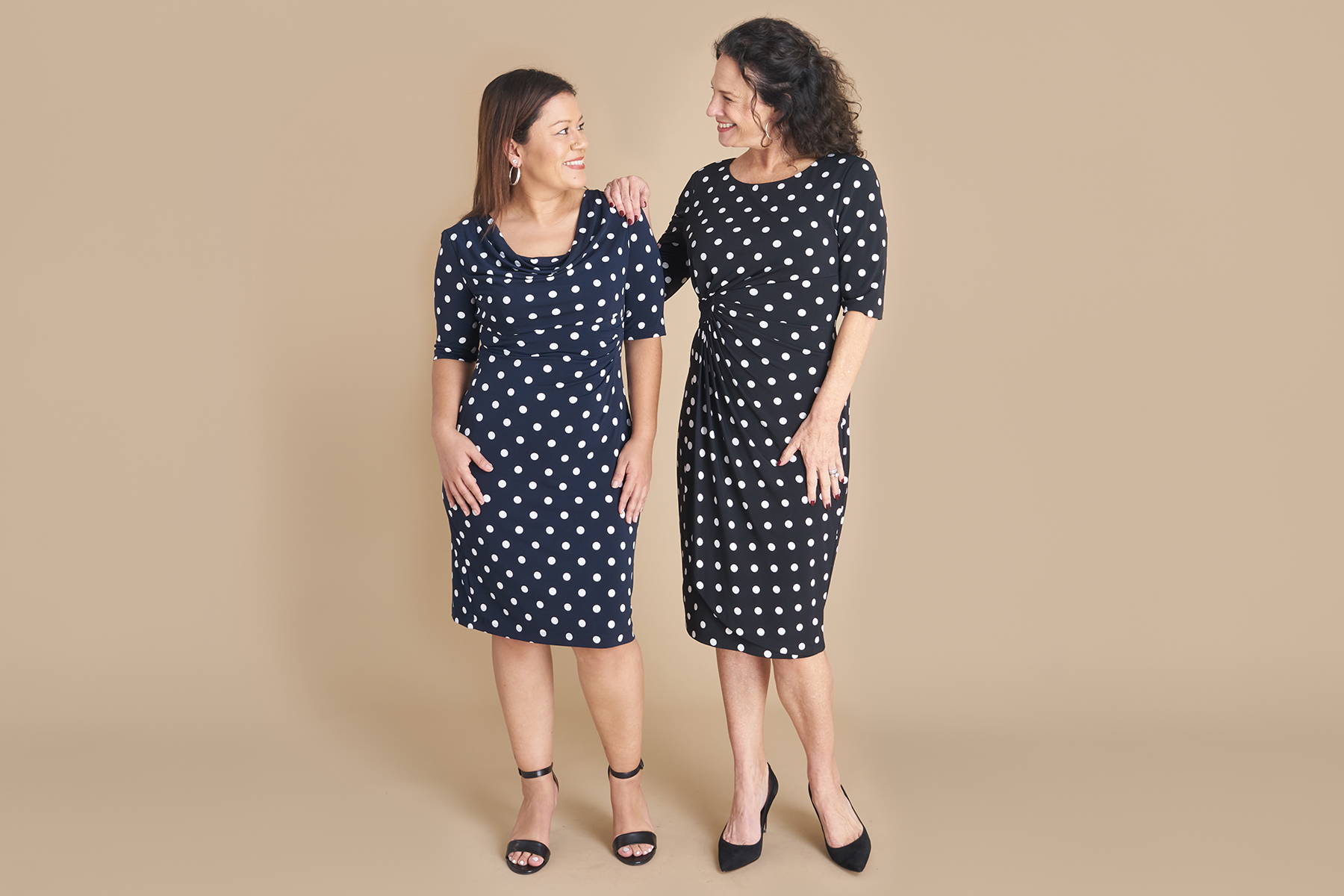 Incorporate fashion into your social self-care routine by inviting your girlfriends over to have a Sunday Style Brunch!
What's better than brunch? Brunch with friends and fashion! Can you say self-care goals?! Make it a point to schedule a Sunday Style Brunch with friends once a month. Encourage your friends to dress up and even have a fashion show to start off the brunch. Not only will you all look good, but also hearing your girlfriends "oooh" and "ahhh" at your outfit will give you that extra confidence boost you want heading into Monday morning. And of course, you will surely enjoy each other's company too!
Not sure what to wear for brunch? Don't worry, we have you covered! As brunch lovers ourselves, we go for a good dress or jumpsuits to show up to brunch in style. A few favorites include the Regina tie-front ivory jumpsuit or the Carly periwinkle floral chiffon dress. Looking to add more versatile pieces to your closet? Try out a monochrome bronze look featuring the CAxLZ Bianca open front cardigan, Milena tank top, and Christine straight leg pants, all from our exclusive CAxLZ Classics Collection.
Enjoy the tradition of retail therapy and bring your best friend along!
Find yourself with an itch to update your look and go shopping? We get it and we're not judging. A new dress is sure to bring a smile to our faces when we're feeling blue. Why not take this opportunity to practice social self-care and call your bestie to see if she's free to go shopping? Not only will you have an opportunity to catch up on all the latest TV shows and celebrity gossip you missed, but also you can be each other's stylist for the day!
Not comfortable going to the mall? Call her up anyway and send her a link to that new Melody tiered drop waist dress from Connected Apparel's Spring Collection. Ask her for her opinion. If she's not convinced, tell her it's a versatile dress you can wear on work days and on weekends! Oh, and did we mention it was under $100?!
To make things even more fun, set up a Zoom call with her and you can take turns sharing your screens to show each other the pieces you're interested in. Bonus points for video capability so you can see by her reaction when she falls in love with the pieces you've chosen!
Practical self-care focuses on healthy actions that reduce stress and anxiety in your everyday life. Afterall, one of the goals of self-care is to live a balanced, healthy life, ideally without stress and anxiety! These actions can be anything from meal prepping to organizing a junk drawer, creating a daily routine, managing your family's budget or even something as simple as updating the grocery list for the week.
You can incorporate fashion and style into practical self-care by learning how to take care of your clothes.
Knowing how to take care of your clothes is the key to making your favorite pieces last for years! With proper care, you'll be able to wear your favorite pieces year after year! And when you're choosing to buy pieces from Connected Apparel's Staples Collection, you know your dresses and jumpsuits will also be in fashion for years to come. Bobbi, CA's Head of Production, breaks down 5 of her favorite care tips here, including her #1: Always read the label!
Find a local tailor to ensure your clothes fit perfectly every time.
As Leanna, CA's Director of E-Commerce & Digital Marketing, will tell you: Tailoring matters! That's why, for incorporating fashion into practical self-care, it's important to find a local tailor to help ensure your clothes fit just right. There's nothing more frustrating than putting on an outfit you love on the hanger and then realizing it's not laying properly on your body. Then you have to figure out what else to wear and the stress comes rushing back!
Spiritual self-care is self-defining and typically focuses on how you connect with and nurture your soul or inner being. It's the feeling of being fulfilled and whole. Because the word spiritual can take on a religious meaning or not, this form of self-care will look different for every person. Generally, these types of self-care activities will make you feel good, rich, and hopeful.
You can incorporate fashion and style into your spiritual self-care practice by purchasing from brands who support and give back to communities and causes that matter to you.
Like all forms of self-care, spiritual self-care is about making mindful choices that support your overall well being. Spiritual self-care looks different for every person and can be as simple as aligning your choices to your values, including where you shop. If you align your shopping purchases with a brand who supports your values, then you're doing good while you shop!
We love this idea of incorporating fashion and style into spiritual self-care, so we've decided to make it easy for our customers to do good for others while helping themselves feel their best! We're a firm believer in supporting women's universal well-being. So we created an opportunity for you to help us in donating to four women-owned and operated charities that focus on helping women and girls feel their best in their own skin.
Black Women for Wellness is a multi-generational, community-based organization committed to the health and well-being of Black women and girls by building healthy communities through access and development of health education, awareness, empowerment and advocacy opportunities and activities.
Beauty Redefined is a nonprofit run by identical twins Lindsay & Lexie Kite, Ph.D., leading experts in the field of positive body image and resilience. Their mantra is: "Women are more than just bodies. When we see more, we can be more." They have a passion for helping girls and women recognize and reject harmful messages about their bodies and redefine not just the *look,* but the meaning and value of beauty in women's lives. Beauty Redefined does this through online education, activism, and live speaking events.
Movemeant Foundation enables young women to feel confident about their bodies by empowering them with the tools to be active. By using fitness and physical movement as the primary platform for social change, the foundation strives to be a catalyst for creating a new era of healthy, strong and self-assured young women.
The Loveland Foundation was established in 2018 by Rachel Cargle in response to her widely successful birthday wish fundraiser, Therapy for Black Women and Girls. Her enthusiastic social media community raised over $250,000, which made it possible for Black women and girls nationally to receive therapy support. The Loveland Foundation is the official continuation of this effort to bring opportunity and healing to communities of color, and especially to Black women and girls. Through fellowships, residency programs, listening tours, and more, ultimately the foundation hopes to contribute to both the empowerment and the liberation of the communities they serve.
If you're moved by this opportunity, donating is easy. Locate the donation banner found on any product page and click on "Donate $1." You have the opportunity to choose from one of these four amazing charities, or you can donate to all of them equally. You can donate more by increasing the quantity of donations during checkout. It's that simple!
Clean out your closet and donate clothes you no longer wear to a women's center or homeless shelter.
A cluttered closet makes it difficult to find and create outfits that make you feel comfortable and confident. Being overwhelmed by a messy wardrobe can leave you feeling uninspired about your style. Declutter your clothes by getting rid of anything you no longer want to wear or anything that doesn't fit or make you feel great. Get rid of duplicates, unworn items, and past loves. Consider the fit and feel of all your clothes and don't keep anything that makes you feel or look uncomfortable. You should feel excited to wear every single piece in your wardrobe. If you don't, then get rid of it.
You can Marie Kondo your entire wardrobe if you have a free weekend, or you can keep it simple by taking it one day at a time. For example, when you're getting ready for the day and you put on a dress that you realize you no longer like or that doesn't fit, put it aside in a "donation container." When the donation container is full, it's time to drop it off at a women's center or homeless shelter. With daily detoxes, you're keeping both your wardrobe up-to-date with your current preferences and your closet organized and free of clutter! Plus, you're doing good and giving your clothes a second home by donating them!
Financial self-care starts with recognizing your spending habits. It focuses on lowering your financial stress by becoming aware of your bad spending habits, setting financial goals, and taking control of your money. This can include setting a budget for yourself or your family, making coffee at home instead of going through the Starbucks drive through before heading to the office, setting up an emergency fund, or investing in your future.
Develop your financial self-care by setting up a shopping budget.
Being financially responsible doesn't mean you have to give up shopping entirely! Expand your idea of financial self-care by becoming more aware of your shopping habits, establishing a financial goal you want to work toward, and setting up a shopping budget to meet those goals.
For example: Try setting aside $20 each paycheck and let that money accrue so that you have a "shopping savings" you can dip into when you're feeling the itch to shop! By having a budget set aside for shopping that you can dip into, you relieve the financial stress impulse shopping can bring.
Invest in quality, classic, and versatile styles that can be worn year-round and withstand multiple wears!
Another way you can incorporate fashion and style in your financial self-care practices is by shopping quality, classic, and versatile pieces that can be worn year-round. Bonus points if they're machine-washable or hand-washable to save you a trip to the dry cleaners!
We love the Gloria Cold Shoulder Jumpsuit for this reason! Not only is she budget friendly at under $100, she's so versatile she can be worn to brunch with the girls, date night with your significant other, to a work event and even to your friend's wedding. Her cold shoulders and wide leg silhouette makes her a classic piece that can be worn every season. And because she's made with stretch crepe scuba material, she's machine washable too! Check out our other essential styles that will last for years!
Shopping the sale section means saving BIG!
Emotional self-care starts with becoming aware of our emotions. It focuses on building awareness of the emotions that we feel and learning how to regulate and control them to a certain extent instead of letting them govern you. When you are able to recognize and identify the emotion you are feeling and come to an understanding of why you feel that way, you can then build strategies and extend your resources to work through them and return to a calmer, clearer and happier state.
Wear clothes that you feel comfortable in and that bring you joy!
Fashion and style can be incorporated into your emotional self-care by choosing clothes you feel comfortable in and that make you happy! There's no point in wearing that drab old pant suit to work that's slightly too tight in the mid-area, right? Switch out that tired old workwear and trade it in for work styles that are rich in color and bold in prints!
Add a pop of color on grey days.
On days that's overcast or gloomy outside, opt to wear a bold color like cobalt blue or cheerful colors like pinks, lavenders and pastels from Connected Apparel's Spring Collection. According to color therapy, the study of colors and its impact on human behaviors, these colors can literally lift our moods.
Physical self-care focuses on what makes your body feel good. It consists of activities that positively affect your physical health and wellbeing. Physical self-care comes in many forms. Sometimes it can look like exercising at the gym; other times it's taking a nap or treating yourself to a massage.
Take care of your birthday suit.
Dressing up starts with you and your body. Do what you can to take care of your birthday suit! Treat yourself to a facial or a day at the spa. Schedule a weekly massage to take care of sore muscles. Hire a trainer and work out at the gym. If that isn't your pace, try spending an afternoon playing with the grandkids or taking the dogs on an extra long walk at the park. Whatever you need to do to take care of your body, do it!
Learn how to dress for your body type.
Practice physical self-care by learning about your body type and shape. Women come in all body shapes and sizes, and the first step to building a wardrobe that makes you look AND feel fabulous is knowing your body shape, or the outline of your body. Knowing your body shape will allow you to choose outfit styles that compliment your features and achieve a figure flattering look. Read our guide on how to determine and dress for your body shape for more information. Also, don't forget to read our Petite and Plus Size style guides for tips on how to dress for each body size.
Mental self-care focuses on actions that stimulate your mind and increase your brain waves. Depending on what you're interested in, this can look like taking up a new hobby like ceramics or knitting, reading a new book, doing a puzzle, or even listening to a podcast.
You can practice mental self-care and stimulate your mind by creating a fashion and style mood board.
One of our favorite things to do here at Connected Apparel is dream of ways to bring our collections to life through our photography. That usually starts with creating a mood board for the collection that's in line with the season. A mood board allows us to put together a visual representation that encompases the overall feeling and essence of the collection. This is one of our favorite types of self-care because not only are we doing something creative at work, we're also crossing something off of our list!
You too can create a mood board to inspire you for the season, for a specific event, or even just for fun! Creating a mood board is easy. Here are 3 ways you can easily create a mood board:
Break out the magazine and scissors! You can go old school and build a physical mood board by cutting out images that inspire you from magazines and gluing it to a board.


Use Google Slides to create a digital mood board that you can look at on all of your electronic devices. Simply copy and paste images you come across into your slides. It's that easy!


Have fun with Pinterest! Another easy way to create a mood board is pinning photos on Pinterest.
Incorporate old clothing into new hobbies.
Challenge your mental agility by repurposing your old clothes. Create a coin purse out of an old sleeve or vase cozies from old sweaters. Let your creative side out and have fun while you're at it! Not only will you be practicing mental self-care by incorporating old clothing into your new hobbies, you'll also be saving on the cost of materials too!
More tips for incorporating fashion into your self-care routines
• Create a wardrobe you love
Once you've decluttered your wardrobe and promised never to wear anything that makes you feel anything less than amazing, you can start creating a wardrobe you love. Simplify your style by choosing well, buying less, and being conscious of fast fashion. Adopt new shopping habits by choosing quality over quantity -- No more cheap ill-fitting clothing! No more tops that shrink in the wash! No more shoes that pinch! -- and invest in creating a capsule wardrobe of useful pieces that work together. Learn to invest in timeless silhouettes in classic pieces that will never go out of fashion.
Using style to empower and build confidence only works if YOU DO YOU. Dress to express yourself by having fun with clothes that show off your personality. Whether you go for bold prints or minimal color, expressing your personal style is the only way your wardrobe will work to empower you every day. Don't be afraid to test your comfort zone, try new styles, or stick with what you know looks good. Clothing affects confidence, color influences mood, and style affects self-esteem, so use them all to express yourself.
• Be your own best friend
Confidence and self-esteem come from being your own best friend and being kind to yourself. Be your own best friend by wearing what you want, when you want. No more saving outfits for the "perfect occasion." Every moment is the perfect occasion. Go ahead, put on the eye-catching, all-powerful leopard Bianca cardigan from Connected Apparel's exclusive CAxLZ Classics Collection when you're running errands. If it makes you feel good, there's no reason not to! Make your own style rules, be comfortable in your clothes, and take care of yourself -- the confidence will follow!
• Don't worry about others, focus on yourself
Another fashion tip Leanna learned from her dad is that "trending doesn't always mean it's right" for you. There's so much clothing out there to choose from, but just because it was made, doesn't mean you should wear it. Instead of worrying about what other women are wearing and what's trending, focus on yourself. Focus on the styles that suit your body and styles that bring you joy. Focus on choosing quality and well-made pieces that will last you several years versus a trendy top you can only wear for one season. When you stop worrying about others and focus on yourself, you'll feel good!
It's time to rediscover the joy of dressing up!
There's a phenomenon that back in 2012 scientists dubbed "enclothed cognition." This theory states that clothing does affect how we think. The theory says that the clothing we wear actually changes our thought patterns. This article by Emily Van Sonnenberg does a great job of explaining the scientific studies behind this relatively new phenomenon. However, this concept is not new. People have been wearing clothes essentially since the beginning of time and while this concept started out of necessity, it quickly turned into a form of art and expression. For us at Connected Apparel, it means self expression and a reflection of where we are today.
Shop our collection of women's dresses and jumpsuits made for women of all shapes and sizes. Don't forget to sign up for our newsletter to receive 15% off your first purchase and get notified of new collections, fashion tips, sales, and more!
Fashion should be all about expressing yourself and feeling comfortable, so when it comes to dressing up: take things at your own pace. Maybe you're the type of person who finds joy in dressing like a glamorous celebrity, or maybe a chunky necklace is your version of stepping things up a notch – whatever it is, just do you. Wearing clothes that make you happy – even if it's not for anything specific – can lift your mood and make you feel like celebrating the small things!

Remember: The only person to think about when you're getting dressed is YOU. If you are happy, you look good, and if you look good, you are happy.
Self-care is not synonymous with being selfish or self-indulgent. Self-care means taking care of yourself so that you can be healthy, you can be well, you can do your job, you can help and care for others, and you can do all the things you need to and want to accomplish in a day.
Getting a start on self-care can be as simple as dressing with intent to help you embody your desired state of mind, and having a go-to piece in your closet can be the perfect stepping stone to building up your style savvy and breaking down those skeptical inner voices.
Remember, don't be too hard on yourself! Learning to incorporate these different types of self care into your routine and improving your health is an ongoing process that ebbs and flows. Take it one day at a time and remember to smile at yourself when you look in the mirror because YOU LOOK GREAT!
1 comment
Fayelynn Mahoney
August 19, 2019
Leave a comment