4 Plus Size Silhouettes That Flatter Curves
Finding clothes that match your style and flatter your figure is a challenge for every woman. Add on the hurdle of being a woman with curves and that can make clothes shopping quite a struggle. We hear you! And we're here to help.
There's a key ingredient to having a closet full of plus size clothes you love to wear and that make you feel beautiful. It's all about the silhouette. When shopping for the perfect plus size dress or plus size jumpsuit--think silhouette first! Get to know the 4 silhouettes that'll help open up a new wardrobe of figure-flattering, chic, trendy and comfortable plus size outfits!
3 rules for picking what to wear when you're plus size:
Plus size women come in all shapes and sizes. Which is why knowing your body shape is essential to guiding your wardrobe decisions. If you're unsure of what body shape you are, head over to our How to Determine & Dress For Your Body Shape blog to find out!
Gone are the days of following the "curvy guidelines" telling plus size women to wear black, avoid stripes and bright colors. Break the rules! Wear whatever makes you feel comfortable and confident!
Fashion trends are great for plus size women wanting to flaunt or cover up their curves. Fashion statements are inherently eye-catching. Embrace them in areas you want to highlight or away from areas you're looking to minimize.
Styling tips for plus size figures:
Not too tight, just right -- It's important to strike the perfect balance between fitted and too tight. When styles are too tight, they pull at the seams, show our undergarment lines and look...well...too tight. Your clothes should glide over your body.
Accessory size matters -- Disproportionately small jewelry or handbags can be outshined by curves, while also making a plus size woman's body appear larger than it is. Whether for daytime or a night out, make sure your bag is large enough to be seen behind your hand. And opt for larger statement earrings or necklaces that provide a great opportunity to show off your own personal style!
There's no shame in shapewear -- It's a universal closet staple. Every woman has a moment where they want something to look smoother, more supported or perhaps a bit more cinched up. Shapewear was made to help define & enhance. And what more perfect use for defining & enhancing a woman with curves?!
Choose the right neckline -- Choosing the right neckline can change your -- yup, you guessed it! -- proportion! Lower necklines are more flattering as they help to elongate the neck and draw the eye upward.
Befriend your local tailor - Sometimes you fall in love with a dress or jumpsuit but it doesn't fit exactly the way you want it to. Instead of returning it, take it to the tailor! Find the size that fits best in most areas and then have the tailor adjust the piece so it fits you just right.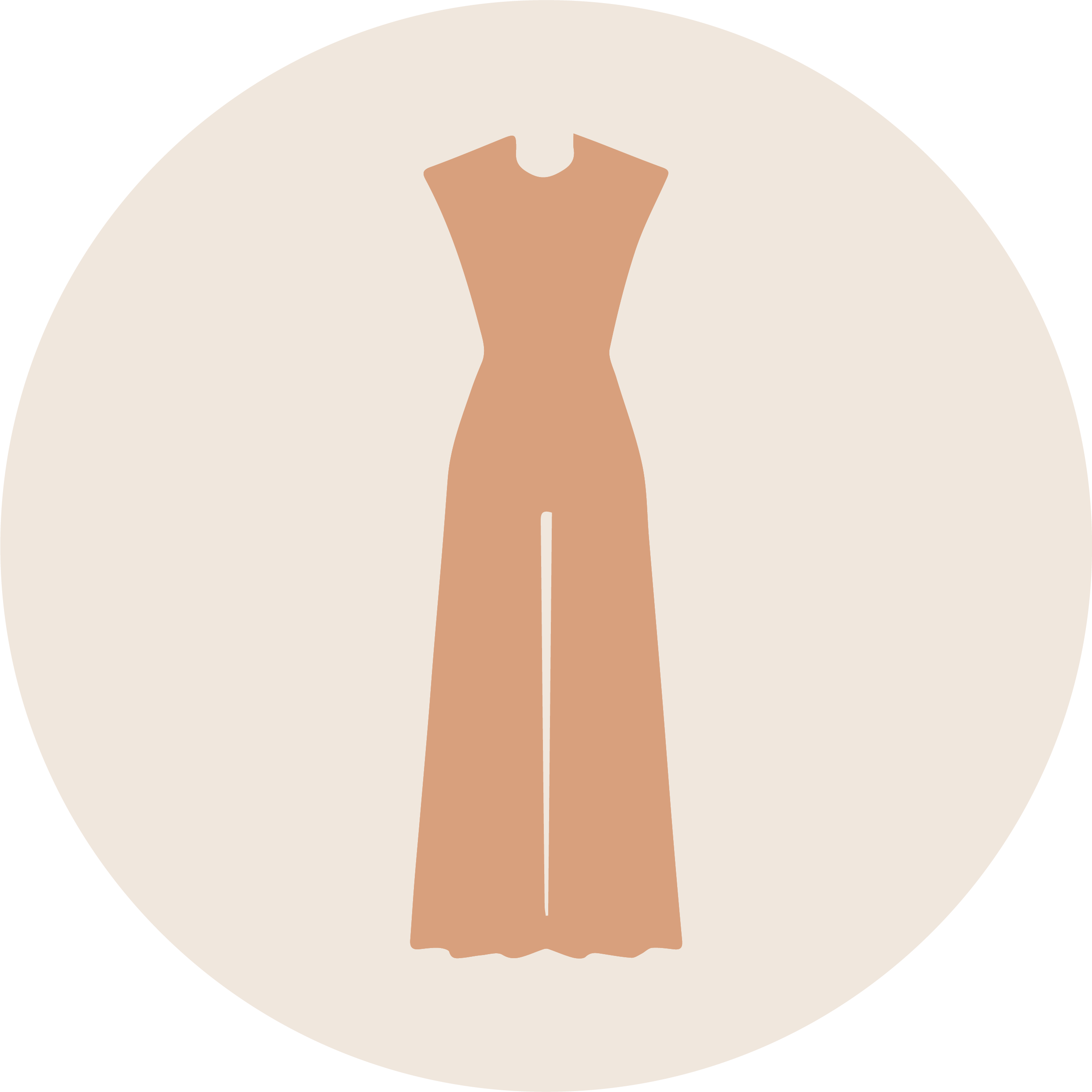 If jumpsuits haven't become your new best friend yet, they will soon! Not only are plus size jumpsuits fashionable, but they're versatile, fun to wear and comfy. These one-piece outfits offer a crisp look and elongate the body, creating a figure flattering, slimming silhouette.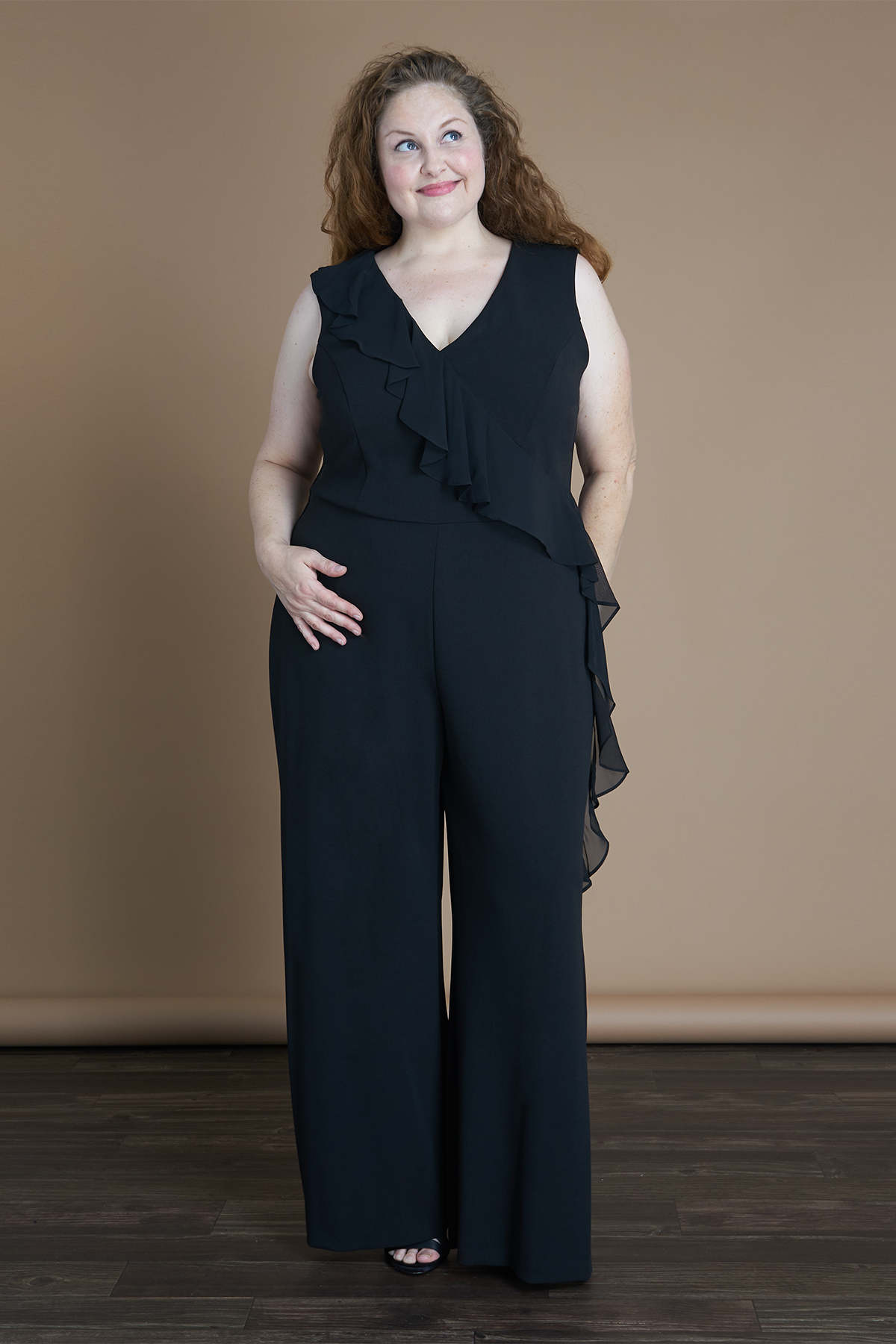 Adrienne is 5' 7" and wearing size 18W.
Sara is a timeless jumpsuit that you can wear for any season. A chiffon cross-body ruffle adds dimension and movement and an extra elongating touch. At the same time, the wide leg pant has the benefit of visually elongating shorter plus size frames. And the statement, solid black color slims out any unshapely worries. It's a plus size jumpsuit you'll know you look good in!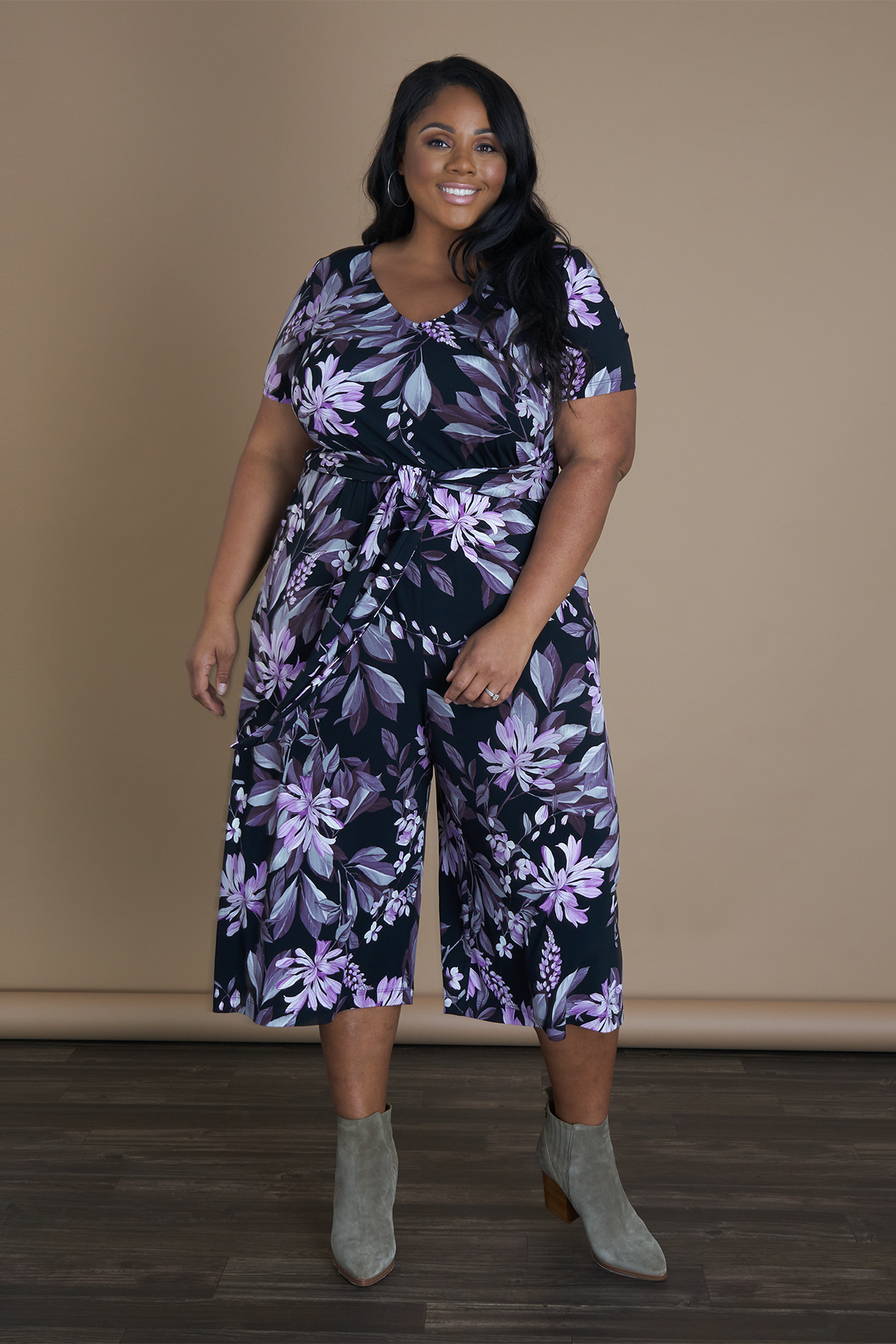 Tejera is 5' 10.5" and wearing size 18W.
Running errands just got more fun in this cute floral jumpsuit. With a striking floral print design, short sleeves, and a V-neckline, Phoebe is the perfect amount of flirty and casual. The tie at the waist accentuates your figure while the cropped wide leg pants elongate your legs. After you've finished running around town, treat yourself to brunch with the girls in a floral jumpsuit that won't disappoint.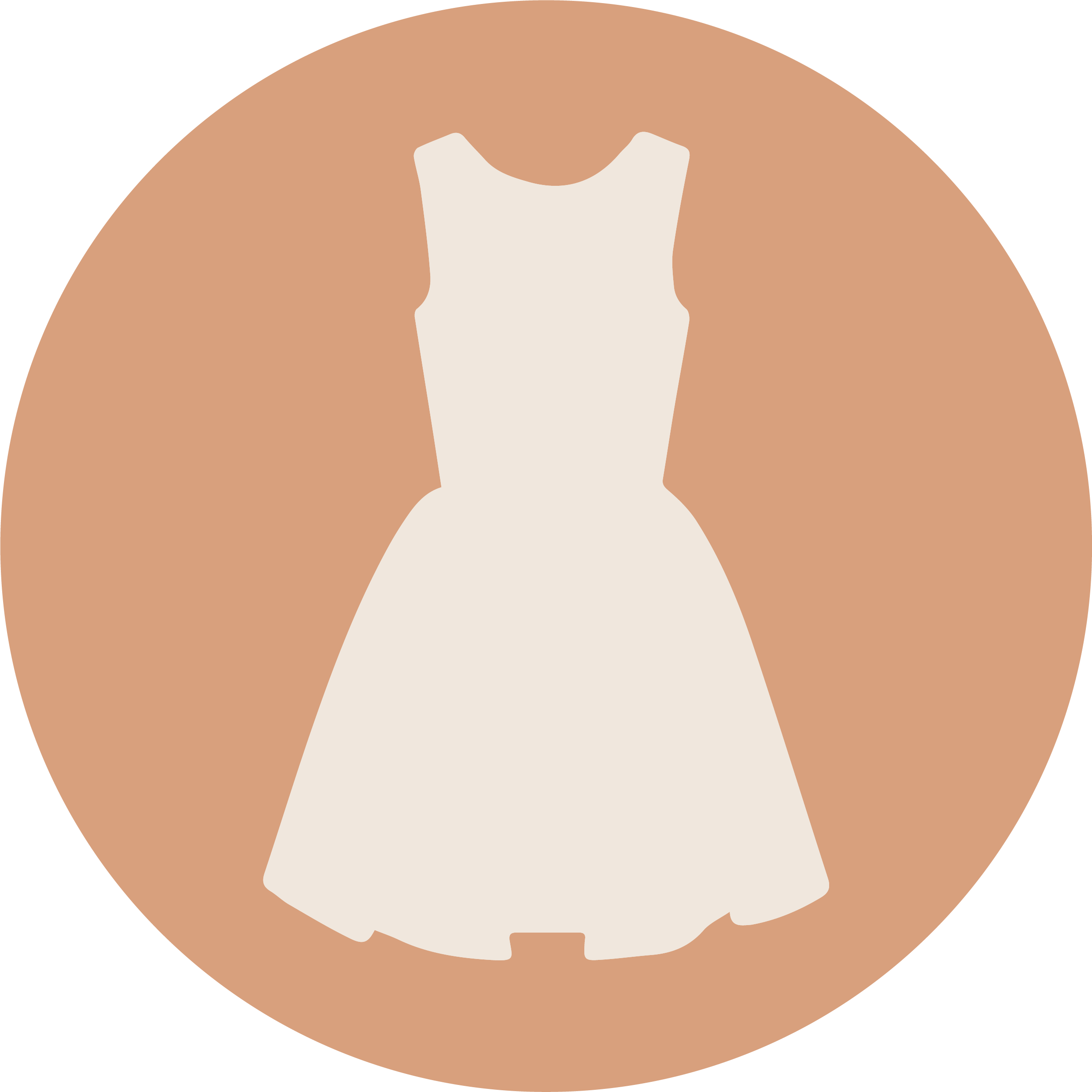 The fit-and-flare dress gradually flares out from the waist to the hem of the skirt and is fitted in the bodice; a style which is especially becoming on women with curvy figures. Similar to A-line dresses, the fit-and-flare dress is designed to draw attention to the waistline, but has a fuller skirt that's more forgiving in the hip area. This silhouette is one of the most flattering dresses for curves.
Kanisha is 5' 5" and wearing size 18W.
Maggie is the cute casual dress you'll wear over and over again. The two pockets and ¾ sleeves make going from day to night a breeze. And the fit & flare silhouette makes this dress a great fit for all plus size body shapes. Fitted at the waist and flared at the hips so you look fabulous and feel comfortable all day.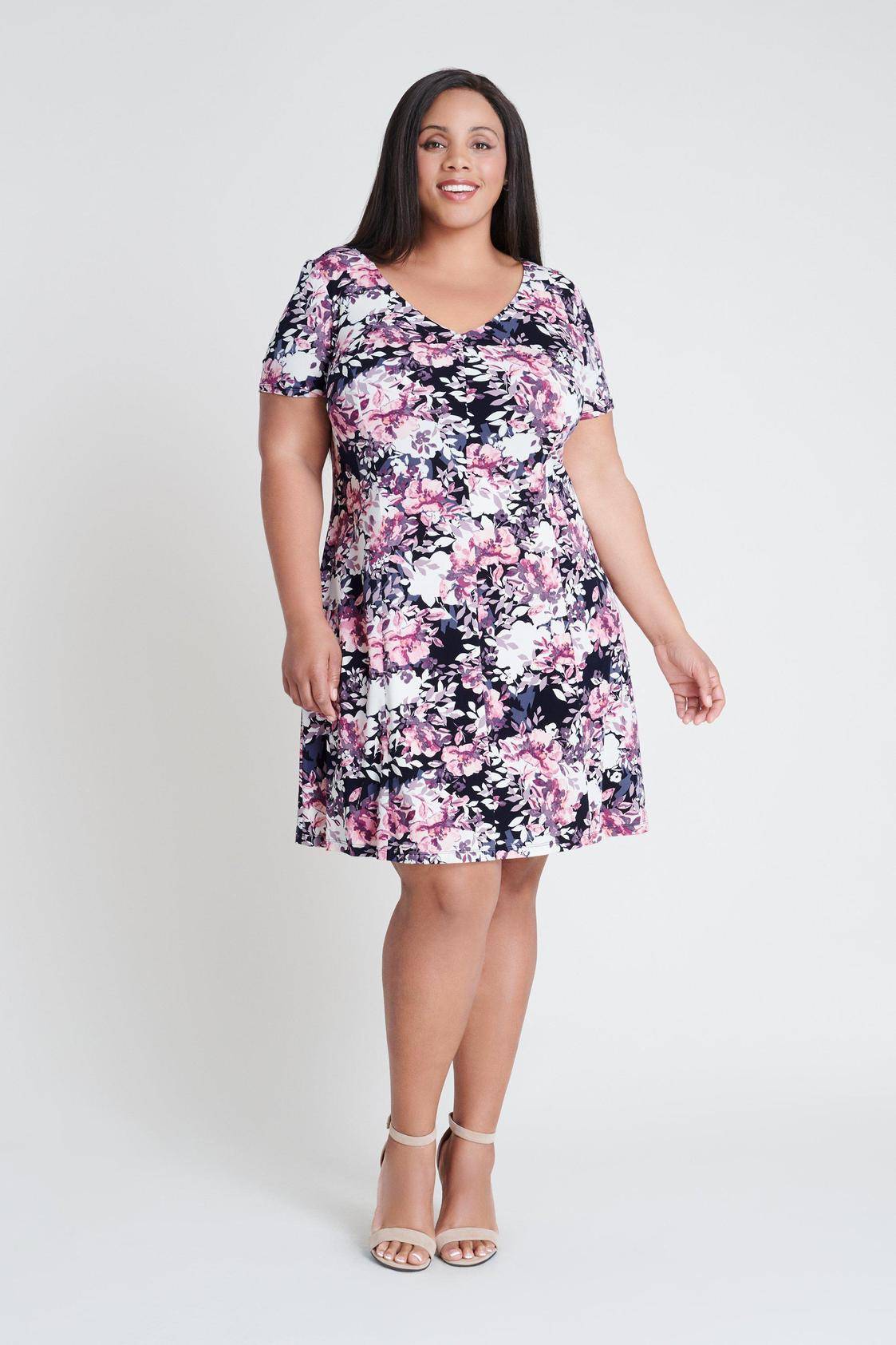 Tejera is 5'10.5" and wearing size 18W.
Jenny is your classic fit & flare. Individually sewn panels come together to create a comfortable, yet dynamic dress. With its V-neck front and short sleeves, Jenny is not only a great option for work (just add a cardigan), but also transitions easily to casual weekend outings.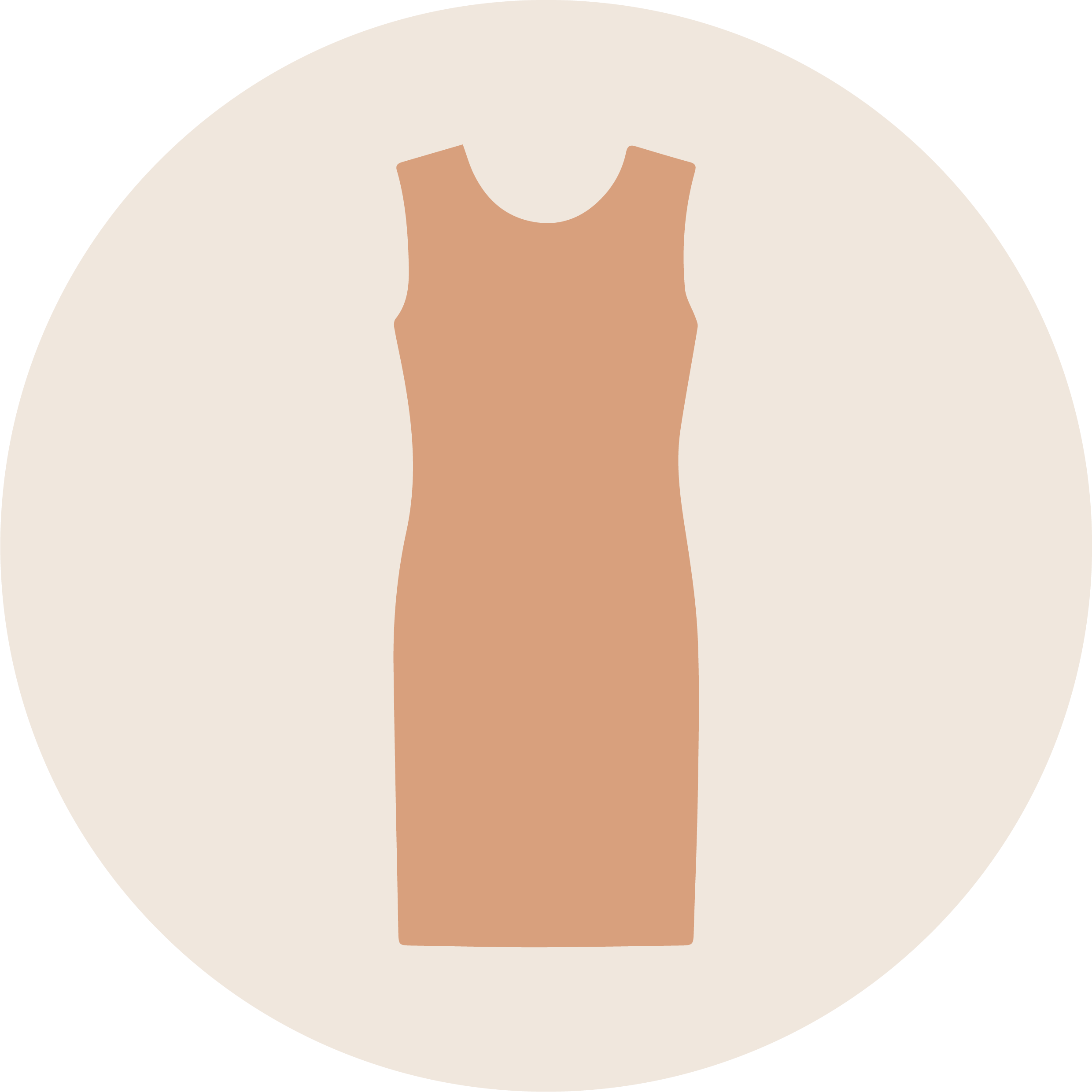 Designed to fit close to the body, sheath dresses usually sit at or just above the knees. The sheath silhouette provides a stylish, elegant option that's appropriate for both work and social events. For our Connected Apparel plus size family looking for dresses that hide the tummy, sheath silhouettes are the perfect option.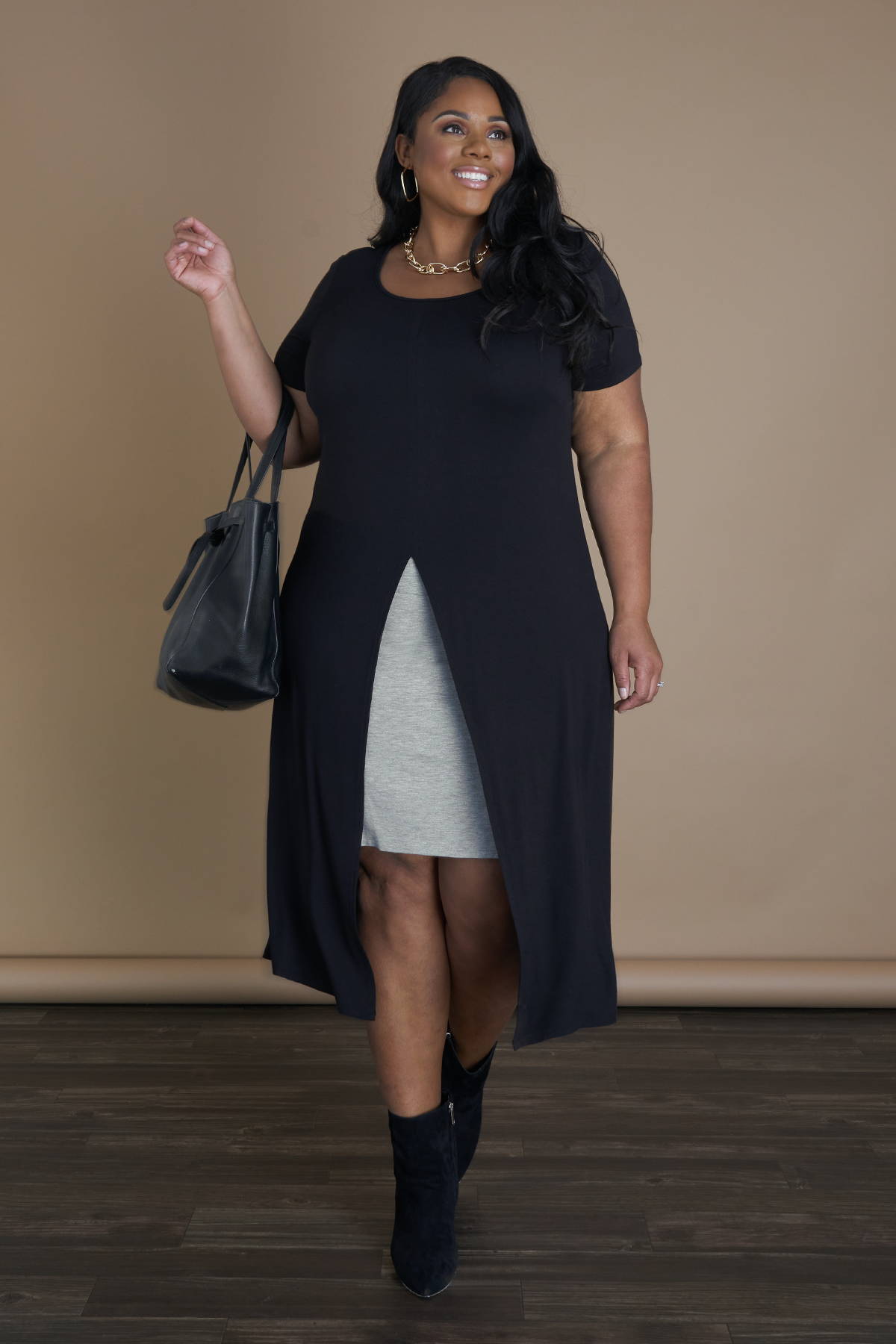 Tejera is 5' 10.5" and wearing size 2X.
This simple and essential midi dress features a modified sheath silhouette that's fitted through the bust and shoulders. Made from buttery soft stretch fabric, this everyday midi dress will keep you feeling comfortable and looking casually chic all day and night. We've finished our Quinn midi dress with a slit in the front overlay, strategically crafted to end at the most slimming part of your waist. She's the season's essential one-and-done casual chic midi dress with eye-catching flair! Note that this version of Quinn is two-tone for added flair.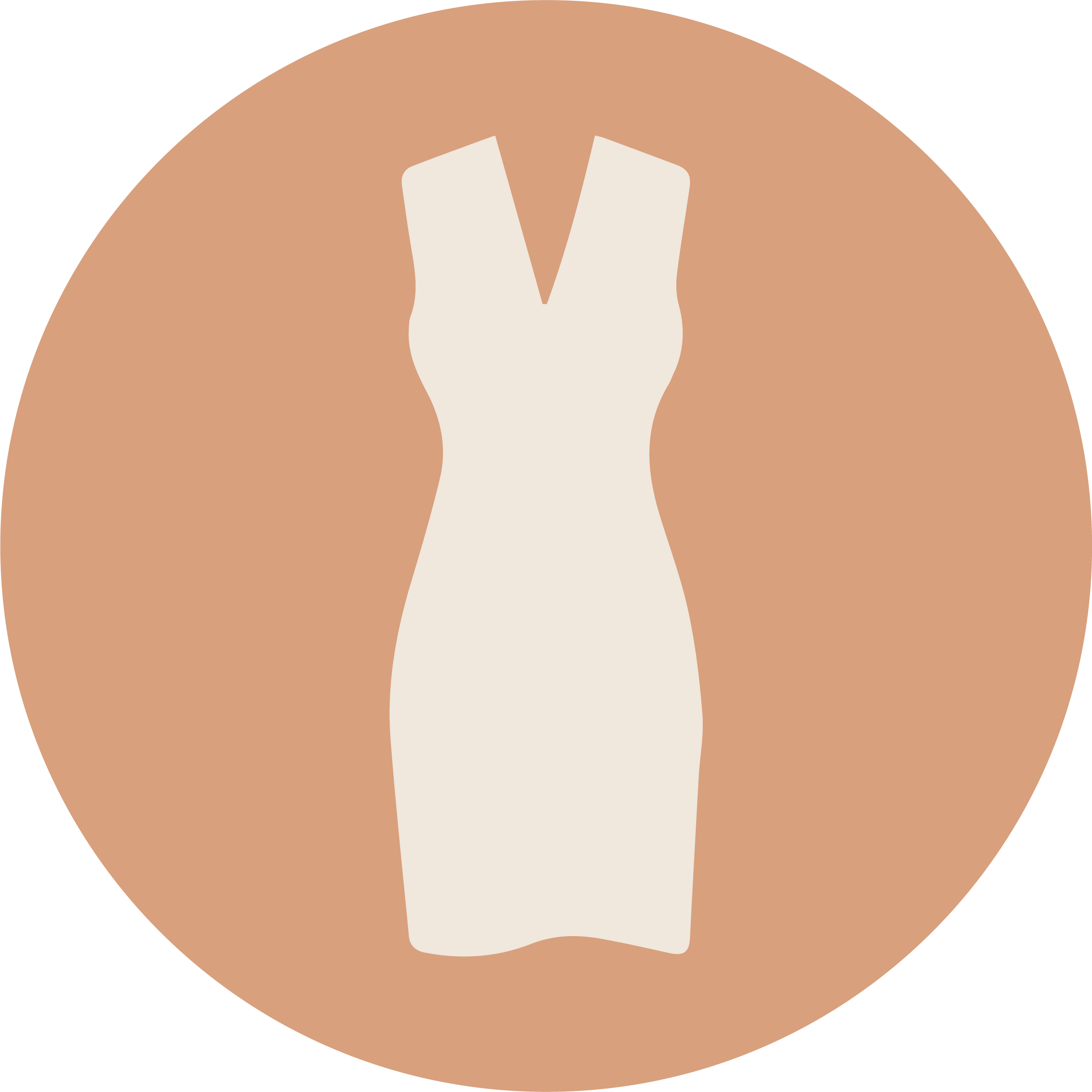 Even though form-fitting silhouettes are narrow and fit snugly, they're a great choice for women who wear plus size dresses. They nicely hug your curves and typically have a good amount of stretch, making them surprisingly comfy to wear.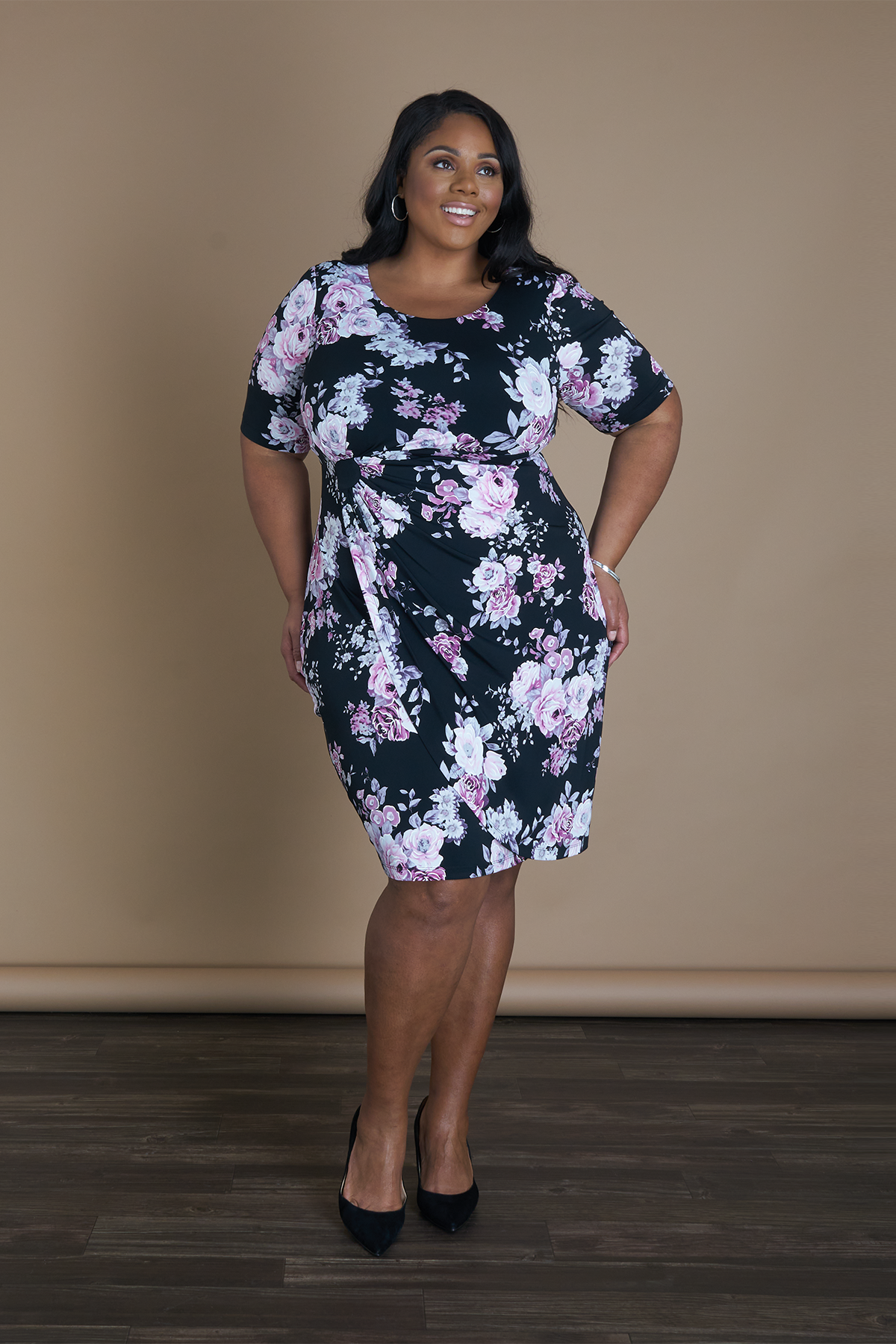 Tejera is 5' 10.5" and wearing size 18W.
Lisa is our tried-and-true silhouette. A knee length dress that looks amazing on women of all shapes and sizes, the faux wrap detail at the waist creates definition for a classic, figure flattering silhouette. This dusty pink floral knee length dress version of Lisa is perfect for work and casual gatherings.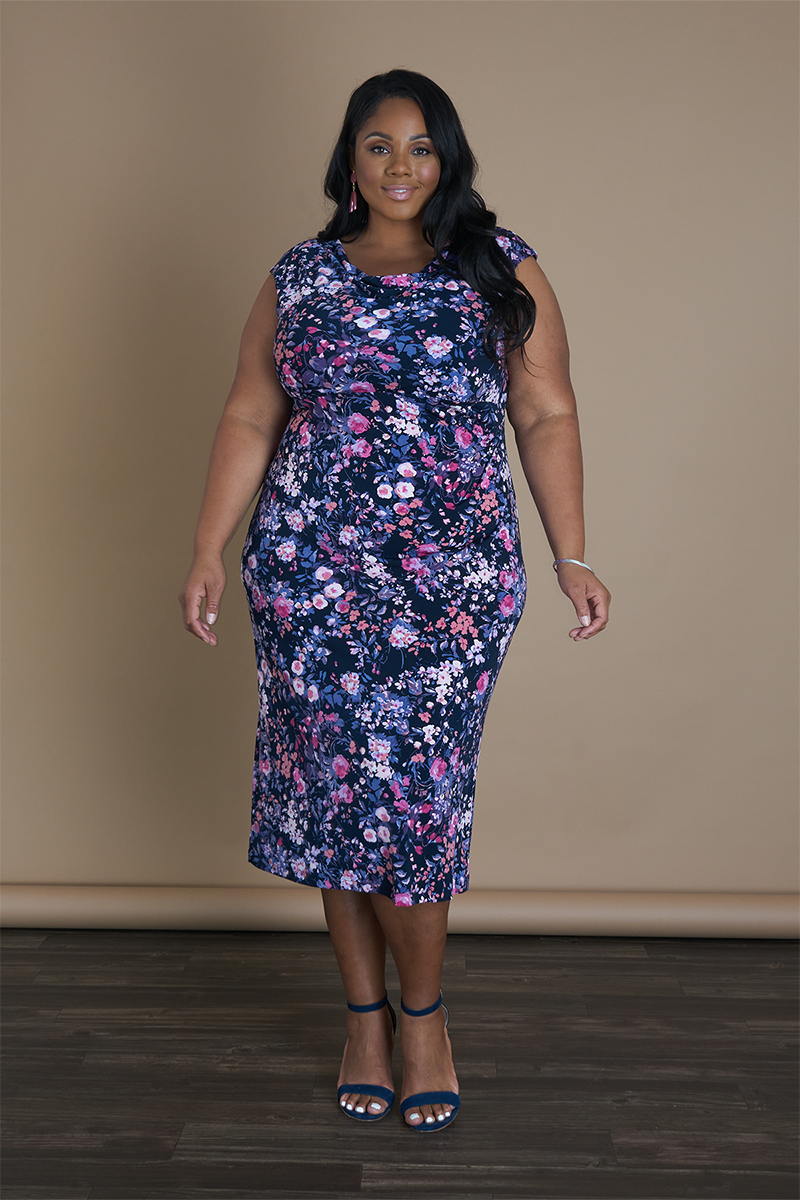 Tejera is 5' 10.5" and wearing size 18W.
Tonya is the perfect cowl neck dress for any and every outing. This sleeveless midi dress is fitted throughout and hugs your curves in all the right places. With its midi length, you also get an elongating effect. You'll love every inch of this dress.
The next time you're shopping for clothes (after having read & learned about these 4 figure-flattering plus size silhouettes) we hope you find yourself a little less stressed and a little more confident in your buying process. To help kick off your newfound "plus size styling confidence," shop our specially curated collection of jumpsuits, fit & flare dresses, sheath dresses, form-fitting dresses & more, below.
GIVE THESE CONNECTED APPAREL PLUS SIZE OUTFITS A TRY AND LET US KNOW YOUR FAVORITES.
3 comments
Good day. I was impressed with your article. Thanks for sharing.
yippievibe
October 11, 2021
This information it's very helpful and important for me…
yippie vibe
September 15, 2021
Looking at the purple floral jumpsuit for a wedding at home in the garden at 5. Would this jumpsuit be appropriate also it on a grass area? Thank you.
Leave a comment