4 Silhouettes Made For Petite Size Women
Finding clothes that perfectly complement your body can be frustrating for many women. Since every woman has a different body shape and size than the next, one size and style certainly does not fit all!
In this style guide, we're aiming to resolve some of the frustrations petite size women experience. Our petite style guide highlights a few of the best petite dresses and jumpsuits for short women, along with some petite size women's fashion tips.
Styling tips for Petite figures:
Height and proportions have everything to do with determining if you're a petite woman. Petite size women come in all body shapes and sizes.
Here are some petite size characteristics:
You're 5' 3" and under.
Your inseam measures 27" or less.
Regular sleeve and strap lengths are often too long for you.
Pockets, shoulders or lengths of dresses or jumpsuits tend to fall in the wrong place.
3 rules on choosing what to wear when you're petite:
Petite women come in all shapes and sizes, so knowing your body shape will help guide your wardrobe decisions. (Check out our guide to body shapes!)
If you're 5' 3" and under, the goal is to always improve your proportion by elongating your body.
If you're not specifically shopping in the petite size section, expect that you're going to need to alter your clothes. Make friends with a local tailor!
Styling tips for petite size figures:
Use the Rule of Thirds -- The Rule of Thirds states that ⅓ to ⅔ ratio is the most aesthetically pleasing division of space to our eyes. Applying this to how you dress will instantly change the visual proportions of your body and make your body shape look figure flattering!
Choose the right neckline -- Choosing the right neckline can change your -- yup, you guessed it! -- proportion! Lower necklines are more flattering for shorter women. It helps to elongate the neck. Consider the sweetheart neckline of our best selling Grace and Gracie dress. It's a feminie neckline that is generally flattering on shorter women, as well as helps create curves for rectangular shape body types.
Show off your shoulders! -- Cold-shoulder or off-the-shoulder styles are universally flattering and will work well on petite size women.
Pay attention to your sleeve length -- Sleeves are sometimes an overlooked detail, but are essential for choosing styles that fit your body. Avoid full sleeve lengths that are too long, causing you to look frumpy. Opt for sleeves a bit shorter: like elbow length or raglan sleeves. We recommend our best-selling Sasha Red Floral Knee Length Dress. Sasha's raglan sleeves are perfect for all petite size women!
High waists are your best friend! -- High-waist dresses, high waisted jumpsuits or any high waisted bottoms are a must-have staple in every petite size woman's wardrobe. They help support the Rule of Thirds and help create the illusion of a longer bottom half.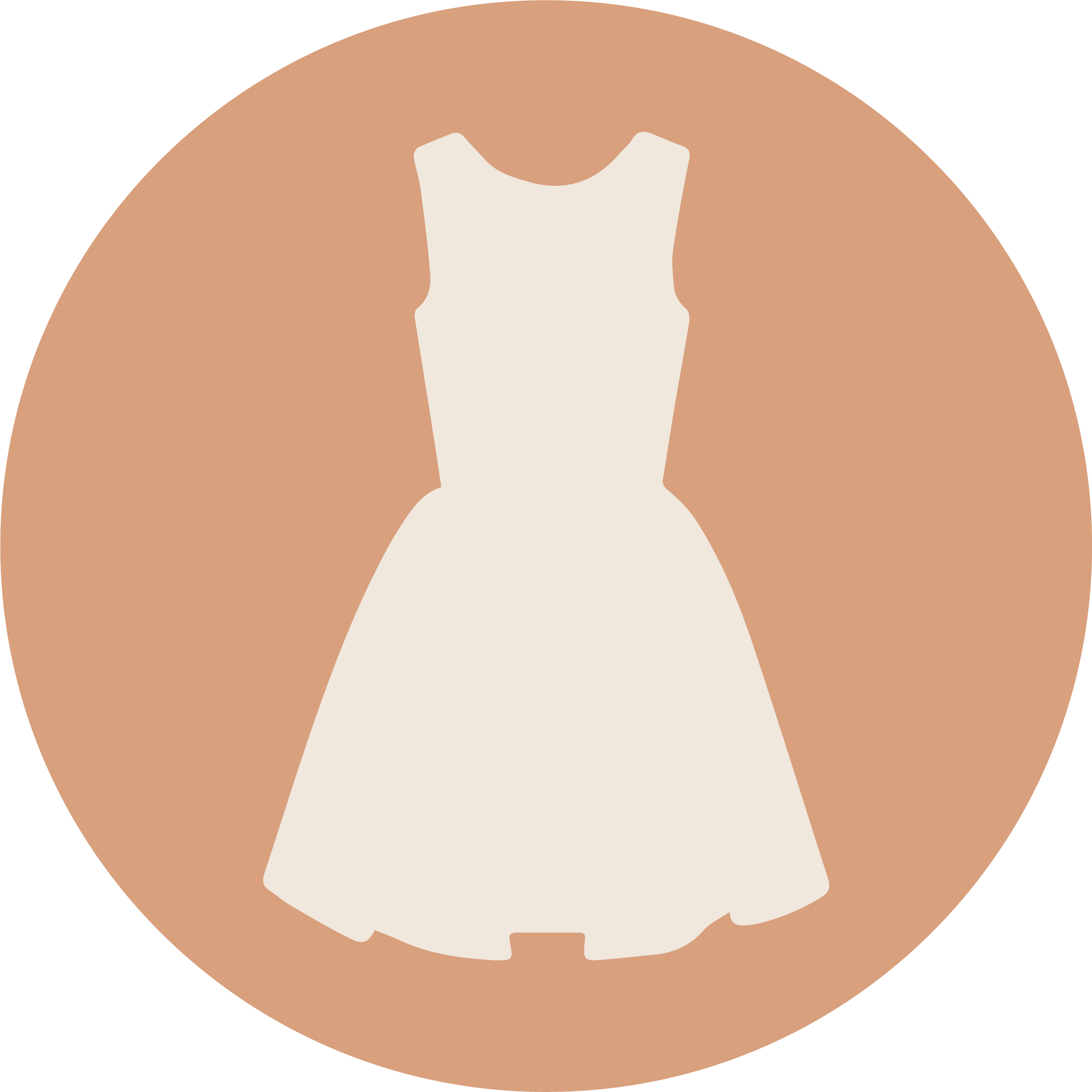 Fit and flare dresses are flattering on petite size frames because it showcases the smallest part of a woman's figure without hugging the legs. This dress style does a beautiful job of adding imagination to how long your legs actually are, giving you a taller appearance.
Made in a lightweight knit sweater fabric, this Maggie knee length sweater dress features ¾ sleeves. But on petite size women, the'll be closer to long sleeves. Which we actually love! Just look at the Maggie dress on Camille. The fit and flare silhouette also beautifully accentuates and flatters petite women of all shapes and sizes. To style this dress, pair Maggie with your favorite booties for a one-and-done cute Spring outfit.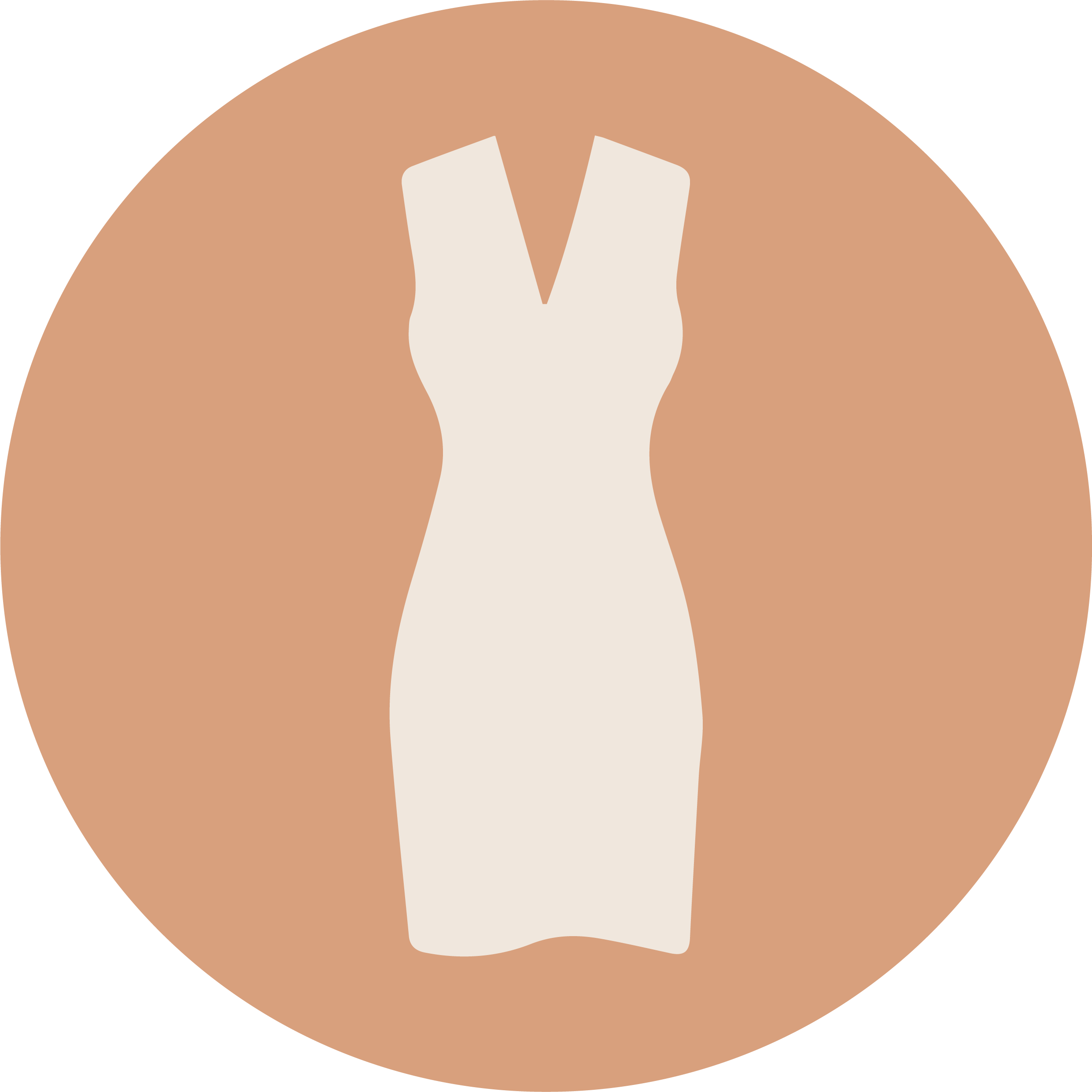 Form fitting, knee length dresses define your waistline and accentuate your curves. This can be a hard look to achieve for petite size women. But the form fitting dress silhouette makes it an easy look to pull off. Not to mention, the length is figure flattering for short women since it shows some extra leg, adding visual length.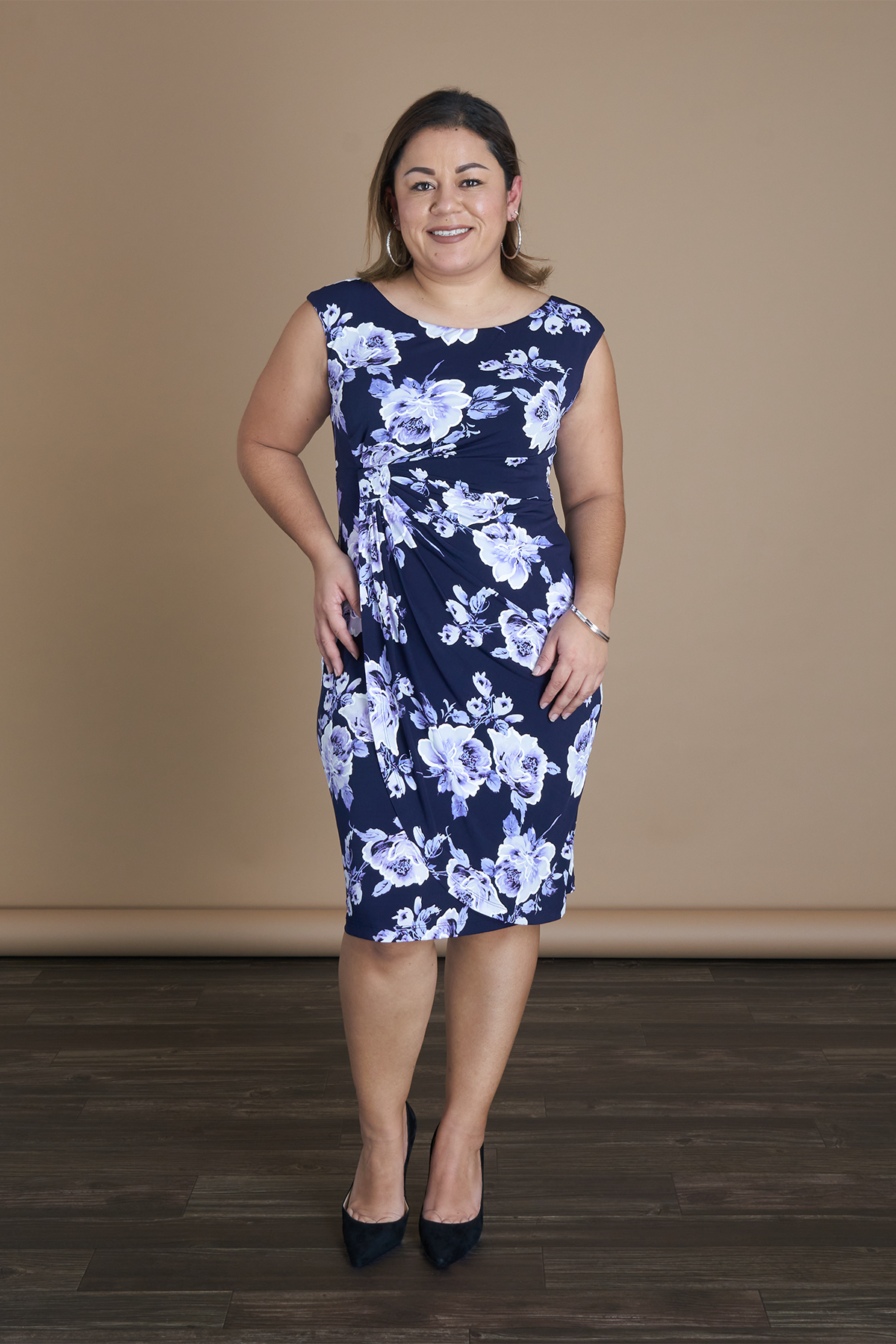 Karla is 5' 2" and wearing size 8P.
Lisa is our tried-and-true silhouette. A sleeveless dress that looks amazing on women of all shapes and sizes, the faux wrap detail at the waist creates definition for a classic, figure flattering silhouette. You can see how this dress really accentuates Karla's waist to create a beautiful, elongated body shape.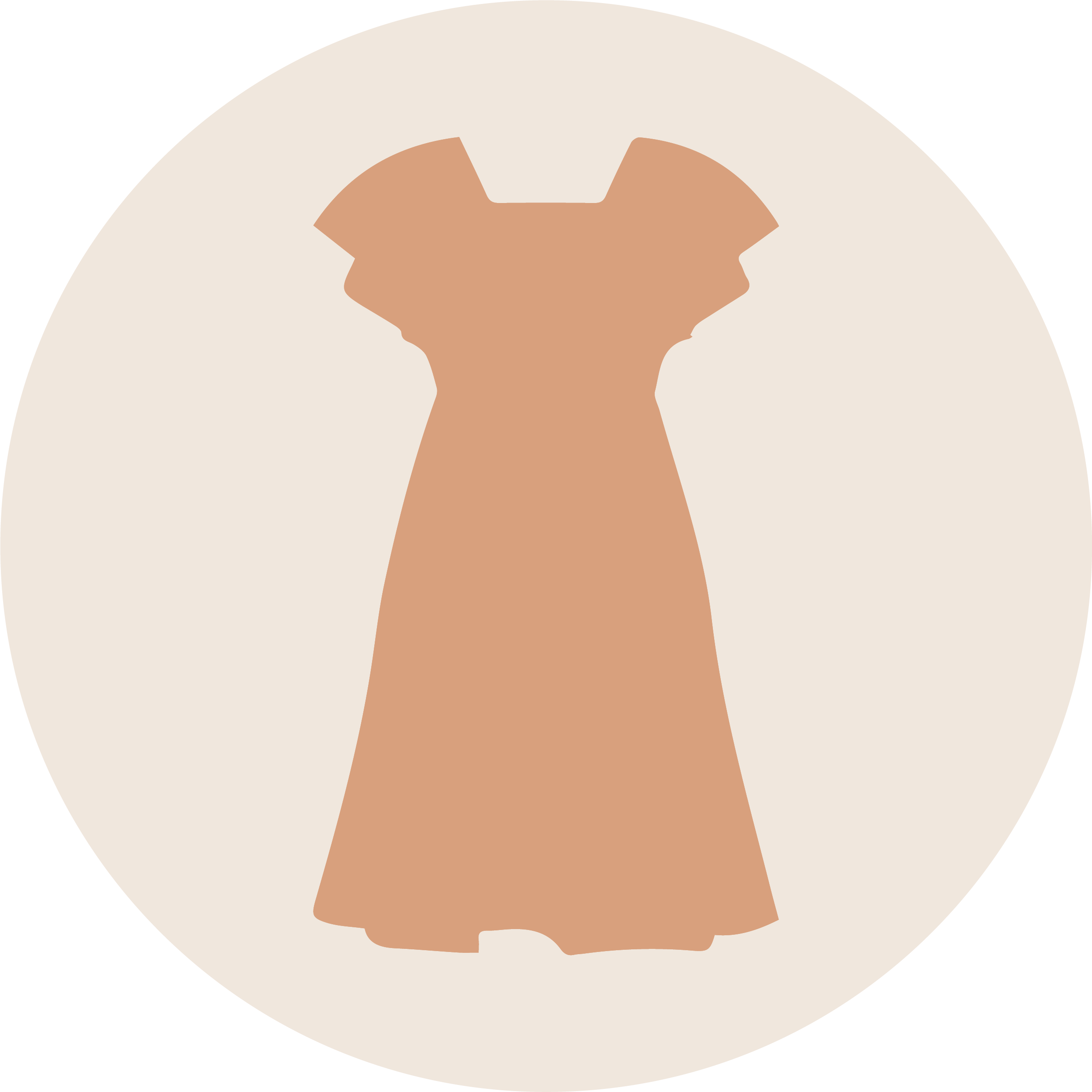 Empire waist dresses have a high waistline, which is placed just below the bust line. Since this silhouette raises the waistline above your natural waist, it elongates the entire lower half of the body, which is very flattering for petite sizes.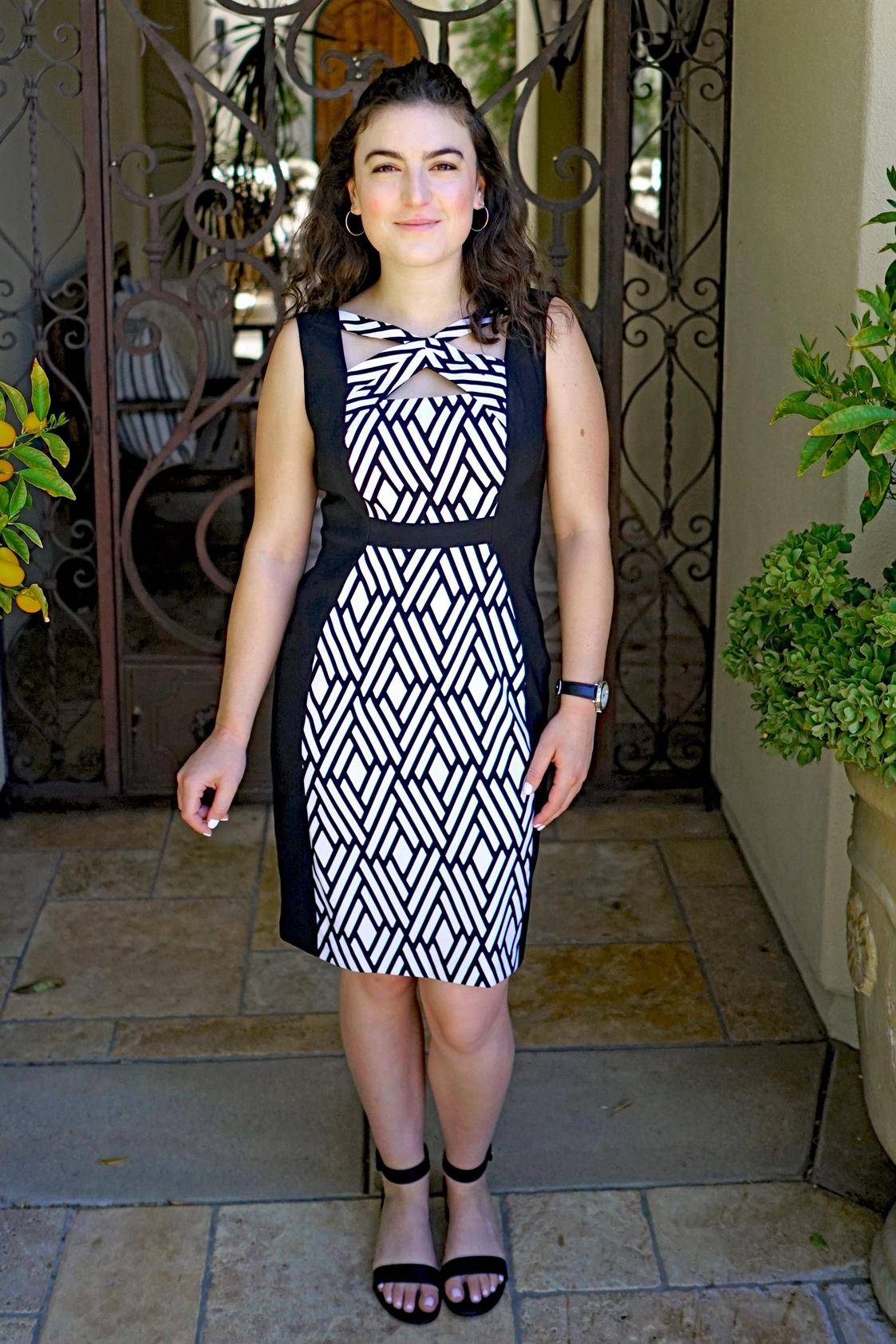 Leanna is 5' 2" and wearing size 4P.
Every woman needs a work dress that makes her feel confident to command the room and comfortable to run from one meeting to the next. Look no further than Noelle! With solid side panels that promote an hourglass figure, a geometric print that pops and an empire waistline that elongates, Noelle is sure to be your new go-to work outfit. We also love how the x-neckline draws the eye up, which is key for petite women who just want to be looked at in the eyes!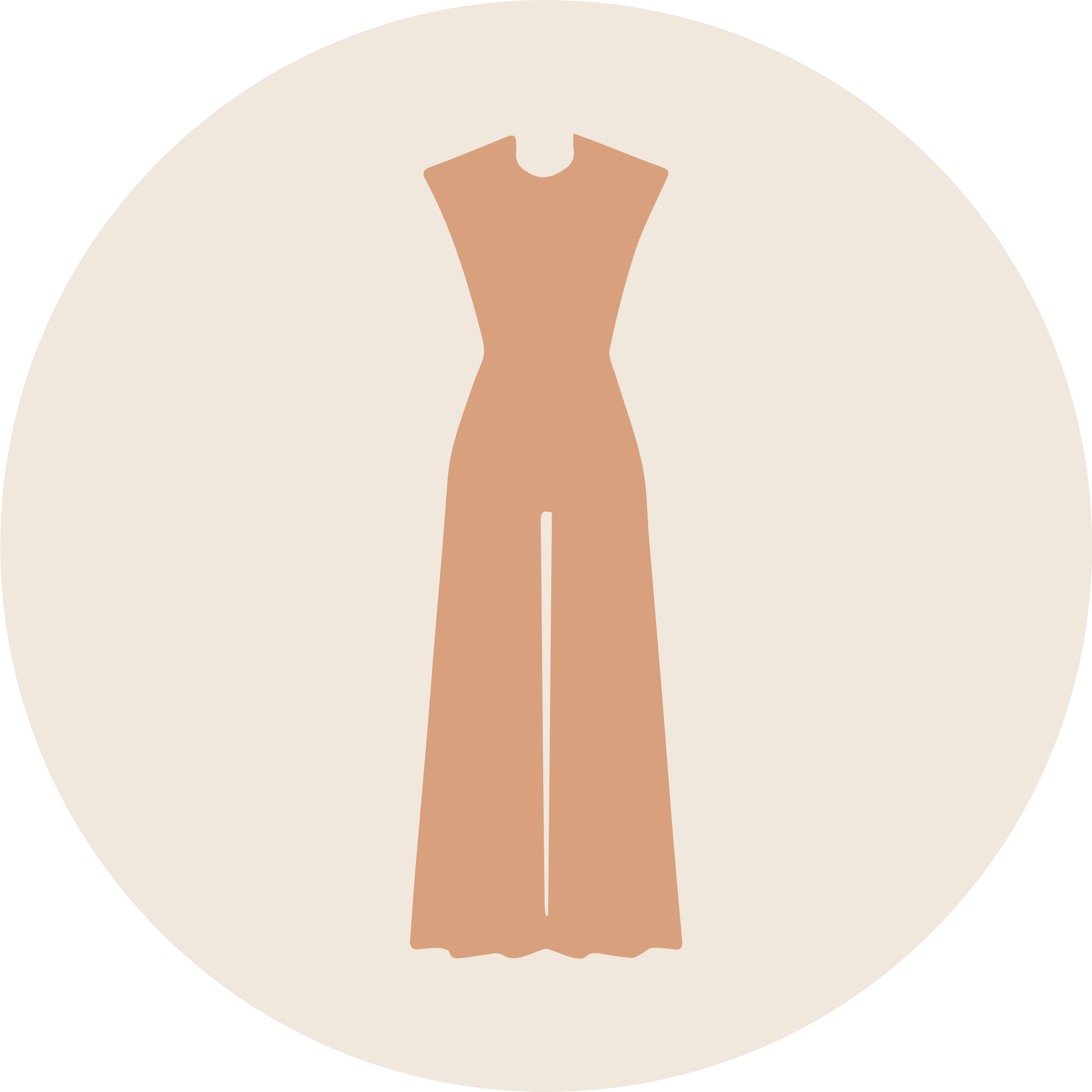 A solid, women's petite jumpsuit with a wide leg design is the perfect style jumpsuit for short women. The wide legs elongate the body and the continuous color creates even more of an illusion of height.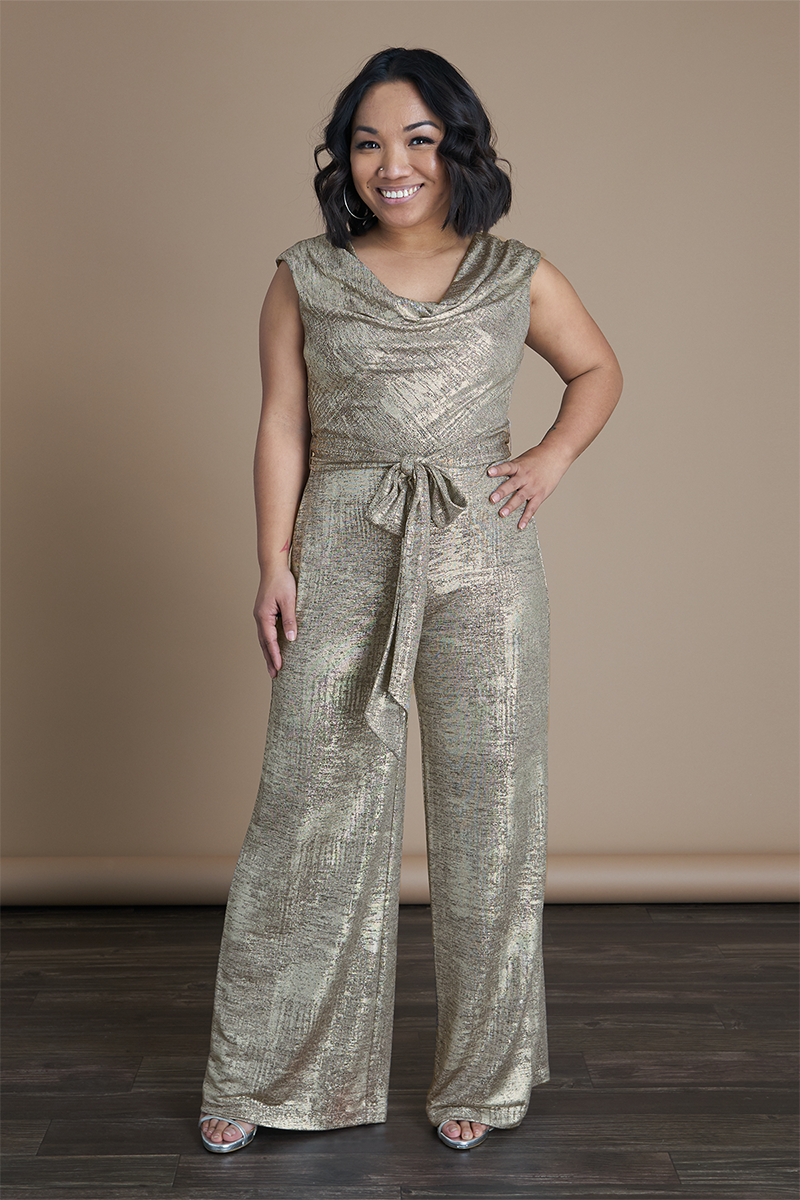 Tejera is 5' 10.5" and wearing size 18W.
Uptown is the ultimate special occasion jumpsuit. Made from stretch jersey knit, this foiled metallic jumpsuit is chic, sophisticated, and comfortable. Featuring a draped cowl neck and tie at the waist, Uptown's wide legs elongate the body while the tie at the waist accentuates your figure.
Check out some of the tried and true petite size styles below and put together a wardrobe you love, without the frustration.
1 comment
I am top heavy. I wear 12 Petite bottom and XL top. What size do you suggest? Should I stay with2 piece out fit?
Leave a comment