Sara 2.0 Floor-Length Dress
Pay in 4 installments of $16.25 with
,
or
Buy More, Save More up to 50% Off
The Sara design you love, a new silhouette you have to have! Meet Sara 2.0 - the dress version of our classic Sara jumpsuit. A chiffon crossbody ruffle adds dimension and movement, taking the sophistication and chicness level up a notch. Don't miss the side slit for that extra touch of sexiness we all want. With the perfect pair of heels, dangling earrings and an evening clutch, you'll be all set to head out to your next special event.
Details:
Terri is 5' 7" and wearing size 8
Center Back Length Measurement:
Regular: 58" on size 8
Plus: 58" on size 18W
Factor 0.5" per size smaller or larger
Key Features:
Floor length
Back zipper
Sleeveless
Bodycon silhouette
Machine wash
Body: Polyester, Spandex; Ruffle: Polyester
Customer Reviews
Write a Review
Ask a Question
09/22/2021
Mary A.

United States
I recommend this product
Classy!
Very classy design & comfortable!
05/31/2021
Fern T.

United States
I recommend this product
Great dress, excellent quality, great fit
I needed a simple black gown for my son's wedding. By the way, he is marrying the most amazing girl. She's beautiful, sweet, adorable, kind, and fun too! Well anyway, back to the dress..... It is so comfortable, flatters my plus size figure, and it's of fine quality. The crepe is not clingy and there is no need to wear a slip. The slit adds a nice bit of sexy, and makes me look "hot," not like hot flash hot. It looks nice alone. I also plan to wear it with a beautiful silk kimono jacket. This is the kind of dress that I will keep in my closet forever. It's a classy dress!
04/20/2021
BETH P.

United States
I recommend this product
Beautiful Dress
This dress is just how it appears online --- BEAUTIFUL!!! The dress is nice and light (unlike a lot of long dresses, which tend to be heavy.) The dress is also very well made. The seams are stitched tight. The dress has nice movement to it (not stiff at all.) Overall, I'm very happy that I purchased this dress.
AMAZING!
Everything about this dress is 5 Stars!!! Im not one to normally write reviews but felt I just had to share my thoughts on this Beautiful dress just incase you may be on the fence and not quite sure if you should order this. "Order" It!!! You can always return it Painlessly!!! I know because I had to exchange the first one I ordered for as smaller size. I was completely shocked the smaller one arrived the very next day! The team at Connected Apparel literally go above and beyond to make sure their customers are completely satisfied!!! Missy was Absolutely INCREDIBLE!!! I want this review to be helpful so I want to say that I have never worn a dress so Beautiful and Ridiculously Comfortable! The fabric is super nice and it has just enough stretch, and the ruffle is soft and flowy and feminine. I'm 5'9" and 175lbs the Size 14 was a Perfect fit!!!! Thank You Connected Apparel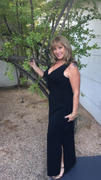 Sara 2.0
Beautiful dress. Amazing material and very well made. Because of my shape I do have to have it altered but it looked awesome on and anxious to see it once it will fit me perfectly.
✕
Don't know how to take your measurements? Watch our helpful how-to video!
If you're still in doubt, email us at fit@connectedapparel.com. We'll help you figure out your correct size!

Dresses & Jumpsuits
---
| | | | | |
| --- | --- | --- | --- | --- |
| Size | Size | Bust | Waist | Hip |
| 4 | S | 35" | 28" | 39" |
| 6 | S | 36" | 29" | 40" |
| 8 | M | 37" | 30" | 41" |
| 10 | M | 38" | 31" | 42" |
| 12 | L | 39.5" | 32.5" | 43.5" |
| 14 | L | 41" | 34" | 45" |
| 16 | XL | 42.5" | 35.5" | 46.5" |
| 18 | XL | 44.5" | 37.5" | 48.5" |
T-Shirt & Tunic Tops
---
| | | | | |
| --- | --- | --- | --- | --- |
| Size | Size | Bust | Waist | Shoulder |
| XS | 0-2 | 33.5" | 34.5" | 14.875" |
| S | 2-4 | 35" | 33" | 15.25" |
| M | 8-10 | 37" | 35" | 15.75" |
| L | 12-14 | 40" | 38" | 16.5" |
| XL | 16-18 | 42" | 40" | 17" |
Bottoms
---
| | | | | |
| --- | --- | --- | --- | --- |
| Size | Size | Elastic Waist | Hip | Rise |
| XS | 0-2 | 24.5-25.5" | 38" | 11.25" |
| S | 2-4 | 25.5-27.5" | 39.5" | 12" |
| M | 6-8 | 27.5-30.5" | 41.5" | 12.75" |
| L | 10-12 | 30.5-32.5" | 44.5" | 13.5" |
| XL | 14-16 | 32.5-34.5" | 46.5" | 14.25" |
Petite Dresses & Jumpsuits
---
| | | | | |
| --- | --- | --- | --- | --- |
| Size | Size | Bust | Waist | Hip |
| 2P | PXS | 34" | 26" | 37" |
| 4P | PS | 35" | 27" | 38" |
| 6P | PS | 36" | 28" | 39" |
| 8P | PM | 37" | 29" | 40" |
| 10P | PM | 38" | 30" | 41" |
| 12P | PL | 39.5" | 31.5" | 42.5" |
| 14P | PL | 41" | 33" | 44" |
| 16P | PXL | 42.5" | 34.5" | 45.5" |
| 18P | PXL | 44.5" | 36.5" | 47.5" |
Petite Bottoms
---
| | | | | |
| --- | --- | --- | --- | --- |
| Size | Size | Elastic Waist | Hip | Rise |
| PXS | 0P-2P | 24.5-25.5" | 38" | 10.375" |
| PS | 4P-6P | 25.5-27.5" | 39.5" | 10.75" |
| PM | 8P-10P | 27.5-30.5" | 41.5" | 11.5" |
| PL | 12P-14P | 30.5-32.5" | 44.5" | 12.25" |
| PXL | 16P-18P | 32.5-34.5" | 46.5" | 13" |
Plus Dresses & Jumpsuits
---
| | | | | |
| --- | --- | --- | --- | --- |
| Size | Size | Bust | Waist | Hip |
| 14W | 1X | 44.5" | 36.5" | 46.5" |
| 16W | 1X | 46" | 38" | 48" |
| 18W | 2X | 48" | 40" | 50" |
| 20W | 2X | 50" | 42" | 52" |
| 22W | 3X | 52" | 44" | 54" |
| 24W | 3X | 54" | 46" | 56" |
Plus T-Shirt & Tunic Tops
---
| | | | | |
| --- | --- | --- | --- | --- |
| Size | Size | Bust | Waist | Shoulder |
| 1X | 14W-16W | 45" | 44" | 16.25" |
| 2X | 18W-20W | 48" | 47" | 17" |
| 3X | 22W-24W | 51" | 50" | 17.75" |
Plus Bottoms
---
| | | | | |
| --- | --- | --- | --- | --- |
| Size | Size | Elastic Waist | Hip | Rise |
| 1X | 14W-16W | 32-35" | 54.5" | 13.75" |
| 2X | 18W-20W | 35-38" | 54.5" | 14.5" |
| 3X | 22W-24W | 38-41" | 57.5" | 15.25" |