Style Guide: How to Determine & Dress For Your Body Shape
Every body is beautiful! Women's bodies come in all different shapes and sizes. That's part of what makes each of us unique. It's important to know that there isn't an "average" or "typical" body. Some of us are curvier, some of us have narrower hips or broader shoulders – we're all a little bit different!
At Connected Apparel, we're proud to make dresses that make women of all body shapes and sizes not only look good, but FEEL good too!
We believe that fashion should make you feel empowered and boost your confidence.
The first step to building a wardrobe that makes you look AND feel fabulous is knowing your body shape, or the outline, of your body. Knowing your body shape will allow you to choose outfit styles that compliment your features and achieve a figure flattering look.
To help you, we created a guide that first helps you determine your body shape and then helps you learn how to dress for your body shape. We'll also help show you which Connected Apparel styles are perfect for your body type! Keep reading for more!
First Things First: What Are Your Measurements?
There are four measurements you need to know before figuring out your body shape: shoulders, bust, waist and hips. The relationship among these numbers will reveal the shape of your frame.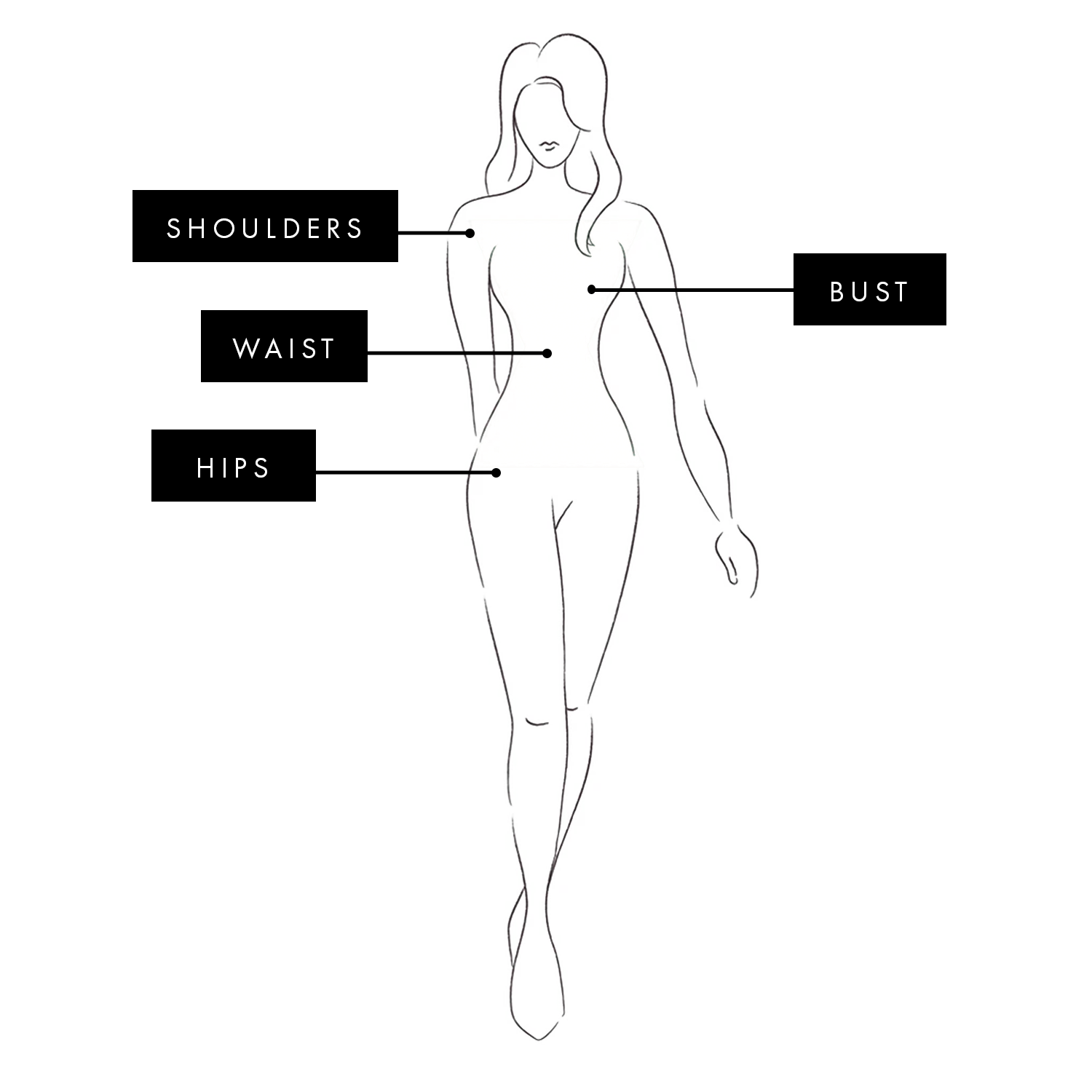 SHOULDERS -- Measure from the top of one shoulder (where your arm and shoulder meet), straight across your upper back to the same point on the opposite shoulder.
BUST -- Measure all the way around the fullest part of your bust. Make sure that the tape measure is tight, without pressing down on your chest.
WAIST -- Measure around the smallest part of your waist above the belly button.
HIPS -- Start on one side and wrap the tape measure all the way around the fullest part of your hips.
While a measuring tape may provide a more exact formula of determining your body type, if you don't have one, that's okay! You can get an idea of your body shape by asking yourself the following questions:
What is the widest part of your body – your bust, waist or hips?
What areas of your body do you have the most fit issues with?
What area of your body do you first notice changes in your weight
What styles are/are not typically flattering to your figure?
PRO TIP: Use a cloth measuring tape instead of a metal one. When measuring, the tape should fit comfortably around the area you're measuring not too tight and not too loose.
HELPFUL REFERENCE: Watch our video or read our guide on How to Take Your Measurements for an in-depth lesson to help you determine your body shape.
Remember: The Key to Understanding Your Body Shape
Regardless of your body size and shape, there are three important things to remember when finding styles that work for your figure.
Flattering your shape is all about finding balance. – Use your bust, waist and hips to your advantage! Accentuating certain body parts draws attention away from others. Let your favorite body part (and your confidence) shine!


Use silhouettes and lines to draw the eye where you want it. – Consider where a garment hits you and the placement of key details like seams, pockets and embellishments. The right lines can help elongate your legs, create an hourglass waist and even make your butt look perky. Yes, please!


Be mindful with color and print. – The eye is naturally drawn to bold prints and bright colors. It's crucial to consider the scale of a print. Large prints and horizontal lines increase volume while small prints and vertical lines decrease volume. Use these to your advantage to shift attention away from your least favorite parts and towards areas you want to accentuate.
Now: What's Your Body Shape?
Now that you have your four measurements, it's time to figure out your body shape!
There are many different body shapes with most women falling in-line with one of the following: apple, pear, hourglass, inverted triangle or rectangle.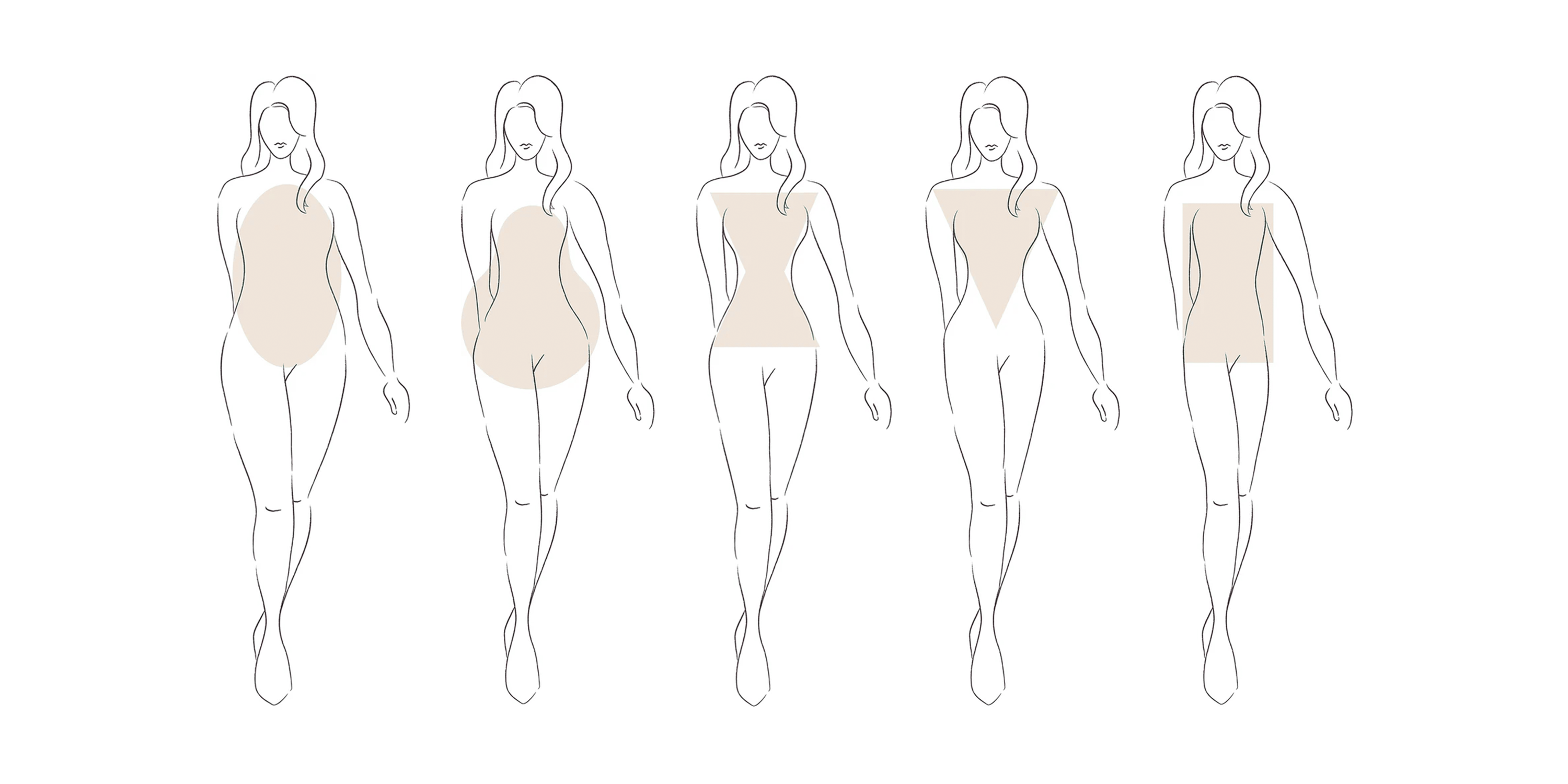 Click on one of the following statements that most closely fits your body measurements:
Or keep reading to learn about the different characteristics of each shape and tips on how to dress according to your shape!
how to dress for an Apple Body shape
If you're curvy with a less defined waist, you're likely an apple shaped body (also known as a circle or round body shape).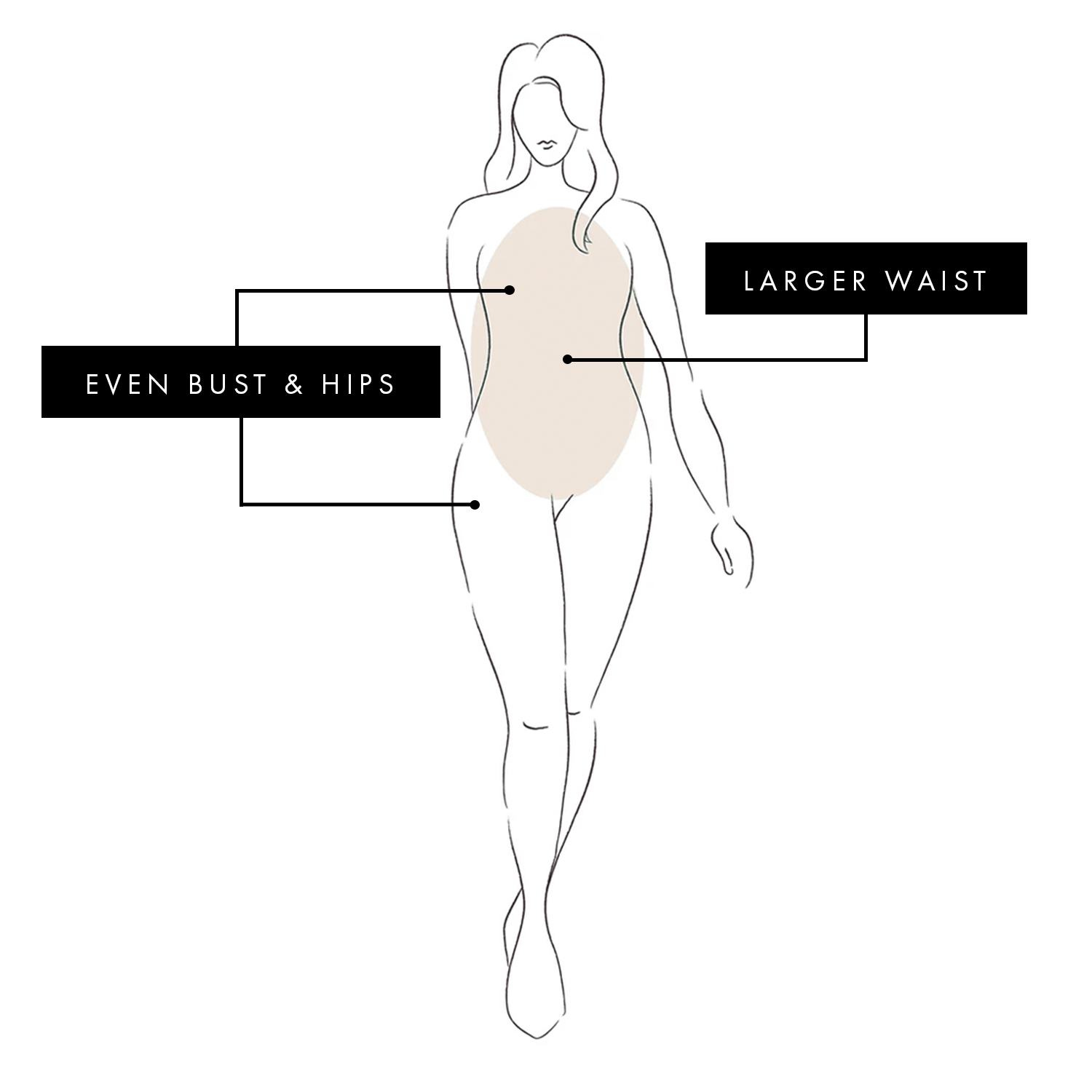 As with any body shape, there are certain styles that are the most figure flattering and work with your body. Use illusion-creating lines and silhouettes to your advantage! With an apple shaped body, you'll want to draw attention to your upper body or your legs. Look for pieces that draw attention away from your midsection and elongate your figure. Stick to small-scale prints— palm size or smaller— for a slimming effect.
Tips for Apple Shaped Bodies:
Take your measurements! We can't stress this enough! Make sure you're truly an apple shape by taking your body measurements.
Draw attention away from your midsection. Redefine where your mid section is by placing a belt a little further up from your waistline to create a slimmer figure.
Emphasize other parts of your body. Whether it's emphasizing your cleavage or your legs, draw attention away from your mid section to other body parts you love.
Choose the right fabrics. Opt for loose and texture materials or draping and ruching.
Our top style for apple shaped bodies:
Styles for Apple Shaped Bodies:
How to dress for Pear shape (or triangle) body
If your hips are broader than your shoulders, you're likely a pear shaped body (also known as a triangle body shape).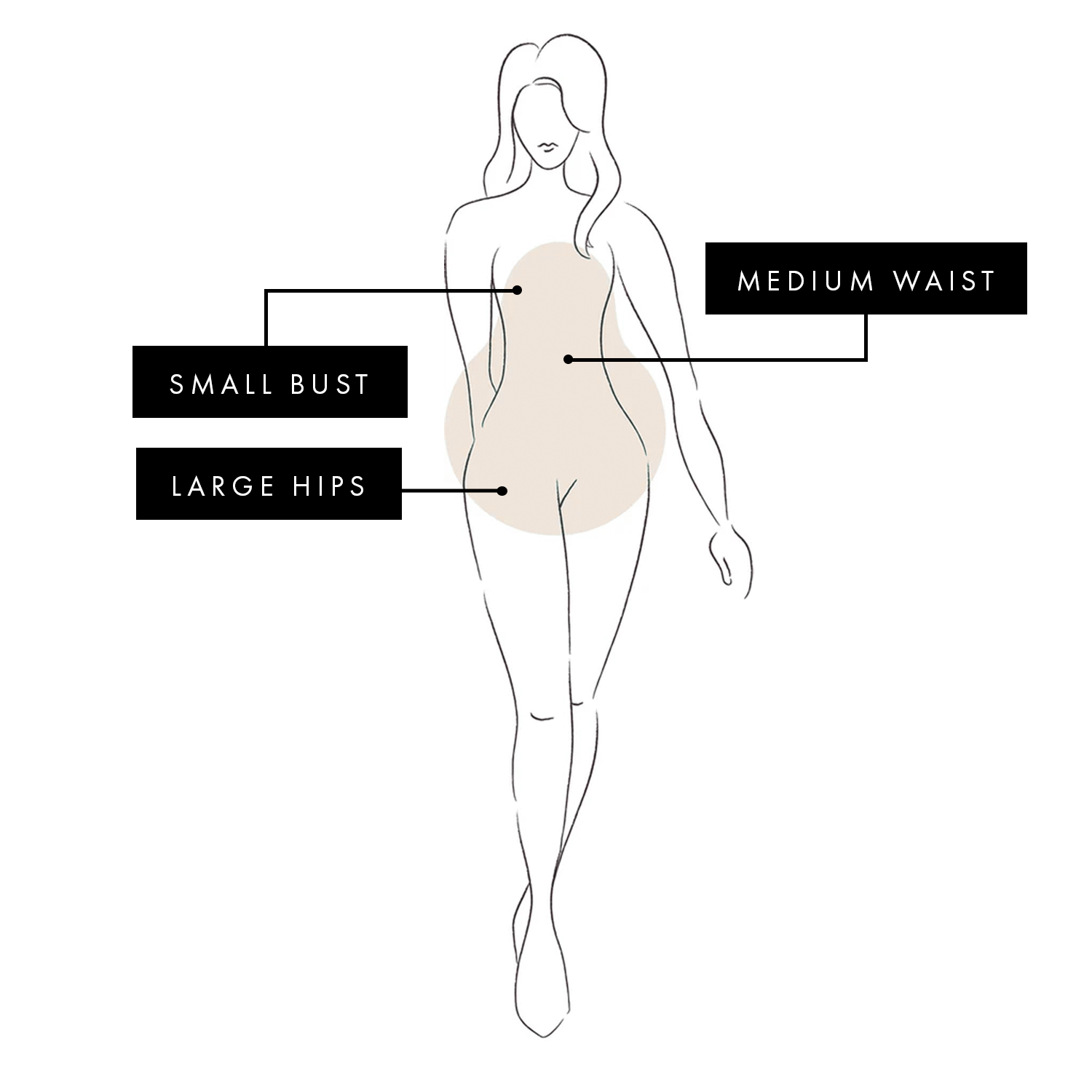 With a pear shaped body, you may want to downplay your hips and flaunt your defined waist and small upper frame! To do that, you will want to accentuate your shoulders, drawing attention to your upper body and waist while elongating the legs. Avoid garments that hit at the hip or have volume there, as they draw attention towards your widest part.
Tips for Pear Shaped Bodies:
Draw attention to your upper body. The idea is to detract from your bottom half and draw attention to your upper body.
Consider your neckline. Create width across your shoulders to balance out your hips.
Show off your shoulders! Cold shoulder styles work best to draw attention up to your shoulders.
Accessories are your friends. Draw the eye up away from your hips with colorful scarves, statement necklaces, and yes, even fashion-friendly face masks.
Dresses are your best friend! Fit and flare dress styles cinch at the waist and fall over your hips, creating a flattering body shape.
Our top style for Pear shaped bodies:
Styles for Pear Shaped Bodies:
How to dress for Hourglass Shape
If your shoulders and hips are balanced and you have a defined waist, you're likely an hourglass body shape.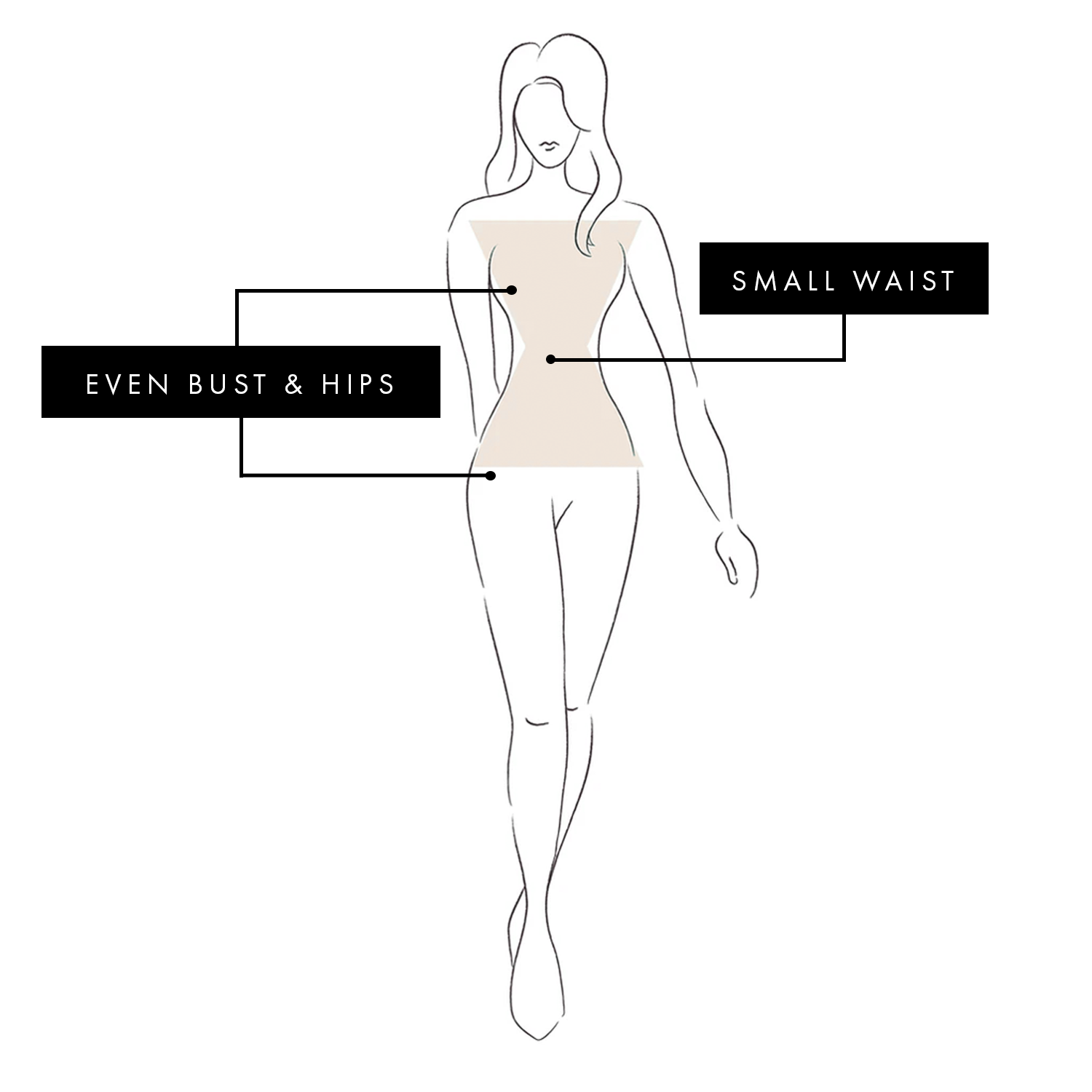 Many would consider you one of the lucky ones as your body shape is already balanced. Your bust and hips are around the same size, making it easy to accentuate your feminine figure. If you're blessed with these balanced curves, flaunt them! Play up your feminine figure by accentuating your waist. Wrap dresses (like our best selling and customer favorite Lisa dress) are your best friend! Avoid boxy and bulky clothing, as they will hide your hourglass shape.
Tips for Hourglass Shaped Bodies:
Fitted dresses are perfect for you! Because your body is already balanced, fitted dresses only aim to accentuate your shape.
Avoid bulky clothing. Avoid adding ruffles and/or extra fabric so that you don't end up losing your hourglass body shape.
Opt for v-neck styles. High necklines will make your bust area feel larger than it actually is.
Our top style for Hourglass shaped bodies:
Styles for hourglass Shaped Bodies:
how to dress for Inverted Triangle Body Shape
If your shoulders are broader than your hips, you're likely an inverted triangle body shape.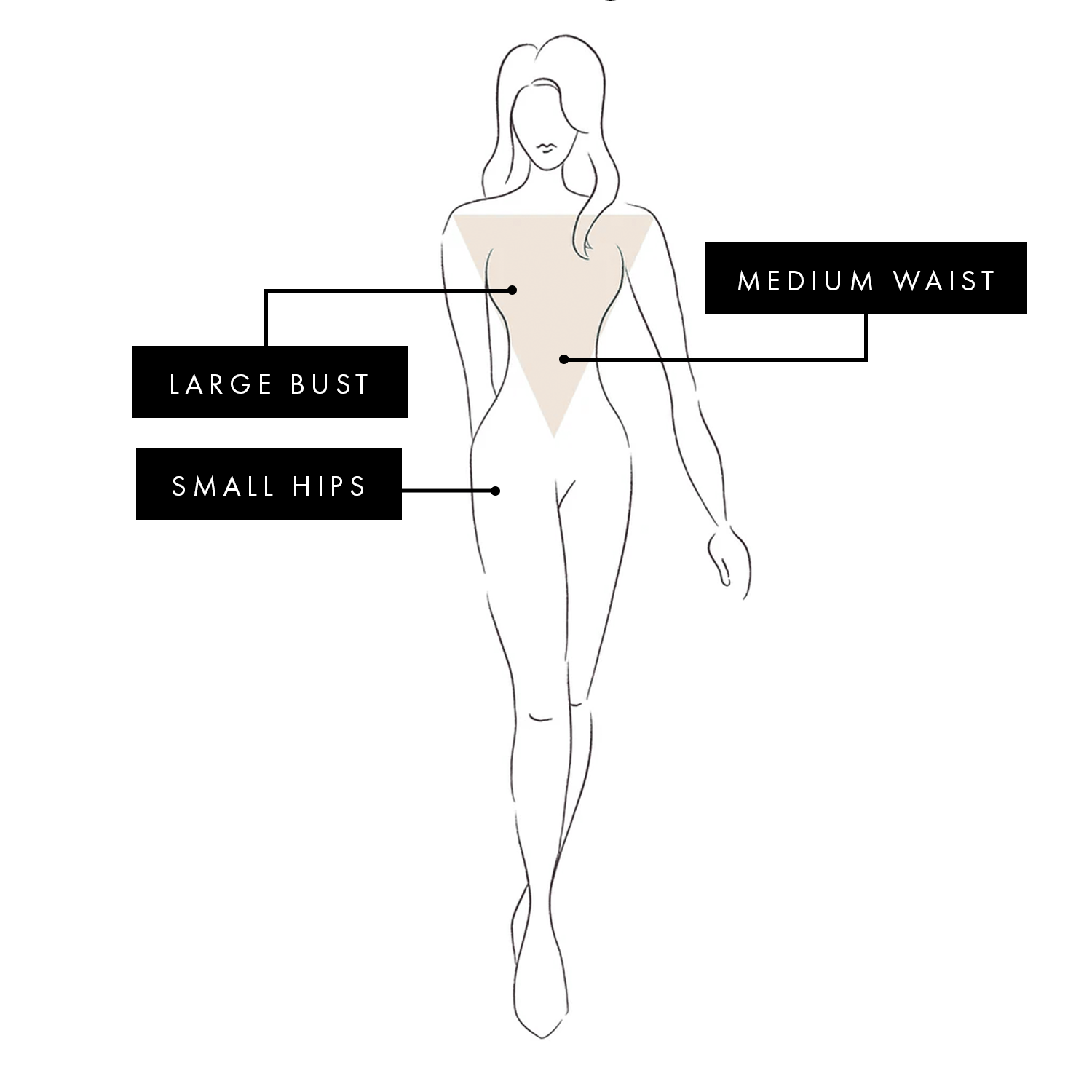 Celebrate your broad shoulders with open necklines that draw attention towards your beautiful face. Look for styles that define your waist and add volume to your hips to balance your proportions. The illusion of curves balances out the broadness of your shoulders.
Tips for Inverted Triangle Shaped Bodies:
Choose open necklines and collars. Bring attention to your upper body with open necklines.
Choose dresses with a voluminous skirt. Add volume below the hips with a-line or fit and flare dresses.
Our top style for inverted shaped bodies:
STYLES FOR INVERTED TRIANGLE SHAPED BODIES:
how to dress for Rectangle Shape
If your four measurements are fairly uniform and you have a straighter build, you're likely a rectangle body shape.
Add more shape to your body with the clothes that you wear. Your balanced proportions are ideal for creating the illusion of an hourglass shape so opt for styles that evenly add volume to your bust and hips. These outfit styles should define your waist and create curves on the top and/or bottom of your body. You'll look stunning in structured and tailored pieces, but avoid those with boxy cuts.
Tips for Rectangle Shaped Bodies:
Avoid clothes with no shape. You always want to choose items that will do wonders for our body shape.
Belts are your new best friend. The easiest solution for creating a waistline!
Opt for A-Line dresses. Create a waistline with minimal effort by choosing this figure flattering dress silhouette.
Jumpsuits are also your best friend. Choose a cold-shoulder jumpsuit to highlight your shoulders.
Our top style for Rectangle shaped bodies:
Styles for Rectangle Shaped Bodies:
While not technically a body shape (petites come in all different shapes and sizes), we put together some universal styling tips if you're 5'3" and under.
Having a Bust, Waist or Hip Measurement Larger Than A Regular Size Chart
Creating looks that compliment your body shape doesn't have to be a guessing game. Read our guide to help you create your most stunning look yet.
Styles for every body shape & size!
Keep in mind that as we age, our body shapes may change. If your body used to be an hourglass body shape, but you come to find that you're veering closer to an apple shaped body nowadays, IT IS OKAY! You and your body are perfect the way you are now. Feel good no matter what your body shape is with clothes that are designed with you in mind!
Everybody and EVERY BODY is different, a fact that we love to celebrate at Connected Apparel. Whether you're one of these body shapes or a combination of two or more, we have styles that are figure flattering just for you!
Still struggling with how to find your body shape? Our team at Connected Apparel is here to help! Send us an email at fit@connectedapparel.com and we'll work together to find your exact body shape and a collection of figure-flattering styles!