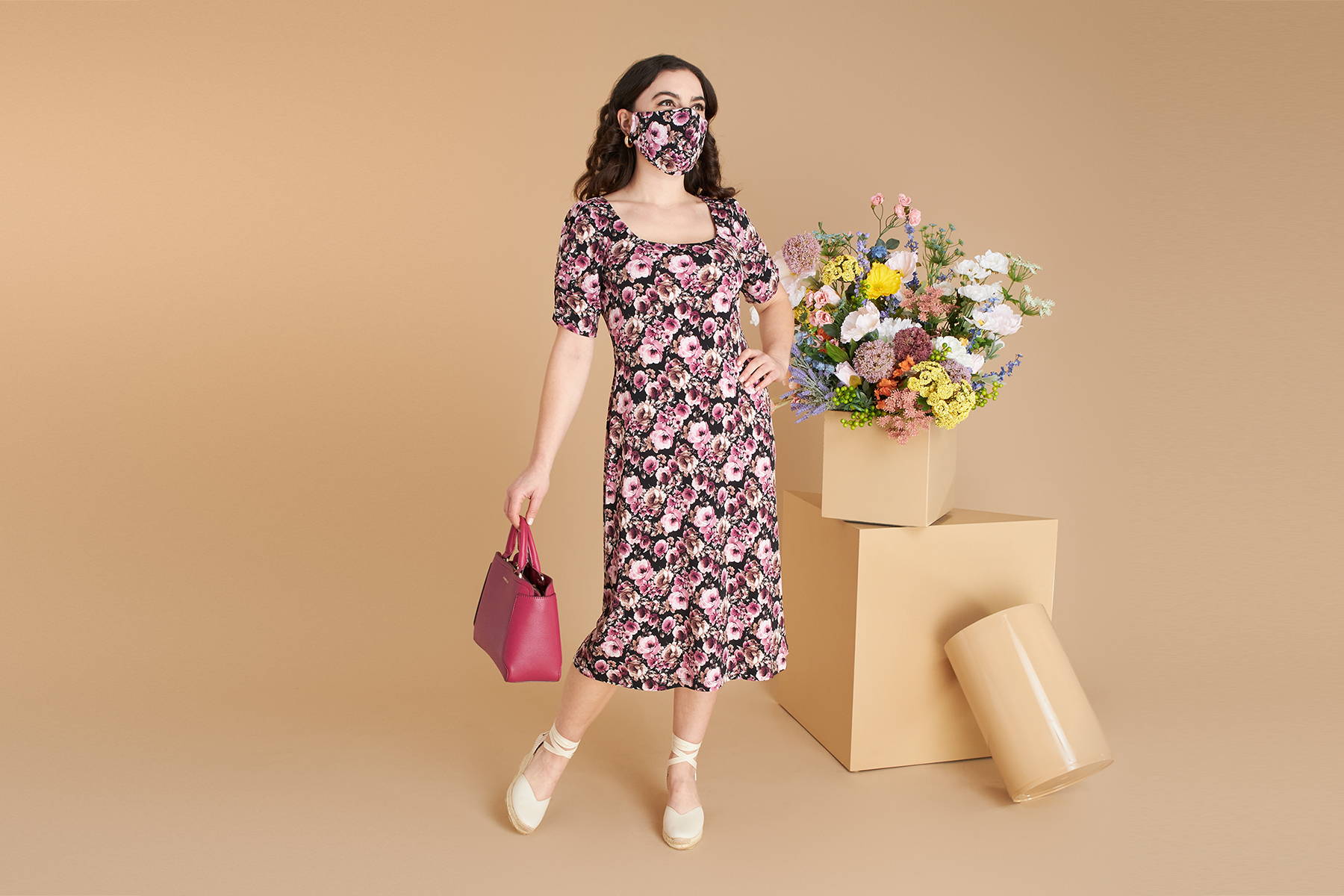 Find out why our everyone loves our best selling non-medical, reusable face masks!
We found a way to connect responsibly with each other & now we want to connect responsibly with you!
Walk into our Southern California headquarters and you'll see our entire Connected Apparel family wearing face masks. At CA, we've realized how simple proactive measures are integral in helping keep us safe — and safely connected. And we want to help the rest of our CA family keep covered, comfortable and connected too.
Designed, sewn and shipped from our headquarters in Los Angeles, CA, these non-medical, reusable masks are made from our signature fabrics and finished with a soft lining so you're covered, comfortably. Each mask is triple-layered, has thin elastic ear loops and is machine-washable.
Fashion Forward Face Masks (Single Pack)
"Absolutely love these masks! Simple and cute, while also soft and so comfortable. These do not irritate my face like the surgical masks and no comparison in level of comfort. Very happy with these - haven't stopped wearing them since purchasing!"
- Mari, Thousand Oaks, CA
SHOP CAxLZ LIMITED EDITION MASKS (SINGLE)
No outfit is complete without this season's most coveted accessory! CAxLZ non-medical, reusable fashion face masks are the glitz your washable face mask lineup needs. CAxLZ is a collaboration built on the shared belief that women of all ages, shapes and glorious sizes should look and feel confident in everything they wear. Connected Apparel (CA) and Lawrence Zarian (LZ) designed the limited edition CAxLZ Sequin Collection with you, the real woman, in mind.
Special Occasion Face Masks (SINGLE)
From the sophisticated Stevie Lace Dress to the knockout Floor Length Grace Dress, our stunning sequin lace and foil metallic fabric can be seen in countless chic special occasion dresses and jumpsuits. And now you can complete your event-ready style with a glamorous non-medical, reusable face mask too!
* All masks are non-returnable, final sale and exempt from all sales and promotions.

These masks are intended for use by a single individual as a face mask to cover the nose and mouth for source control (to help contain the wearer's respiratory secretions), and should not be shared.
These masks are not FDA-approved. They are not intended for use in a medical or clinical setting nor for use as replacement of medical-grade Personal Protective Equipment (PPE), such as N-95 respirators, surgical masks, face shields, or other protective measures recommended by the CDC to stop the community spread of any viruses including, but not limited to, social distancing, washing your hands and refraining from touching your face, eyes, and nose. Wearing of, and placing, the mask on your face may actually increase the risk of touching your face.
These masks are designed for adult use only and should not be placed on young children. Children of any age can potentially choke or suffocate with use of masks.
These masks should not be worn by anyone who has trouble breathing, has respiratory conditions, or is unconscious, incapacitated or otherwise unable to remove the mask without assistance.
This product makes no claims of antimicrobial protection, antiviral protection, particulate filtration or infection prevention or reduction.
DO NOT USE in a clinical setting where the infection risk level though inhalation exposure is high. This product is NOT PPE and should not be used to meet a professional healthcare facility's obligation to protect workers against infectious disease hazards.
The masks are sold as-is without warranty of any kind.