Pay in 4 installments of $23.75 with
,
or
Sara is a timeless jumpsuit that you can wear for any season. A chiffon crossbody ruffle adds dimension and movement, taking this jumpsuit to the next level of sophistication. With the perfect pair of heels, dangling earrings and an evening clutch, you'll be all set to head out to a wedding reception, upscale dinner or a night of cocktails.
Details:
Gloria is 5' 9" and wearing size 8
Adrienne is 5' 7" and wearing size 18W
Inseam Measurements:
Regular: 31" for all sizes
Petite: 28.5" for all sizes
Plus: 29.75: for all sizes
Key Features:
Floor length
Back zipper
Sleeveless
Wide leg pant
Machine wash
Body: Polyester, Spandex; Ruffle: Polyester
Customer Reviews
Write a Review
Ask a Question
11/13/2021
Cynthia E.

United States
I recommend this product
Close but not for me
I love the style of this jumpsuit…however….it was just a little too low necked for business wear. Had to return. I think it will look great on other body styles. I am 5'10" and usually wear a size 10 but this was a little short waisted as well.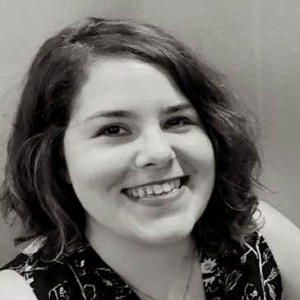 B
10/31/2021
Bridget
I recommend this product
My favorite outfit!!!
I LOVE THIS. It has just enough stretch, so it's less challenging to get in/out of than many other jumpsuits. It can be dressed up or down really well. If it weren't sold out I'd buy a second one. The picture my husband took doesn't do it justice. It looks even more amazing on me in real life. It's SO flattering. I've gained 30lbs during the pandemic and have been very insecure about my weight. This makes me feel so confident. I wore it to a wedding last night and got so many compliments. I weigh 208lbs, am 5'4", and wear 42C bra. I got 14P because 14R was sold out. 14R probably would've looked slightly better on me length wise, but with 14P I didn't need to get it hemmed.
09/22/2021
Lisa M.

United States
I recommend this product
Beautiful jumpsuit
Very flattering Also communicated with a representative at Connected and she was so helpful and a pleasure to deal with. Will definitely purchase again from this company. Highly recommend!
08/01/2021
Karin S.

United States
I recommend this product
Jumpsuit
Great quality! Received many compliments!
05/09/2021
Nick

United States
I recommend this product
Love it
Very happy with customer service and delivery The jumpsuit fits well Love the style
✕
Don't know how to take your measurements? Watch our helpful how-to video!
If you're still in doubt, email us at fit@connectedapparel.com. We'll help you figure out your correct size!

Dresses & Jumpsuits
---
| | | | | |
| --- | --- | --- | --- | --- |
| Size | Size | Bust | Waist | Hip |
| 4 | S | 35" | 28" | 39" |
| 6 | S | 36" | 29" | 40" |
| 8 | M | 37" | 30" | 41" |
| 10 | M | 38" | 31" | 42" |
| 12 | L | 39.5" | 32.5" | 43.5" |
| 14 | L | 41" | 34" | 45" |
| 16 | XL | 42.5" | 35.5" | 46.5" |
| 18 | XL | 44.5" | 37.5" | 48.5" |
T-Shirt & Tunic Tops
---
| | | | | |
| --- | --- | --- | --- | --- |
| Size | Size | Bust | Waist | Shoulder |
| XS | 0-2 | 33.5" | 34.5" | 14.875" |
| S | 2-4 | 35" | 33" | 15.25" |
| M | 8-10 | 37" | 35" | 15.75" |
| L | 12-14 | 40" | 38" | 16.5" |
| XL | 16-18 | 42" | 40" | 17" |
Bottoms
---
| | | | | |
| --- | --- | --- | --- | --- |
| Size | Size | Elastic Waist | Hip | Rise |
| XS | 0-2 | 24.5-25.5" | 38" | 11.25" |
| S | 2-4 | 25.5-27.5" | 39.5" | 12" |
| M | 6-8 | 27.5-30.5" | 41.5" | 12.75" |
| L | 10-12 | 30.5-32.5" | 44.5" | 13.5" |
| XL | 14-16 | 32.5-34.5" | 46.5" | 14.25" |
Petite Dresses & Jumpsuits
---
| | | | | |
| --- | --- | --- | --- | --- |
| Size | Size | Bust | Waist | Hip |
| 2P | PXS | 34" | 26" | 37" |
| 4P | PS | 35" | 27" | 38" |
| 6P | PS | 36" | 28" | 39" |
| 8P | PM | 37" | 29" | 40" |
| 10P | PM | 38" | 30" | 41" |
| 12P | PL | 39.5" | 31.5" | 42.5" |
| 14P | PL | 41" | 33" | 44" |
| 16P | PXL | 42.5" | 34.5" | 45.5" |
| 18P | PXL | 44.5" | 36.5" | 47.5" |
Petite Bottoms
---
| | | | | |
| --- | --- | --- | --- | --- |
| Size | Size | Elastic Waist | Hip | Rise |
| PXS | 0P-2P | 24.5-25.5" | 38" | 10.375" |
| PS | 4P-6P | 25.5-27.5" | 39.5" | 10.75" |
| PM | 8P-10P | 27.5-30.5" | 41.5" | 11.5" |
| PL | 12P-14P | 30.5-32.5" | 44.5" | 12.25" |
| PXL | 16P-18P | 32.5-34.5" | 46.5" | 13" |
Plus Dresses & Jumpsuits
---
| | | | | |
| --- | --- | --- | --- | --- |
| Size | Size | Bust | Waist | Hip |
| 14W | 1X | 44.5" | 36.5" | 46.5" |
| 16W | 1X | 46" | 38" | 48" |
| 18W | 2X | 48" | 40" | 50" |
| 20W | 2X | 50" | 42" | 52" |
| 22W | 3X | 52" | 44" | 54" |
| 24W | 3X | 54" | 46" | 56" |
Plus T-Shirt & Tunic Tops
---
| | | | | |
| --- | --- | --- | --- | --- |
| Size | Size | Bust | Waist | Shoulder |
| 1X | 14W-16W | 45" | 44" | 16.25" |
| 2X | 18W-20W | 48" | 47" | 17" |
| 3X | 22W-24W | 51" | 50" | 17.75" |
Plus Bottoms
---
| | | | | |
| --- | --- | --- | --- | --- |
| Size | Size | Elastic Waist | Hip | Rise |
| 1X | 14W-16W | 32-35" | 54.5" | 13.75" |
| 2X | 18W-20W | 35-38" | 54.5" | 14.5" |
| 3X | 22W-24W | 38-41" | 57.5" | 15.25" |