Wedding Style Guide: What to Wear to a Wedding as a Guest
RSVP yes! to your next wedding invite and be the best dressed wedding guest!
You just RSVP'ed yes to that wedding invite you received in the mail and now you're asking yourself "What do I wear to a wedding as a guest?" This is one of the most common questions wedding guests have. And, lucky for you, Connected Apparel is here to help!
Deciding what to wear to a wedding isn't always an easy task. Once you send your RSVP in the mail, there's a good chance you'll start thinking about the outfit you'll don on the big day. While the invitation will often include a suggested wedding dress code, it can be confusing when it comes time to actually picking an outfit. And, as any seasoned guest knows, the last thing you want to do is procrastinate finalizing your look until it's the night before the wedding and you feel like you have nothing to wear.
Weddings are no longer strictly formal events with a sit-down meal and speeches. Today, many couples are opting for a more relaxed event. With the lines of expectation blurred, working out what to wear as a wedding guest becomes a bit trickier. There are a number of factors to consider when choosing your outfit. The most important of these are the dress code, the season, and the venue where the ceremony is taking place. All of these will have a big impact on what is, and isn't, appropriate to wear.
In this comprehensive wedding guest style guide, you'll find tips on choosing exactly what to wear to a wedding (and what not to wear) regardless of the season or the dress code. Read up on our tried-and-true wedding styles tips that will help you pick an outfit to feel your best in. And to give you the easiest shopping experience possible, we've also picked out our top choices for each type of wedding dress code to help narrow down your options.
10 tips for choosing what to wear to a wedding as a guest
With increased optimism surrounding the wedding season this year, a pretty wedding guest dress or jumpsuit is the ticket to feeling your most celebratory and joyful!
When it comes to wedding fashion etiquette, there are a few rules that'll help you find an outfit that's appropriate and stylish. Brush up on these fool-proof tips below before you start shopping so you know exactly what kind of clothes you can wear to a wedding. These tips will also help you avoid any fashion faux pas on the big day!
1. Keep the dress code in mind!
The dress code is the most important factor to take into consideration when choosing what to wear to a wedding. Typically the couple will set a wedding dress code to match a particular theme or the venue and will make a note of it on the invitation.
Understanding the wedding dress code is key for picking an appropriate outfit. To help you distinguish what the different dress codes mean, keep reading or jump to the dress codes section of this style guide. Once you know what different dress codes mean, you'll be able to make an informed decision on what to wear to a wedding.
Remember, the happy couple will have specified a dress code for a reason. This could be because it's appropriate for the venue their wedding is being held at, or because it matches their chosen aesthetic.
2. Consider the event's location.
The location of the wedding can offer some clues as to what you should wear to the wedding. For instance, your outfit for an outdoor garden wedding will be different from what you wear for an evening celebration at an upscale ballroom.
The venue can also indicate what kind of shoes you should wear too. If you're outside, opt for a chunky heel or comfortable kitten heels for walking purposes. If you're indoors, you can't go wrong with some sexy high heels!
Do some research on the venue so you know what to expect. Look for photos on the venue's website or social media pages to help you understand what clothes and shoes are appropriate to wear to a wedding on their property.
It's also important to respect religious venues. Most places of worship have specific rules around what is and isn't acceptable to wear. For example, religious weddings held in churches typically require shoulders to be covered, so it may be a good idea to bring a light shawl to wrap around your shoulders and arms during the ceremony. Other religious ceremonies may even require you to cover your head/hair. If you're unsure, ask the bride or groom for more clarification.
3. Consider the season the event is going to be held in.
In addition to the dress code, the season of the wedding can give further fashion insight too. The season will indicate whether or not you should bring a light shawl, wear closed-toe heels or include a coat with your outfit. To help you accessorize a wedding outfit for the season, keep reading or jump to the seasons section of this style guide. You'll be surprised how easy it is to switch up your accessories to fit the season!
4. Consider the event's time of day.
Another thing to consider is the time of day the wedding is held. If it's held in the early afternoon, you may get away with shorter sleeve styles. If it's in the evening, you might want to consider full length styles or even a light cardigan.
5. Start with what's in your closet.
Shop in your own closet first before you head to the stores or start shopping online. See if there's something there that you might want to use. Maybe it's a dress you have tucked away in the back of your closet or it's a statement necklace that you love. Take an audit of what you currently own so that you know what's missing and what you need to purchase.
6. Choose styles that flatter your body shape.
Consider this the golden rule of wedding guest attire. Unless explicitly directed on the wedding invitation or the couple's wedding website, avoid wearing an all-white outfit. It's acceptable to wear a dress or a jumpsuit with a hint of white as long as it's not the main color, but remember to use your best judgment. No one wants to be accused of stealing focus, or worse still, being confused with the bride by a distant relative or the catering staff.
8. Skip overly casual pieces you would wear everyday.
As a general rule of thumb, it's advised to skip wearing overly casual pieces like t-shirts, flip-flops, jeans or sneakers.
9. A wedding is a marathon, not a sprint!
Don't forget to take comfort into account. Remember that weddings are long days often starting in the morning and going into the late evening. It can involve a lot of standing, sitting, and in some cases, running around after small children. It's important to consider how you will be moving throughout the day when choosing your wedding guest outfit.
10. Shop for your wedding outfit early.
Being the best dressed wedding guest takes time and effort. Don't leave your wedding outfit shopping until the last minute! There's nothing worse than coming up on the week of a wedding and feeling like you have nothing to wear.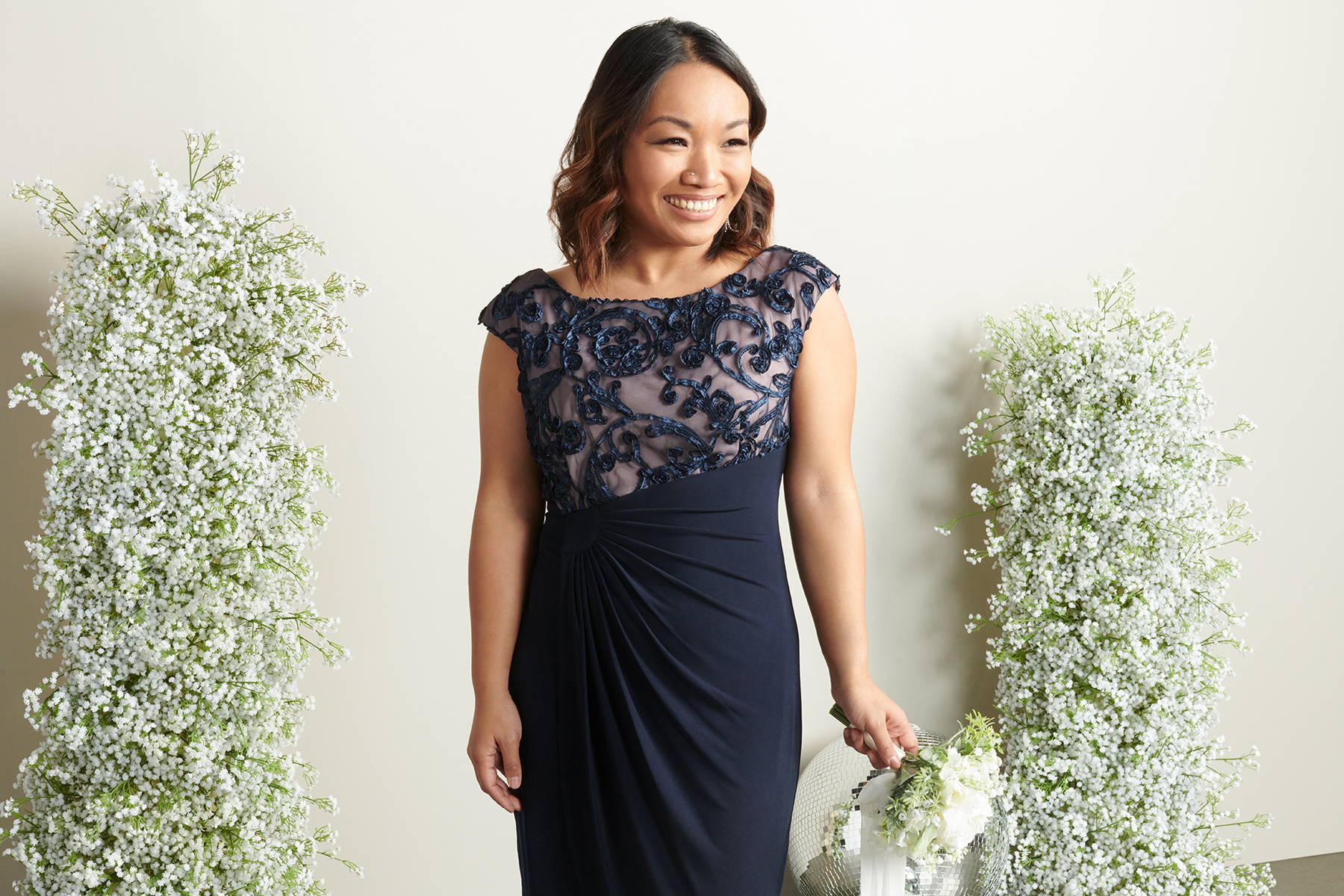 Camille is wearing the Lisa dress. Available for purchase starting March 1, 2022.
What are the different types of dress codes for a wedding?
Trying to decipher the difference between cocktail, semi-formal, formal, and black tie can be seriously confusing. Thankfully, we're here to help take the stress out of being a wedding guest.
Receiving a wedding invitation can be incredibly exciting. With increased optimism surrounding the wedding season this year, a pretty wedding guest dress or jumpsuit is the ticket to feeling your most celebratory and joyful! But, when the dress code leaves you feeling a little clueless, it can also be stressful.
While most wedding invitations include the preferred wedding dress code, it might be hard to decipher exactly what the to-be newly weds envision when it comes to the attire. Plus, with the rise of creative wedding guest attire suggestions (like "dressy casual" for example), you might be stumped when it comes to interpreting what they mean.
To help you find the best wedding guest outfit, we're breaking down exactly what wedding attire wording means. We're here to help define the most common wedding dress codes, from black-tie to cocktail and casual wedding attire. In this fashion cheat sheet, you'll also find tried-and-true styling hacks that'll help you decode the invitation if you're not sure what certain terms look like on the rack. Brush up on the basics of wedding dress codes below, and use this guide to find an outfit that's perfect for celebrating the couple on their big day.
What to wear for a casual, outdoor wedding
Be sure to match the casual vibe of an outdoor wedding with a casual wedding outfit.
Many relaxed, outdoor ceremonies and receptions call for casual attire. You might be tempted to think that a casual dress code means anything goes, but that's not necessarily the case. The dress code, which is the most informal of all wedding dress codes, allows you to wear something more laid-back and comfortable. However, that doesn't mean you shouldn't also look chic.
With backyard and garden weddings on the rise post-pandemic, casual dress codes are starting to be more common. However, it's important to remember that you are still attending a wedding and that this event requires a certain kind of outfit. As we mentioned already, avoid anything super casual that you would wear every day like tank tops, t-shirts, jeans, flip flops or sneakers. Instead, opt for a dress in a casual fabric or a jumpsuit with chiffon details if the weather is cold. When it comes to your feet, keep things laidback by swapping your usual stilettos for dressy sandals or low wedges.
What to wear for a dressy casual wedding
People always say "dressy casual," but what does that really mean?
Also referred to as "smart casual," the "dressy casual" dress code is a relatively informal type of attire that leaves you with plenty of outfit options.
To nail the look, remember to keep your ensemble elegant and easygoing. Depending on the time of the event, choose an outfit that falls in between formal and casual. Instead of fancy dresses and gowns, try opting for a stylish midi dress. It's encouraged to wear darker, more formal hues for an evening fête, while light colors and fabrics would be appropriate for a daytime wedding. As for footwear, stick to sandals, wedges, or block heels.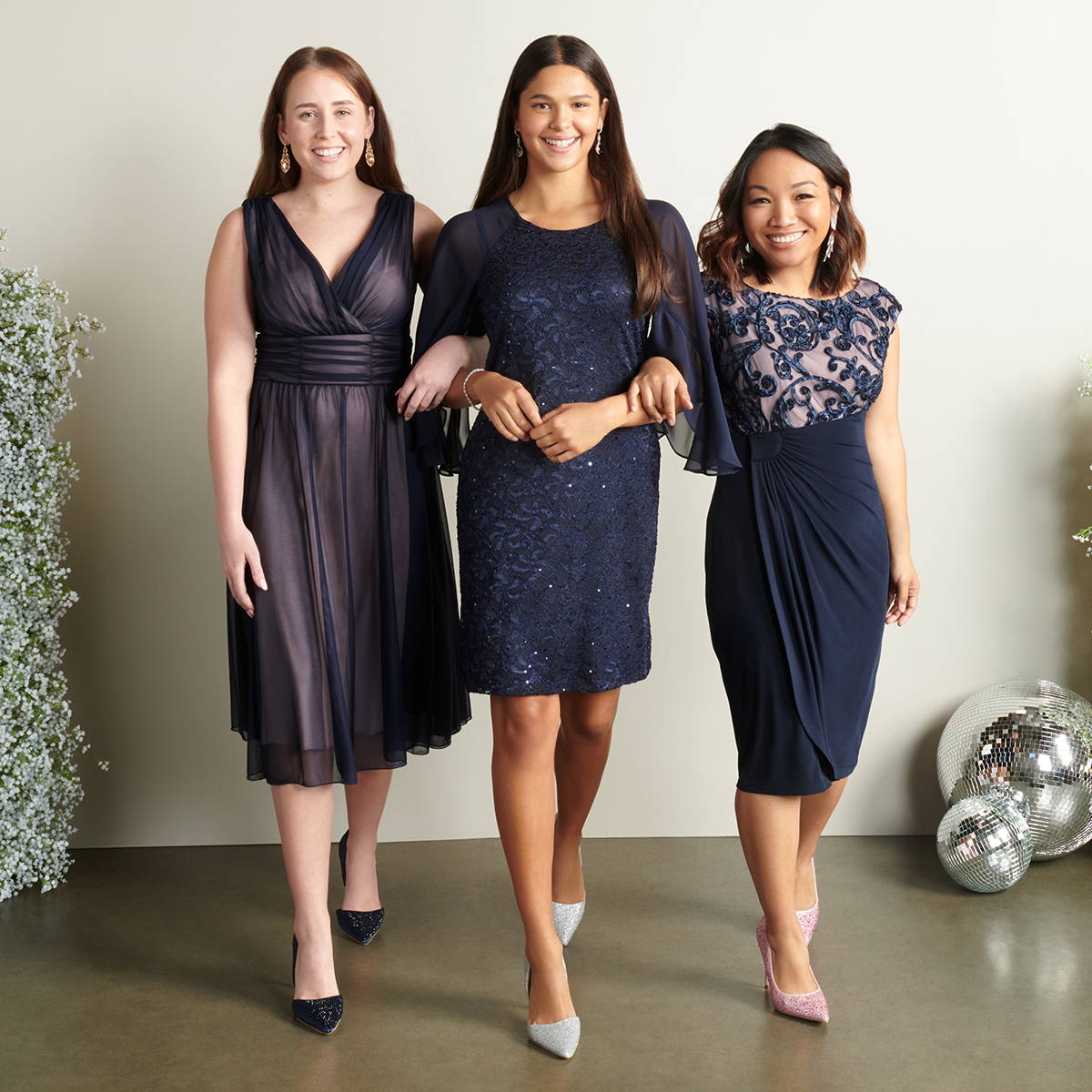 Jordan (left) is wearing the Cora dress, Olivia (middle) is wearing the Sasha dress (Available for purchase starting March 1, 2022), and Camille (right) is wearing the Lisa dress (Available for purchase starting March 1, 2022).
What to wear for a semi-formal wedding
Semi-formal wedding attire may seem like one of the trickier dress codes to nail.
Semi-formal and cocktail attire can sometimes be used interchangeably, so you might feel confused when it's time to pick an outfit. Semi-formal attire falls in the gray area between casual and formal, while cocktail attire tends to be a little less dressy than semi-formal. While both dress codes are more sophisticated than smart casual, it is still somewhat relaxed, meaning you can have fun with your outfit.
When it comes to semi-formal, it's best to let the time and location guide your outfit choice. For example, if the wedding is taking place in the evening, try choosing dark, formal colors and more structured silhouettes. If it is taking place during the day, opt for light tones and breezy fabrics. As this dress code sits a notch above cocktail attire and just below formal attire, when dressing for a semi-formal wedding, aim for understated and elegant looks — think figure-flattering silhouettes, midi dresses, and simple accessories. Overall, do keep your attire crisp. The semi-formal aspect does allow you to dress down, but only slightly.
What to wear for a cocktail attire wedding
Cocktail attire allows you to have some fun with your look.
Heading to a cocktail attire wedding? Get ready to have some fun with your look! While this is one of the more formal wedding dress codes, it also allows you to play around with bright colors, statement accessories, and bold embellishments. Cocktail attire is all about creating a party-ready look while keeping it classy.
For dresses, cocktail-length is a must—that means a knee-length hemline or something longer that hits above the ankles. A trusty LBD always works (and if you don't have one, this is a great time to invest). If you don't want to wear a dress, a tailored jumpsuit is a chic alternative. Finally, it's time to add accessories, which is where the cocktail attire theme can really shine. Bedazzled clutches and eye-catching jewelry will give your ensemble a final bit of pizzazz and personality.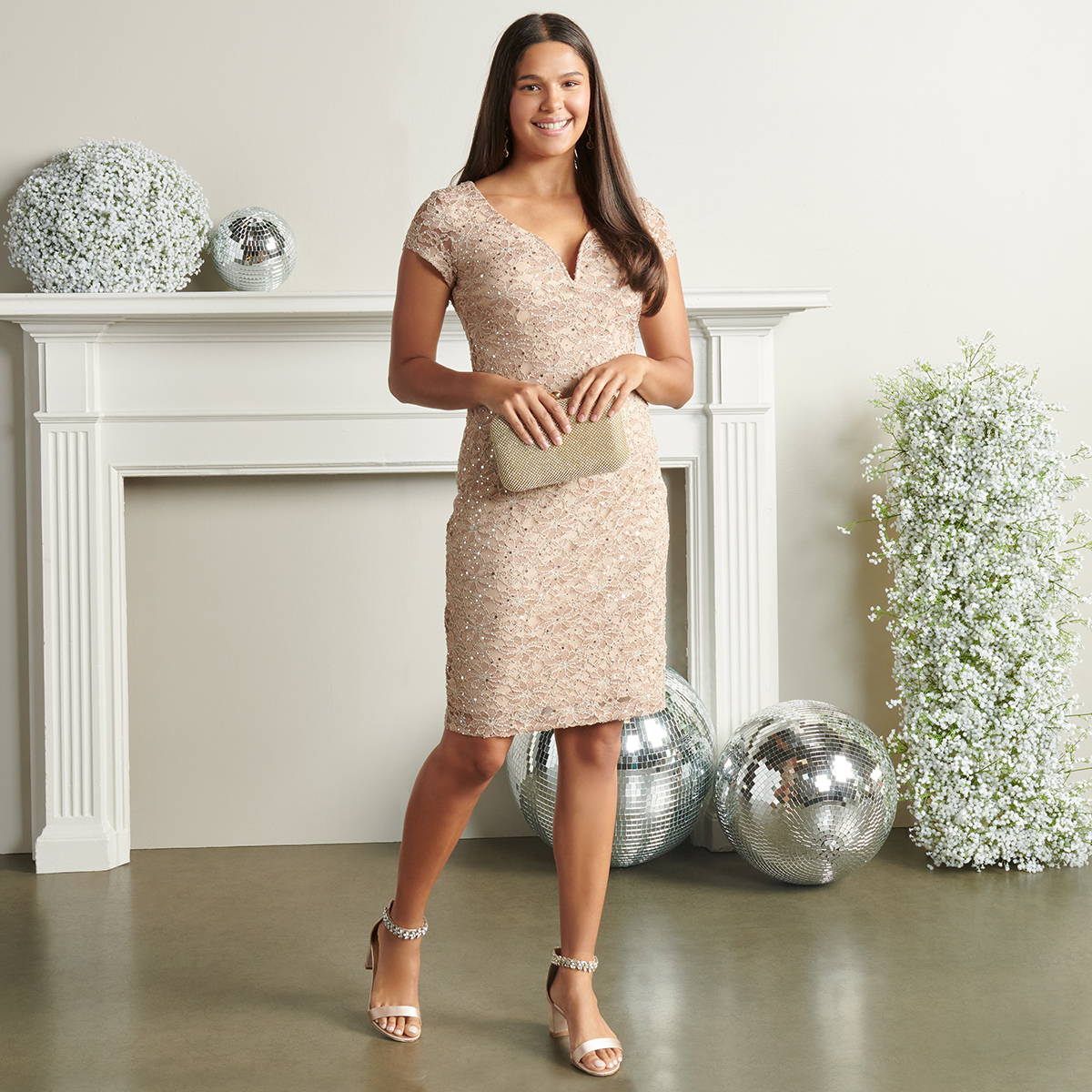 Olivia is wearing the Gracie dress. Available for purchase starting March 1, 2022.
What to wear for a formal wedding
Sometimes called black-tie optional, think of formal attire as being just a step below black-tie on the fancy spectrum.
Simply put, a formal wedding means you're not required to wear a long dress and that you can show off your ankles if you want to. But if the invitation says "black-tie optional," the bride and groom really mean that they want you to wear something extra fancy, but you don't necessarily have to. When it comes to formal attire, wedding guests have slightly more flexibility with hemlines, colors and patterns than traditional black-tie attire. For a formal or black-tie optional wedding, you can wear very fancy cocktail dresses instead of floor-length dresses, but avoid anything with revealing cutouts or hemlines above the knee.
The time of day the event is taking place can also be a helpful indicator of what the wedding dress code means. Evening weddings often imply a more formal wedding style. In that case, you might consider an outfit that feels a little more upscale. Or, for a formal wedding in the early afternoon, it's perfectly appropriate to trade the evening gown for something on the less-formal end of the black-tie spectrum. Remember to look classy and polished, but don't wear something overly embellished or fancy that you take away from the bride.
What to wear for a black-tie wedding
For black tie weddings, floor-length, embellished dresses are the way to go.
Black-tie wedding attire is a highly formal wedding dress code and can be somewhat ambitious to tackle. Black-tie weddings typically take place in the evening and call for an elegant appearance. It's important to note that black-tie wedding attire is one of the stricter dress codes that leaves little room for interpretation. As such, female wedding guests are expected to wear more formal, floor-length dresses.
Attending a wedding with a black-tie dress code is a great opportunity to elevate your outfit with accessories too. You can't go wrong with pieces that add sparkle to your outfit. Refined jewelry like pearls or diamonds are the best options to dress up an evening gown.
If you're still stuck on what black-tie wedding attire looks like, you can never be too overdressed. When in doubt, a dark, simple long dress is a safe choice. But, if you're feeling adventurous, you can experiment with trendy colors. As you're choosing what to wear to a formal wedding, remember that erring on the side of caution with a more elegant look is always a reliable choice.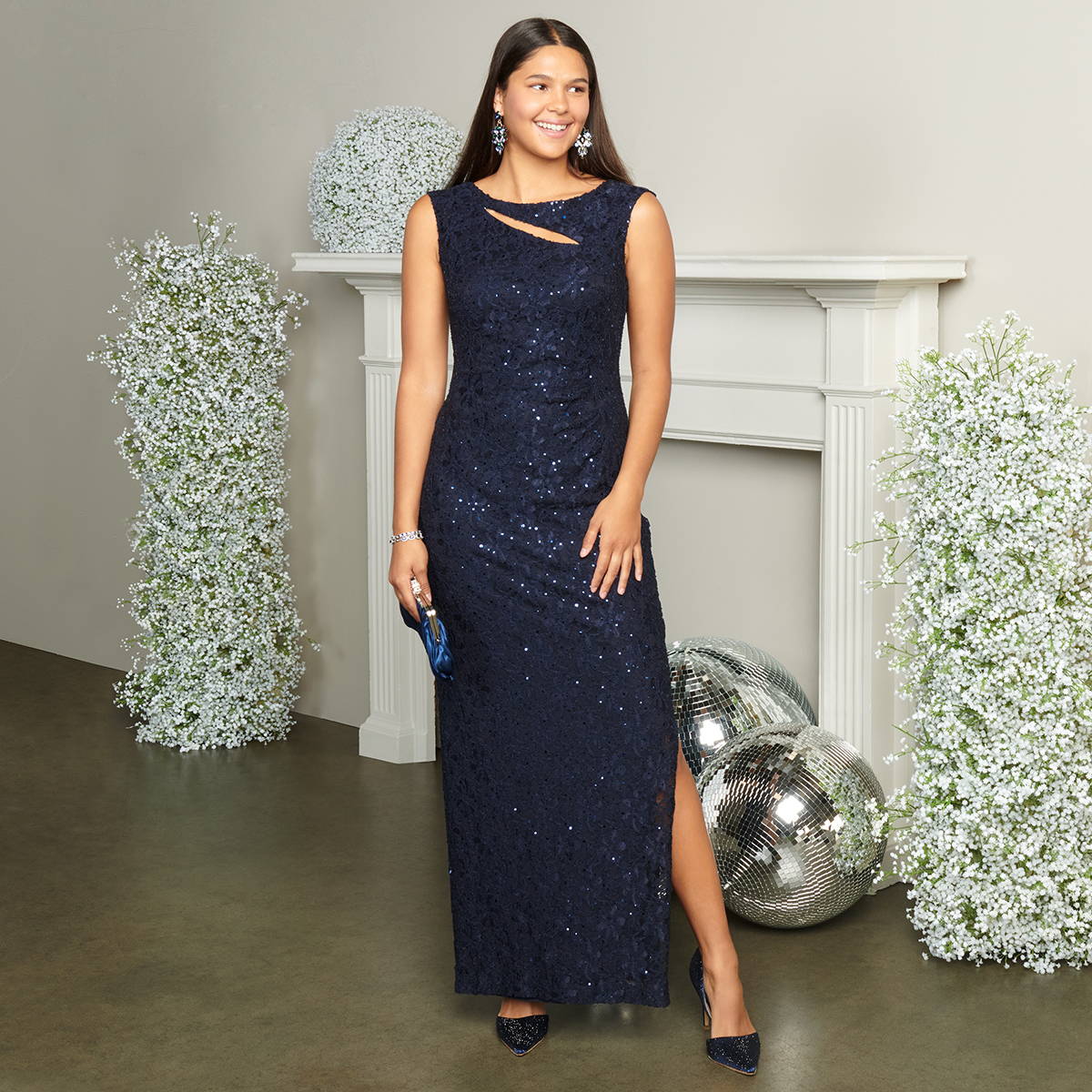 Olivia is wearing the Elizabeth dress. Available for purchase starting March 1, 2022.
What to wear for a festive wedding
This is your opportunity to have fun and be playful with your wedding outfit!
Festive attire is a relatively new dress code for weddings. As such, it can cause quite a bit of confusion. Essentially, it is providing you with the freedom to have fun and be playful with your outfit. If you're unsure where to start, try aiming for cocktail party attire with a twist. Think bold colors, exciting embellishments and accessories, and unique textures and details.