The History of Wedding Dress Trends
Did you know that as our Morals, Myths, and Politics change, so does what we wear on our wedding day?
Throughout the ages, weddings have meant more than the union of two people for the sake of love. They were used to solidify the merging of two families, businesses, and countries and even change hierarchies. Because of this, wedding dresses often represented an entire entity, not just the taste and style of the bride. 
Wedding dresses were not always white
Dating back to the Medieval era, fabrics and textiles showcased your social status due to dyed fabric being costly. Therefore, a celebratory time, such as a wedding day, called for vibrantly colored bridal dresses such as red, yellow, blue, and green. Other notable pieces were made of fur and silks, which were also expensive to the average citizen.
It was not until the wedding of Queen Victoria in 1840 that white became the standard, being that it was worn by someone with such stature. However, the reason behind wearing white has yet to be a symbol of "purity and innocence" at this time. During Queen Victoria's reign, the color blue represented a woman's "pure virtue". Queen Victoria's wedding dress shocked the masses but it exuded an abundance of wealth with the amount of handmade lace that was incorporated into her dress.
Image courtesy of Textile Research Center
The New Normal for Wedding Dresses
Soon after Queen Victoria's wedding dress, white wedding dresses became the new standard for all social classes. The silhouettes also changed. They were now more aligned with the everyday style of dressing with a more extravagant twist. An example of this would be the corsets and high collars of the 18th century. This conventional style was seen in wedding dresses of the early 1900's.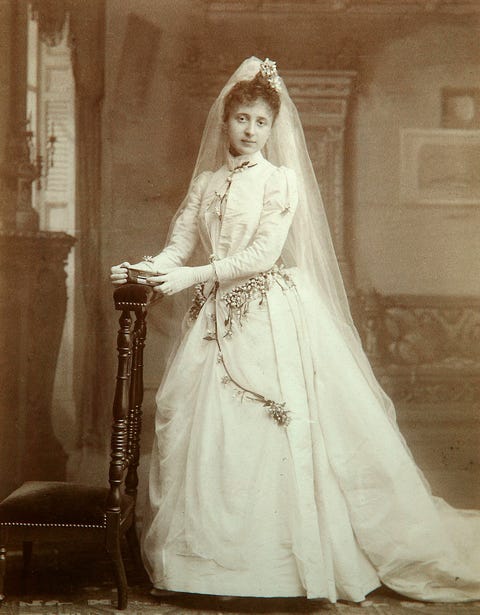 Image courtesy of Heritage Images + Getty Images
Downsizing for the Depression
Many people wonder: how did the great depression affect weddings? During The Great Depression, most women began to downsize on their wedding dresses due to not having the economic funds or morale to spend on extravagant affairs. Couples in this era wore simple church dresses and suits. Weddings during the great depression were simple, and anything more would be considered inappropriate considering the major stock market crash at the time.
The economy and the general financial state of the average person did not rise until after World War II. This caused an influx of formal wear once again. At this point, ball gowns were now the most desired silhouette for wedding dresses, while sweetheart and off-the-shoulder necklines were the most dominant.

Image courtesy of Vintage Dancer
The '70s, 80's, and 90's
Wedding dresses of the '70s '80s, and '90s embraced their zeitgeist. While the 70s white dress wedding called for loose, tranquil, bohemian fits relevant to the "hippie era", the 80's style wedding dresses did the complete opposite. The 80s were all about being flashy and this translated to large puffed sleeves (especially on the shoulders) and bountiful amounts of tulle and taffeta layers. In the 1990s, wedding dresses transitioned into versatile combinations taken from all eras, however,  sleek form-fitting dresses were the most popular. 
2000's and Beyond
In the 2000s and the 2010's, strapless dresses and A-line gowns increased in popularity. However, in recent times white may be the standard color of dress but a variety of prints, colors, and sheer fabrics are NOT seen as taboo. Another notable trend for today's bride is outfit changes for the different segments of the occasion. Besides the main wedding dress, it's common to change attire for the reception, these outfits tend to be simple with the intent to dance and socialize.
| | |
| --- | --- |
| Olivia is wearing our Turner Dress in Pearl. | Jordan is wearing our Tina dress in Champagne. |
Overall, current wedding dress trends have expanded dramatically leaving room for creativity and individuality. It's exciting to see what trends and current events will inspire wedding dresses in the next 10 years.

If this blog sparked your interest, gather more wedding inspiration from our wedding shop here.
-----
Citations
"1950s Vintage Wedding Dresses & Shoes History."
Vintage Dancer
, https://vintagedancer.com/1950s/1950s-vintage-wedding-dresses-history/.
Bridals by Eva
. https://i.pinimg.com/originals/29/c1/f7/29c1f793d14d7eb0b2c2ff42c5440080.jpg.
Chilton, Charlotte. "Wedding Dress of 1880."
The Evolution Of Bridal Style Through The Years
, https://www.elle.com/fashion/personal-style/g31437529/bridal-style-evolution/?slide=6.
"MuhStock."
Deviant Art
, https://www.deviantart.com/muhstock/gallery#/art/Bride-70s-01-110048352?_sid=1e7fa5ca.
"Princess Diana Wedding Gown."
VIP SHOP
, https://www.allvipmall.cf/products.aspx?cname=princess+diana+wedding+gown&cid=54&url=www.concordehotels.com.tr.
"Queen Victoria's Wedding Dress."
Textile Research Centre
, https://trc-leiden.nl/trc-needles/individual-textiles-and-textile-types/secular-ceremonies-and-rituals/queen-victorias-wedding-lace.
Leave a comment