20 Things You Didn't Know About CA
Have you heard?! It's our 20th Birthday! All month long we're writing articles, creating social media posts, and giving you an insider look into our past 20 years.
Okay, we'll admit it–we're a "millenial"... Since the year 2000, Connected Apparel has helped women of all shapes, sizes, and ages look fabulous with our women's dresses, jumpsuits, and separates. From stylish & affordable work wear to sleek floor-length special occasion dresses–making women feel comfortable & confident has been our mission. Along the way we've amassed a story filled with intrigue, secrets, and a wholeeeee lot of fabric. :) And we're about to give you the scoop! Minus the fabric–for fabric orders please call customer service.
So it's okay if you didn't get us anything–instead, just give our 20 Things You Didn't Know About CA article a read, below...<3
1. The name "Connected Apparel" comes from the relationship between our original team members.
Owner & CEO, Jay Balaban, first started CA with our designer, CFO, and several other people that had worked closely together for many years–all of which are still here today. We're about real human connection, not Wi-Fi connection. ;)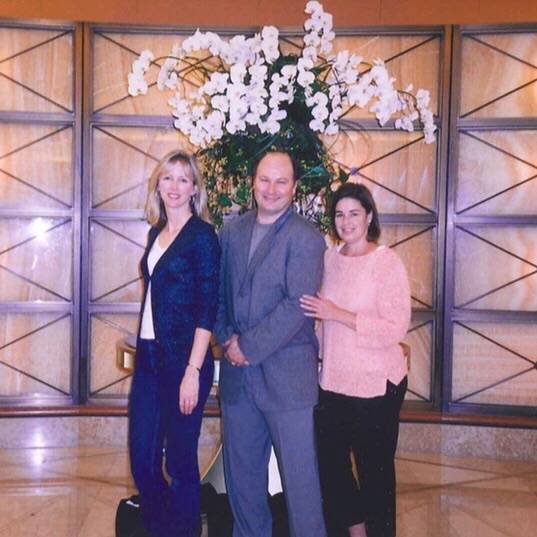 2. 75% of our employees are women.
3. We are family owned and operated.
Since 2000, Connected Apparel has been owned and operated by the Balaban family. From CEO & founder Jay to his daughter and Director of Marketing & E-Commerce, Leanna, CA has always ran like–and with–family.
4. The majority of Connected Apparel employees have worked here for more than 10 years.
5. The models we use fit anywhere between sizes 4P and 24W.
Not only do we make dresses for every woman—we showcase them too.
6. The on-line team is made up of just 4 women. & yes, we hand write every single note that comes with your order!
On any given day, the same person who answers your phone call may also pack your order, update the CA website, and create our Instagram and Facebook posts. We are small, but mighty!
7. From design to quality inspection & shipping we do everything (except manufacturing) under the roof of our Los Angeles, CA headquarters.
8. 85% of our prints are one of a kind.
Thanks to our expert creative design team, 85% of our prints are proprietary. It's a lot of work, with just one of our prints coming in 45 versions, but their artwork is truly exceptional (see two versions on our Tina & Tonya dresses).
9. The most common customer service question Team CA gets is: "How do I remove the security tag?"
10. We manufacture the majority of our garments in Sri Lanka–at the same factory we've worked with for over 18 years!
Our partnership with our Sri Lanka factory allows us to have more control over the quality of our garments, while also creating jobs and opportunity. Through the years we've been proud to see our partner in Sri Lanka grow to almost four times the size, with the help of creating CA's garments.
11. Combined, our top executives at Connected Apparel have over 200 years of experience in the women's dress industry.
12. Our mascot Ollie is a 5-year-old Tibetan Terrier Sheep Dog Mix.
We'll be honest, he's kind of the reason you should check out our social media. :)
13. Before we try a dress on our fit models, we see what it looks like on a hanger. If it doesn't look good, we won't even consider it.
99% of a garment's lifetime is spent in your closet. During that 99% is when the possibilities of your wardrobe should inspire you. Every morning that you open your closet & choose which outfit will help you take on the day, we want to make sure your CA garment excites you.
14. It takes us about 6 months to create a dress from concept to delivery, online and in-store.
15. The first dresses to launch on ConnectedApparel.com were named after the pattern makers who created them.
16. We fit every garment at least three times before our factory partners ship the final product.
Our #1 priority is that you feel comfortable & confident. If our garment doesn't fit you fabulously, we've failed our mission!
17. You can find Connected Apparel in over 10 countries.
We partner with retailers in the United States, Canada, Mexico, Australia, UK, Poland, Germany, Peru, Argentina, Costa Rica, Ecuador and many more!
18. If you came to CA headquarters you'd see a few familiar faces around the office.
Our Assistant CEO (Terri), Director of Marketing & E-Commerce (Leanna), and E-Commerce Manager (Camille) step into the spotlight as our missy and petite models on regular photo shoots. Beauty & brains?! We wouldn't have it any other way.

19. For 20 years CA has been carried by your favorite retailers–but our website only launched 16 months ago.
20. We're all about befriending our customers.
You may have heard our Team CA mantra: "Welcome to the family!" That's because we mean it. It's customers like Patricia M., Christine B., Linda M., and you–that make us get out of bed and come into work with a smile on each and every day.

Linda M. ~
"Thank you so much for all your help! Feels as though I have a new friend!"
Leave a comment