Style Guide: What to Wear to the Kentucky Derby
What to wear to the Kentucky Derby?
Kentucky Derby fashion has become such a huge part of the atmosphere, it is almost synonymous with the race itself!
If you are a fan of horse racing, you have definitely heard of the Kentucky Derby, and if you're not a fan of horse racing, you probably have still heard of this major event! One of the many reasons to love the Kentucky Derby is the plethora of fashion opportunities. Kentucky Derby outfits have become such a huge part of the atmosphere, it is almost synonymous with the race itself! Derby-goers plan their event attire from head-to-toe (literally!)
Putting together the perfect Kentucky Derby outfits for the race is a fun part surrounding the tradition. With the race taking place in Spring, it is an excuse to get dressed in all of the latest Spring fashion trends. Whether you're looking for some Kentucky Derby dresses inspiration, want to know a little bit more about the history of derby fashion, or just want to find Kentucky Derby dresses for you to take to the race, keep on reading!
History of Kentucky Derby Fashion
Strut your finest (and don't forget the hat!)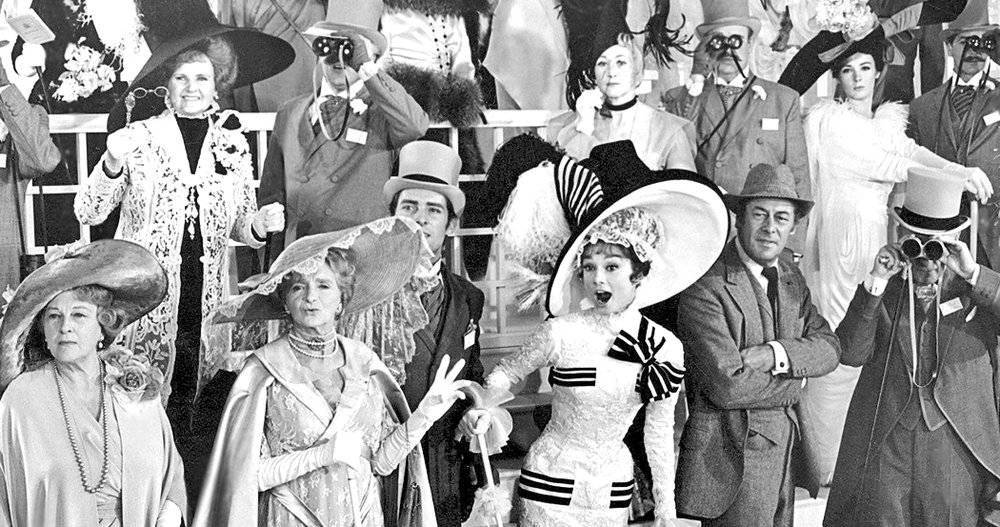 Kentucky Derby fashion has always skewed on the fancier side. It is an event that calls for all of your finest pieces (and ever finer hats!). The founder of the Kentucky Derby, Col. Meriwether Lewis Clark Jr., was impressed with the striking horse races he experienced in England and France and wanted to create a similar prestigious event here in the United States. To make this event more enticing to the more conservative Americans, he invited high-society women and men to attend the race in posh attire. Since then, many have made their way to the Kentucky Derby in their finest pieces, whether it be simple or bold, designer or handmade. However, the center of every woman's Kentucky Derby outfits was a show stopping hat.
While hats were standard attire in the beginning, once fashion rules loosened, they began to fall off. However, since people no longer wore hats in their everyday lives, the Kentucky Derby became a rare chance to step out in something bold and attention-grabbing. Now, those who choose not to wear a hat to the Kentucky Derby feel underdressed! Also, wearing a hat is known to bring good luck to your horse. Besides, the opportunity to wear an elaborate headpiece are few and far between, so why not take advantage!
Since your hat is the star of the show, plan your entire Kentucky Derby outfit around it. For a feminine and girly look, choose something with a wide brim and decorative accents, such as flowers, ribbons or feathers. If royal chic is more your style, go with a Kate Middleton-inspired fascinator hat. There are really no wrong choices when it comes to your hat — other than choosing not to wear one.
Is there a Kentucky Derby Dress Code?
Dress the part and feel confident!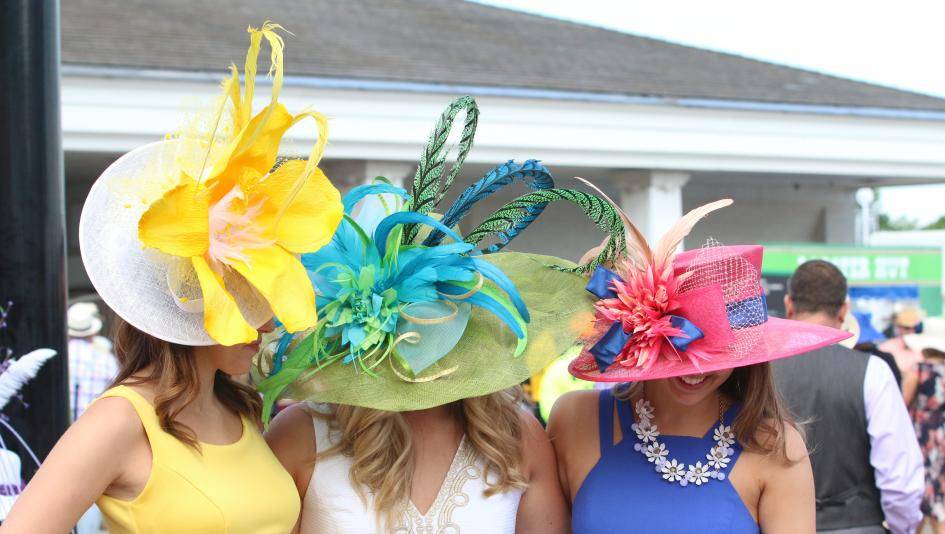 The home of the Kentucky Derby, Churchill Downs, does have a specific dress code! However, it depends on which part of the venue you will be viewing from.
Most areas of the venue prohibit:
Worn or torn garments
Halter tops
Athletic wear
Frayed or torn denim
Midriff tops
Certain sections prefer Business Casual, which prohibits:
Jeans/denim
Tennis shoes
Shorts
T-shirts
However, if you are watching from the Kentucky Derby infield, the atmosphere is track casual and there is no dress code. Still, you'll find plenty of people dress up and take advantage of all the Kentucky Derby fashion fun!
Men's Kentucky Derby dress code & style tips
Need to dress your significant other or a male family member?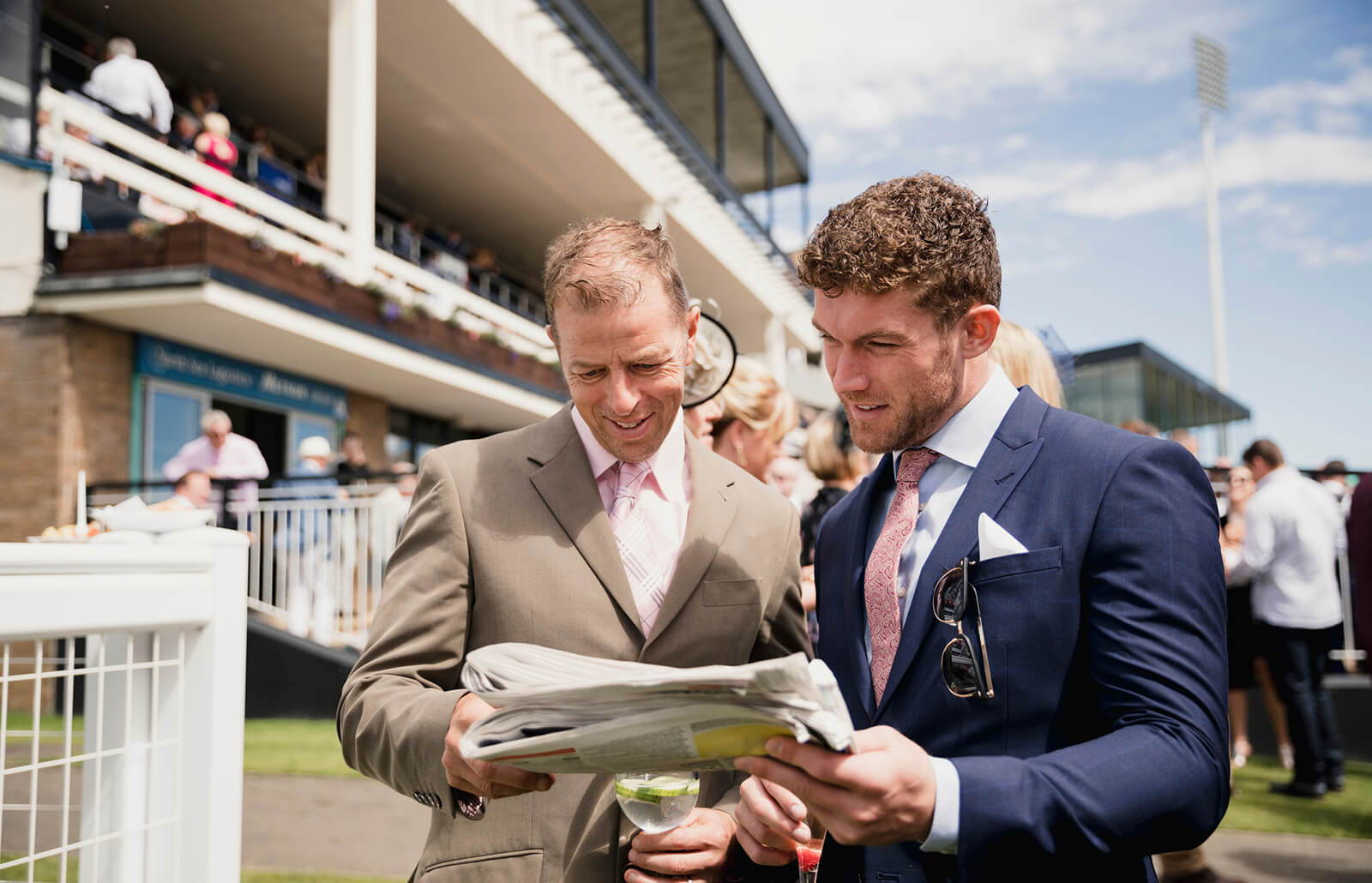 When it comes to men's style at the Kentucky Derby, it's important to remember that the fashion displayed at the Derby is over the top. Think colorful neckties or bowties, pastel shirts, vibrant sport jackets, and most importantly, lightweight fabrics. The key is always comfort, without compromising style. After all, the Kentucky Derby is a place to see and be seen, but it's also an event that requires a lot of walking and keeps you in the sunshine for most of the day.
The options for men are vast and it's all about the color palette at the Kentucky Derby. It's a time for men to also express their unique style and not shy away from vibrant, eye-catching colors and prints. From searsucker suits to floral print sport coats to an all-linen look, there are a variety of options for men at the Kentucky Derby. Tropical colors, pastels, plaids, stripes and florals are all popular choices for an appearance at Churchill Downs.
Remember the dress codes we mentioned above? If you're going to be in one of two areas that have specific requirements, make sure your partner has a necktie or bowtie on.
If you're attending the Derby with your significant other, don't be afraid to coordinate your Kentucky Derby outfits! Be mindful not to match too much, but rather subtly match colors and textures to one another. For example, you can match your outfits with accessories like his pocket square or neckwear that blend with the colors in your dress and headpiece.
Now we've spoken a lot about hats for women, but men should also consider wearing a hat! It's a great way to tie the whole look together and keeps his neck safe from the sun. Boater hats and panama hats are great headwear choices for men.
Whatever he chooses to wear to the Kentucky Derby, the number one rule is that he has fun with it! It's a time to wear colors, fabrics and accessories that he may not normally wear. Just as you may be trying something new, he should too!
Don't hold back when planning your Kentucky Derby wardrobe!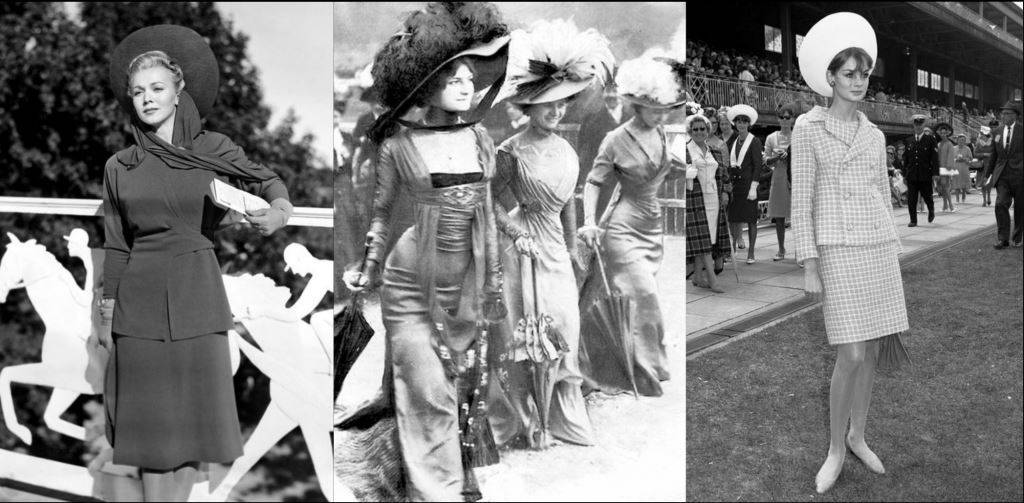 The Kentucky Derby is truly unique considering it is a sporting event that showcases the finest fashion trends. Women and men show up in their best dressed attire! However, there are no solid rules when it comes to planning your Derby outfit. It all depends on how you plan to spend the day! Spring dresses with pastel colors that perfectly coordinate with your headwear and accessories are the way to go!
Keep the dress simple! Let the hat be the star of the show. You can also let the color and excitement of spring inspire you and select a dress full of color, or floral patterns.
Don't forget layers! The Kentucky Derby is an outdoor event so don't forget a cardigan or shrug to throw on top if it gets chilly.
Complete the outfit with a (comfy) Spring heel or sandal! The venue can be tricky to maneuver, plus the day is long, so remember to not wear those uncomfortable heels you will regret.
Choose dainty jewelry! Since the hat is the focus, there is no need for large or statement jewelry, keep it simple.
Pack accordingly! The day is long, so bring a bag that can carry all of the essentials (but be sure to stay within the size limit.) We recommend you bring sunglasses, sunscreen, a bottle of water, plus a smaller bag with essentials that you may need to quickly grab!
derby Dress or Hat: Which comes first?
There is no Kentucky Derby without all of the amazing HATS!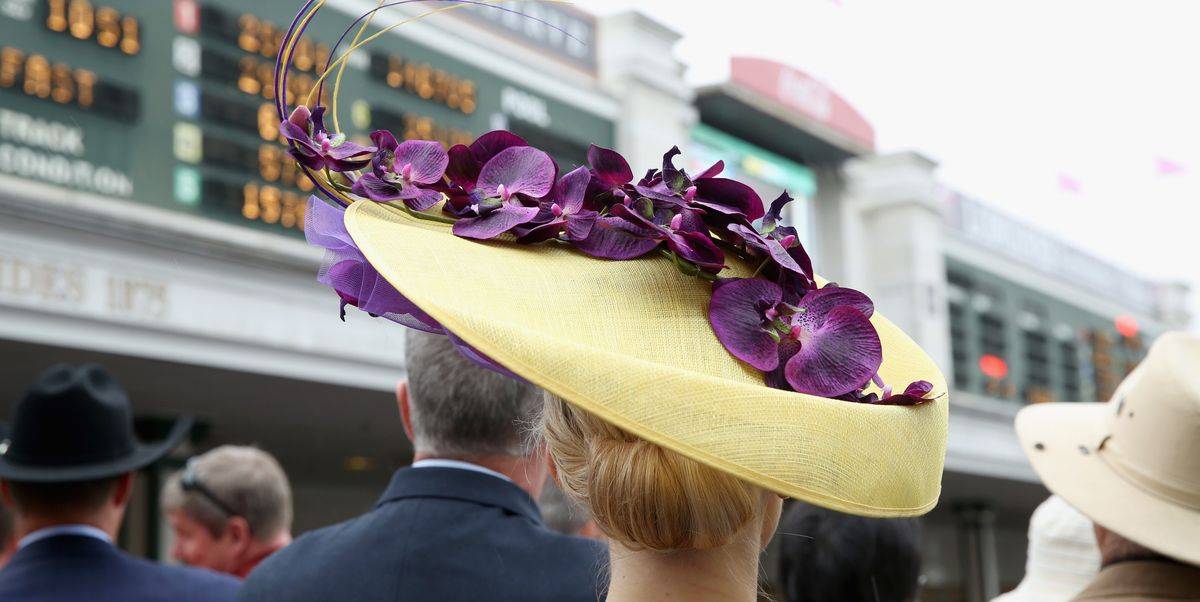 While the hat trend started with women, over the last few years, many men have begun to join in on the fun! Wearing a hat to the Kentucky Derby is much like getting into costume. There are no rules or limits when it comes to your Kentucky Derby hat. You will find hats of elegance and style decorated with flowers, feathers, bows and ribbons! Not only does your Kentucky Derby hat express creativity and individuality, but it is also believed to bear good luck!

While the Kentucky Derby outfits and styles vary, there is one thing they all have in common: the big Derby hat! Some will say that you absolutely should get the outfit first and then design your hat to perfectly match your outfit. This way, it is much easier to find a custom hat than it is to find a custom outfit!

However, others say you must definitely purchase the hat first! Since it is the star of the show you want to find the one that you love the best and not limit your choices to match a specific Derby dress.
Most often in this case, matching the dress (or outfit) to your hat involves personal preference, however keep a few things in mind:
If your hat is having a pattern party, go for a simple and solid colored dress.
If the hat is simple and elegant, also go with a classic dress to round out the look.
If you want a fun and bold outfit, keep it consistent and accent the hat most of all!
The ultimate decision you will need to make is: hat or fascinator?
Fascinators have more recently become a big trend at the Kentucky derby. It is much smaller than a traditional hat, but just as stylish! These chic headpieces were recently popularized by Kate Middleton. They are made from a woven disk and topped with feathers, netting, and more. They are secured to your head with a comb or headband. The benefit of a fascinator is that they can be much more simple to wear compared to a hat, plus, no hat hair!
Once you've made your decision, you're ready to put together the rest of your Kentucky Derby outfit. If your hat is a show-stopper, choose a simple dress that doesn't compete with it. If you choose a fascinator, choose something sleek and classy to pair it with. However, don't overthink it too much. Trust your instincts and have fun.
Do's & Don'ts of the Kentucky Derby
Show up prepared and confident to take on the day!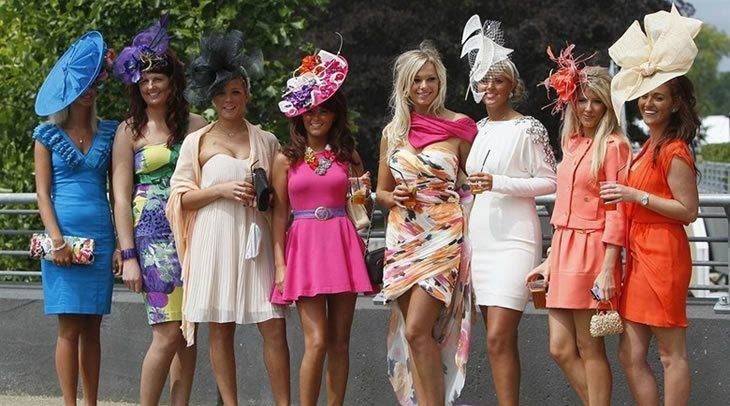 Wear a dress! Choose a Derby dress you would be excited to wear to Easter brunch or a Spring wedding. Don't go overboard! Make sure it is the kind of dress that stays modest after a few cocktails.
Wear a hat!

We rarely get a chance to

wear a fun hat! Go crazy, add all of the things you find at the craft store; feathers, ribbons, pearls!



Wear comfortable shoes!

Comfortable doesn't have to mean boring. It just means don't choose the strappy high heels in the back of your closet you've been dying to wear but can't walk in.



Wear shorts or a romper. Yes they can be cute and shorts outside isn't such a bad idea, however many people will be scoffing at you and it is best not to draw the attention of 1000 ladies in pearls… you've been warned.
Wear a hat wider than your shoulders. Make a statement, but you don't want to be the person smacking everyone in the face with feathers and fluff!
Forget to wear sunscreen. Don't end your day with sunburn lines down your back from your cute strappy dress! The day is long and ALL outdoors, so come prepared, and make sure to throw some extra in your purse to re apply
Our top Connected Apparel Kentucky derbydresses & how to style them
Take the Kentucky Derby by the reins!
Walk into this extravagant event with a beautiful Derby dress to match your show stopping Kentucky Derby hat! Spring trends will be prevalent and luckily we have many options to choose from! Shop some of our favorites below and read how we would style them.
Top dresses for the Kentucky Derby, according to you!
Shop dresses for the Kentucky Derby & beyond
Spring floral dresses are the perfect choice to complete your Kentucky Derby outfit!
We hope that after reading this blog you are ready and prepared for the Kentucky Derby! And remember…
Follow the appropriate dress code to ensure comfortability and confidence.
Whether you choose the dress or the hat first, go big or go home!
The day is long, don't forget comfortable shoes and sunscreen.
Embrace the traditions of the Kentucky Derby.
Don't overthink it, trust your instincts and have fun!
Whether you plan to go to the Kentucky Derby, have a Kentucky Derby party planned, or are not at all interested! Our
new Spring arrivals
are ready to shop and we can't wait to see all of the fun you have in them. Show us on
Instagram
or
Facebook
and use the #InMyCA .
Leave a comment