Behind the Dress: Grace, an Iconic Special Occasion Dress
We're excited to continue our Behind the CA Dress Series! This month, we're introducing you to our dresses Grace and Gracie, two statement formal dresses that require minimal effort to look picture perfect.
Since 2015, Connected Apparel's patternmaker Elsa has been perfecting Grace, a classic floor-length formal dress, and Gracie, its knee-length counterpart.

Elsa joined Connected Apparel in 2011, but has been patternmaking since she was in high school: "It's like second nature to me."
When asked how many patterns she's made, Elsa told us that she's "not really a numbers person. I'm more of a shape and color person. I feel like you restrict yourself if you have a number. If you don't have a number, you just keep going and that's important as a patternmaker. You can't dwell on something. You have to go on to the next thing because it's very fast paced, which makes it exciting. There's never a dull moment in the patternmaking department!"

Since working at Connected Apparel, Elsa has developed dozens of patterns, including both Grace and Gracie. Equating patternmaking to sculpting, she says,"when you see a flat sketch, you have to make it dimensional and facilitate the knit shape as well as the contour of the body. That becomes its own type of sculpting."
Elsa is passionate about making sure the fit of Grace and Gracie is perfect. While both silhouettes have remained relatively unchanged, "the patterns have evolved because of the different fabrics we use," Elsa says. "From sequin lace to scalloped laces, prints and allover sequins to varying textures, each fabric stretches and molds differently so it takes a different way of putting the pattern together. You're using material as your medium."

When it comes to why you'll love our Grace and Gracie formal dresses, here's what Elsa has to say:

"Your fit model is everything," Elsa explains about the construction of the dress. "We facilitate the knit to make the shape of the body without creating any distortion in the side seams so it drapes perfectly and isn't too tight."
"I like to keep the neckline relatively low cut so the dress is sexy for someone to wear and makes her feel instantly very feminine," Elsa says. "I also love the cap sleeves that emphasize your shoulders and draw the eye up to your collarbone."
4 reasons why Grace & gracie are the best formal dresses
1. Form fitting without making you feel constricted
Grace and Gracie are form-fitting formal dresses that allow you to move. They're made from lightweight fabrics that glide over the body and have stretch to them so they hold you in at all the right places without making you feel constricted.


I bought the same [Grace] dress for two of my daughters' weddings in different colors. I love the fit!"

2. A perfect length for every occasion
The perfect formal dress isn't always floor-length. That's why we make this gorgeous silhouette in two lengths, appropriate for a wide variety of special occasions.
Choose our knee-length Gracie for a classy, yet sassy look that's dance-floor ready.

If you're preparing for a more buttoned-up occasion, Grace, our full-length, sequin lace dress is elegant and guaranteed to turn heads.

Whatever length you choose, you will find that Grace or Gracie silhouettes that make any night a special occasion.

3. Sequin lace commands attention
Sequin lace dresses are attention-grabbers: the fabric adds an instant pop of drama and timeless elegance to any silhouette without being over the top.

"It's perfect ...beautiful wearing it on a cruise for gala night."

The moment you slip on Grace or Gracie, you'll exude confidence and take center stage, no matter where you are.

4. Just the right amount of sexy
There's nothing quite like the feeling of putting on a dress and instantly feeling sophisticated and sexy. But there's a difference between too much and just right. Grace and Gracie are the latter when it comes to their sexiness factor. Plunging sweetheart necklines with structured boning add a unique, flattering touch to these classic form-fitting silhouettes.

"The dress I ordered fit like a dream!! It's beautiful and very flattering and well-made!!! I received a ton of compliments!"

It's five years later and both the Grace and Gracie dress continue to top our sales charts season after season.
No matter the occasion for dressing up, the most important thing is that you'll feel comfortable and confident all night. When you're wearing Grace or Gracie, the only thing to worry about is finding a purse big enough for all your compliments!

Elsa is a native Los Angeleno!

"I'm a native Los Angeleno!" she boasts. "We are few and far between. I grew up shopping in the fabric stores in Downtown LA and coming downtown to pick patterns from Vogue and McCalls etc. It used to be so fun. It's nice to see it being revived again."

The sequin lace Grace and Gracie special occasion dresses in our collection come in a variety of colors, styles and price points. This budget-friendly collection of dresses made from sequin lace will add an extra touch glamour to your next special event.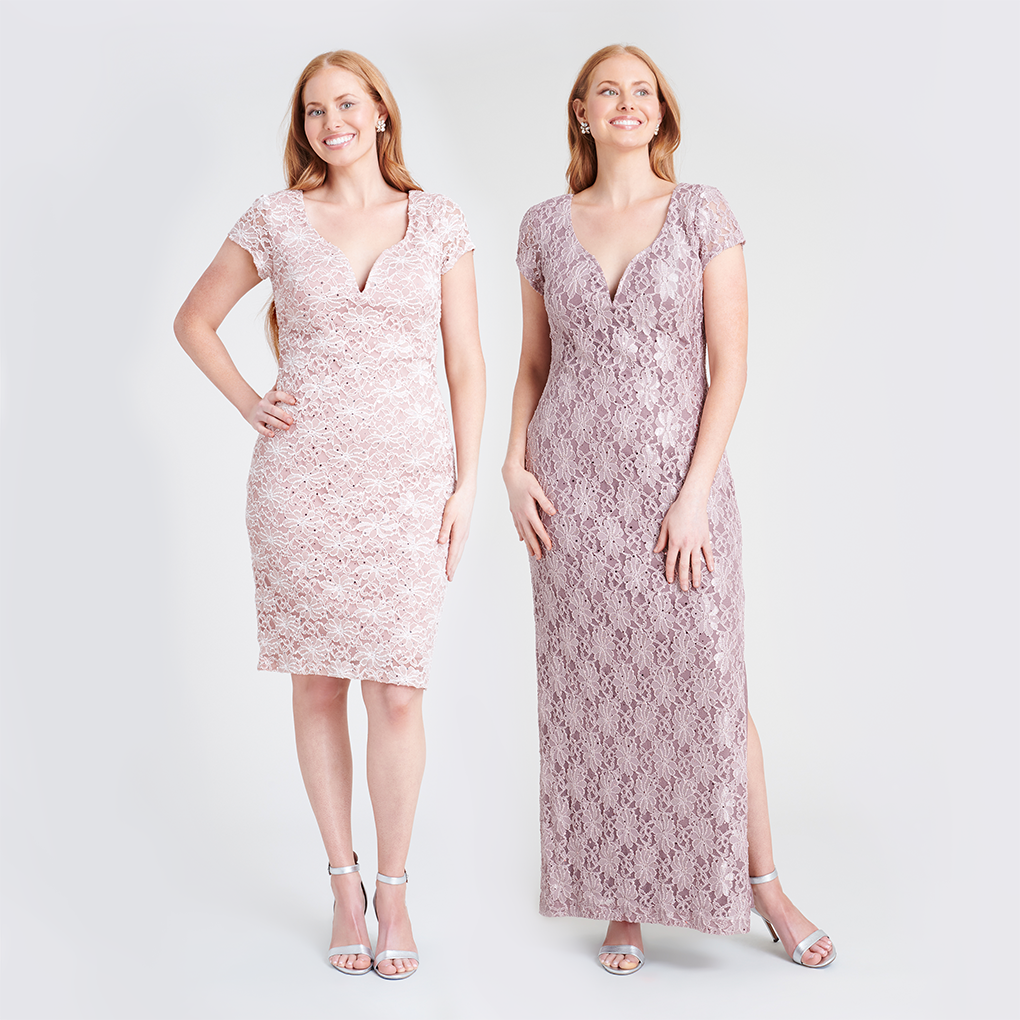 Use the promo code GRACE15 to receive 15% off your favorite Grace or Gracie dress.*

* Offer valid on full priced items only. Offer ends on March 31, 2020. Promo codes are limited to one per customer per purchase. The promo code has no cash value and if a return is made, your account will only be credited in the amount that you paid. Promo codes cannot be combined with other promotions. Promo codes are not retroactive and price adjustments will not be issued to orders placed previously.

Leave a comment