Behind the Dress: Sasha, the Dress with Statement Sleeves
With every amazing Connected Apparel style comes an equally amazing designer and patternmaker. And the Sasha dress is no exception! From the chiffon raglan sleeves, to the stunning A-line silhouette, there are so many reasons why the Sasha dress has become a Connected Apparel staple.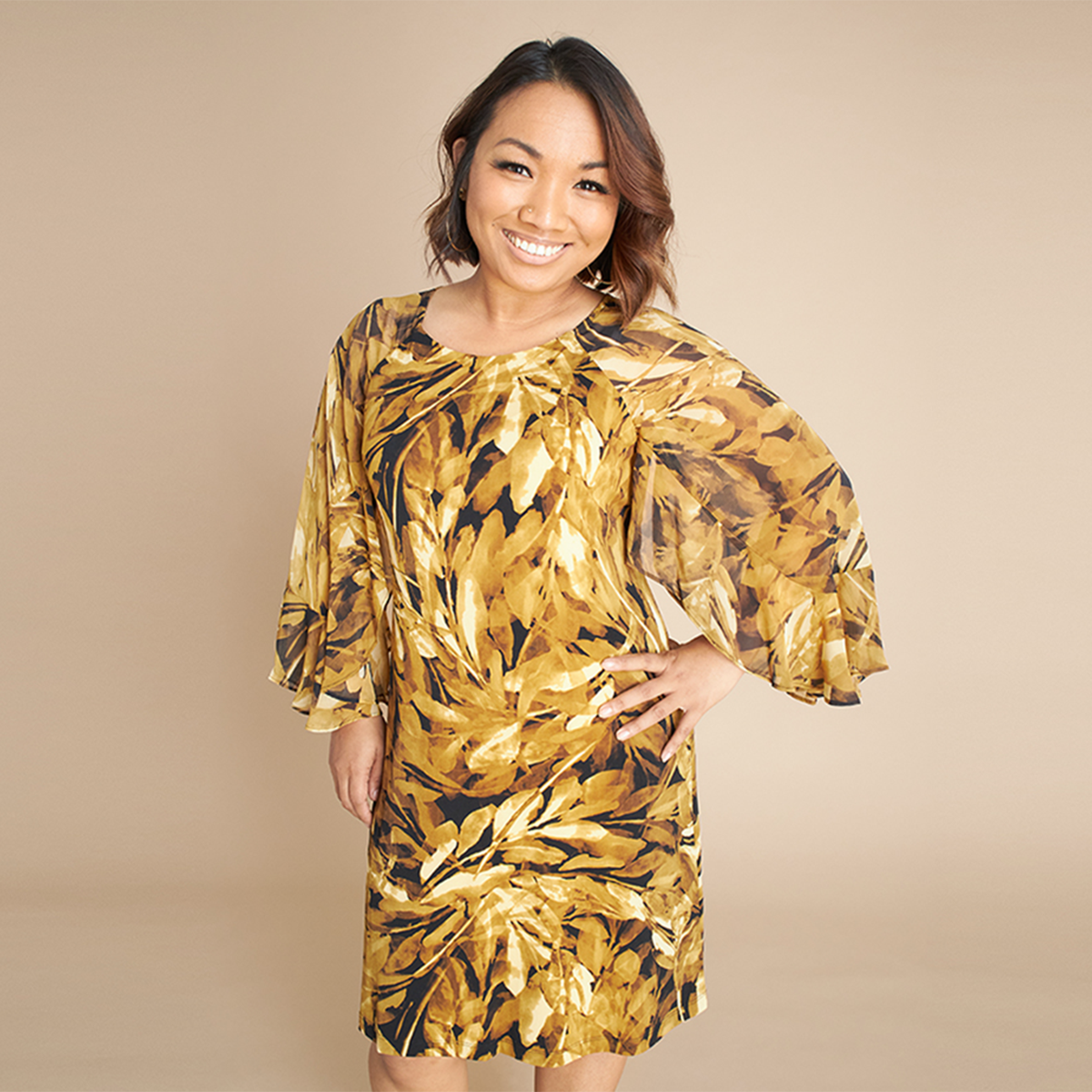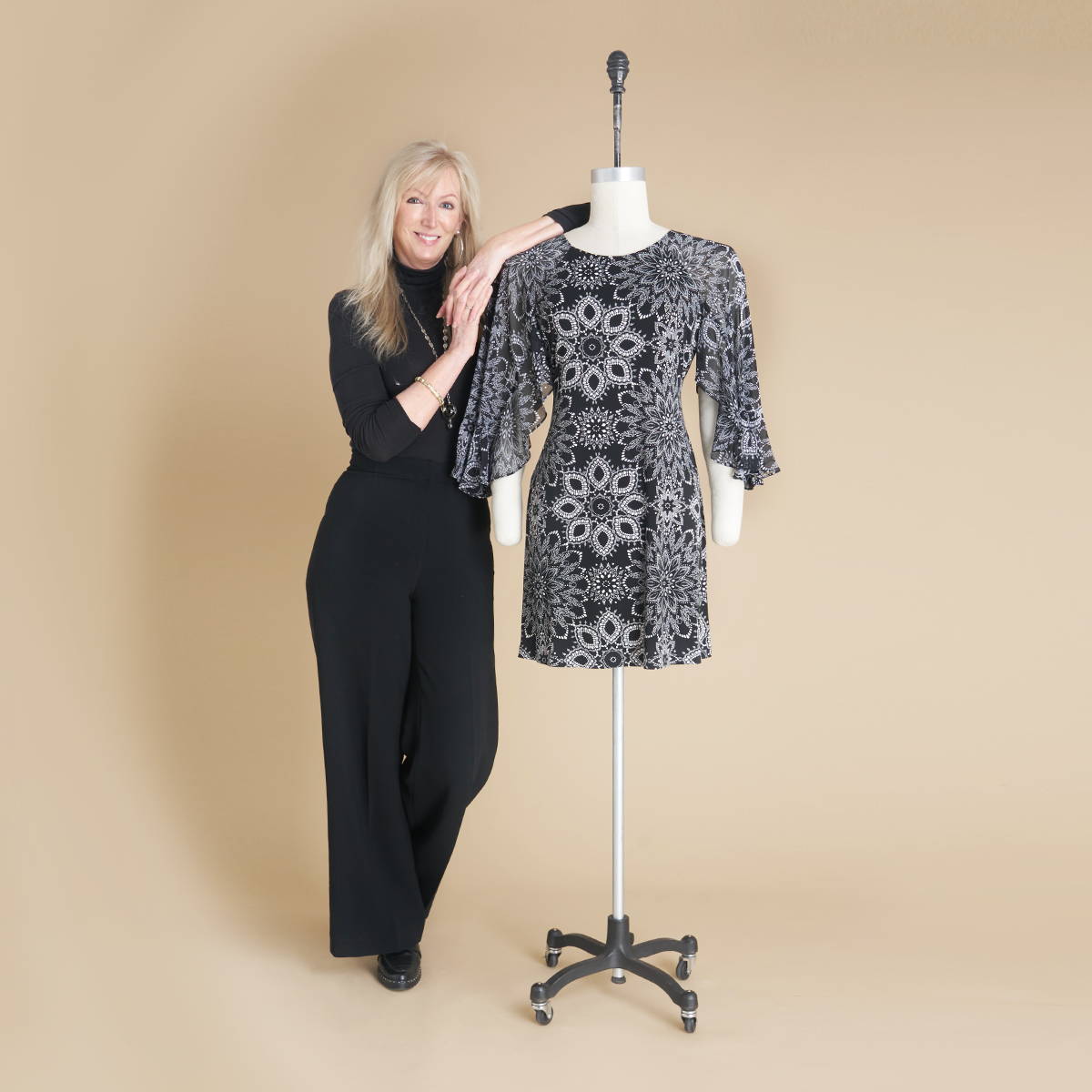 Sasha was designed by our Head Designer Gloria!
The Sasha dress, designed by our Head Designer Gloria, has been selling off the shelves since 2018. And with every season comes a new version of Sasha! From reds for the Holidays, teals in the Spring, purples in the Summer and mustards in the Fall, the Sasha silhouette can be worn year round. Sasha is classic meets contemporary and this stunning knee length raglan sleeve dress is perfect for any occasion.
Sasha is classic meets contemporary.
Gloria dreamed up our Sasha dress nearly four years ago and ever since, it's been a best seller. So we thought it only fair to give you the inside scoop on why Gloria designed the dress and why she thinks it's so popular. Continue reading to learn more about this A-line dress that fits women from petite to plus sizes.
5 reasons why you will love the Sasha dress as much as we do!
1. Sasha is perfect for every age!
2. Sasha features subtle and sexy sleeves!
3. Sasha is easy to style!
4. Sasha is perfect for any occasion!
5. Sasha is comfortable AND chic!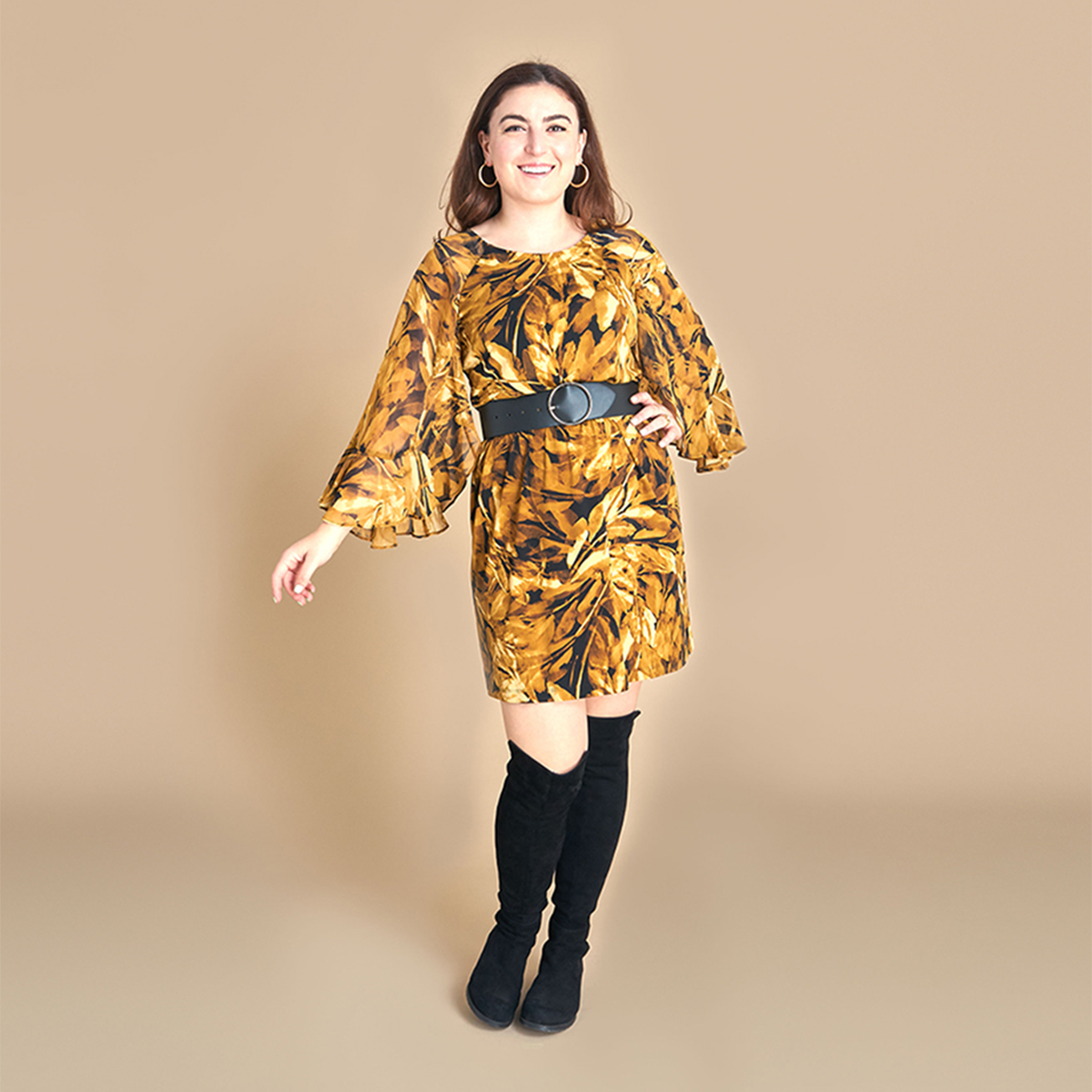 The Sasha dress has no age limit!
Gloria wanted to create a dress with a fun and flirty attitude that could work for both young and mature women. Sasha's chiffon raglan sleeves add extra arm coverage while the open hem styling gives you the movement you're looking for when choosing a flirty dress. At the same time, her a-line silhouette allows for a comfortable fit that does not hug anything too tight and is flattering on women of all shapes and sizes.
Sasha is flirty and sophisticated all in one!
We asked Gloria how she envisioned customers wearing the dress and she said, " I don't like to put an age on style. I wanted the dress to exude a young and flirty attitude that was made to fit and be loved by women of all ages."
2. Subtle and sexy sleeves!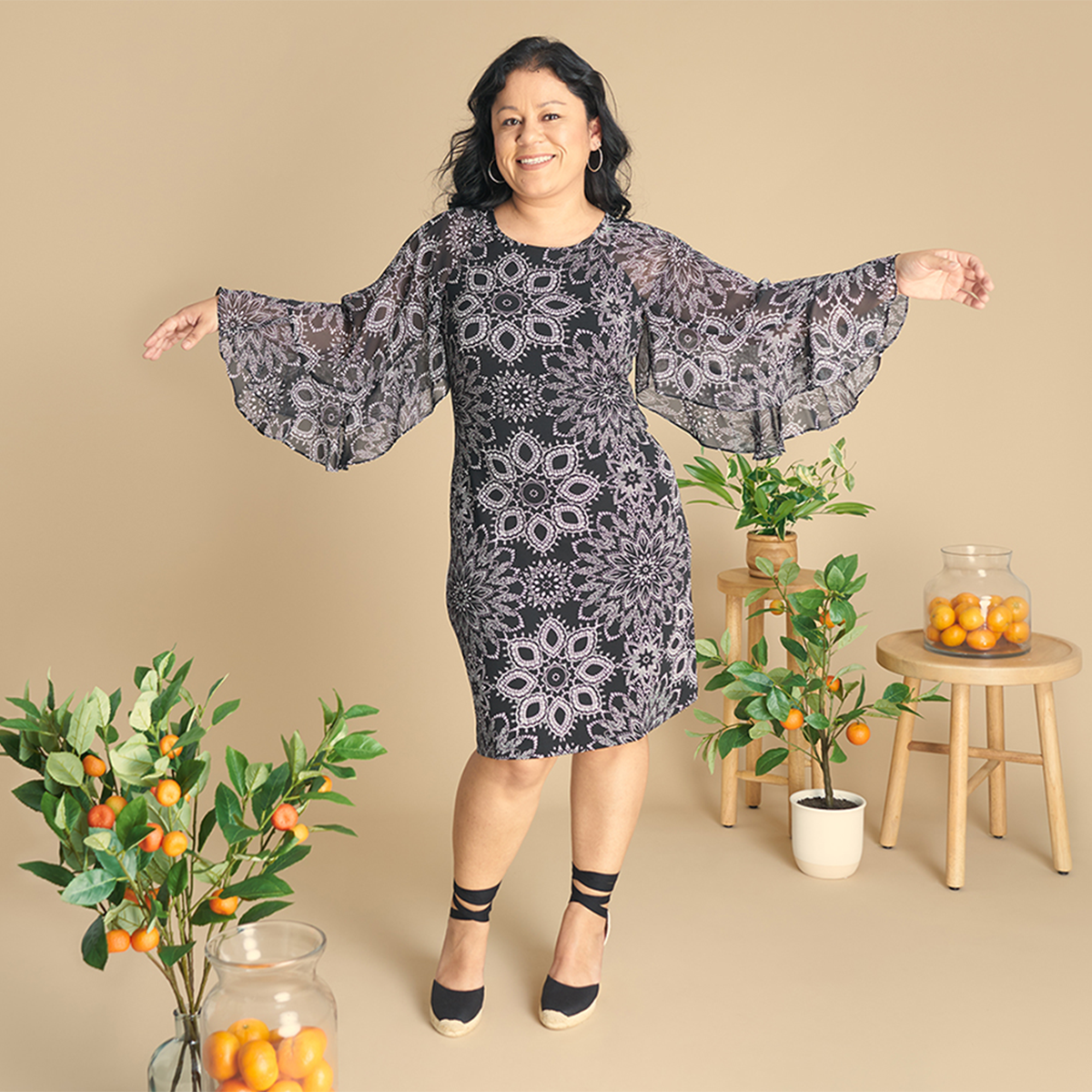 Sasha's raglan sleeves are unique!
Sasha features raglan chiffon sleeves that are fashion forward while still allowing for the right amount of arm coverage. The open style hem makes Sasha's sleeves eye-catching while still creating a sense of comfortability in covering up. The chiffon fabric on the sleeves gives that sexy flair and matches the stretch jersey fabric of the dress perfectly.
Eye catching sleeves with the right amount of arm coverage!
Gloria says, "I wanted to do something a little different here. That's why I chose a raglan cut for the sleeves. It makes the A-line silhouette more interesting and the cutaway shoulder detail gives a subtle, sexy illusion that still allows arm coverage."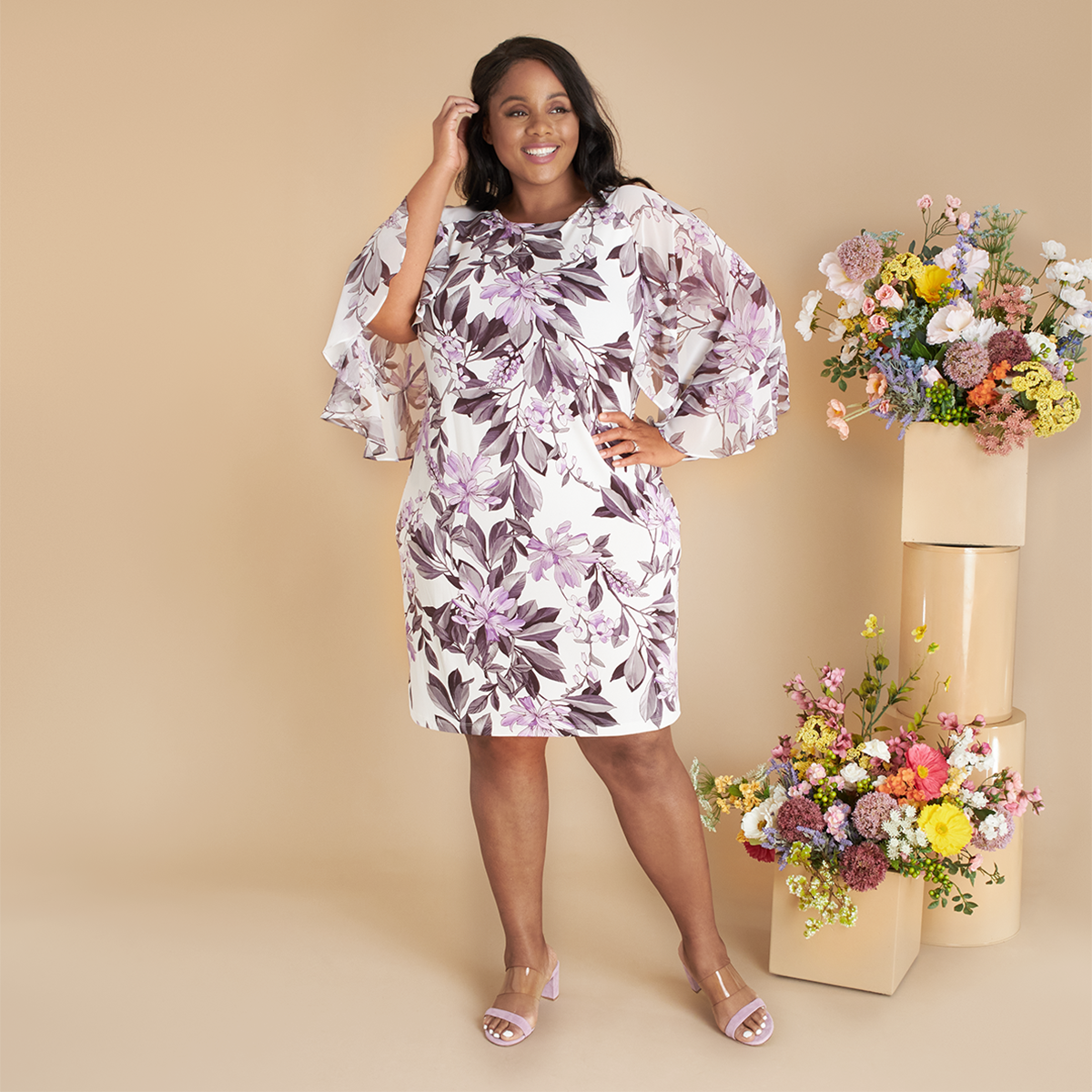 Simple jewelry goes a long way!
Gloria says, "When it comes to jewelry, I would just wear a simple pair of earrings. You don't want to take away from the dress. Add on a solid colored clutch and a strappy sandal or heel to complete the perfect look!"
Sasha is a statement herself!
Since the Sasha dress makes such a statement with her fun sleeves and stunning prints, she is extremely easy to style. The Sasha dress speaks for herself so let her be the center of attention!
4. Perfect for any occasion!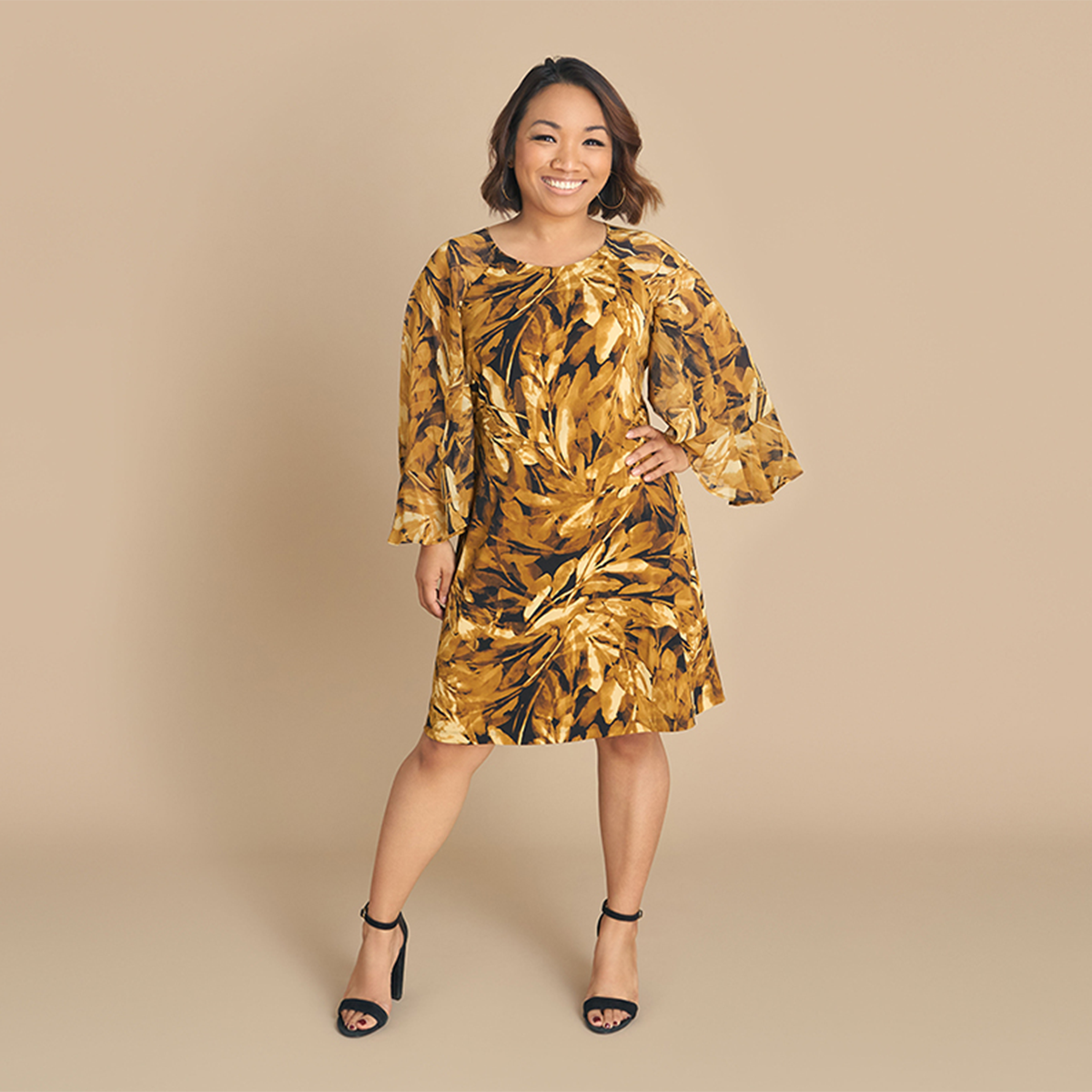 Day or night, Sasha's ready for anything!
One reason why our customers love the Sasha dress so much is because it can be worn in many different ways and to so many events! Need an outfit for a lunch out with the girls? Wear Sasha with a boot and a belt to cinch in the waist! How about an outfit for a date night out? Sasha is perfect with a strappy heel and crossbody bag! Even if you're looking for a wedding guest look, wear Sasha with a strappy heel, fancy clutch, and some dangly earrings.
We asked Gloria what her favorite place was to wear Sasha and she said, "I have worn Sasha out to so many different occasions! She is the perfect go-to dress to have in your closet whenever you're feeling stressed on picking out an outfit."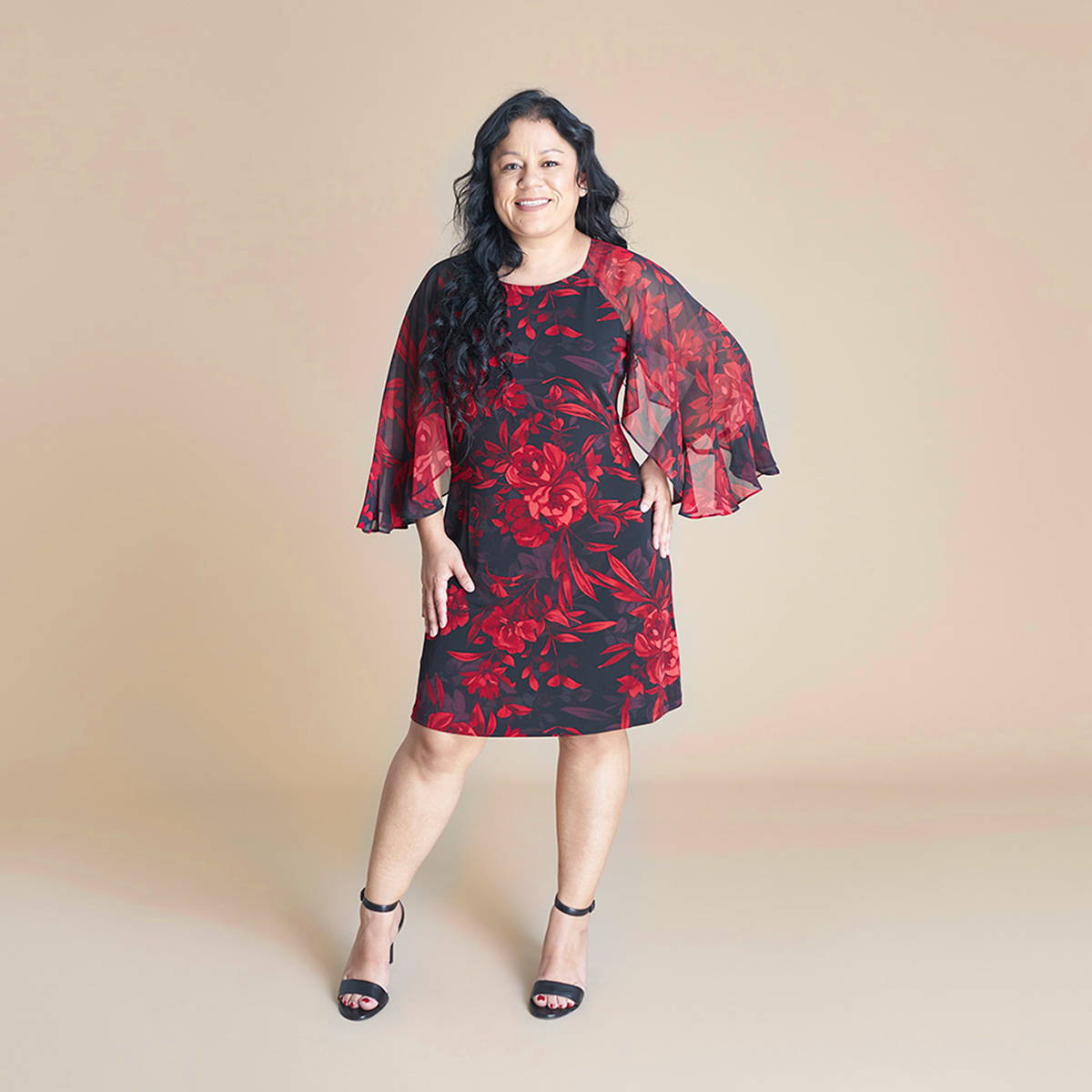 Comfortability is an added bonus!
While looking good is always a plus, when it comes to picking out an outfit, comfortability is an added bonus. The Sasha dress is made with a stretch jersey material that glides over the body and lays just right. There is no itch, scratchiness, or any other irritating feeling when it comes to Sasha. The stretch jersey material has been a company favorite that we use on many of our other silhouettes because of the amazing feel it provides. Take Sasha from day-to-night without wanting to take her off!
When we asked Gloria why she chose the stretch jersey fabric she said, "I wanted to make sure that Sasha was a dress that can be worn all day without getting that uncomfortable feeling of wanting to change. Using a stretch jersey knit allows for an A-line silhouette to look relaxed and best of all, helps to hide certain areas."
Relax, Sasha has your back!
And we can't forget the print matched chiffon sleeves! Gloria says, "Matching two different fabrics perfectly is quite hard and is something we pride ourselves on. Mixing the two fabrics instantly elevates a dress like Sasha. I think she's absolutely chic!"
Several versions later and Sasha continues to surprise us!
The Sasha dress is as popular as ever and will continue to be a huge part of the Connected Apparel family. She comes back time and time again with the changing seasons and is always a customer favorite. Our most recent version of Sasha screams FALL! with its beautiful mustard floral print. Check her out below with the many others we have available.
Leave a comment