Customer Reviews
Write a Review
Ask a Question
09/13/2021
Marissa

United States
I recommend this product
Perfect dress
I purchased this dress in forest green at another store. I got so many compliments. I modified the way to wear this dress to off the shoulder and it really made a difference! Sharing a picture to show what I mean! A woman at the store referred to it as an old lady dress when I said I was going to wear it to a wedding.. believe me it didn't look like one when it put it on… this sits just right! So excited to find it in another color!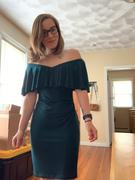 08/20/2021
Pamela M.

United States
I recommend this product
So cute! Just not for me.
Such a cute & comfy dress but it just wasn't right on me.
07/09/2021
Terri H.

United States
I recommend this product
The Sunny Little Black Dress
Every woman needs a Little Black dress in their closet, and this fit the bill for me. I was amazed that it fit so well! I was worried about the length because I am 5'3, but its find.
Perfect Black Dress
This dress fits perfectly. It can be worn to the office or for a night out.
✕
Don't know how to take your measurements? Watch our helpful how-to video!
If you're still in doubt, email us at fit@connectedapparel.com. We'll help you figure out your correct size!

Dresses & Jumpsuits
---
| | | | | |
| --- | --- | --- | --- | --- |
| Size | Size | Bust | Waist | Hip |
| 4 | S | 35" | 28" | 39" |
| 6 | S | 36" | 29" | 40" |
| 8 | M | 37" | 30" | 41" |
| 10 | M | 38" | 31" | 42" |
| 12 | L | 39.5" | 32.5" | 43.5" |
| 14 | L | 41" | 34" | 45" |
| 16 | XL | 42.5" | 35.5" | 46.5" |
| 18 | XL | 44.5" | 37.5" | 48.5" |
T-Shirt & Tunic Tops
---
| | | | | |
| --- | --- | --- | --- | --- |
| Size | Size | Bust | Waist | Shoulder |
| XS | 0-2 | 33.5" | 34.5" | 14.875" |
| S | 2-4 | 35" | 33" | 15.25" |
| M | 8-10 | 37" | 35" | 15.75" |
| L | 12-14 | 40" | 38" | 16.5" |
| XL | 16-18 | 42" | 40" | 17" |
Bottoms
---
| | | | | |
| --- | --- | --- | --- | --- |
| Size | Size | Elastic Waist | Hip | Rise |
| XS | 0-2 | 24.5-25.5" | 38" | 11.25" |
| S | 2-4 | 25.5-27.5" | 39.5" | 12" |
| M | 6-8 | 27.5-30.5" | 41.5" | 12.75" |
| L | 10-12 | 30.5-32.5" | 44.5" | 13.5" |
| XL | 14-16 | 32.5-34.5" | 46.5" | 14.25" |
Petite Dresses & Jumpsuits
---
| | | | | |
| --- | --- | --- | --- | --- |
| Size | Size | Bust | Waist | Hip |
| 2P | PXS | 34" | 26" | 37" |
| 4P | PS | 35" | 27" | 38" |
| 6P | PS | 36" | 28" | 39" |
| 8P | PM | 37" | 29" | 40" |
| 10P | PM | 38" | 30" | 41" |
| 12P | PL | 39.5" | 31.5" | 42.5" |
| 14P | PL | 41" | 33" | 44" |
| 16P | PXL | 42.5" | 34.5" | 45.5" |
| 18P | PXL | 44.5" | 36.5" | 47.5" |
Petite Bottoms
---
| | | | | |
| --- | --- | --- | --- | --- |
| Size | Size | Elastic Waist | Hip | Rise |
| PXS | 0P-2P | 24.5-25.5" | 38" | 10.375" |
| PS | 4P-6P | 25.5-27.5" | 39.5" | 10.75" |
| PM | 8P-10P | 27.5-30.5" | 41.5" | 11.5" |
| PL | 12P-14P | 30.5-32.5" | 44.5" | 12.25" |
| PXL | 16P-18P | 32.5-34.5" | 46.5" | 13" |
Plus Dresses & Jumpsuits
---
| | | | | |
| --- | --- | --- | --- | --- |
| 14W | 1X | 44.5" | 36.5" | 46.5" |
| 16W | 1X | 46" | 38" | 48" |
| 18W | 2X | 48" | 40" | 50" |
| 20W | 2X | 50" | 42" | 52" |
| 22W | 3X | 52" | 44" | 54" |
| 24W | 3X | 54" | 46" | 56" |
Plus T-Shirt & Tunic Tops
---
| | | | | |
| --- | --- | --- | --- | --- |
| Size | Size | Bust | Waist | Shoulder |
| 1X | 14W-16W | 45" | 44" | 16.25" |
| 2X | 18W-20W | 48" | 47" | 17" |
| 3X | 22W-24W | 51" | 50" | 17.75" |
Plus Bottoms
---
| | | | | |
| --- | --- | --- | --- | --- |
| Size | Size | Elastic Waist | Hip | Rise |
| 1X | 14W-16W | 32-35" | 54.5" | 13.75" |
| 2X | 18W-20W | 35-38" | 54.5" | 14.5" |
| 3X | 22W-24W | 38-41" | 57.5" | 15.25" |