Lisa Navy Lace Faux Wrap Dress
Pay in 4 installments of $23.75 with
,
or
Our staple Lisa faux wrap dress, but in a floor length for those special occasions on your calendar. Lisa's scoop neck highlights your collarbone and the faux wrap detail at the waist creates definition and coverage of your mid-section for a classic, bodycon silhouette. Lisa's navy sequin lace bodice with contrast lining is elegant and eye-catching. A tulip hem adds an extra feminine touch as well as the comfort and room you need to command the space. With a slip on design, this navy faux wrap dress makes a formal dress look easy to wear and works for a variety of social occasions.
Details:
Karla is 5' 1" and wearing size 8P
Center Back Length Measurements:
Regular: 57" on size 8

Petite: 54" on size 8P

Factor 0.5" per size smaller or larger
Key Features:
Floor length

Slip on

Sleeveless

Faux wrap, bodycon silhouette

Hand wash

Bodice: Nylon, Polyester, Spandex; Bodice Lining: Polyester; Skirt: Polyester, Spandex
Customer Reviews
100
reviewers would recommend this product
Write a Review
Ask a Question
I recommend this product
Lovely Dress
Love this dress. I bought it for my son's wedding and it was a perfect fit. It is a true petite being only 5ft tall I did not have to hem this dress at all with a little heel on my feet. Thank you so much
03/10/2022
Kate F.

United States
I recommend this product
Absolutely love the gown
I've been so anxious at finding the perfect navy blue gown for my daughters upcoming wedding. I'm going through cancer treatments and not only is it hard to go dress shopping but my weight is all over the place so spending a ton just isn't in my books right now. I was so happy with everything about this gown. Absolute perfect fit and fits to size. I'll need no alterations. The material , style, color and look is so slimming. It will be very comfortable to wear even though I know I'll not feel my best … but I'm confident I'll look amazing. Price, order and shipment were exceptional. Definitely recommend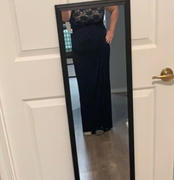 ✕
Don't know how to take your measurements? Watch our helpful how-to video!
If you're still in doubt, email us at fit@connectedapparel.com. We'll help you figure out your correct size!

Dresses & Jumpsuits
---
| | | | | |
| --- | --- | --- | --- | --- |
| Size | Size | Bust | Waist | Hip |
| 4 | S | 35" | 28" | 39" |
| 6 | S | 36" | 29" | 40" |
| 8 | M | 37" | 30" | 41" |
| 10 | M | 38" | 31" | 42" |
| 12 | L | 39.5" | 32.5" | 43.5" |
| 14 | L | 41" | 34" | 45" |
| 16 | XL | 42.5" | 35.5" | 46.5" |
| 18 | XL | 44.5" | 37.5" | 48.5" |
T-Shirt & Tunic Tops
---
| | | | | |
| --- | --- | --- | --- | --- |
| Size | Size | Bust | Waist | Shoulder |
| XS | 0-2 | 33.5" | 34.5" | 14.875" |
| S | 2-4 | 35" | 33" | 15.25" |
| M | 8-10 | 37" | 35" | 15.75" |
| L | 12-14 | 40" | 38" | 16.5" |
| XL | 16-18 | 42" | 40" | 17" |
Bottoms
---
| | | | | |
| --- | --- | --- | --- | --- |
| Size | Size | Elastic Waist | Hip | Rise |
| XS | 0-2 | 24.5-25.5" | 38" | 11.25" |
| S | 2-4 | 25.5-27.5" | 39.5" | 12" |
| M | 6-8 | 27.5-30.5" | 41.5" | 12.75" |
| L | 10-12 | 30.5-32.5" | 44.5" | 13.5" |
| XL | 14-16 | 32.5-34.5" | 46.5" | 14.25" |
Petite Dresses & Jumpsuits
---
| | | | | |
| --- | --- | --- | --- | --- |
| Size | Size | Bust | Waist | Hip |
| 2P | PXS | 34" | 26" | 37" |
| 4P | PS | 35" | 27" | 38" |
| 6P | PS | 36" | 28" | 39" |
| 8P | PM | 37" | 29" | 40" |
| 10P | PM | 38" | 30" | 41" |
| 12P | PL | 39.5" | 31.5" | 42.5" |
| 14P | PL | 41" | 33" | 44" |
| 16P | PXL | 42.5" | 34.5" | 45.5" |
| 18P | PXL | 44.5" | 36.5" | 47.5" |
Petite Bottoms
---
| | | | | |
| --- | --- | --- | --- | --- |
| Size | Size | Elastic Waist | Hip | Rise |
| PXS | 0P-2P | 24.5-25.5" | 38" | 10.375" |
| PS | 4P-6P | 25.5-27.5" | 39.5" | 10.75" |
| PM | 8P-10P | 27.5-30.5" | 41.5" | 11.5" |
| PL | 12P-14P | 30.5-32.5" | 44.5" | 12.25" |
| PXL | 16P-18P | 32.5-34.5" | 46.5" | 13" |
Plus Dresses & Jumpsuits
---
| | | | | |
| --- | --- | --- | --- | --- |
| Size | Size | Bust | Waist | Hip |
| 14W | 1X | 44.5" | 36.5" | 46.5" |
| 16W | 1X | 46" | 38" | 48" |
| 18W | 2X | 48" | 40" | 50" |
| 20W | 2X | 50" | 42" | 52" |
| 22W | 3X | 52" | 44" | 54" |
| 24W | 3X | 54" | 46" | 56" |
Plus T-Shirt & Tunic Tops
---
| | | | | |
| --- | --- | --- | --- | --- |
| Size | Size | Bust | Waist | Shoulder |
| 1X | 14W-16W | 45" | 44" | 16.25" |
| 2X | 18W-20W | 48" | 47" | 17" |
| 3X | 22W-24W | 51" | 50" | 17.75" |
Plus Bottoms
---
| | | | | |
| --- | --- | --- | --- | --- |
| Size | Size | Elastic Waist | Hip | Rise |
| 1X | 14W-16W | 32-35" | 54.5" | 13.75" |
| 2X | 18W-20W | 35-38" | 54.5" | 14.5" |
| 3X | 22W-24W | 38-41" | 57.5" | 15.25" |