Pay in 4 installments of $11.25 with
,
or
Buy More, Save More up to 45% Off
Sunny is cute and flirty. This stretch knit dress features side ruching to complement your natural figure. Sunny's V-neck flounce creates dimension and adds an extra touch of femininity. This little black dress is a great style solution for any day or nighttime events. 
Details:
Tejera is 5' 10" and wearing size 18W
Adriana is 5'2" and wearing size 10P 

Center Back Length Measurement:
Regular: 38" on size 8

Petite: 36" on size 8P

Plus: 40" on size 18W

Factor 0.5 inch per size smaller or larger
Key Features:
Above the knee length

Slip on

Sleeveless with flounce

Bodycon silhouette

Machine wash

Body: Polyester, Spandex; Flounce: Polyester, Spandex
Customer Reviews
100
reviewers would recommend this product
Write a Review
Ask a Question
07/01/2022
Rochelle O.

United States
I recommend this product
Dress
Very nice dress. Very flattering
04/23/2022
Leytecia R.

United States
I recommend this product
LBD
I love the fit and quality of this dress.
12/20/2021
Deborah S.

United States
I recommend this product
Little black dress
This is my first dress in years and, OMG, it's perfect. Length is just below the knee, the bodice is not too deep. The fabric does not cling, just sways.
09/13/2021
Marissa

United States
I recommend this product
Perfect dress
I purchased this dress in forest green at another store. I got so many compliments. I modified the way to wear this dress to off the shoulder and it really made a difference! Sharing a picture to show what I mean! A woman at the store referred to it as an old lady dress when I said I was going to wear it to a wedding.. believe me it didn't look like one when it put it on… this sits just right! So excited to find it in another color!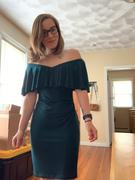 08/20/2021
Pamela M.

United States
I recommend this product
So cute! Just not for me.
Such a cute & comfy dress but it just wasn't right on me.
✕
Don't know how to take your measurements? Watch our helpful how-to video!
If you're still in doubt, email us at fit@connectedapparel.com. We'll help you figure out your correct size!

Dresses & Jumpsuits
---
| | | | | |
| --- | --- | --- | --- | --- |
| Size | Size | Bust | Waist | Hip |
| 4 | S | 35" | 28" | 39" |
| 6 | S | 36" | 29" | 40" |
| 8 | M | 37" | 30" | 41" |
| 10 | M | 38" | 31" | 42" |
| 12 | L | 39.5" | 32.5" | 43.5" |
| 14 | L | 41" | 34" | 45" |
| 16 | XL | 42.5" | 35.5" | 46.5" |
| 18 | XL | 44.5" | 37.5" | 48.5" |
T-Shirt & Tunic Tops
---
| | | | | |
| --- | --- | --- | --- | --- |
| Size | Size | Bust | Waist | Shoulder |
| XS | 0-2 | 33.5" | 34.5" | 14.875" |
| S | 2-4 | 35" | 33" | 15.25" |
| M | 8-10 | 37" | 35" | 15.75" |
| L | 12-14 | 40" | 38" | 16.5" |
| XL | 16-18 | 42" | 40" | 17" |
Bottoms
---
| | | | | |
| --- | --- | --- | --- | --- |
| Size | Size | Elastic Waist | Hip | Rise |
| XS | 0-2 | 24.5-25.5" | 38" | 11.25" |
| S | 2-4 | 25.5-27.5" | 39.5" | 12" |
| M | 6-8 | 27.5-30.5" | 41.5" | 12.75" |
| L | 10-12 | 30.5-32.5" | 44.5" | 13.5" |
| XL | 14-16 | 32.5-34.5" | 46.5" | 14.25" |
Petite Dresses & Jumpsuits
---
| | | | | |
| --- | --- | --- | --- | --- |
| Size | Size | Bust | Waist | Hip |
| 2P | PXS | 34" | 26" | 37" |
| 4P | PS | 35" | 27" | 38" |
| 6P | PS | 36" | 28" | 39" |
| 8P | PM | 37" | 29" | 40" |
| 10P | PM | 38" | 30" | 41" |
| 12P | PL | 39.5" | 31.5" | 42.5" |
| 14P | PL | 41" | 33" | 44" |
| 16P | PXL | 42.5" | 34.5" | 45.5" |
| 18P | PXL | 44.5" | 36.5" | 47.5" |
Petite Bottoms
---
| | | | | |
| --- | --- | --- | --- | --- |
| Size | Size | Elastic Waist | Hip | Rise |
| PXS | 0P-2P | 24.5-25.5" | 38" | 10.375" |
| PS | 4P-6P | 25.5-27.5" | 39.5" | 10.75" |
| PM | 8P-10P | 27.5-30.5" | 41.5" | 11.5" |
| PL | 12P-14P | 30.5-32.5" | 44.5" | 12.25" |
| PXL | 16P-18P | 32.5-34.5" | 46.5" | 13" |
Plus Dresses & Jumpsuits
---
| | | | | |
| --- | --- | --- | --- | --- |
| Size | Size | Bust | Waist | Hip |
| 14W | 1X | 44.5" | 36.5" | 46.5" |
| 16W | 1X | 46" | 38" | 48" |
| 18W | 2X | 48" | 40" | 50" |
| 20W | 2X | 50" | 42" | 52" |
| 22W | 3X | 52" | 44" | 54" |
| 24W | 3X | 54" | 46" | 56" |
Plus T-Shirt & Tunic Tops
---
| | | | | |
| --- | --- | --- | --- | --- |
| Size | Size | Bust | Waist | Shoulder |
| 1X | 14W-16W | 45" | 44" | 16.25" |
| 2X | 18W-20W | 48" | 47" | 17" |
| 3X | 22W-24W | 51" | 50" | 17.75" |
Plus Bottoms
---
| | | | | |
| --- | --- | --- | --- | --- |
| Size | Size | Elastic Waist | Hip | Rise |
| 1X | 14W-16W | 32-35" | 54.5" | 13.75" |
| 2X | 18W-20W | 35-38" | 54.5" | 14.5" |
| 3X | 22W-24W | 38-41" | 57.5" | 15.25" |