The Return to Work: What the CA Team is Wearing to Work This Fall
The workwear dress code is definitely changing and will continue to evolve. Perhaps it's wishful thinking, but we'll go ahead and say it: It is time to start retiring the Zoom calls and making your way back into the office! And if that's the case, some of you may need some work outfit ideas. Afterall, it's been a while and you may be confused as to what is now acceptable to wear to the office. The key is to walk back into the office feeling comfortable and confident wearing affordable and versatile styles.
We're here to make the frustrating process of recreating your workwear wardrobe a little bit easier! We asked three Connected Apparel team members to pick their favorite Fall work clothes and style them for the office. Read on to see what they chose and get more tips on what business casual means for women here.
Fall Work Outfit Idea #1: Leanna's Desk to Dinner Look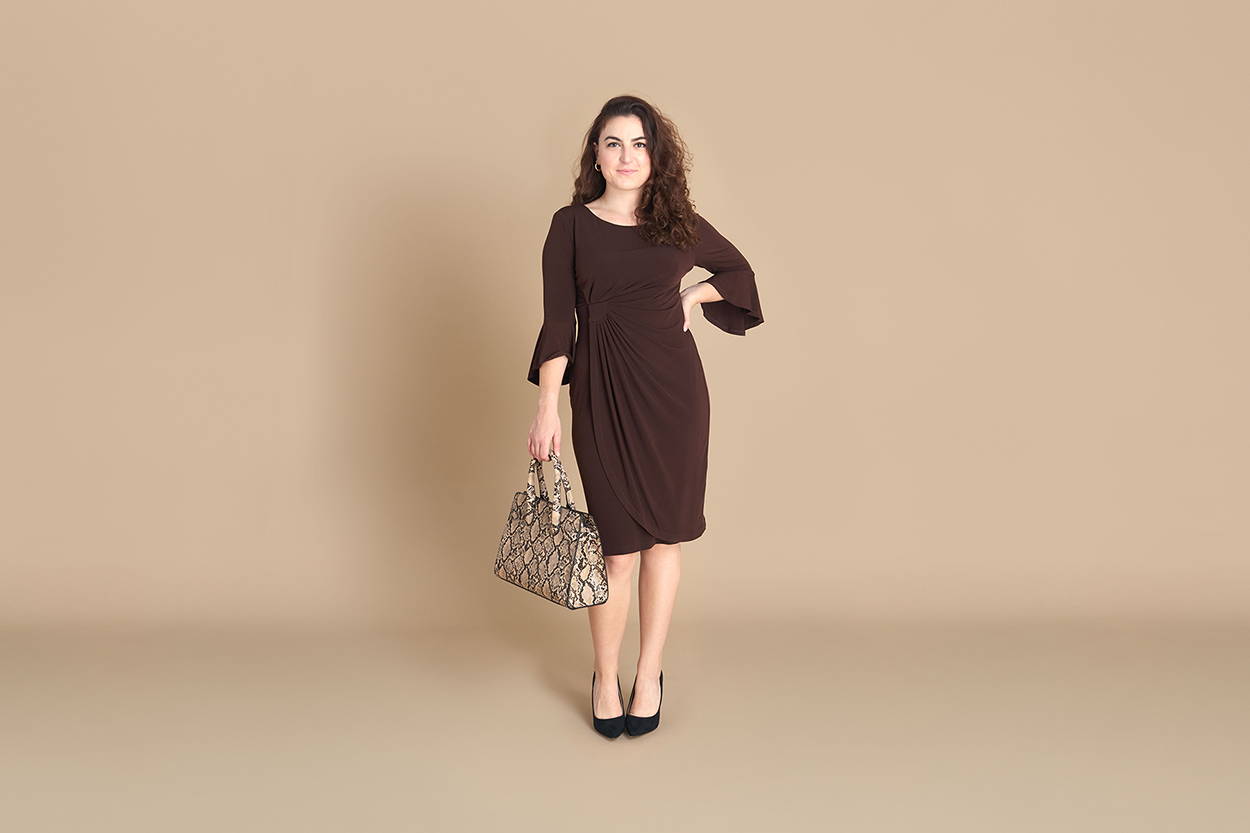 "The Lisa dress is the perfect fall work outfit! She is super comfortable, chic and easy to accessorize for after work dinner plans!"
- Leanna, Director of E-Commerce & Marketing
Leanna is wearing the Lisa 2.0 in brown, a silhouette that is a Connected Apparel customer favorite and for good reason!
A dress that looks great on all body shapes, Lisa 2.0 is the perfect fall work outfit. She's classic, she's sophisticated and she's modest. Paired with a pointed toe heel and your favorite work bag, you will be out the door stress free with this fall outfit idea for work! Walk into the office feeling chic, comfortable, AND confident! And when you're off to dinner afterward, simply swap about your heels and bag.
If you like the Lisa 2.0 dress, you are sure to like these other workwear options too!
Fall Work Outfit Idea #2: Terri's Head to Toe Look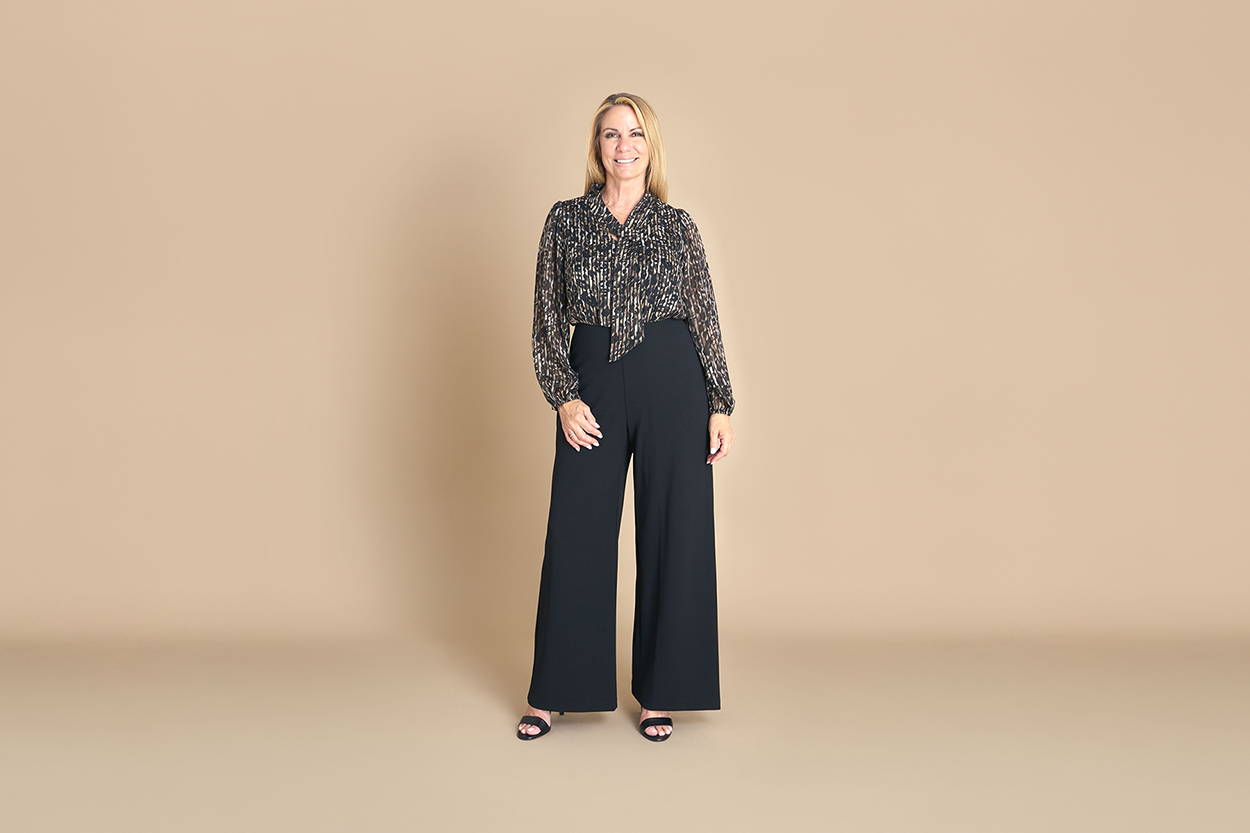 "The Amanda jumpsuit is perfect to wear on one of those days where you want to look like you put a whole outfit together but don't have the time!"
- Terri, Assistant to CEO & Fit Model
Terri is wearing the Amanda Leopard Stripe Jumpsuit, a head to toe fall work outfit.
Amanda will be your go-to for days when the weather is gloomy, chilly and making you feel unmotivated to get dressed for the office. What we love most is that the chiffon leopard and stripe print bodice looks like a blouse, but is in fact attached to the high-waist wide leg pants to make Amanda a one-and-done jumpsuit! Terri paired this jumpsuit with an open toed heel and some simple jewelry pieces to complete the look!
If you like the Amanda Jumpsuit, you are sure to like these other workwear options!
Fall Outfit Idea #3: Karla's Day in the Office Look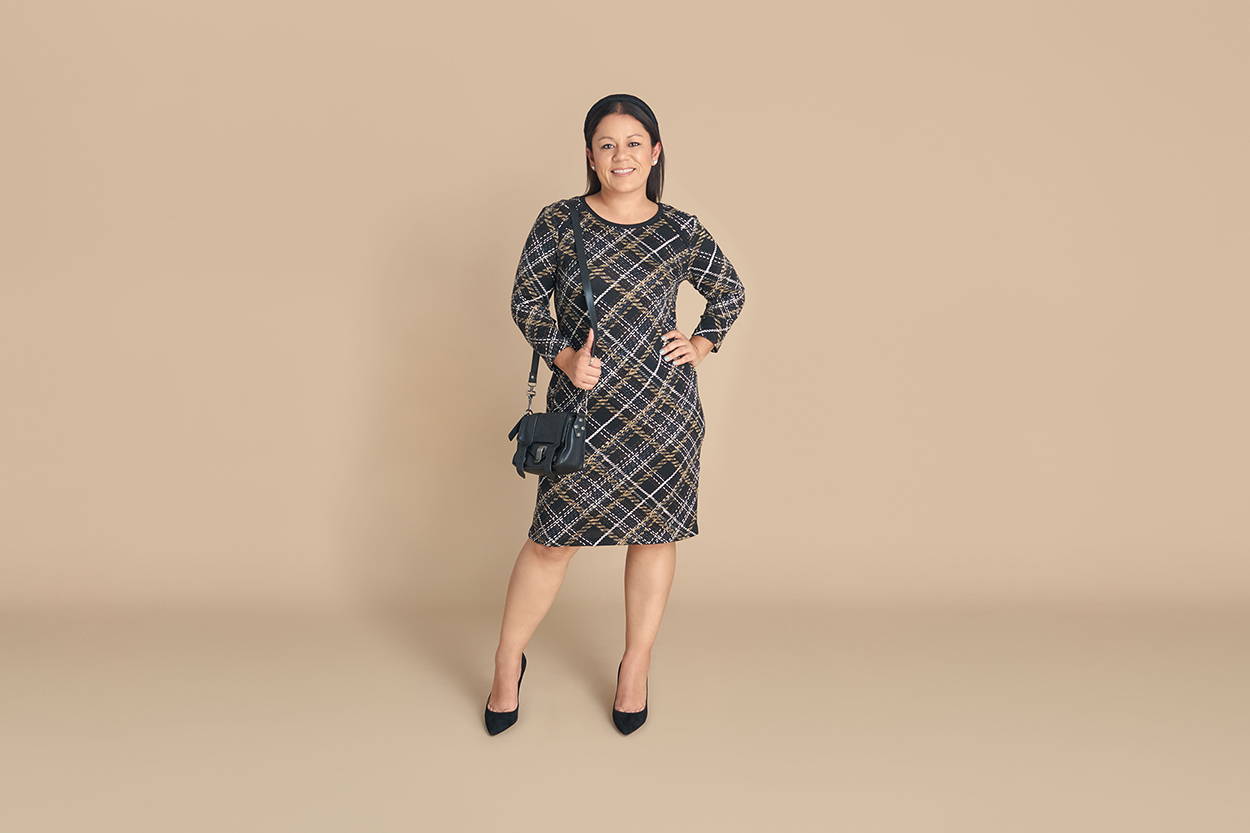 "I love a simple dress to wear to the office, and Erin is just that but with a fun plaid pattern! She's perfect for Fall with the added arm coverage."
- Karla, Human Resources Manager
Karla is wearing the Erin Plaid Sheath Dress in taupe, which features three quarter sleeves and a high neckline for a classic look.
She paired Erin with her staple pointed toe work pumps and a simple black headband to add a fun touch to a more simple outfit. Made from stretch knit fabric, Karla is ready for a day in the office feeling as comfortable as can be! If you love this work outfit idea and want an extra layer, you can pair Erin with the CAxLZ Bianca Black Open Front Cardigan.
If you like the Erin Plaid Dress, you are sure to like these other workwear options!
Revamp your fall work wardrobe and make comfort a priority!
Take the guesswork out of styling outfits in the morning before heading into the office by recreating the looks our CA team is wearing! You can also find more office looks by shopping our workwear collection here.
Leave a comment