Meet Sabrina, Fall's Most Universally Flattering Midi Dress
Have you heard? Have you heard about the dress that transitions from summer to fall, looks stunning day to night and is made of stretch mesh that looks universally flattering on women of every body shape, age and size? Whether this is the first or the fifth time you've seen our new Sabrina mesh midi dress, it's time we introduced you officially.
Her print is seasonal and her silhouette looks ravishing! Sabrina is the ultimate Fall dress. The unique floral print stretch mesh hugs your figure without making you feel constricted, while the asymmetrical panels create an elongating effect (one of our favorite 2020 Trends). From the long sleeves to the midi length hem, Sabrina gives you the perfect amount of coverage. And the merrowed seams create that last bit of added flair. This universally styleable and flattering long sleeve dress is the must-have item in your fall wardrobe.
Why hasn't Sabrina made it to your closet?
Mesh, asymmetrical, long sleeve—these are polarizing features in a dress during any season. And an all-over print may be questionable for solid color enthusiasts. But what if there was a dress that had long sleeves you could still feel cool in? Or a printed dress that with one simple styling rule could be as cohesive as a monotone outfit? It's all possible with Sabrina.
Team CA got together with our friends and family to showcase how the real women in our lives wear and style their Sabrina mesh midi dress. Some women styled Sabrina with seasonal throwbacks and others utilized her to highlight the best feature of any fall outfit. Check out the three ways the most important women in our lives looked universally flattering in Sabrina below.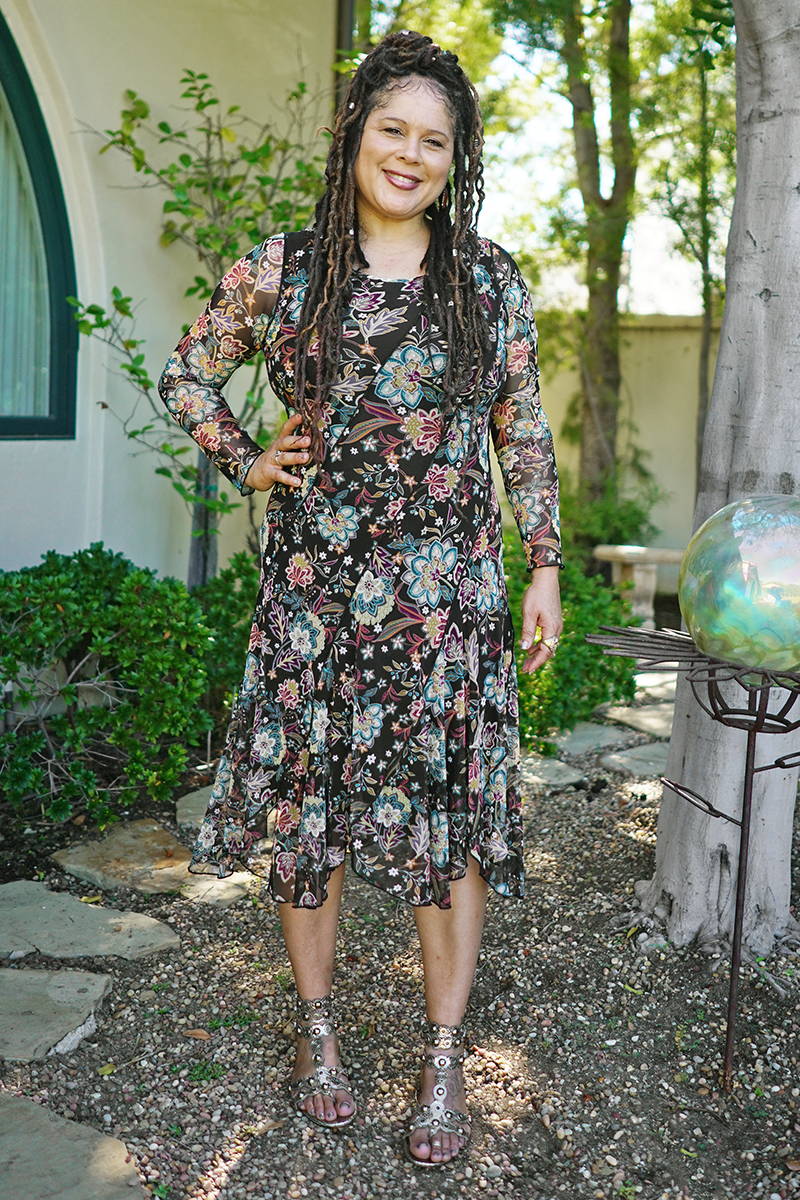 Raquel's voluminous, gorgeous braids shimmer with gold metallic accents that coordinate perfectly with her metallic gladiator sandals.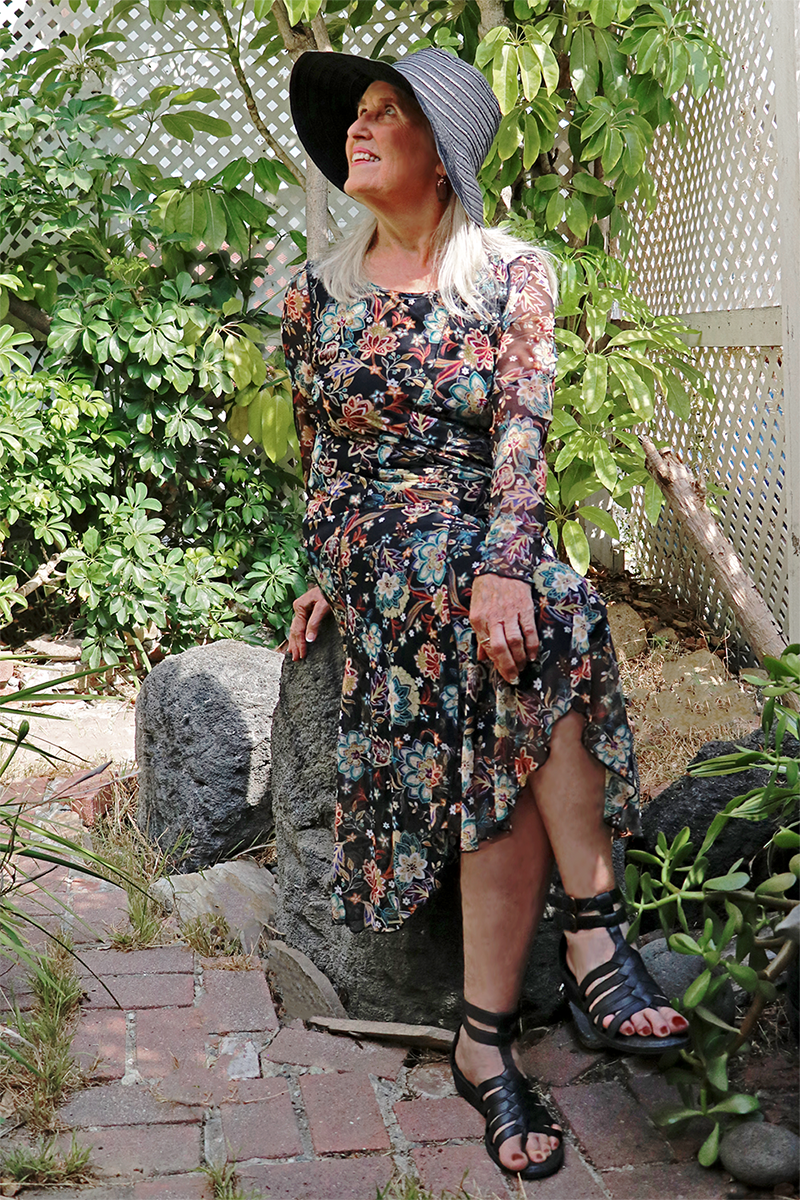 Karen loved her summer wide brim floppy hat. But just because beach days ended didn't mean one of her favorite accessories had to leave her closet. For a head-to-toe transitional outfit Karen completed her summer hat accessory with a pair of black, slightly formal gladiator sandals.
As we transition from Summer to Fall, it's totally understandable if you're feeling blue about saying goodbye to the sunny days. The warm sun on our skin and the breeze through our hair may be fleeting, but that doesn't mean we have to say goodbye to our summer style just yet! Embrace your summer nostalgia through transitional dresses like the Sabrina mesh midi dress.
Mesh dresses are great for their lightweight, breathable fabrics that make them easily adaptable to year-round seasonless outfits. But what's the secret to making a mesh dress like Sabrina chic and transitional? It's all in the accessories.
For those with daydreams of summer nights, September and October are the peak months for incorporating summer accessories. It's also the time for you to get the most out of your already existing wardrobe! Take your favorite summer flip flops or beach shawl and an everyday fall dress in an autumn color and you'll have a budget-friendly and stylish early fall outfit. And the Sabrina mesh midi dress is no exception! Cool down this long sleeve dress by pairing it with a pair of casual formal gladiator sandals and your go-to floppy hat. You'll instantly be right back to your favorite summer days.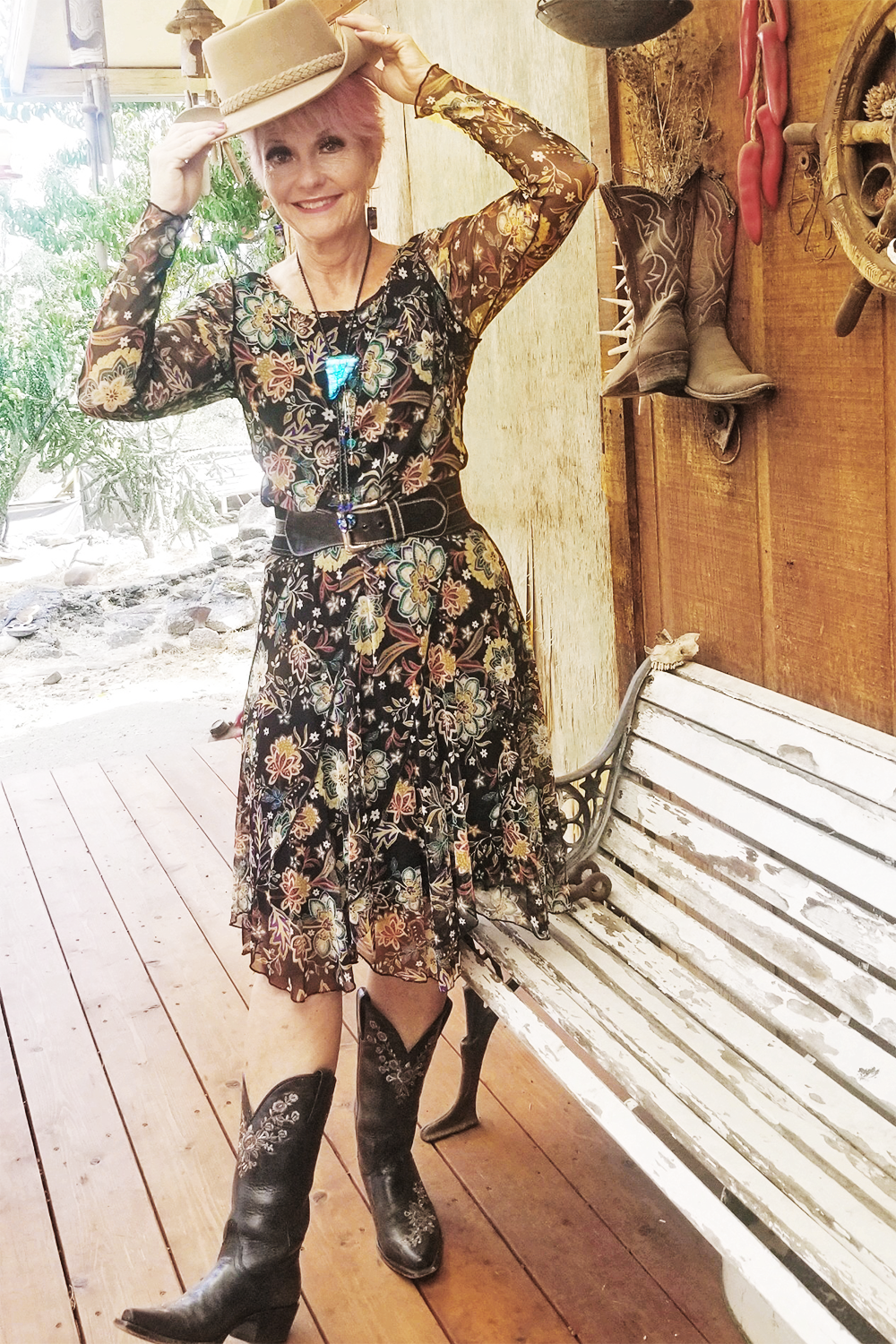 Kym is an expressive photographer who loves a fall dress that pairs with her unique accessory collection. A turquoise necklace gives her Sabrina outfit visual interest, while her muted boots and hat create a rustic everyday look.
Luxe statement pieces are perfect for a night out or a fancy date night in. Leanna paired her Sabrina with a brilliant metallic belt with artistic circular buckle for added sparkle.
The rich, intricately patterned fabric makes Sabrina one of our most loved fall dresses. This mesh dress is visually stunning head to toe. It also may have you asking, "When are contrasting colors and accessories too much for Sabrina?"
Accessorizing a bold print outfit may sound complicated. Advice for fashion and stylizing beginners: start simple. The teal floral print on Sabrina is already an allover print that demands attention. A little extra color or design on a piece of jewelry or shoes goes a long way. Simplify your accessorizing with the Sabrina mesh midi dress.
Complete your on-trend fall outfit by choosing one statement piece that is uniquely you. Do you have a kitsch pair of super cute earrings from a trip abroad? Wear them! What about that flashy clutch purse you never can seem to find an outfit to wear it with? That's a great option too! Choose one piece of jewelry, one accessory, or even a vibrant and statement-making pair of shoes. And keep any other items you style Sabrina with to a muted or neutral color palette. Finishing your outfit with conservative shoes and accessories allows your statement piece to shine.
Styling bold prints like the Sabrina mesh dress really is just that easy! Want more tips on how to wear bold prints? Check out our Style 101: Bold Prints blog.
Leanna's second favorite way to style Sabrina is with a thick basic black belt and booties. She loves being able to get ready for any kind of fall event so easily while looking oh so trendy.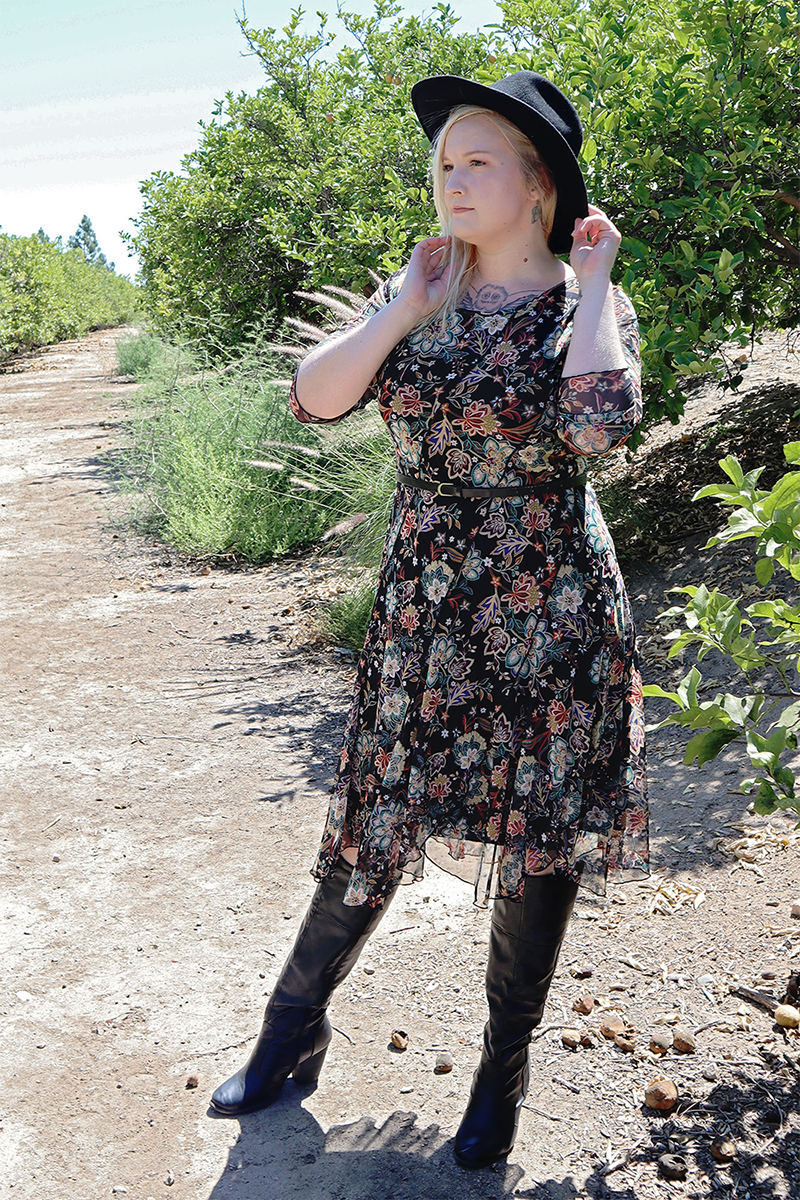 In all black, no amount of accessories is too much! Missy's favorite western style hat, slim belt and sleek matte knee-high boots show off her hourglass figure as well as her knack for accessorizing.
Think about the last time you gave someone a compliment on their outfit. What element was it that drew your attraction? Was it the unique style of a friend's asymmetrical cocktail dress? A rare and bold color of an unassuming casual dress? Or was it instead how that person's outfit really just highlighted their natural beauty? Our #1 favorite way to style the Sabrina mesh midi dress is to add elements that define, accentuate and highlight the beauty of the woman wearing it. And nothing more. The other best part about this you-forward styling is how deceptively simple it is to accomplish!
Have you ever heard the saying, "when in doubt, wear black"? Pairing a cute cocktail dress or even the right everyday casual dress with all-black shoes and accessories is the perfect move for when you just can't figure out what to wear. And unlike accessorizing in head-to-toe color, all-black pieces create a polished, complete fall outfit that highlights any fall dresses's best feature—you!
Use black to define and add depth to your Sabrina mesh midi dress. Sabrina's patterned mesh has a comfortable stretch to it that naturally hugs your body in certain areas. Create maximum contrast with a skinny black belt worn at the smallest part of your waist. Add a structured black hat, simple black jewelry or even a modest black scarf if one accessory isn't to your personal taste.Then put on your favorite pair of knee-high or ankle length black boots. You'll be strolling the avenue of color changing trees in a sexy fall outfit in a pinch!
Style Smarter, not harder!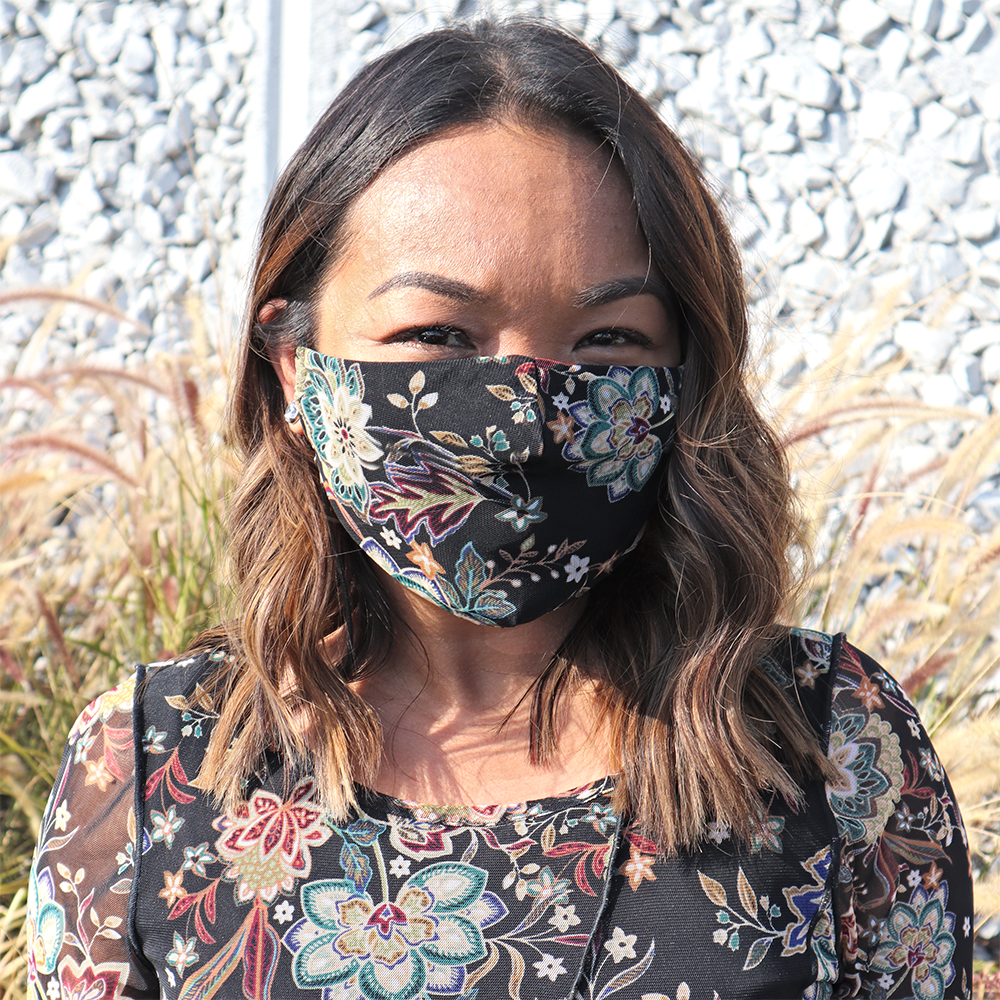 Whichever style technique you choose, make the choice to protect the woman behind it. This non-medical grade, triple layer face mask helps aid in keeping you safe, so you can feel 100% comfortable and confident. The Sabrina dress may be the perfect fall dress, but the matching, reusable Teal Floral Mesh Face Mask is the fall accessory.
Your style expertise is just beginning. Use the style techniques you just learned to create gorgeous outfits with all of your fall dresses and jumpsuits this season. Closet still full of bikinis and sundresses? Change out your summer to fall wardrobe with ease.
1 comment
Loved seeing "live" models wearing CA's Fall dresses. I'm sold! Will definitely be ordering Sabrina. The how to accessorize comments were awesome! Thanks for encouraging me to dress comfortably beautiful!
Leave a comment