Behind the Jumpsuit: Paige, the Polka Dot Jumpsuit You'll Be Wearing Year-Round
You may have noticed that this summer we were all about cute and casual. Aka, summer 2020 was the season for the one-and-done, throw it on and look fabulous: jumpsuit. But in all our summer jumpsuit options, there was one vintage, polka dot darling both you and team CA fell in love with. We're talking about Paige.
THE PAIGE POLKA DOT JUMPSUIT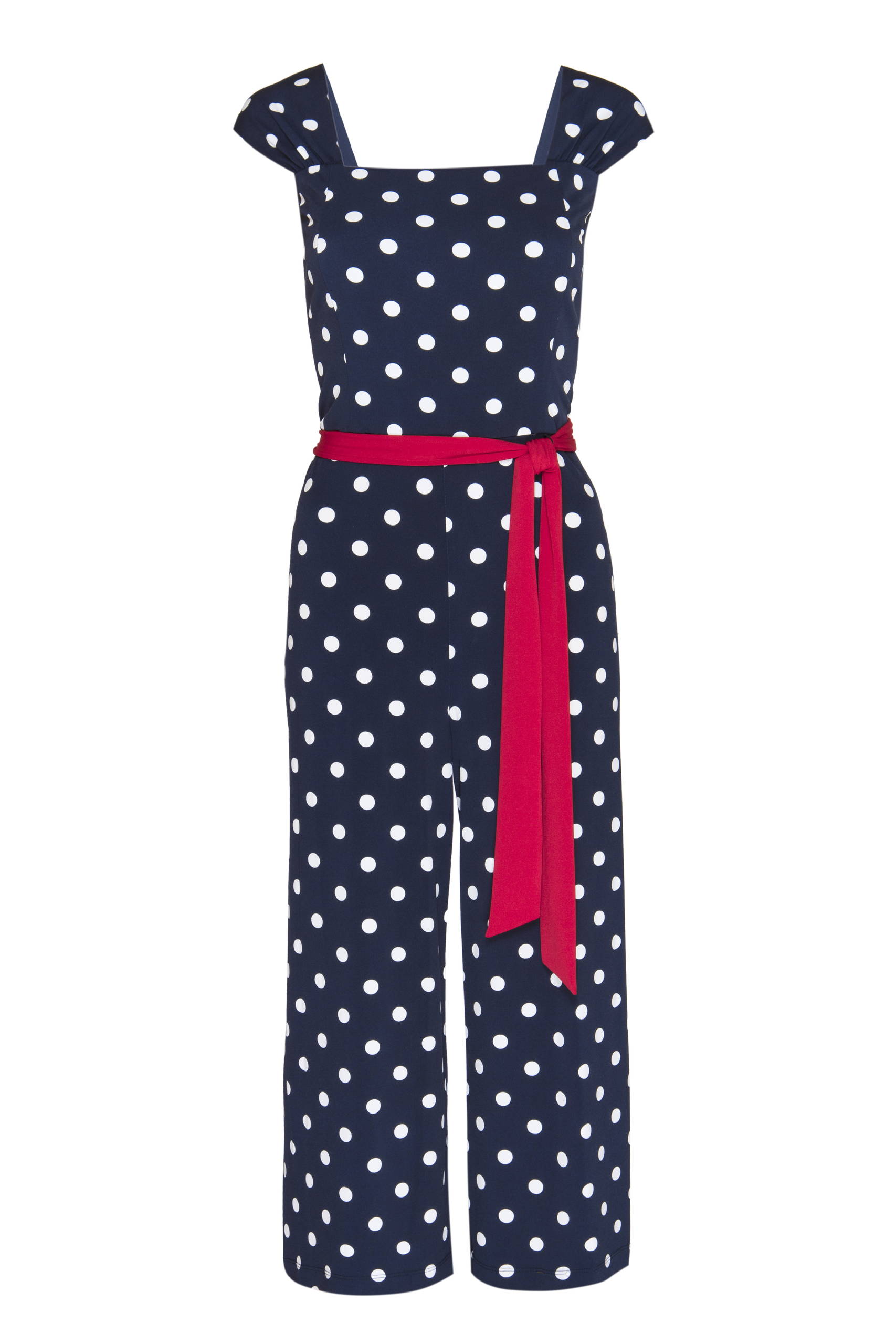 Paige is the navy jumpsuit you can't resist. She's retro yet modern and her ever-iconic polka dot print always makes the list of trending patterns. This cute jumpsuit is so versatile that women of any age can wear her and style her in endless ways. Whether you're working from home or taking a road trip, Paige is here to help you look and feel fabulous at any age.
Because you've been loving Paige this Summer, we thought you might want to learn a little bit about how she was made. We sat down with Sandy, the patternmaker behind the Paige jumpsuit. Get Sandy's behind the scenes scoop on what makes this best-selling navy jumpsuit so great!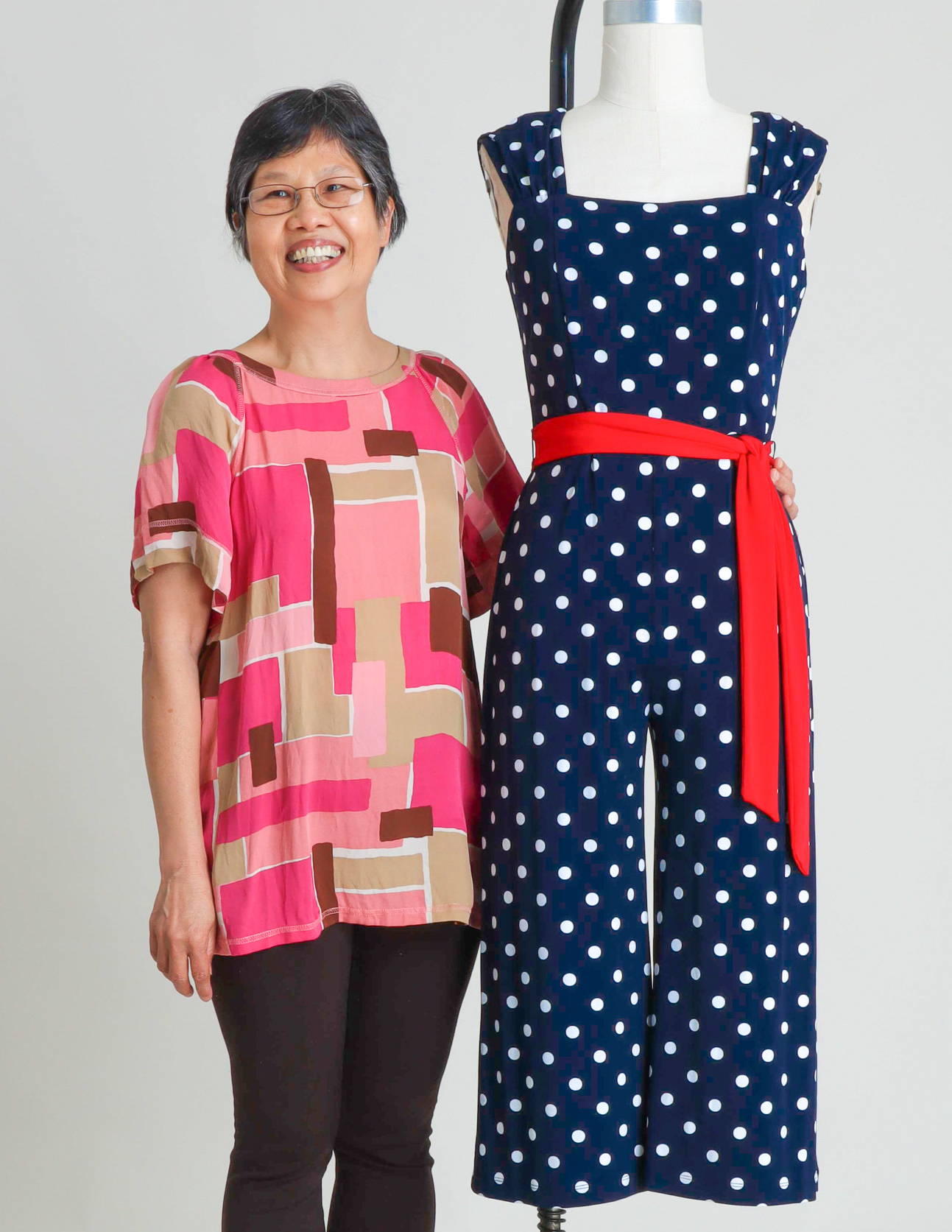 Why did Sandy want to be a patternmaker? Much to our surprise, she actually didn't! She fell into the profession when her younger sister was taking patternmaking courses at Los Angeles Trade Tech College. Instead of waiting around for her to be done with class, Sandy decided to enroll too! Sandy's teacher quickly realized that she had a knack for patternmaking. So when Sandy tried to quit, her teacher convinced her otherwise. And with good reason! Her professor offered her a job before she even graduated!
Sandy then went on to hold patternmaking jobs in swimwear, eveningwear, leatherwear and denim. She then joined the Connected Apparel family in 2004. Fun fact: this is the longest job Sandy's ever had! About Connected Apparel, Sandy said, "It's been great to see the company grow over the years. I am happy to be working here. The team is friendly, and we have become one big family."
Throughout the 16 years of working at Connected Apparel Sandy estimates she's made 5,000 different patterns! She created the Paige jumpsuit pattern in 2019 and since has worked to perfect its fit.
"I think Paige is such a good silhouette for our customerS. The princess seams flatter every figure and the red sash accentuates the waist while adding a pop of color.


The wide, shirred shoulder straps are also great, because women can cover up a little more while still showing their arms."
- Sandy tells us what she loves about the Paige jumpsuit
"As with every garment, we must ensure the pattern is suitable for all body types," Sandy says. "The first sample of the Paige jumpsuit was too small, so I made adjustments to get it to a place where production patternmakers can start scaling the pattern up and down so that the fit is perfect on every figure."

Paige is form fitting in the bodice with comfortable cropped wide-leg pants making it a great choice for women of all sizes. Not to mention the nostalgic polka dot print will make you want to wear this jumpsuit year-round! Throw it on in the daytime for a chic look in minutes or pair it with a denim jacket when taking a stroll after sundown.
So there you have it; the inside scoop on the jumpsuit women of all ages are falling in love with! Shop The Paige Polka Dot Jumpsuit & the rest of the Summer 2020 collection in our End of Season Sale Going on NOW!
Leave a comment