By now, you've probably noticed that things look a little different for our Summer '20 Collection. We had everything planned--photo shoots, marketing campaigns, social media content--and then COVID-19 happened.
Instead of dwelling on the fact that all our planning had to be scrapped, we went back to the drawing board to find a way to showcase our Summer Collection in a way that still feels authentic to our brand: real women of all shapes and sizes wearing our clothing. We knew we couldn't just show our pieces on mannequins.

So, we reached out to employees, friends and family and asked for their help modeling our Summer '20 Collection pieces. And what resulted is something beautiful. Not only did 30 women step up to the plate, they got creative with their modeling and most importantly, they had FUN!

Fashion should be fun and that's something we must never forget. Getting dressed up, even if for 15 minutes to take a photo, can spark so much joy. What this process showed us most is that even when apart, we are still connected.

We hope you enjoy shopping our Summer '20 Collection!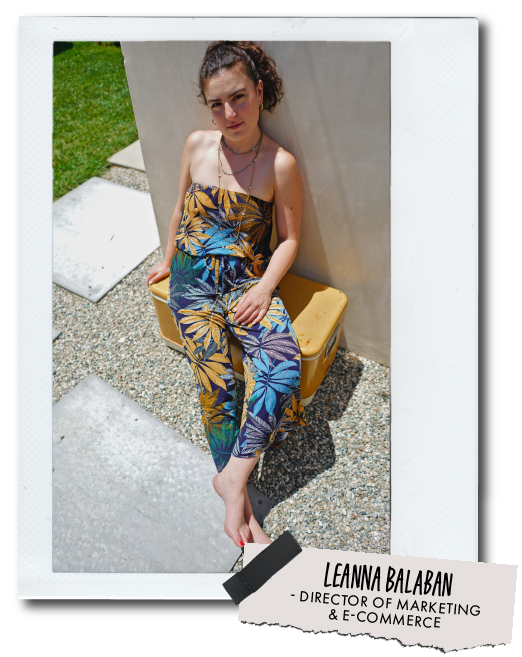 "The women's jumpsuits are so versatile and classic and the summer dresses are functional and vibrant!"
"Every season, I absolutely fall in love with two or three pieces from the collection and wear them over and over again. But with this Summer collection, I can't choose just a few pieces. I want them all! The women's jumpsuits are so versatile and classic and the summer dresses are functional and vibrant. What better way to boost your mood during quarantine than to slip on a Summer outfit that makes you feel beautiful and puts a smile on your face?!"
- Leanna Balaban
CA Director of Marketing & E-Commerce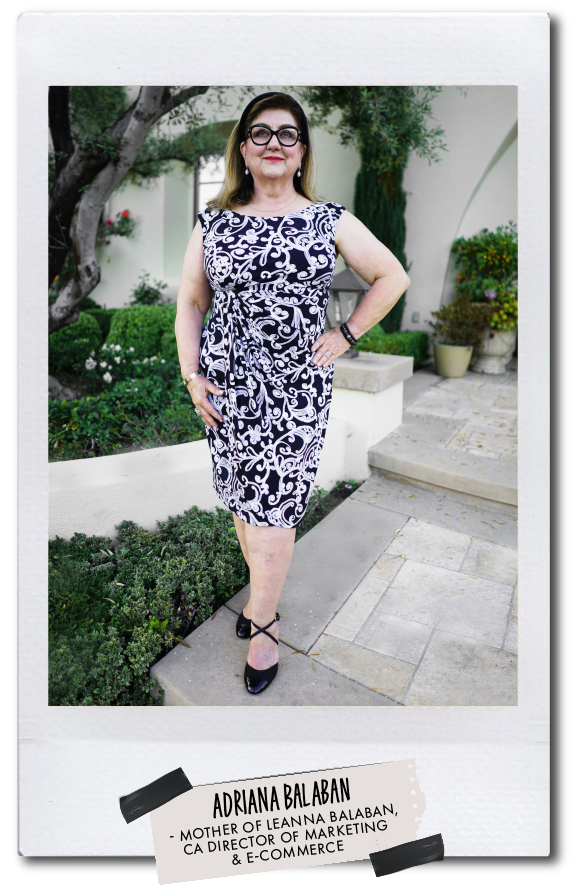 "there's a dress for every occasion—whether I'm going to a luncheon, out to run errands, having dinner with Jay."
"Half of my closet is CA dresses. And not just because I'm married to the CEO, but because there's a dress for every occasion--whether I'm going to a luncheon, out to run errands, having dinner with Jay. I loved modeling the Sasha dress because it was comfortable yet sophisticated and it covered my arms. And of course I'm partial to the Lisa dress because it hides my tummy so well and makes me feel beautiful every time."
- Adriana Balaban
Mother of Leanna Balaban, CA Director of Marketing & E-Commerce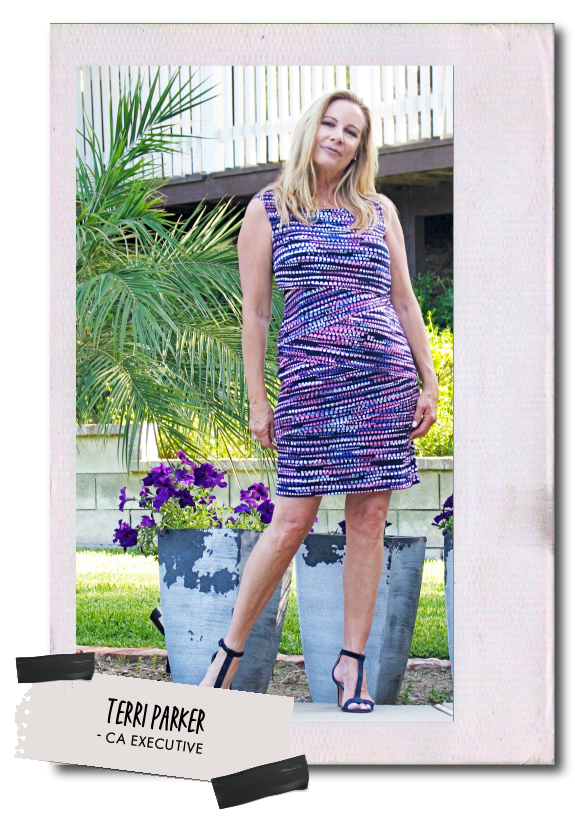 "Such an effortless dress to slip on and feel so sexy and comfortable in. So flattering on all body shapes."
"Working at Connected Apparel has been a privilege. What a great company to work for for 20 + years! The Brandy dress I modeled is one of our best silhouettes repurposed every season with color, prints and sleeve lengths. Such an effortless dress to slip on and feel so sexy and comfortable in. So flattering on all body shapes."
- Terri Parker
CA Executive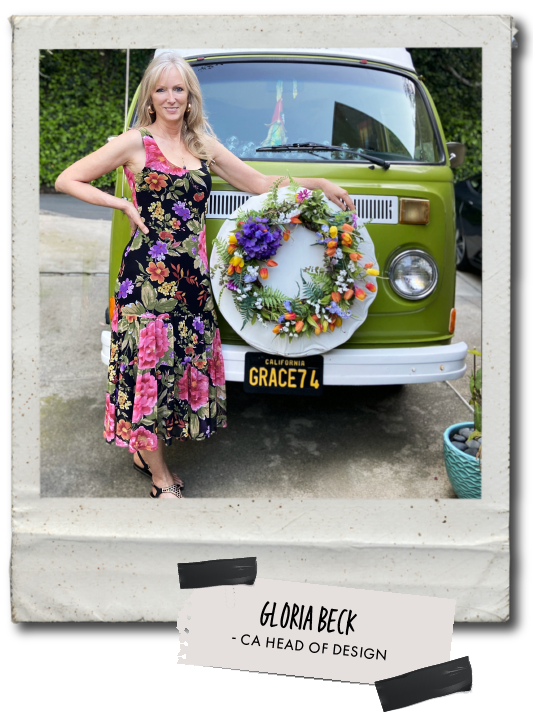 "[Spending time in isolation,] whether it was gardening, various creative projects, baking or challenging myself in doing home repairs, I found there is a common thread as with designing & producing dresses. It takes vision, creativity, experience, perseverance, a lot of hard work & problem solving. The Connected Family does that so very well! I have had the good fortune to have worked with & for - Jay, Sobel & Leanna & our team for 40 years. There are both TOO many words & NO words as to how I feel right now… so I'll just say blessed. #Blessed&Dressed"
- Gloria Beck
CA Head of Design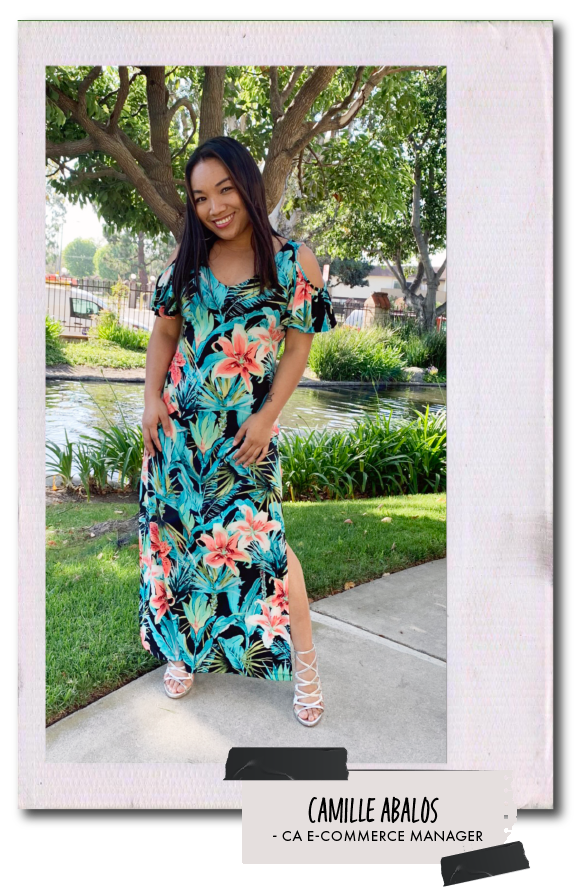 "I'm not a really 'dress' type of girl, but I love how I feel when I wear a Connected Apparel dress!"
"I'm not a really 'dress' type of girl, but I love how I feel when I wear a Connected Apparel dress! The quality is always great and the fabrics are always so comfortable to wear. I particularly love the Summer collection because of it's fun floral & botanical prints. I can't wait to wear this dress to the beach or even poolside!"
- Camille Abalos
CA E-Commerce Manager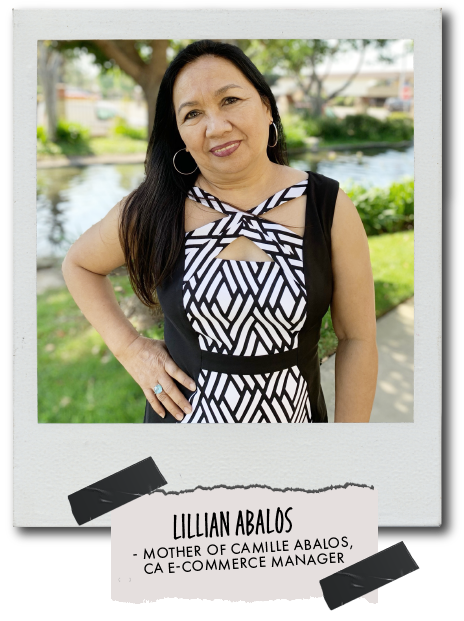 "[Connected Apparel] dresses are very beautiful and well made, especially compared to other dresses I've worn before or seen."
"[Connected Apparel] dresses are very beautiful and well made, especially compared to other dresses I've worn before or seen. It was my first time wearing a CA dress for this photoshoot and already, I love it so much! I can't wait to wear one of CA's special occasion dresses next year to weddings that have now been rescheduled. I know I'll feel beautiful wearing it."
- Lillian Abalos
Medical Coder & mother of Camille Abalos, CA E-Commerce Manager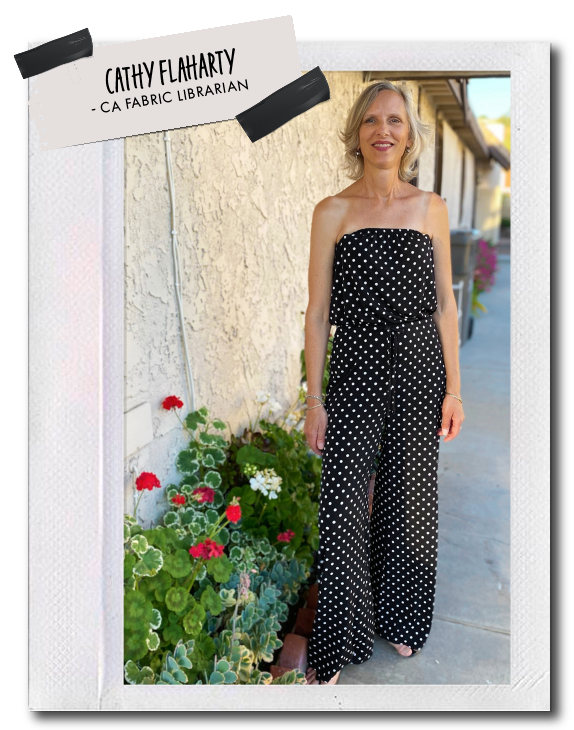 "I really loved the polka dot jumper. I could wear it anywhere. Dress it up or down."
"So happy to have something to do during isolation. The best part is I'm doing it for the company I work for! I sure miss being there. This was fun to do with my daughter Sarah! 💕 She looked fantastic and it was nice to see that the styles work for both of us. I really loved the polka dot jumper. I could wear it anywhere. Dress it up or down. I want it for Stagecoach!"
- Cathy Flaharty
CA Fabric Librarian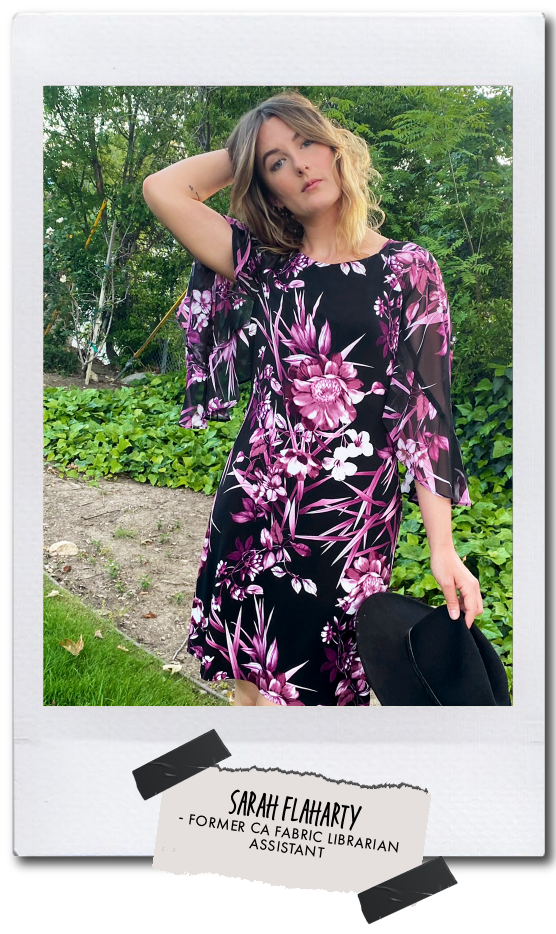 "The dress was super flattering and comfortable to wear."
"Modeling with my mom was the perfect excuse to actually get dressed for once during this pandemic! The dress was super flattering and comfortable to wear. Most importantly it was an effortless look that is so versatile, I could see myself reaching for this on a hot summers day or nighttime BBQs. So glad I can help support Connected Apparel!"
- Sarah Flaharty
Former CA Fabric Librarian Assistant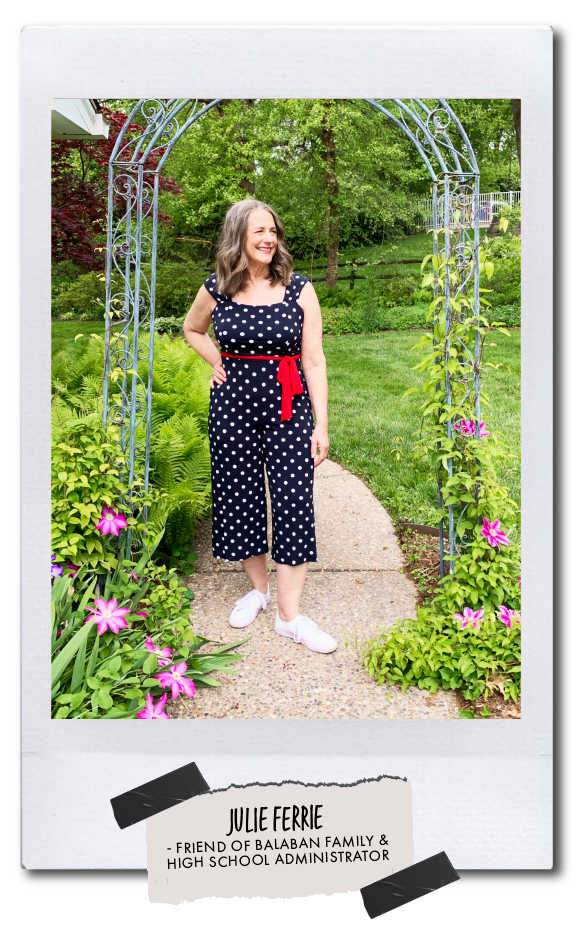 "I love the polka dot jumpsuit... it worked so well with white tennis shoes for a fun summer event, where I can be both stylish and comfortable."
"I love the polka dot jumpsuit. I loved that it worked so well with white tennis shoes for a fun summer event, where I can be both stylish and comfortable. The dresses are perfect for dinner out or the symphony. Melissa said I needed more attitude while modeling so I went for it!! I have been working from home during this time and am enjoying having Melissa home from NY to cook and binge watch shows which I have never done before!!"
- Julie Ferrie
Friend of the Balaban Family & High School Administrator
"I could wear it everyday."
"CA dresses are beautifully made, comfortable and right for every occasion. The cold shoulder dress was flattering to my body. I could wear it everyday."
- Stacy Holland
CA Customer & friend of Terri Parker, CA Executive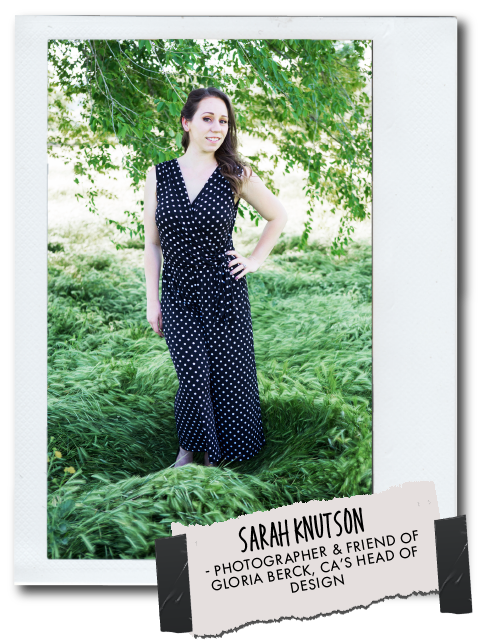 "It's perfect for any occasion!"
"I really loved this polka dot jumpsuit. It's soft and comfortable and very flattering. I would wear this to a job interview or to a casual BBQ! It's perfect for any occasion!"
- Sarah Knutson
Photographer & friend of Gloria Berck, CA's Head of Design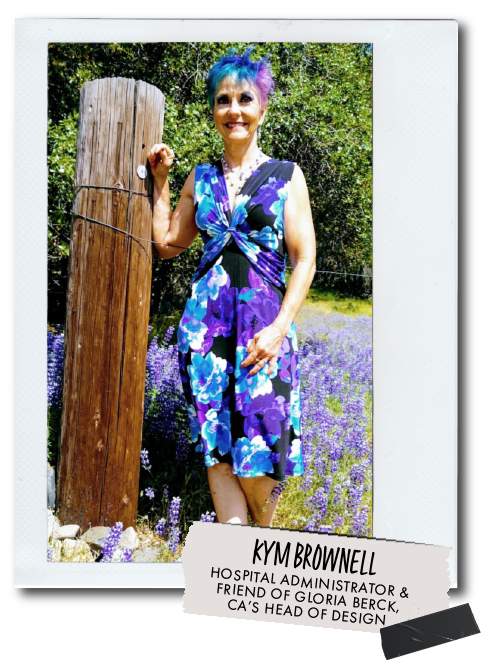 "The neckline of the Reese dress was amazing, low cut, but not too risque, very nice touch!"
"I love-love-love the fabric that [Connected Apparel uses]. Very soft and very comfortable. The neckline of the Reese dress was amazing, low cut, but not too risque, very nice touch! The [Melissa] jumpsuit was super cute too... My husband liked the jumpsuit on me best! He was my photographer and now thinks he might have a second calling on his expertise…"
- Kym Brownell
Hospital Administrator & friend of Gloria Beck, CA's Head of Design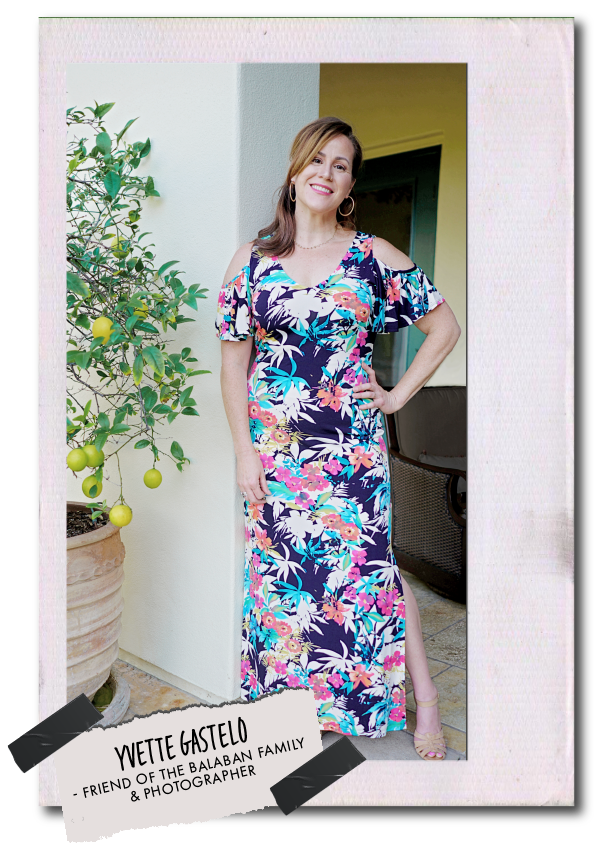 "Can't wait for our family trip to Hawaii, this will be the perfect Summer dress!"
"I love the Macie dress! I could dress it down, with summer sandals or heels and accessories! Can't wait for our family trip to Hawaii, this will be the perfect Summer dress!"
- Yvette Gastelo
Friend of the Balaban Family & Photographer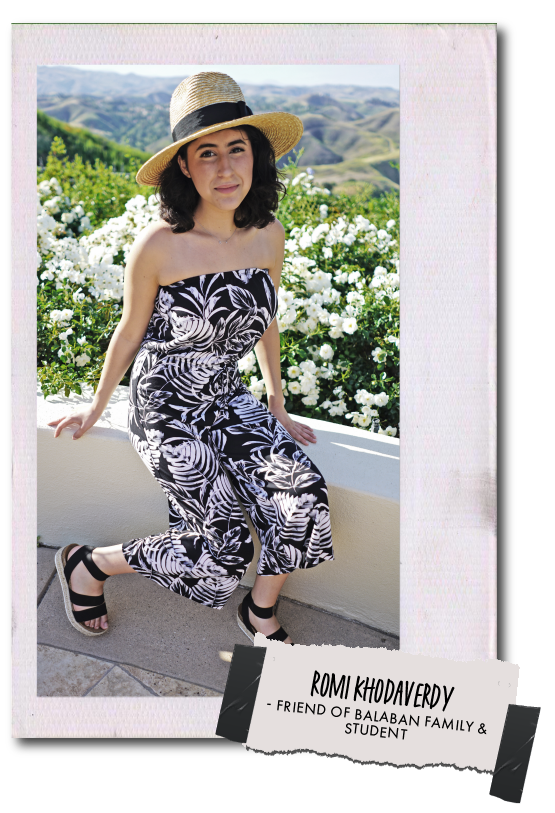 "It's such a nice piece to lay back in."
""I can't wait to wear the Melissa casual jumpsuit to Hawaii once quarantine ends! It's such a nice piece to lay back in."
- Romi Khodaverdy
Friend of Balaban Family & Student