Style Guide: How to Wear Bold & Animal Prints for Fall
Fashion is a fun and creative way for us to show off our personality and style. It allows us to complement our features and accentuate the favorite parts of ourselves. Whether it be a little black dress to slim our figure or a bright color to stand out from the crowd, fashion will always be an artform we can all benefit from.
In the spirit of standing out, let's talk about bold prints for Fall!
It may be scary to go from wearing solids to wearing bold patterns like fall animal prints, but we encourage you to try! We want to help you implement prints into your wardrobe that you'll love for years to come. This style guide will show you how to wear bold prints and explore your style with the top print trends this fall season.
Which Bold Prints Are Right For You This Fall?
Have you ever seen a friend wear a bold print dress that looked absolutely stunning, only to discover that when you put it on it sort of resembles bad wallpaper? Because fall print dresses are made from a graphic design, no two bodies will display them exactly the same.
But the road between you and a stunning bold or fall animal print ensemble isn't as difficult as it seems.
Consider three things when choosing a bold print:
Start off by choosing a print size that is proportionate to your unique figure.
Petite women should go for small-scale prints that compliment, rather than overwhelm a small build. Conversely, plus size curves provide more area for a small-scale bold print to be seen. More print means you'll visually appear larger. While small-scale prints work against a curvier frame, larger bold prints accentuate and compliment plus size women. For women with body types in between, small and large scale prints can be mixed and matched.
The key here is to choose a bold print that complements your unique shape and size. And if you ever feel unsure whether a fall print truly complements your figure, simply add a belt or a trendy scarf to create more dimension!
The colors used for the print play a vital role in how the print looks on your body overall.
Think about what you want your bold print to do for you. Bold prints with a more vibrant color are great for concealing problem areas. They're bright, reflective and add visual dimension that draw the eye away from the bits we don't want center stage.
If you want fall print dresses that are a bit more "buttoned up," choose a print with a dark background. Darker backgrounds create a moodier canvas for traditionally loud and whimsical bold or fall animal print designs. Even a vibrant floral motif can't help but look sexy when it's contrasted by a darker background.
Fall Bold & Animal Prints: Patterns
Don't forget the secret ingredient to what makes a bold or animal print perfect — YOU!
Bold and fall animal prints make a statement. They can reflect your avant garde taste for abstract art, help convey a moody, passionate feeling or even just serve as another reminder of the energetic, exciting woman that you are.
What statement does your perfect bold or animal print make?
Fall Outfit Ideas for Bold Prints
See these tips in action with some head to toe looks picked out just for you! Whether it be adding simple accessories to balance out a bold print, or adding statement pieces to stand out, you'll feel confident in these outfits.
Fall 2021 fashion will be filled with bold, unique prints that incorporate, plaid, animal, floral, and more! While styling bold patterns can seem scary, it is not as hard as you think! Contrary to popular belief, patterned pieces can be worn no matter the occasion. From work, to date night, to a special occasions, stand out at any event wearing bold and fall animal print pieces!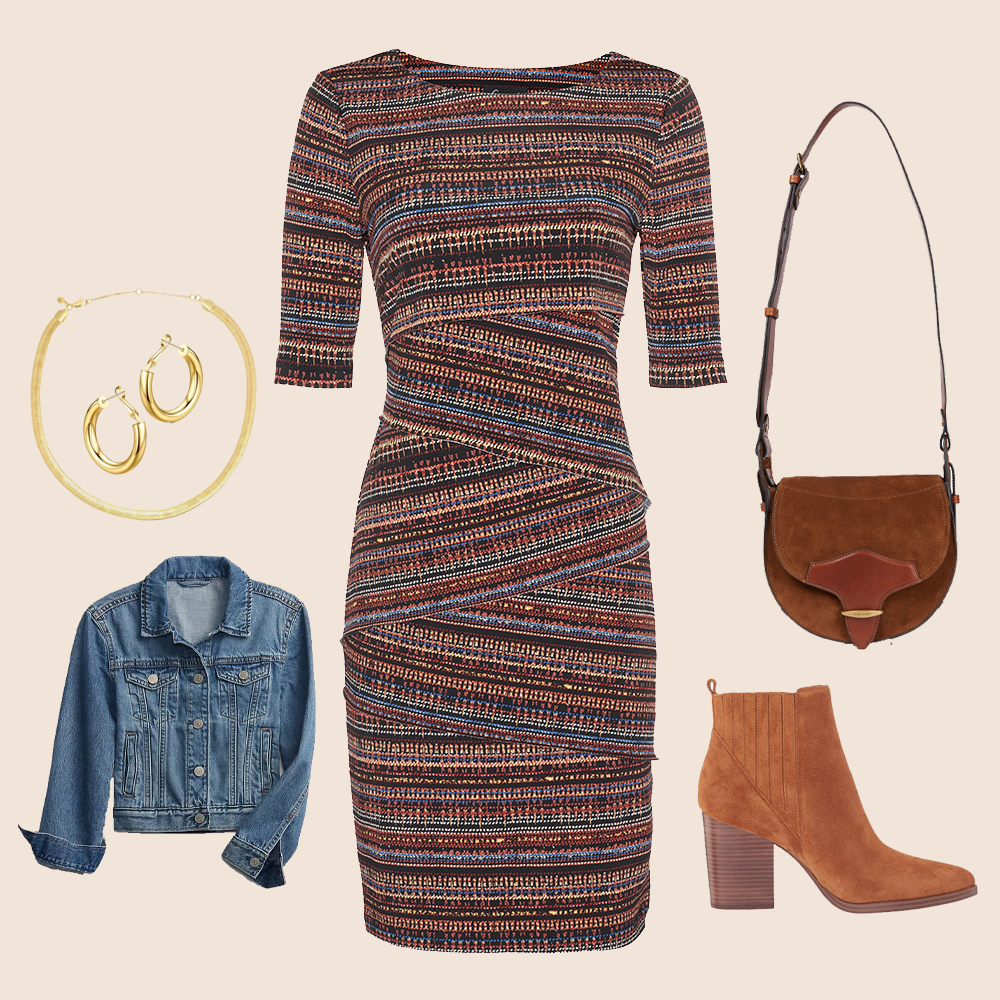 For a more casual, everyday style, the Brandy dress is the perfect choice! One way to wear a bold print is to pair your fall print dress with simple, solid colored accessories. A brown suede bootie and a matching crossbody bag is a great go-to look! And of course adding your favorite simple accessories like a chain necklace or hoop earring can add unique flair. Top it off with a denim jacket when the cold air hits!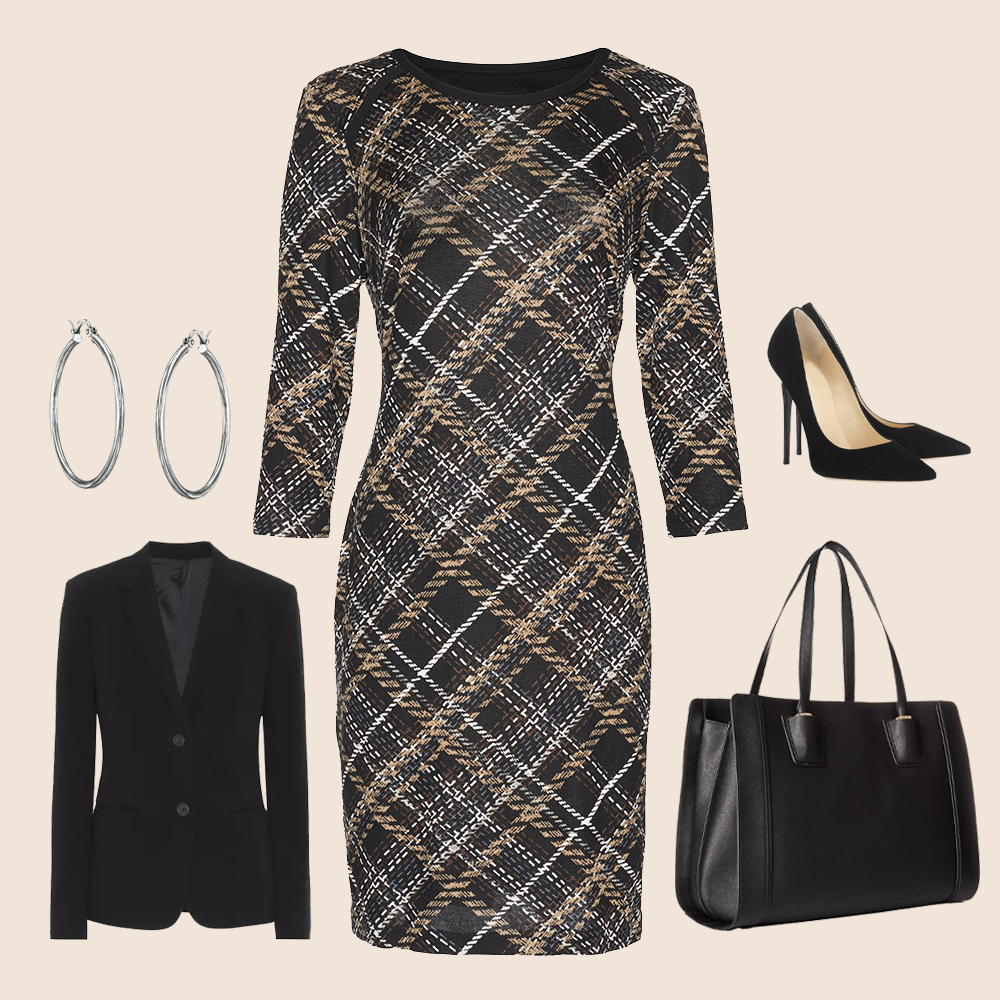 Wearing a bold print to work is definitely doable. While the plaid print on our Erin dress seems to be a little more subdued, this fall print dress plays on the idea of using a dark background to make a bold print feel a bit more subdued. Style Erin with black accessories to keep the focus on the main piece: the dress! Pair her with closed toed black heels, a tote back, a black blazer and you'll be ready for work in minutes!
The weekend (or weekday) is calling and this means nights out with friends or your significant other! A bold fall animal print is ALWAYS the answer. Our Bianca cardigan is a fan favorite! Pair this sexy leopard cardigan with a black tank like our CAxLZ Milena, your favorite pair of jeans, a heeled suede bootie and gold jewelry. Your Fall date night look is as easy as 1-2-3.
Whether it be a wedding, family gathering, or any other special occasion you have planned this Fall, wearing a bold print will help you stand out in the crowd! Our Betty dress is a great option with the sophisticated floral print and beautiful fall colors. Pair this dress with a black strappy heel, a classy clutch, and some simple gold accessories.
Fall In Love With Bold & Animal Prints THIS SEASON
The Fall 2021 Collection is filled with plaid, animal and floral print pieces that can take you throughout the season feeling beautiful and confident. Start the season off right by getting your closet ready! Shop the Fall 2021 Collection NOW!
Leave a comment