Style Guide: How to Style CAxLZ for the Holidays & NYE
The holiday season is right around the corner, and you know what that means: a calendar full of festivities! Putting a holiday outfit together for a party can be tricky, but we are here to help!
The CAxLZ Classics Collection is filled with staple pieces that can be worn in many different ways. Fill your closet with versatile styles that can be worn throughout the year, but especially for the Holiday season! You can elevate your holiday outfit with the signature bronze metallic fabric, or go bold with an animal print! PS - If you need a little help styling bold prints, check out our style guide.
Whatever you choose to wear from our CAxLZ Classics collection, you'll feel comfortable and confident throughout the Holidays and into New Year's Eve. Styling your holiday outfit for a variety of occasions only takes a few simple tips! Keep reading to learn. And if you like style tips like these, make sure you sign up for our newsletter! We will notify you of new style guides, products and special promotions.
Style the CAxLZ Classics for the Holidays with 5 Simple Tips!
Elevate your look this season with staple CAxLZ separates, just follow these 5 simple tips.
Belts are your best friend! Don't underestimate the power of a good belt. Worn over the Bianca cardigan, a belt can add shape to a sheath silhouette!
Accessories are everything! A change in necklace, earrings and shoes can give you an entirely different look!
Go monochrome or mix-and-match! Choose an all-black or bronze metallic monochrome look, or don't be afraid to mix things up.
Don't forget to layer! Cooler temperatures means more layers. Layer separate pieces together to keep you looking chic and warm throughout the holidays.
Versatility is key! Investing in CAxLZ Classic pieces means you'll look great for the Holidays, New Year and beyond!
The CAxLZ Classics Collection is full of styles that can be worn dressed up, or dressed down. Wear CAxLZ for a simple day of running errands or to a New Year's Eve celebration! The beauty of this collection is that it can be worn year round, making CAxLZ a great, budget friendly wardrobe choice. But with all of the exciting events coming up for the Holidays, we want to show you a few fun ways to level up these pieces for the festivities.
As always, we want you to feel chic and confident while also feeling comfortable. Read our general CAxLZ style guide for a few extra tips on wearing these styles year round!
Bundled Up for the Holidays
With the weather getting colder, stay comfy and cozy while still looking chic! All it takes is a little extra layering. With the Holidays comes long days filled with parties and sometimes your outfit needs to last 10+ hours a day. If you are in a holiday outfit for that long, make sure it's comfy! Start with soft and stretch separates then layer on from there to stay warm when you're running from one party to the next.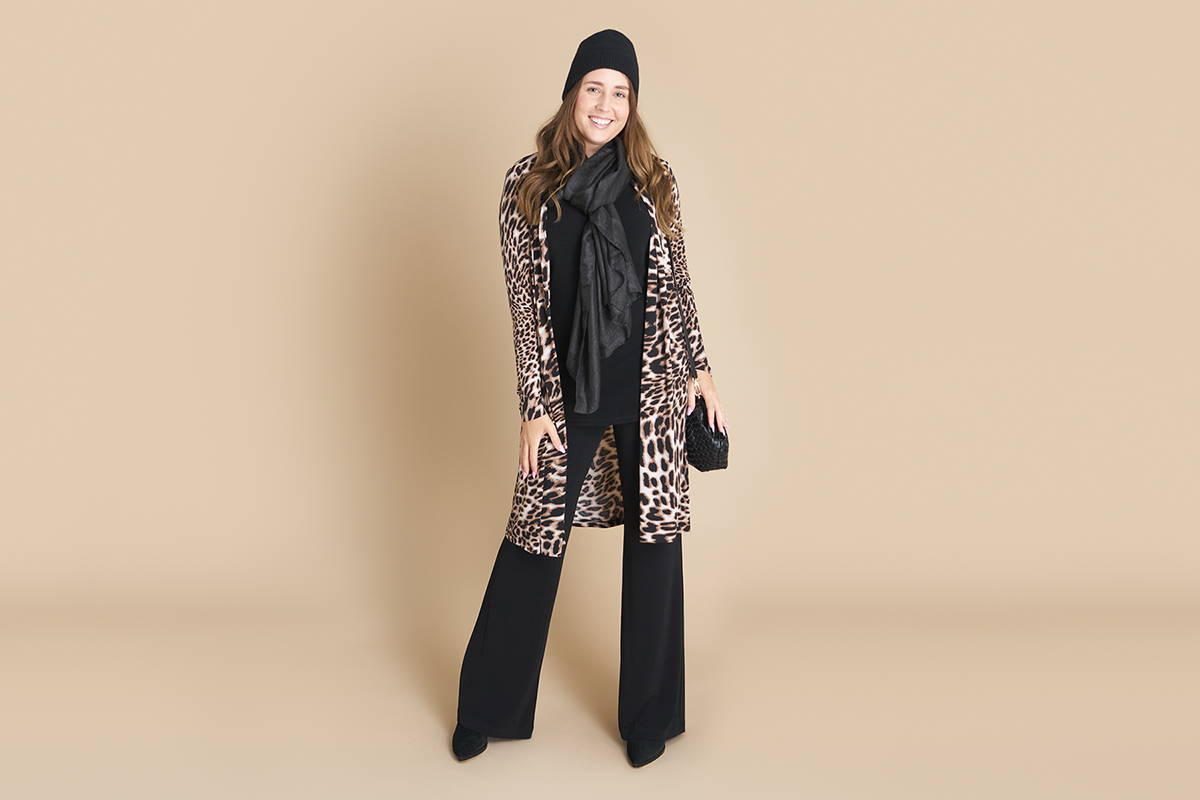 The beauty of the CAxLZ separates is the slinky soft fabric, so ditch the stiff denim and wear a festive boot leg pant. After you have your outfit base, start the layering!
Start with statement outerwear, and lucky for you, the CAxLZ Bianca cardigan is a fan favorite! We have four different styles: black, bronze metallic, leopard print, and snakeskin, so choose your favorite! Next, definitely go for a close toed shoe like a boot, pump, flat, or sneaker depending on the occasion. Now you have a full look and can further layer based on the weather! Super cold? Add a scarf, beanie, and even another coat! Just a slight breeze? Stick with the cardigan and bring a scarf just in case! When it comes to jewelry, you can be as flashy or as understated as you want. Just take note of what the appropriate attire for the party is!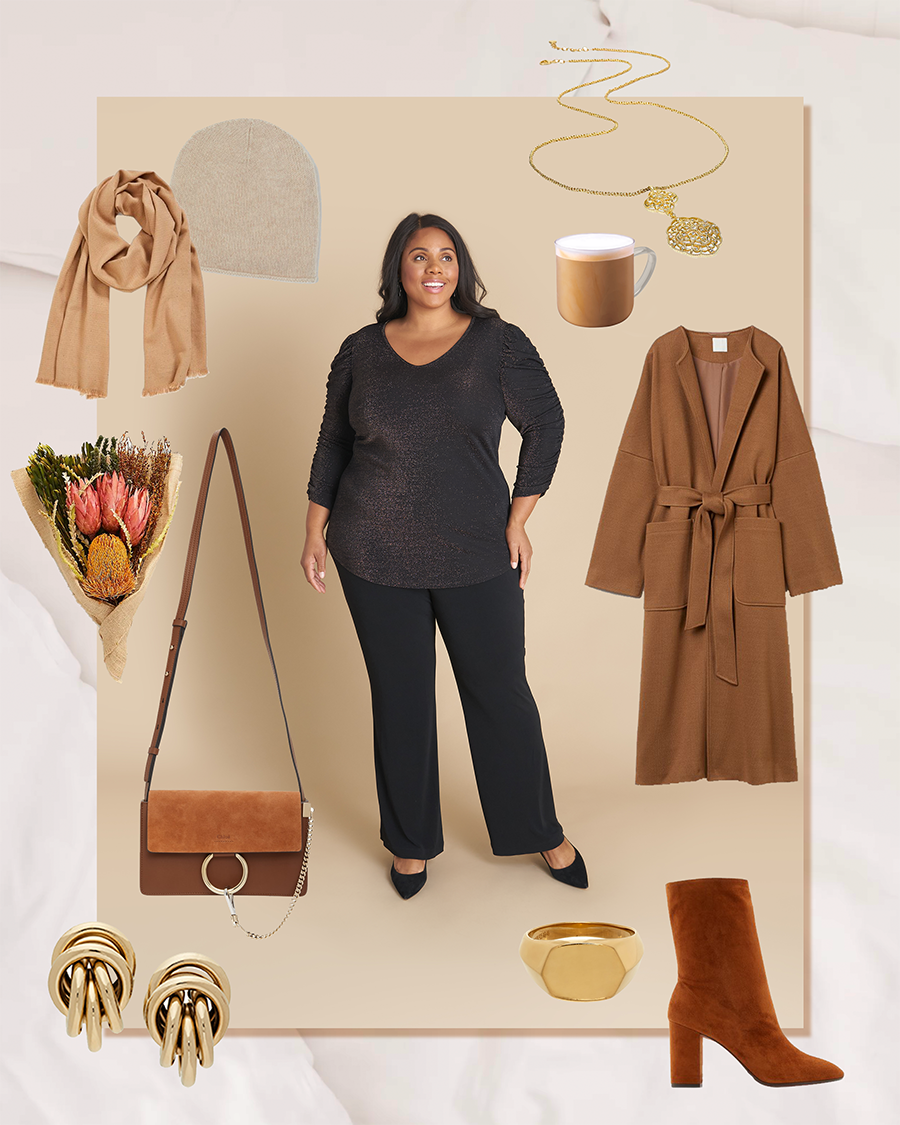 When running errands or Holiday shopping around town, you want to be comfy while still looking put together. Dress down your look with a pair of sneakers and basic tank, or look a little extra chic with a monochrome look. You'll feel comfortable and look like you took a lot of time to get ready for that wine refill!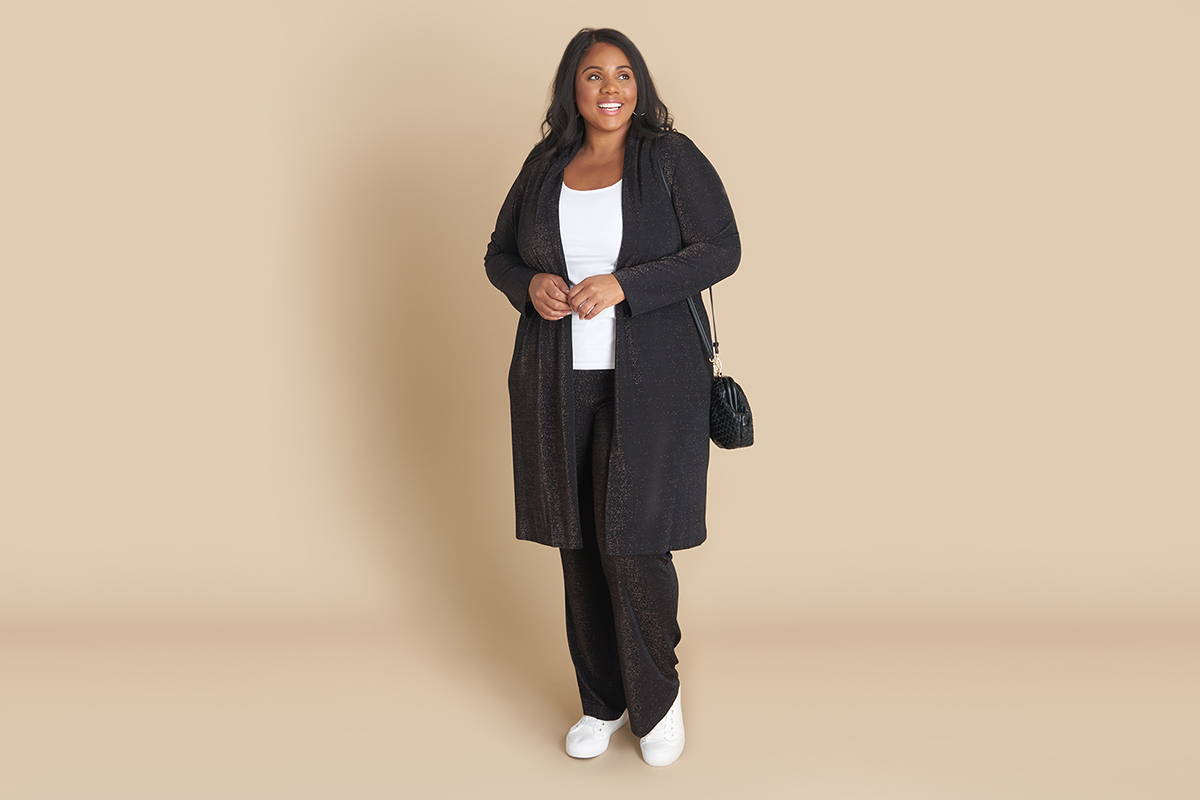 Take the CAxLZ separates for a quick errand run, or for a full day of Holiday shopping!
The CAxLZ Christine pant with a matching bronze metallic Bianca cardigan is the perfect look to wear with a simple white tank and white sneakers for a cozy, casual holiday outfit that still looks put together. Or, if you're feeling a little more sassy for a day of shopping and dinner, go with the CAxLZ Debbie joggers which are silky soft, but can be dressed up with a monochrome look. Add on the Milena black tank and then the star of the show, the Doris mesh cardigan. This look is still cozy, but elevated. You can even take these looks to the couch for some online Holiday shopping. And if you need some help, check out our Holiday gift guide for some added gifting advice to find the perfect present for all the leading ladies in your life.
Holiday Dinner with Friends
'Tis the season of indulgence with yummy dinners, and even yummier after dinner pie. Planning and executing a Holiday dinner outfit can be stressful. Go chic for your pre-Holiday celebration with your besties, while still having that extra wiggle room to eat that extra slice of pie! Dinner with your friends is also the perfect opportunity to try out new fashion trends. Show up in a bold holiday outfit your friends won't be able to stop talking about!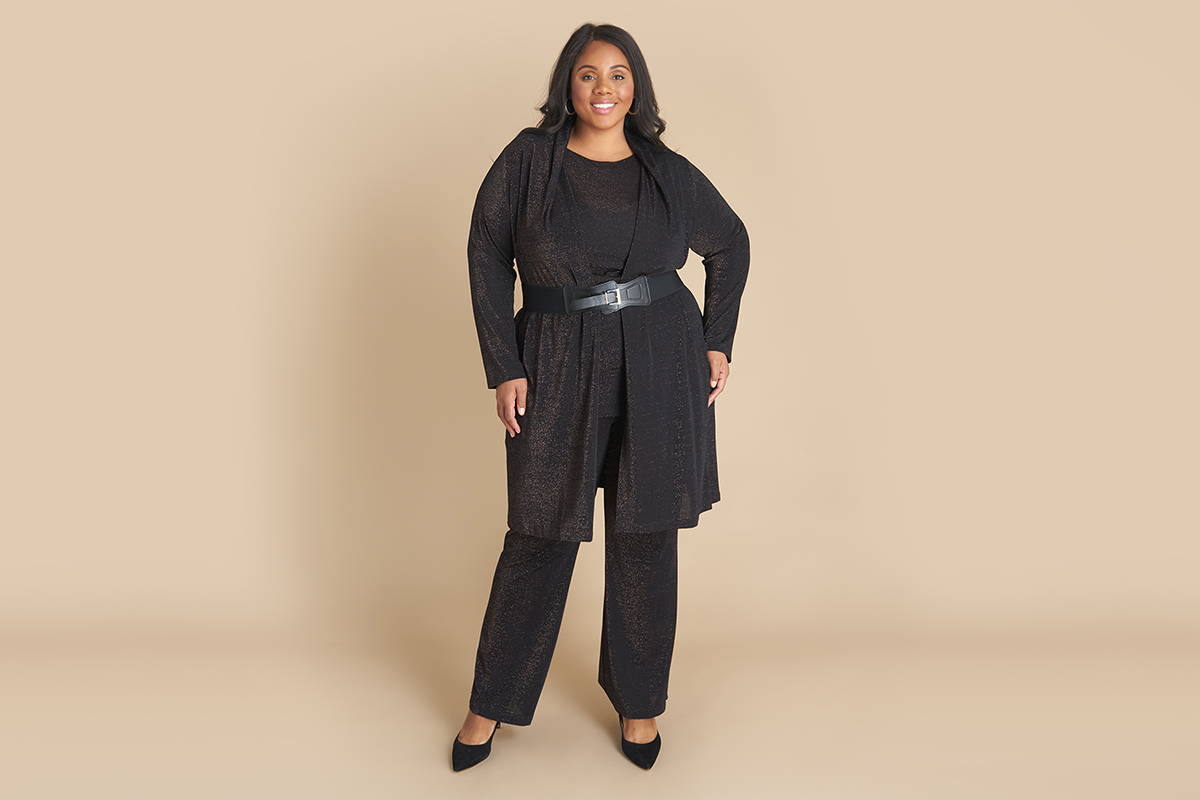 Go for unique styling options!
This simple styling tip makes a subtle statement, and adds a little something extra to an outfit. Also, it helps to tailor the piece to your body so instead of letting the fabric hang by your sides, it will instead accentuate your natural curves. To really up the look, go full monochrome in bronze metallic with the CAxLZ Christine pant, Milena tank, and Bianca cardigan. Another option is to pick a long sleeve top with some added detail. Try the CAxLZ Tracey top that features a tie front neckline that can be worn tied up, or untied. Also made with our stunning CAxLZ signature bronze metallic fabric, this top is chic, sophisticated and you guessed it...comfortable.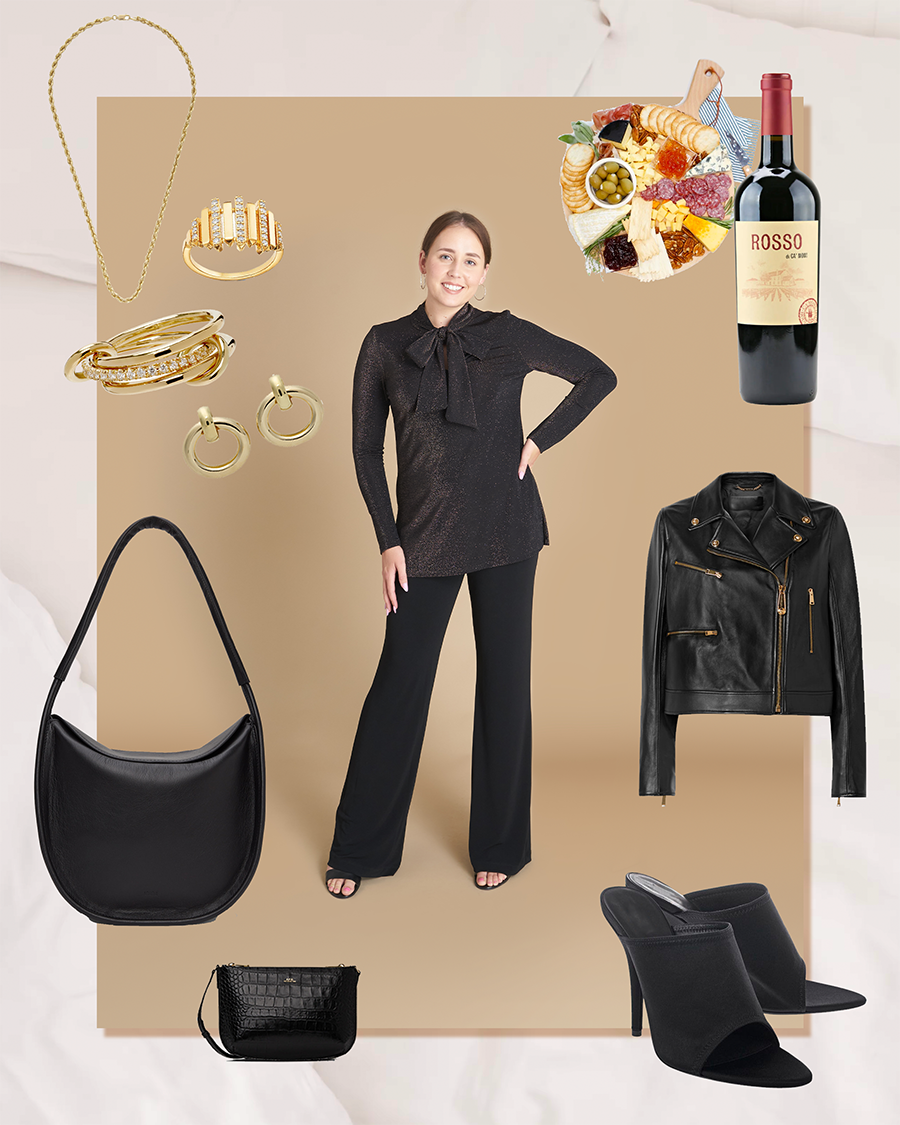 Picture this: Mariah Carey's "All I Want for Christmas is You" is playing in the background as you finish your perfect Holiday dinner setup, and you are rudely interrupted by the reminder that you don't have your Christmas outfit picked out yet… The Holidays can definitely be overwhelming, so take a little stress out of the big day by having your holiday outfit picked out in advance! Sometimes the one thing more stressful than planning the actual Christmas day meal is planning and executing the perfect holiday outfit. But don't worry, we have outfit ideas for you! And if you need a little more guidance on what to wear for the holidays, check out our Holiday style guide.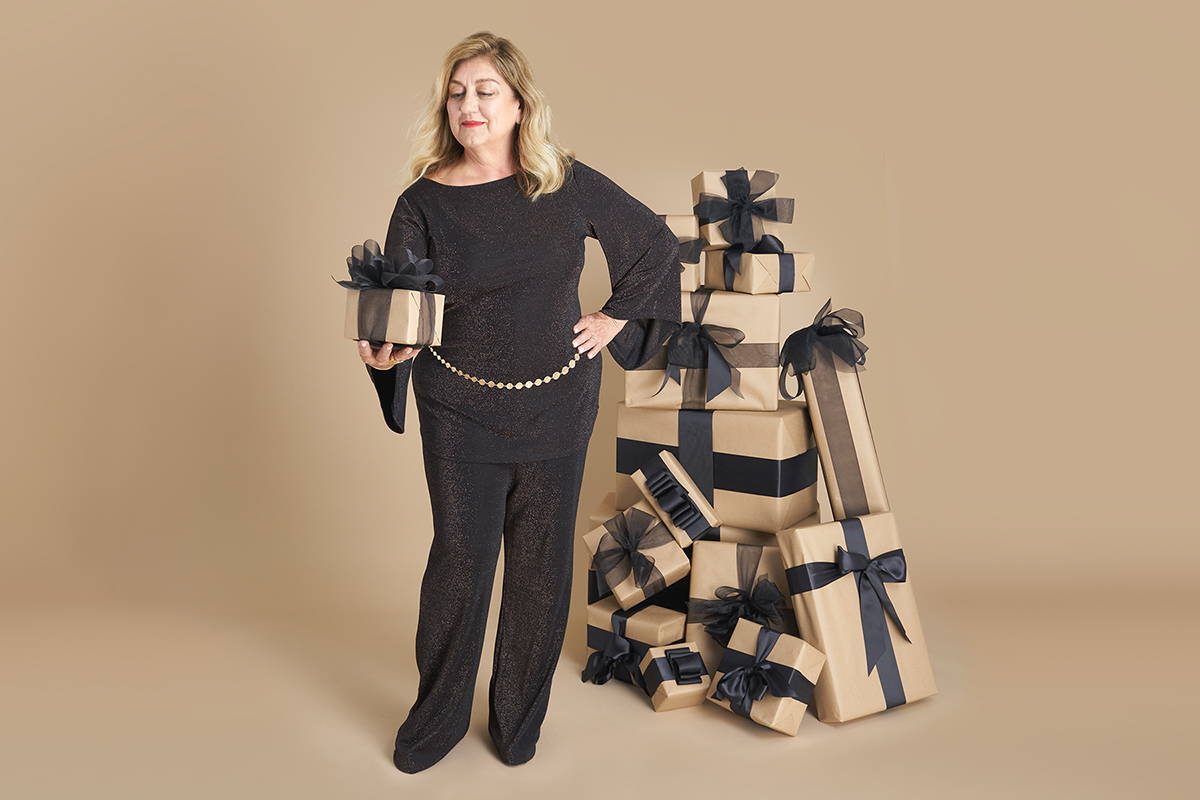 There isn't a time of year when glitter is more appropriate than during the Holidays. Incorporate a shimmering piece into your Holiday look without going overboard.
The CAxLZ bronze metallic fabric is perfect! Go full-monochrome in bronze metallic with the CAxLZ Foxy top and matching Christine pants, or choose the Christine pant in black for a more subdued, yet shimmering look. If you go full bronze metallic, might as well add the cherry on top with a gold belt! Either way, this season is about standing out with a little sparkle, so don't be shy with the accessories!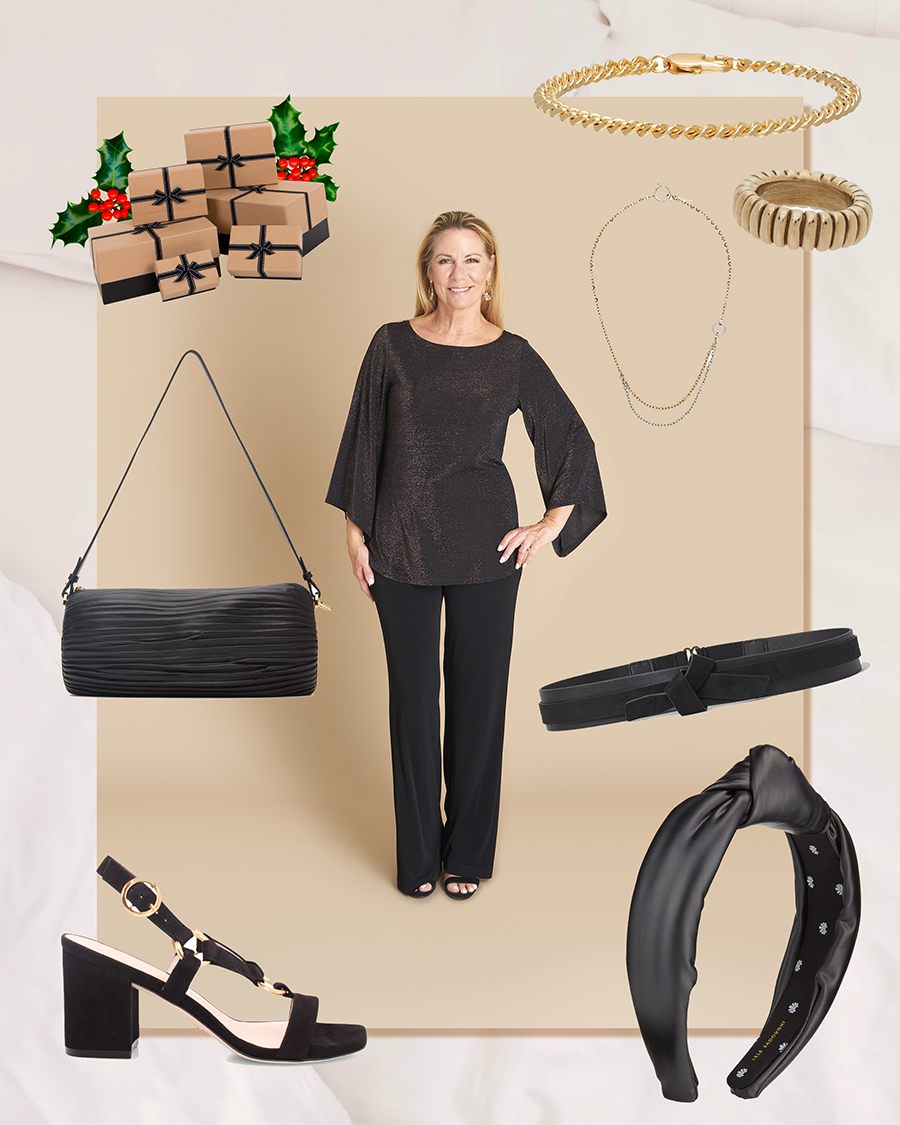 Ring the New Year in with the perfect holiday outfit to get you into the countdown spirit. Whether you're having a family gathering, a party, or a dinner date with your significant other, dress your absolute best this New Year's Eve. December 31st is definitely the time to step out of your comfort zone and experiment with a look you've never tried before. After all, don't we all want to spend our last moments of 2021 looking and feeling as chic as ever? Add some sparkle to your look, or go with another bold print to stand out! Go for a stylish but comfy outfit so you can spend the night celebrating rather than worrying about your look.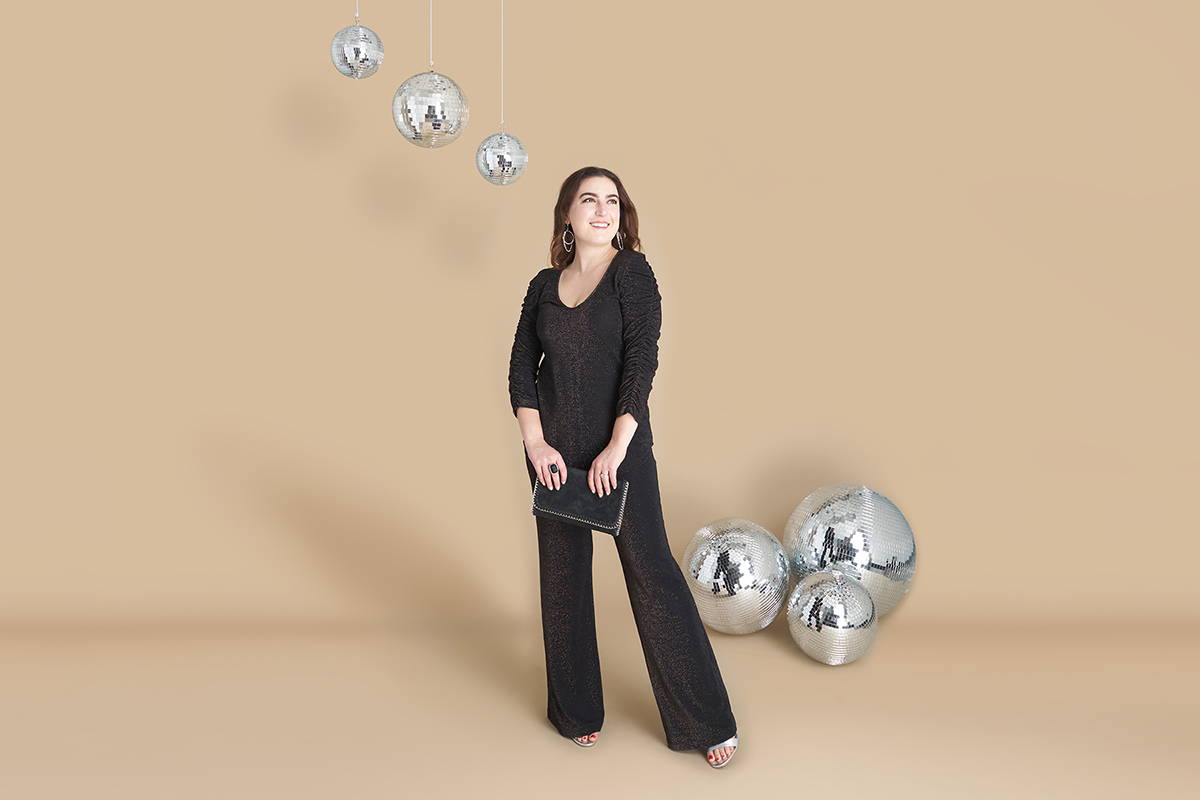 If you're into the sparkle, go bronze metallic with a twist.
Try the CAxLZ Kathy top that has a ruched sleeve, and pair it with the boot leg CAxLZ Christine bronze metallic pants. However, if you're not too into sparkle, try a bold animal print instead! Leopard never goes out of style, and for that reason we have the Bianca cardigan in a leopard print that will be the perfect addition to your New Year's Eve holiday outfit. Go all black underneath and throw the cardigan on top to complete the look. Add on a black heel and bold accessories and you're ready to have the perfect night ringing in the New Year!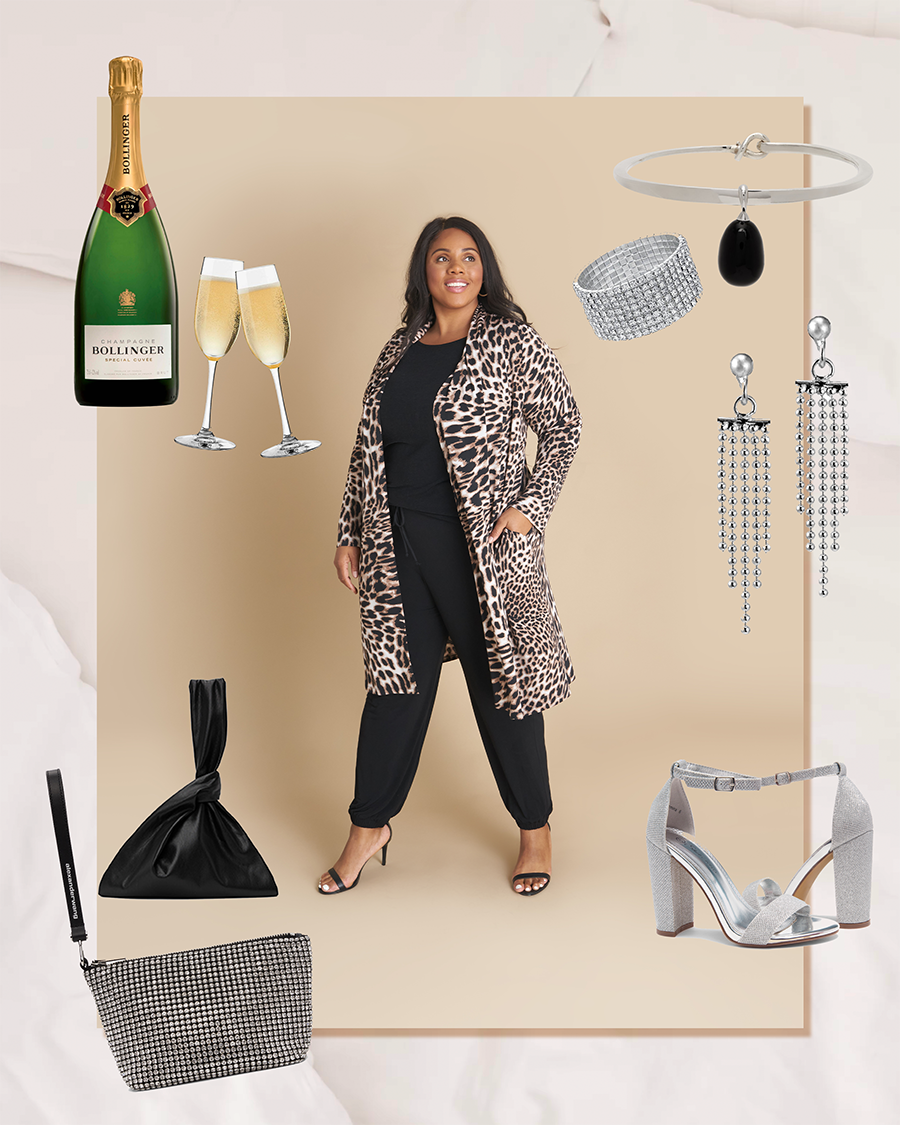 While the Holiday season brings smiles and cheer, it also comes with a lot of stress. This Holiday season, be less stressed by having a wardrobe filled with staple separates that can be worn for any seasonal occasion and into next year! The CAxLZ Classics Collection is the perfect place to shop for your Holiday outfits and beyond. Stay cozy when you can and upgrade your look with our simple tips to STILL be cozy, but also chic. The CAxLZ Classics Collection truly does it all.
Leave a comment