THESE DAYS WE FIND OURSELVES REACHING FOR OUR NEW FAVORITE LOUNGEWEAR STAPLE: THE CASUAL DRESS.
Easily dressed up or down with just a few simple styling tricks, a casual midi dress or everyday fit & flare dress can instantly become the 24/7 essential that'll create cozy, fabulous outfits all year long.
We know how important it is to have versatile and comfortable staples in your closet, and these dresses are no exception. The looks we feature are perfect from desk-to-dinner, day-to-night, and everything in between. And the best part? You can easily style these cute casual dresses with items you already have in your own closet! So let's get to styling.
Transitioning casual styles
It's all in the accessories!
Taking a casual outfit from the couch to a night out is simple! Accessories make the look, so switch out the slippers for a low heel, and add on a cute pair of earrings. Also, layering a denim jacket or a leather jacket on top can really turn a more casual summer dress into a casual evening dress. There is nothing better than feeling comfortable on a night out. Enjoy your time without feeling restricted in your outfit, instead feel just as amazing as you look!
5 must have accessories for casual styles
Keep these accessories in your wardrobe for easy styling!
Creating a wardrobe full of versatile styles, from casual, to daytime, to nighttime ready, is a dream we all wish to accomplish! However, this is easier to attain than you think! In order to create a staple wardrobe with styles that you can take from one occasion to the next, make sure you have these top 5 must have accessories.
Denim jacket - Perfect to add on top of a more casual style to give it a chic touch.
Black cardigan - Layering can make an outfit seem like you tried a little harder to put together than you probably did.
White sneakers - A dress (or jumpsuit) paired with white sneakers is a look we are obsessed with!
Black block heels - The perfect shoe to have in your wardrobe that will automatically turn a casual look into a stylish one.
Simple earrings and necklace - Jewelry does a lot more than you think! Even when dainty and simple, it adds a touch of sparkle.
Monica Camel Print Jacket Dress
Monica is the ultimate desk to dinner dress. With a chic camel print attached jacket, this casual dress delivers on sophistication and coziness. When the workday is done and you're ready for happy hour, simply change out your black pumps for flats. If your night looks like dinner and a movie on the couch, slip on some house slippers and grab your favorite fuzzy blanket. Whatever the situation, this casual geometric print dress is the perfect two-in-one look for all your lazy days.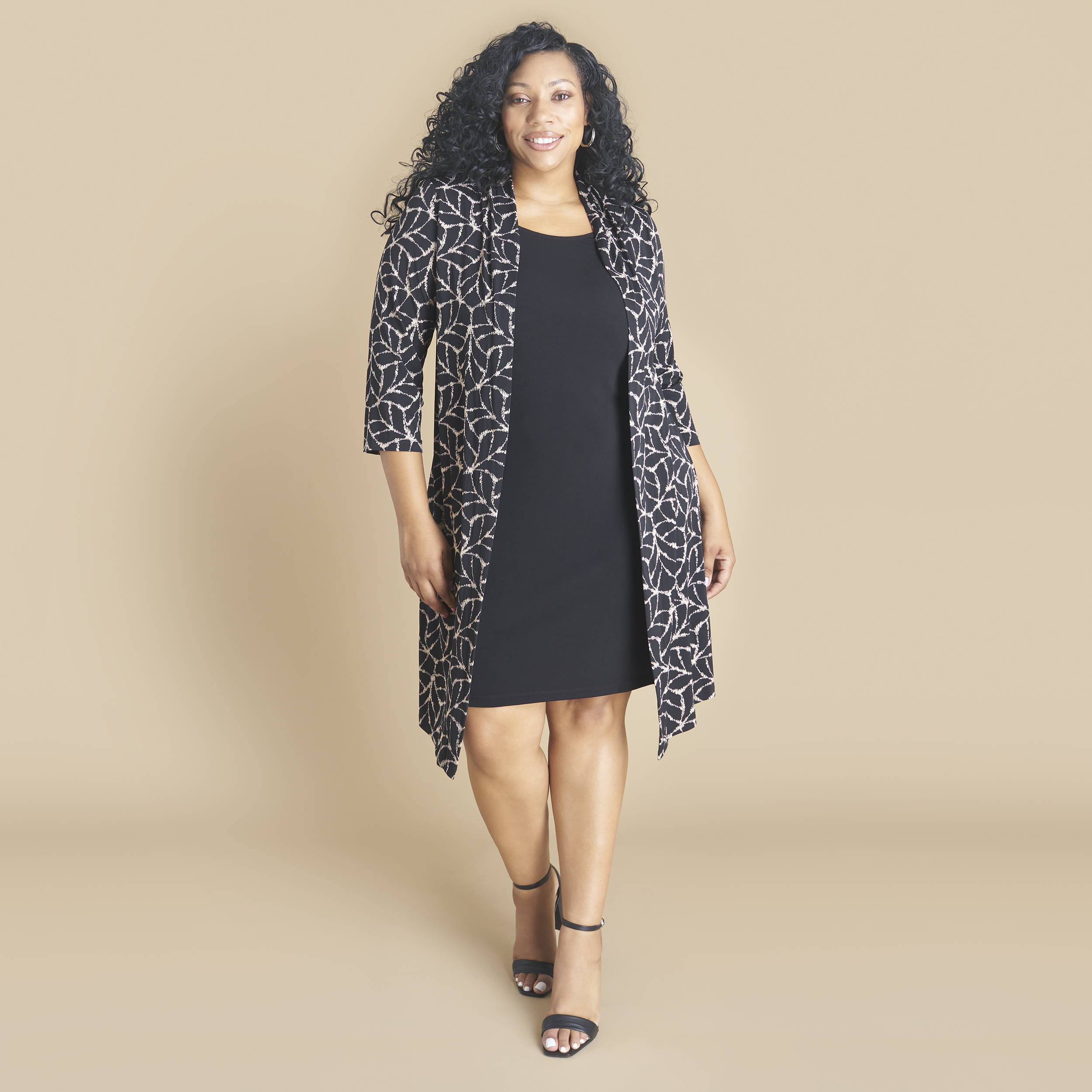 Ashanna is wearing the Monica Camel Print Jacket Dress in size 16W.
Tonya Forest Green Cowl Neck Midi Dress
Here at Connected Apparel, we love a look that can go anywhere. The Tonya dress features a flattering cowl neck in one of Fall's trendiest colors, forest green. This easy to style midi dress is perfect for brunch with friends or for date night at home. If you're heading out, grab a denim jacket and white sneakers for a cute all-day look. And if you're staying in, well just kick back and relax in this stretch jersey dress that's so soft you'll think it's a blanket.
Nora Tobacco Plaid Sheath Dress
Nora is the classic plaid dress made to wow at work and beyond. Feel confident from the conference room to date night in this figure flattering sheath dress. Nora's signature plaid print with tobacco colored faux pockets adds a sophisticated touch. While the three quarter length sleeves add coverage to help you feel confident. Swap out your work heels for beige strappy sandals and a shawl for a chic night out look.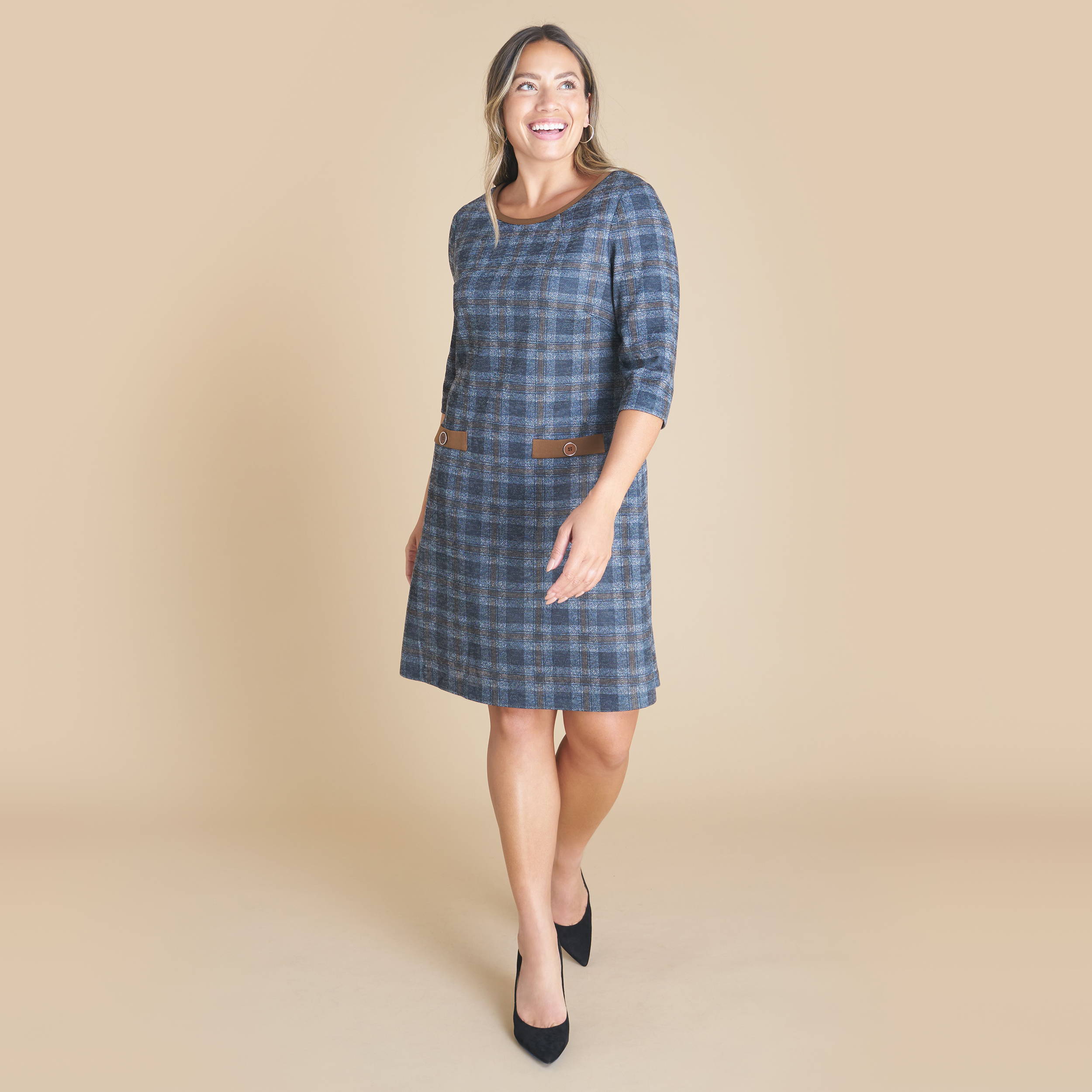 Kaylyn is wearing the Nora Tobacco Plaid Sheath Dress in size 8
Maggie Two Pocket Fit & Flare Dress
Designed with comfort in mind, the Maggie printed fit & flare dress is a look you can wear all day long. When running errands around town with friends, pair this cute printed dress with white sneakers and a brown cardigan. For movie night with the family, grab a bowl of popcorn and your favorite cozy socks. Maggie is even the perfect casual dress to walk your dog in! With short sleeves and pockets on both sides, this cute casual dress is your new go-to.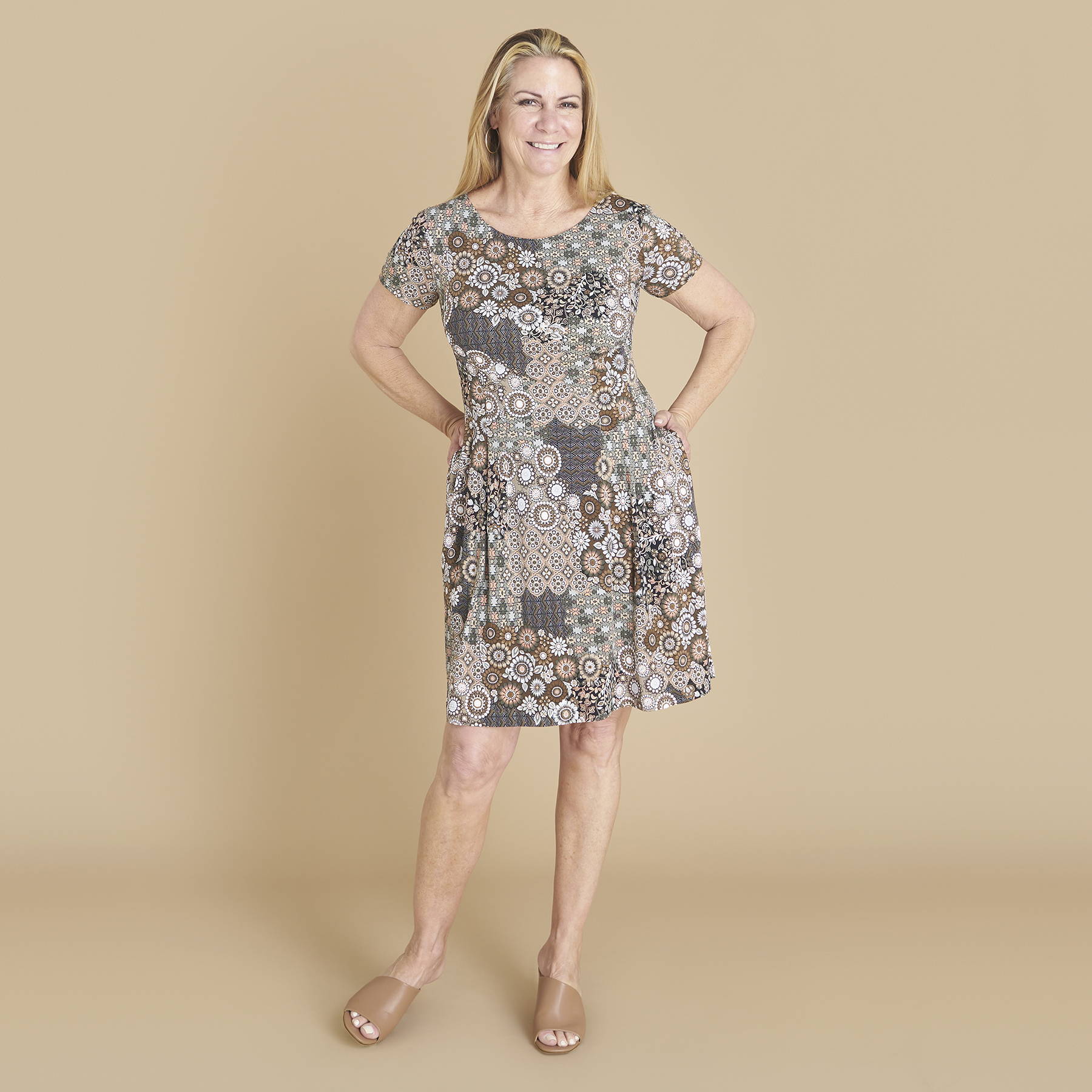 Terri is wearing the Maggie Fit & Flare Two Pocket Dress in size 8.
Lisa Mocha Floral Faux Wrap Dress
For those days you want to elevate your style without sacrificing your comfort, go for the Lisa dress in a beautiful Mocha Floral print. Our signature style, the Lisa dress features a figure flattering faux wrap detail that accentuates your waist without being constricting. Style this desk to dinner staple with black pumps and a black tote bag for a look that takes you from day to night.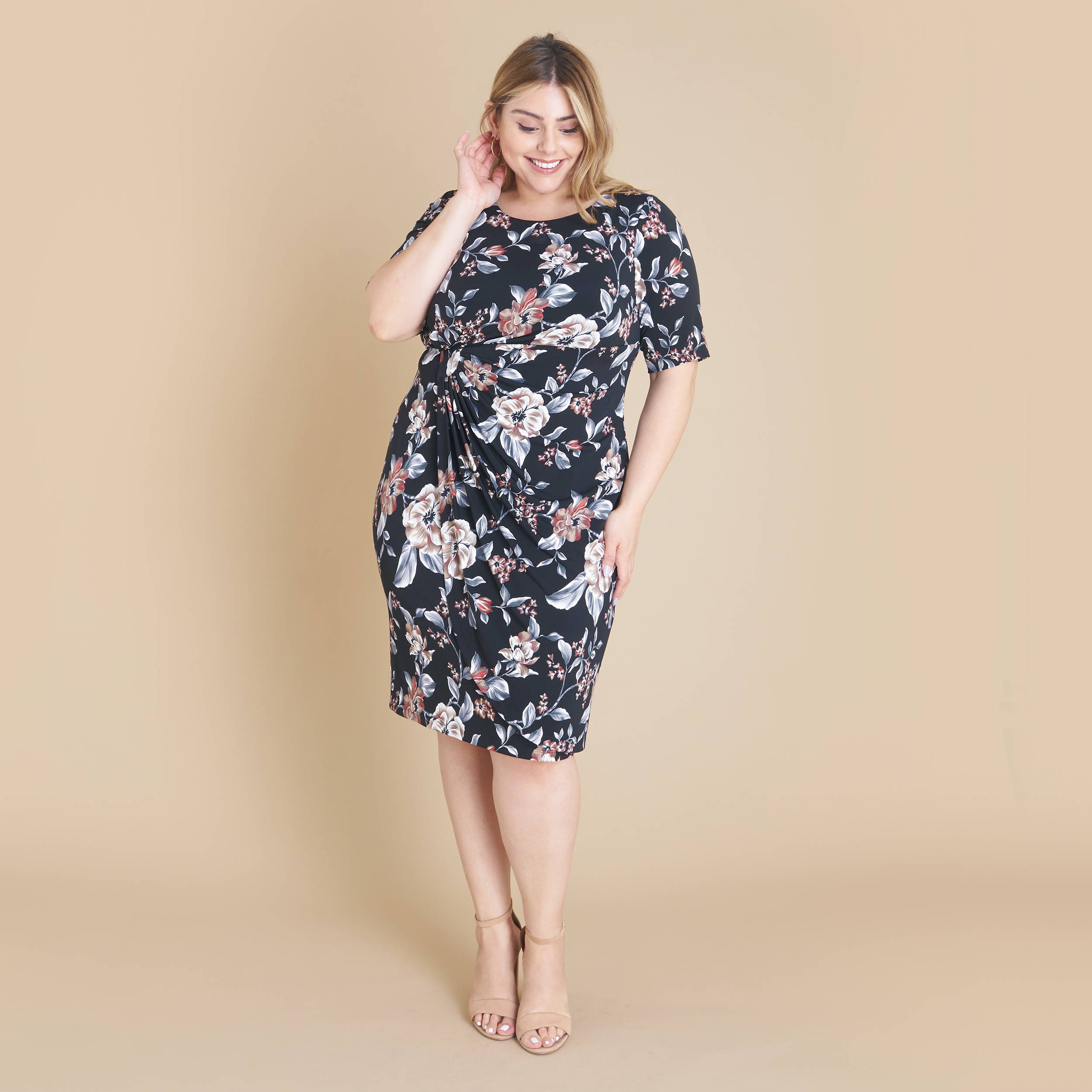 Vanessa is wearing the Lisa Mocha Floral Faux Wrap Dress in size 16W
Shop casual Fall dresses and jumpsuits
Loved these comfy and cozy styles? Ready to upgrade your loungewear and look effortlessly fabulous in a versatile, casual dress of your own this Fall? Shop our Casual Dress Edit below.