Meet Your Match: Take Our Spring Dress Style Quiz
As our day to day keeps evolving and we are venturing out more, we wanted to make getting dressed FUN again! So, we created a spring dress style quiz to help you determine what to wear for anything and everything you have on the agenda this Spring. From lounge dresses to mother of the bride dresses, there's something to fit your spring dress needs. Take our style quiz below!
Even though our day to day environment looks the same (we're talking about our homes!), that doesn't mean we can't get dressed up. What you wear can change your attitude about how you show up for the day. Because when you look good, you feel good. So when you're getting ready to work from home or are making a home cooked meal for the thousandth time, put on a spring dress that's vibrant, colorful and chic.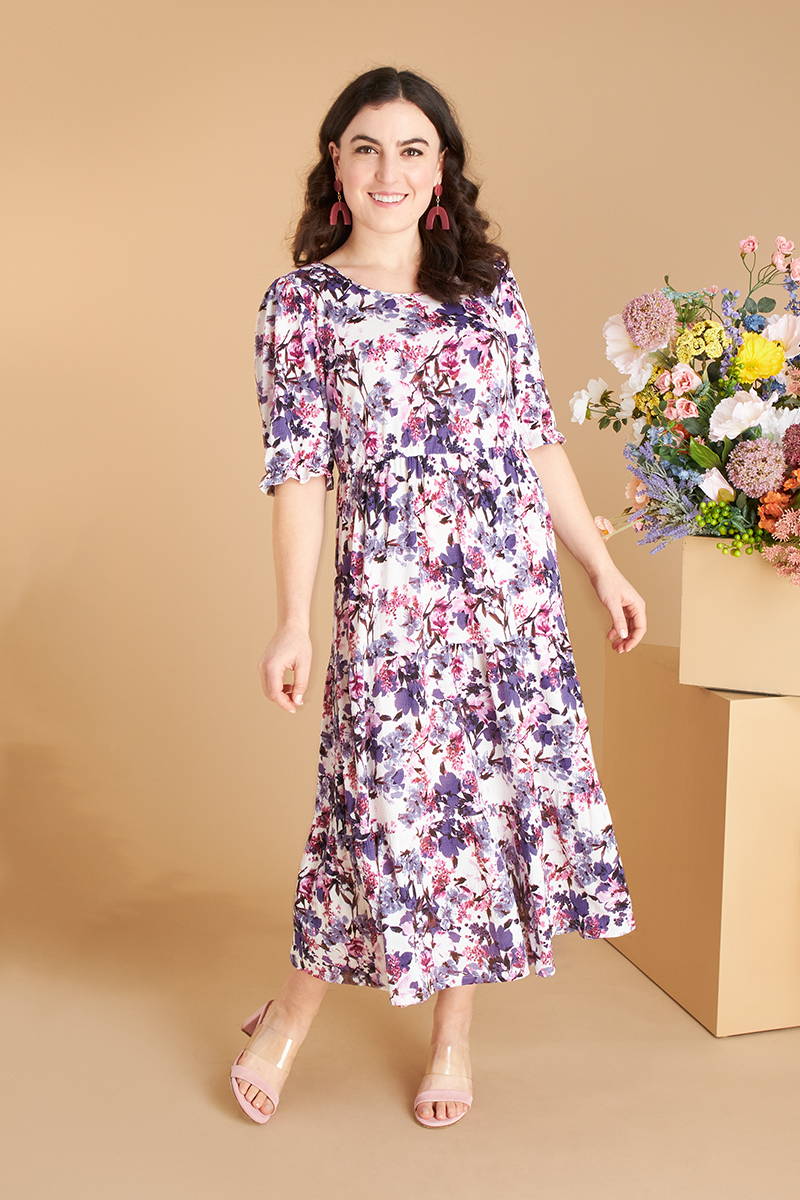 Angela is a spring dress you can dress up or down depending on the occasion. So when you're looking to get dressed up on a day at home, you can't go wrong with this spring dress. Angela glides over your body and the silhouette is relaxed so it doesn't make you feel constricted. And when you're on zoom calls for work, you won't have to worry about not looking the part. Simply add a pair of matching earrings and you'll be good to go from the waist up while still wearing your slippers!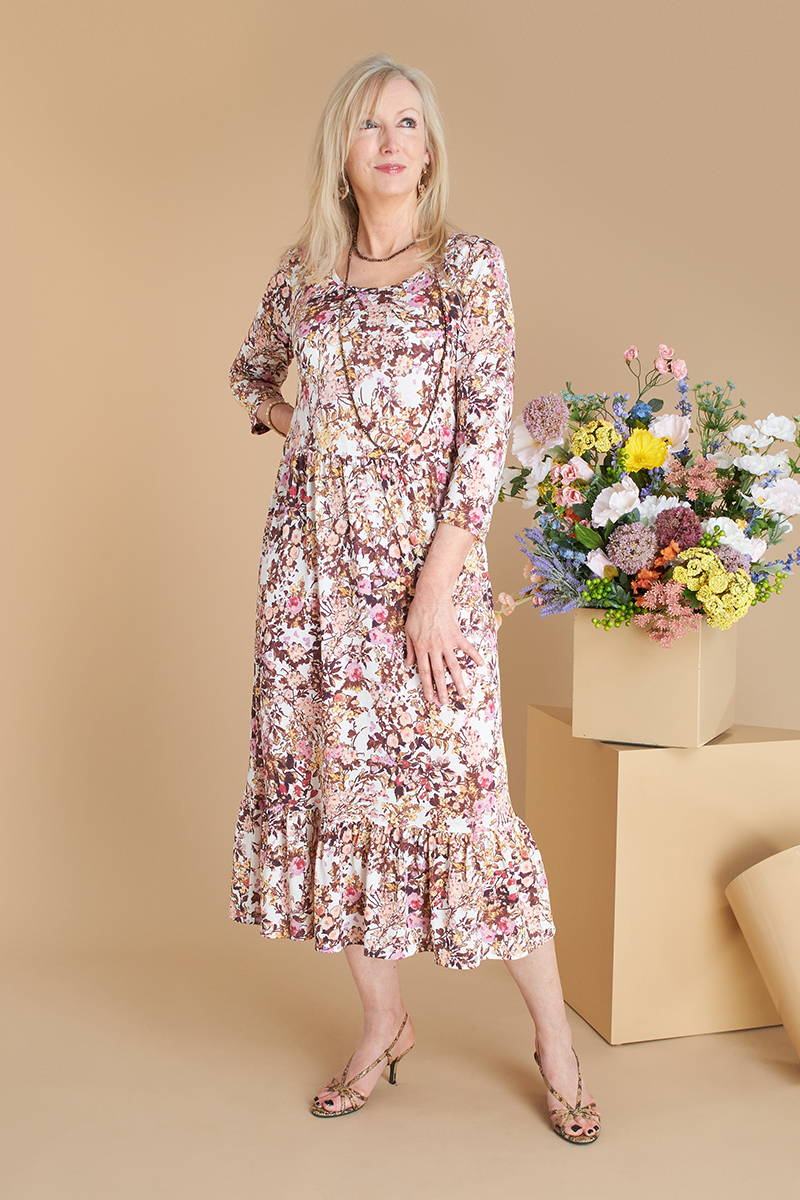 Danille is the ready to wear anywhere spring dress. Danielle's lightweight textured floral print fabric gives this A-Line dress the versatility to wear it no matter what the day has in store. And Danielle's fitted bodice with shirred waist accentuates your figure, while the skirt of this A-Line dress allows you to move freely and comfortably from one room in your house to the next. Danielle is a great addition to your day to night spring dress line up.
When you think of a lounge dress, you probably think of something that's a maxi length, loose fitting, and has no shape. Well, we're here to tell you that your lounge dress doesn't have to be that! There is such a thing as a cute dress that can also be a lounge dress. These spring dresses will keep you comfortable and cozy.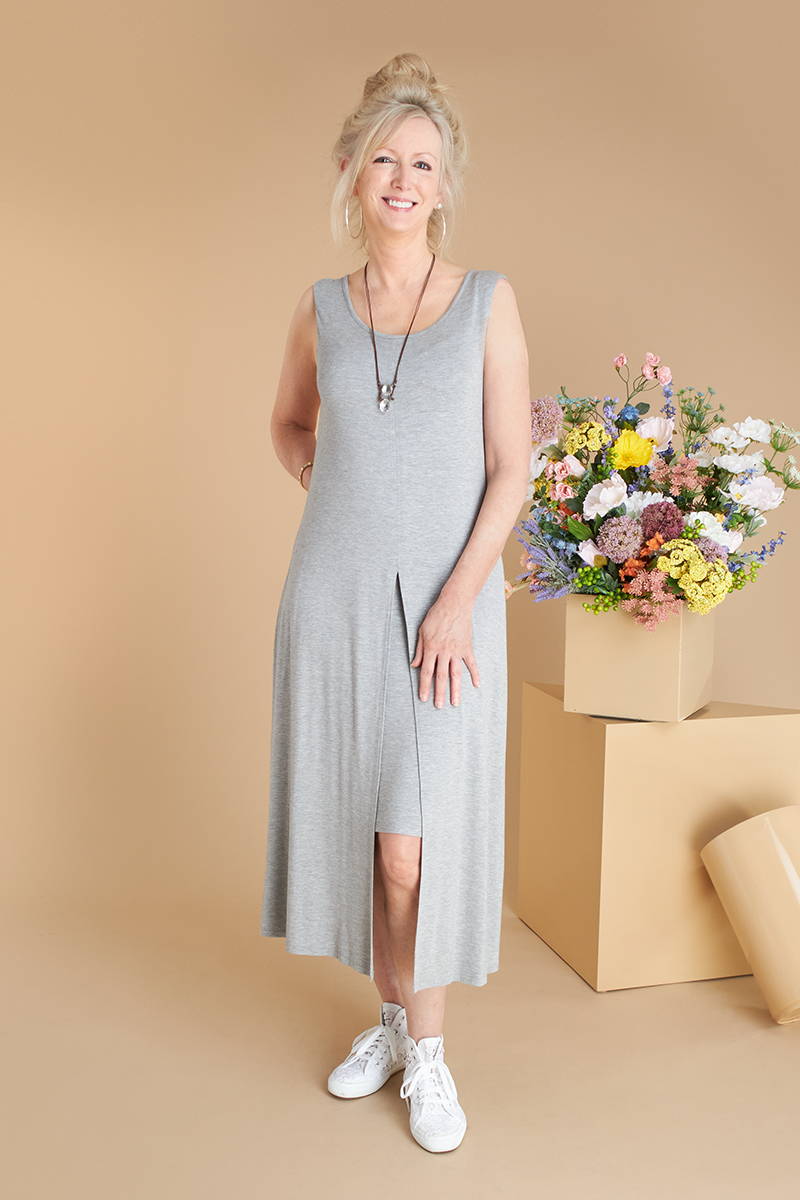 Quinn is made from buttery soft heather grey stretch fabric and this everyday midi dress will keep you feeling comfortable all day long. We've finished our Quinn midi dress with a slit in the front overlay, strategically crafted to end at the most slimming part of your waist. She's the season's essential one-and-done casual chic midi dress that you can wear from the couch to errands to a casual brunch with friends.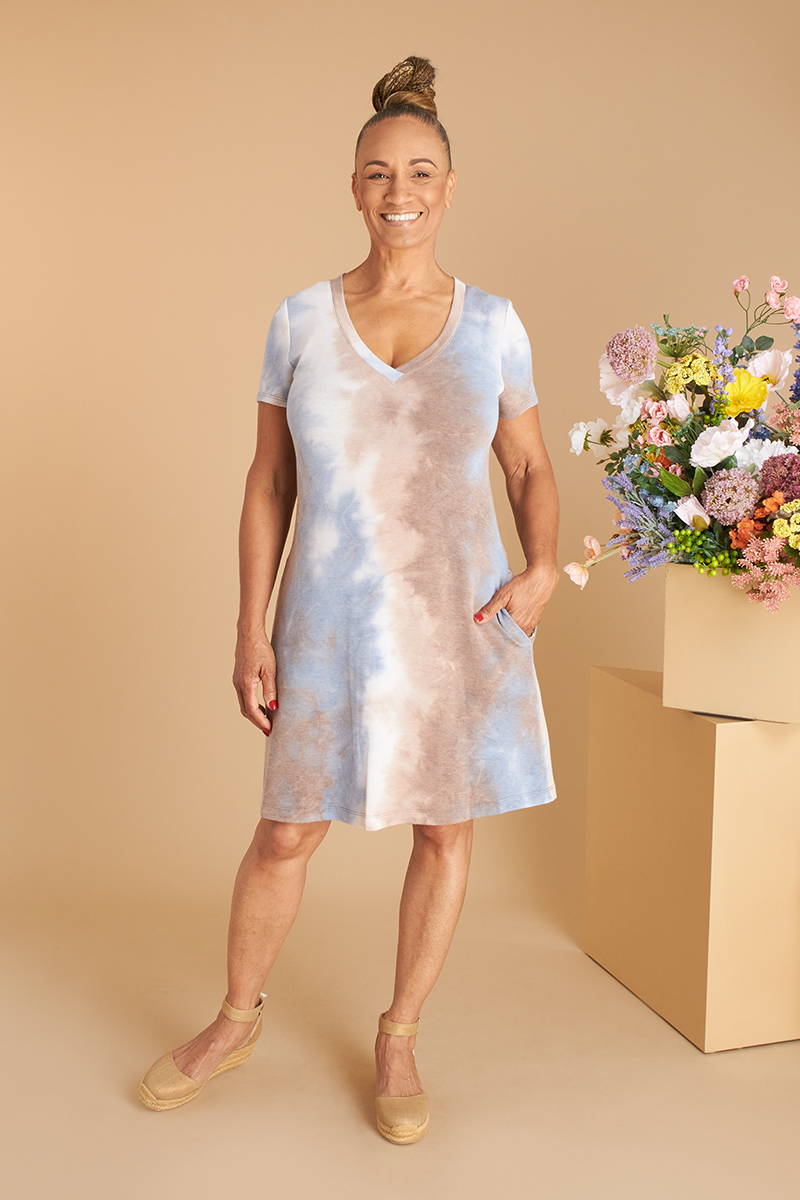 Marissa is the short sleeve dress for the woman who's always up on the latest trends! This casual yet chic short sleeve dress is made from soft tie dye terry fabric and has two pockets. The a-line silhouette is what makes this above the knee dress perfect as a loungewear dress. She's not tight and she fits just right.
When you're on the go, the last thing you want is to feel constricted in your outfit. But, you do want to look cute because you never know who you'll run into! So this Spring, we brought you cute spring dresses that are casual, comfortable and easy to style. From petite to plus size spring outfits, you'll be ready to go in minutes.
Elyse Honeycomb Knit Grey Short Sleeve Casual Dress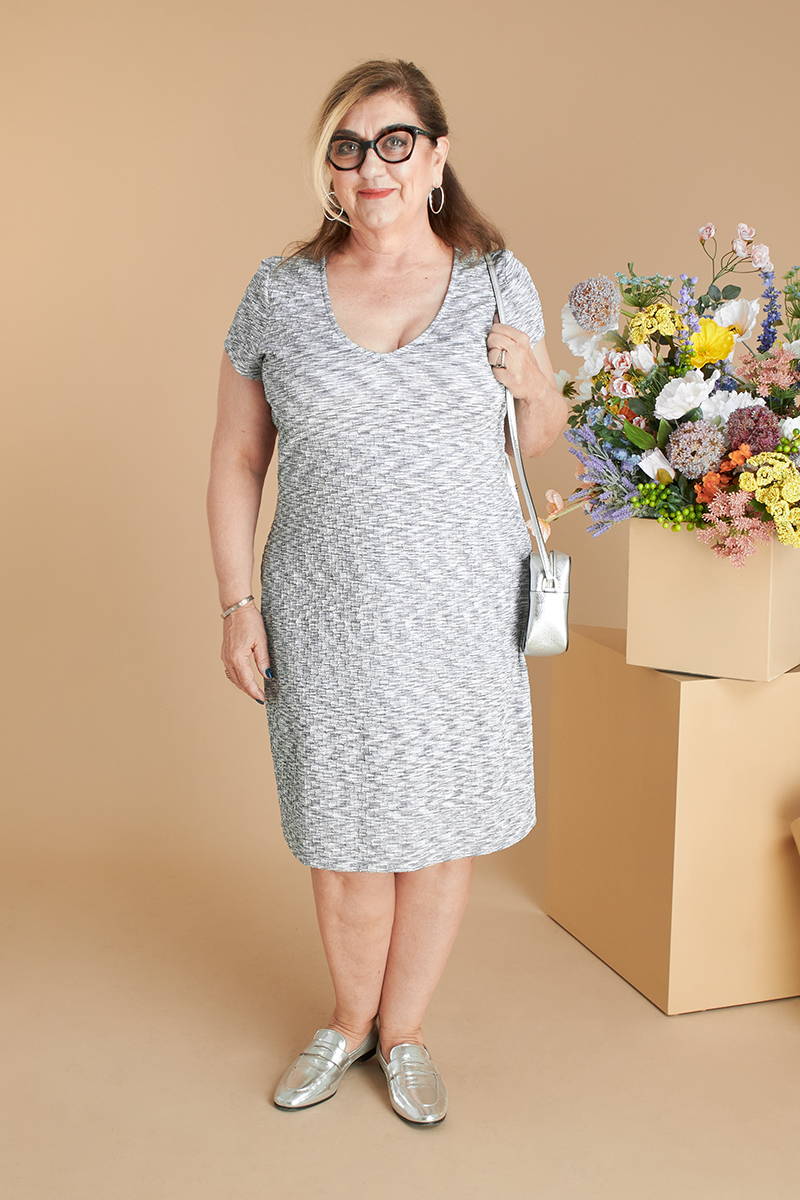 There's an everyday casual dress and then there's Elyse. From the subtle honeycomb textured knit to the a-line silhouette, Elyse is a breeze to style and wear on the go. She'll quickly become your go-to casual spring dress.
Raven Tie Dye Sleeveless Midi Dress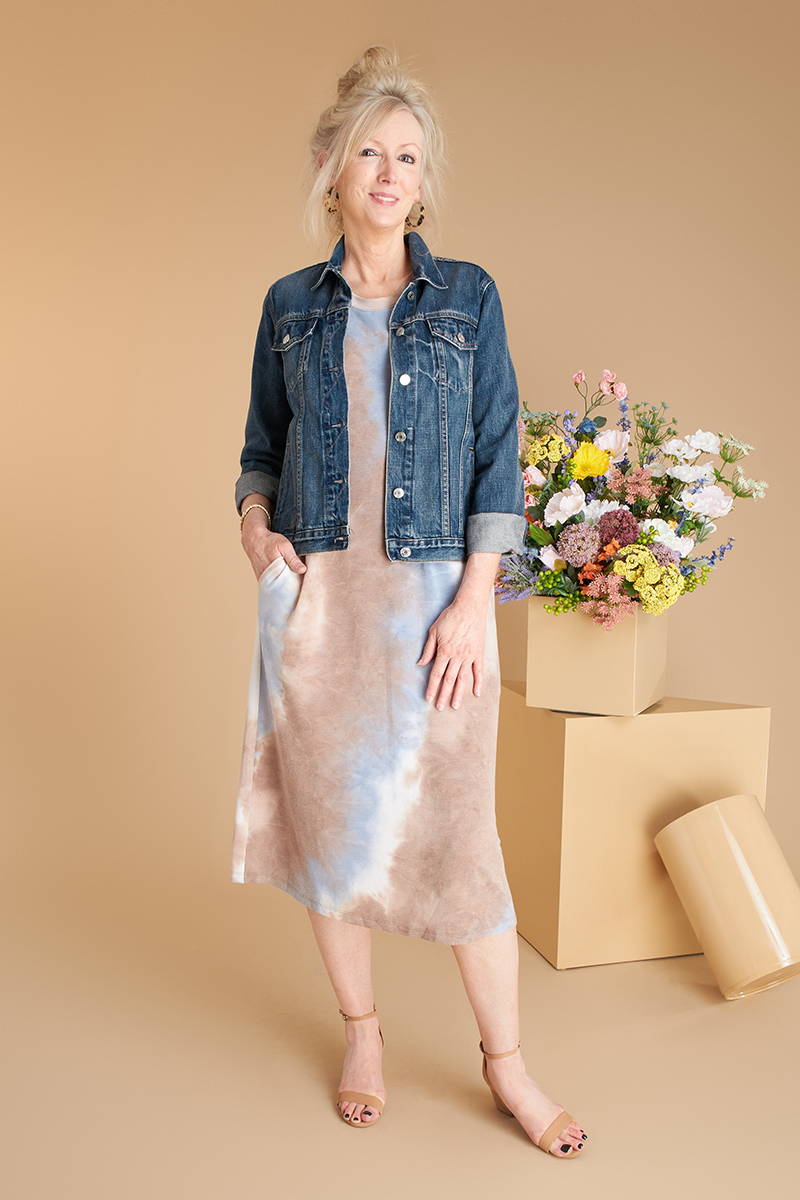 Mastering casual chic style just became effortless with Raven. Subtle design elements like a classic chic silhouette, functional side pockets and a flattering, on-trend midi length excuse fashion sense in the most understatedly cool way.
With the resurgence of dining out, a beautiful date night out is most certainly in need. Get dressed up in one of our pretty dresses that are made for Spring. Our date night looks feature feminine details, particularly on the sleeves, so that as the weather warms up, you won't want to even think about bringing a sweater!
Sasha Light Purple Floral Knee Length Dresses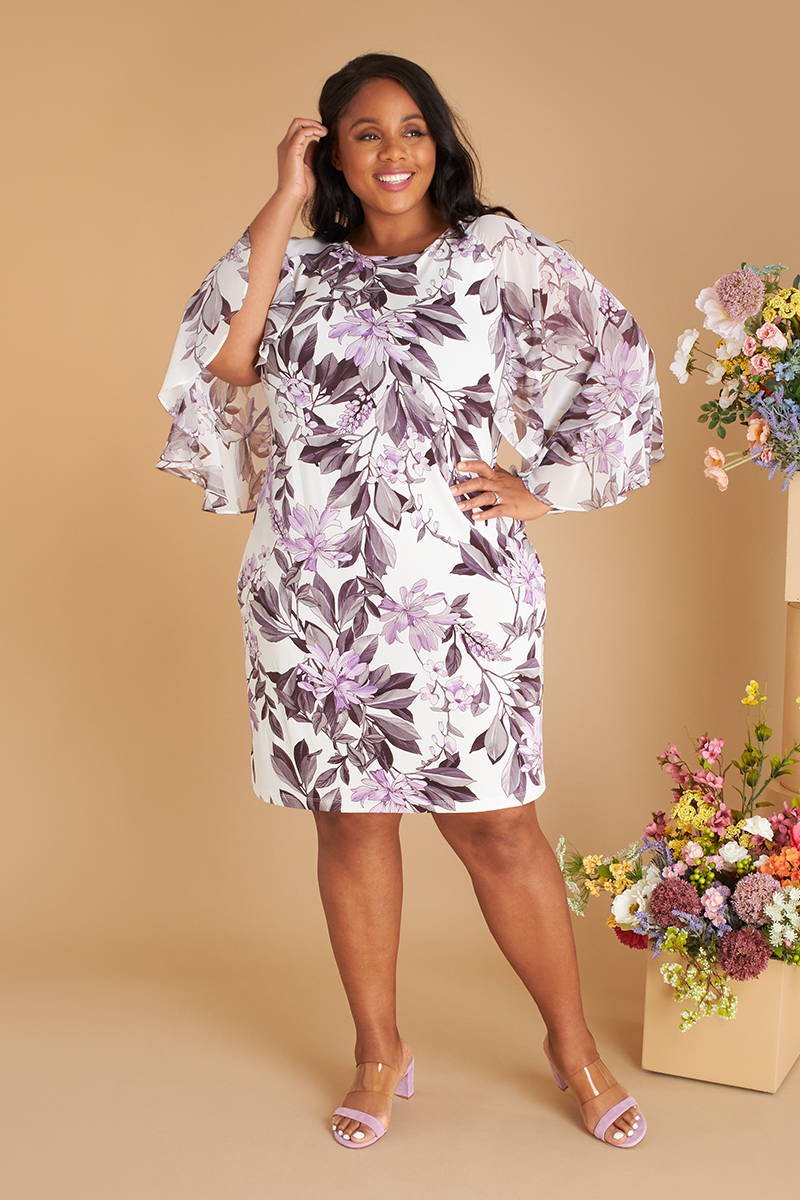 Classic meets contemporary in this stunning floral knee length dress. Sasha combines a striking light purple floral print with fashion-forward chiffon raglan sleeves. We love how this pretty dress can go from date night to a daytime luncheon.
Erika Short Sleeve Mauve Floral Print Midi Dress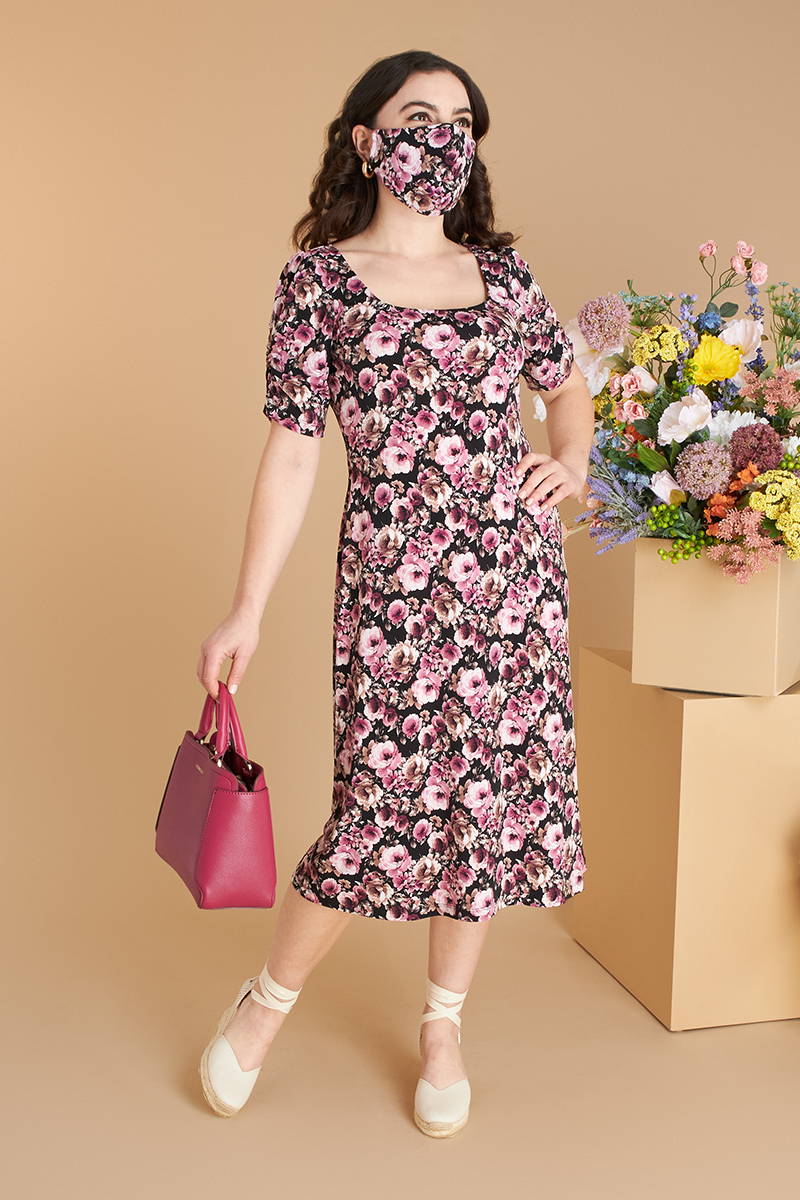 The Erika silhouette capture the eye with understated details like ruched extended short sleeves and a square neckline that highlights the elegance of a woman's collarbones. Si
We know its her (or his!) special day, but mom deserves to look her best too! Our mother of the bride dresses come in a variety of lengths from knee length to floor length. And we have a wide selection of colors fit for any spring wedding. Whichever mother of the bride dress you choose, you'll feel instantly chic and confident on the big day!
Grace Dusty Rosewood Sequin Lace Floor Length Dress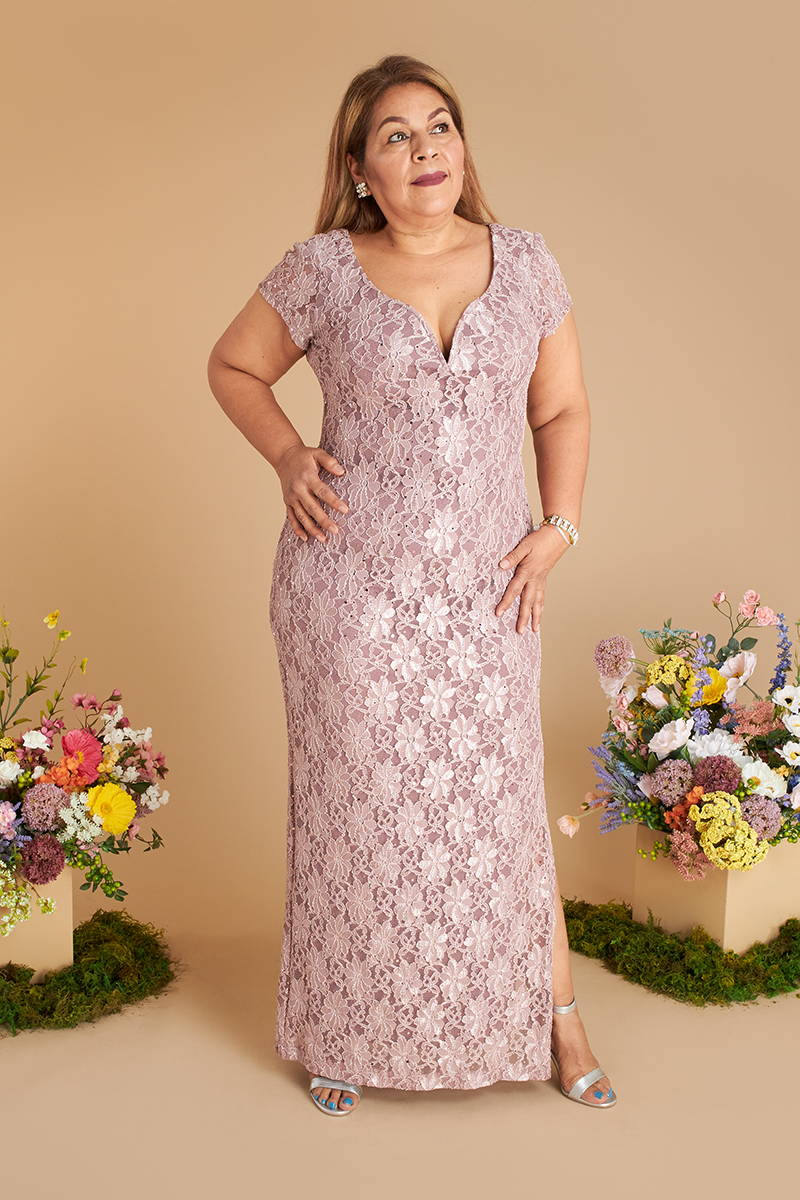 You'll love wearing this floor length sequin lace dress. Grace is classic and feminine and the perfect spring dress for upcoming weddings. Grace holds you in at all the right places without making you feel constricted, so you can feel equally as comfortable as you look stunning.
Stevie Dusty Purple Sequin Lace Sheath Dress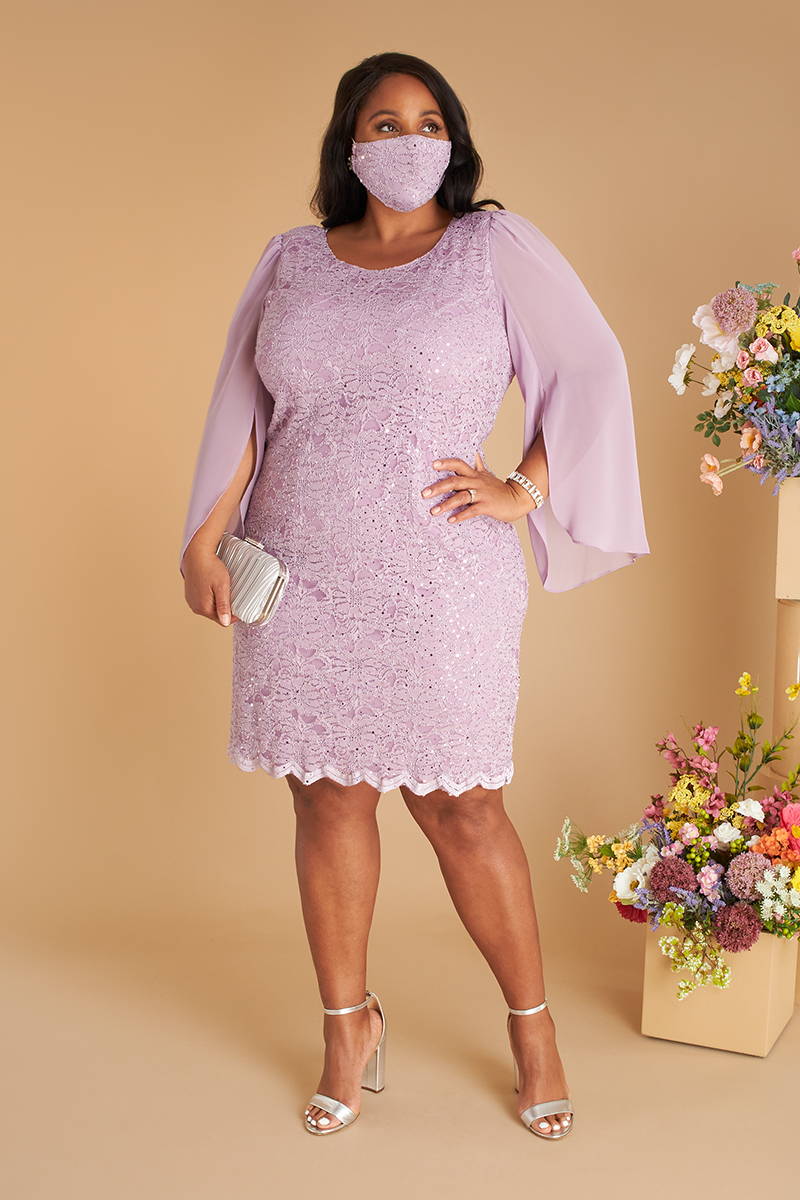 This elegant knee length sheath is a perfect mother of the bride dress. Stevie's stretch sequin scalloped lace glides over the body. And the long chiffon sleeves provide subtle coverage making this a beautiful modest dress for a Spring wedding.
Shop Mother of the Bride Looks ▷
With weddings back on the rise, it's time to update your wedding guest dress wardrobe. From less formal weddings to black tie weddings, you'll find spring wedding guest dresses to fit every invite. If you're in the bridal party, you'll find that these options are great bridesmaid dresses too. And all for under $100!
Sara 2.0 Peach Floral Sleeveless Floor Length Dress
Sara 2.0 is a floral dress you'll love wearing to all your weddings this Spring and Summer. Sara 2.0's chiffon crossbody ruffle adds dimension and movement while the rhinestone applique shoulder details elevate the sophistication and chicness of this dress. Sara 2.0 might just become your new favorite spring wedding guest dress.
Gracie Two-Tone Rosewood Sequin Lace Bodycon Dress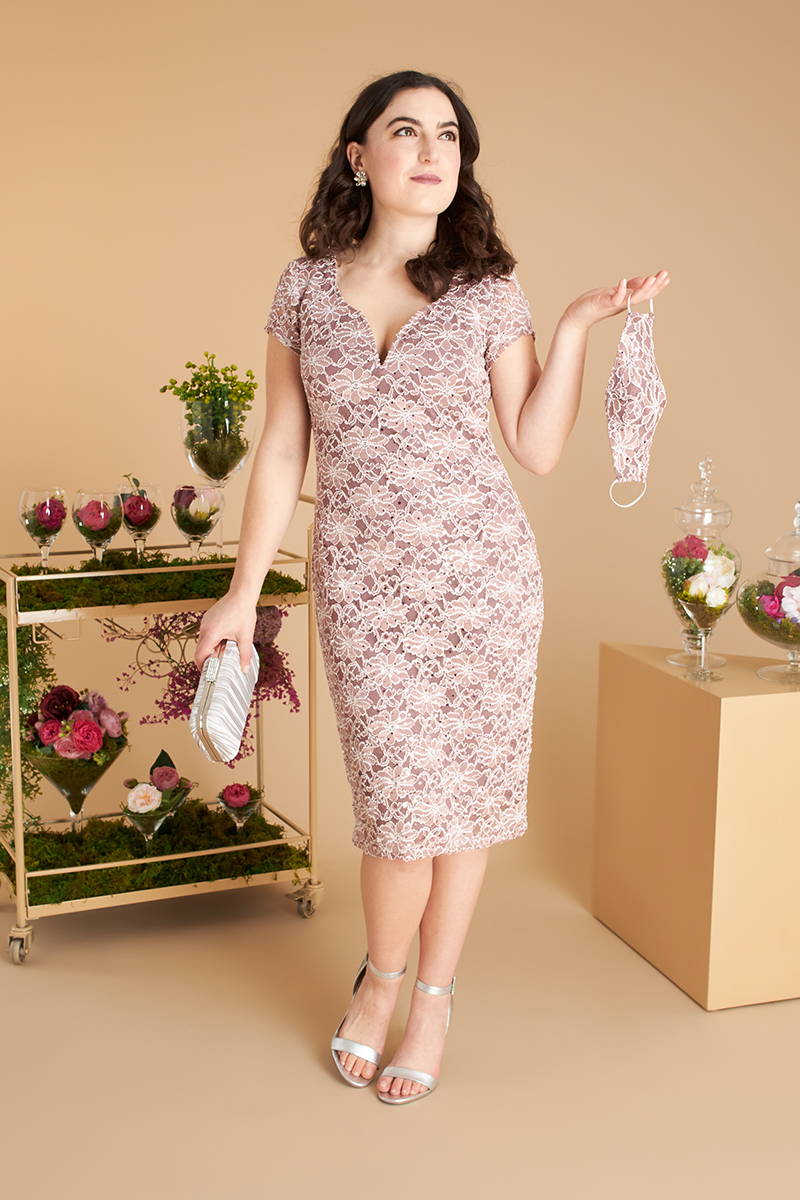 The Gracie sequin lace bodycon dress is classic, feminine, sparkly and cut to a sexy, yet comfortable above the knee lengthGracie creates your most figure flattering silhouette without making you feel constricted. So you'll look absolutely stunning while feeling unbelievably comfortable.You'll be sure to turn heads in this spring wedding guest dress!
Shop Wedding Guest Looks ▷
Easter Sunday brings friends and family together for a special afternoon (or evening) every year. And each year, we find ourselves reaching for a cute spring dress. Now, if you're planning to go to Easter Sunday Church, you'll want to make sure your shoulders are covered. If you want more style tips on what to wear for Easter Sunday, head to our Easter 2021 Style Guide.
Cindy Blue Paisley Print Ruffle Hem Dress & Shrug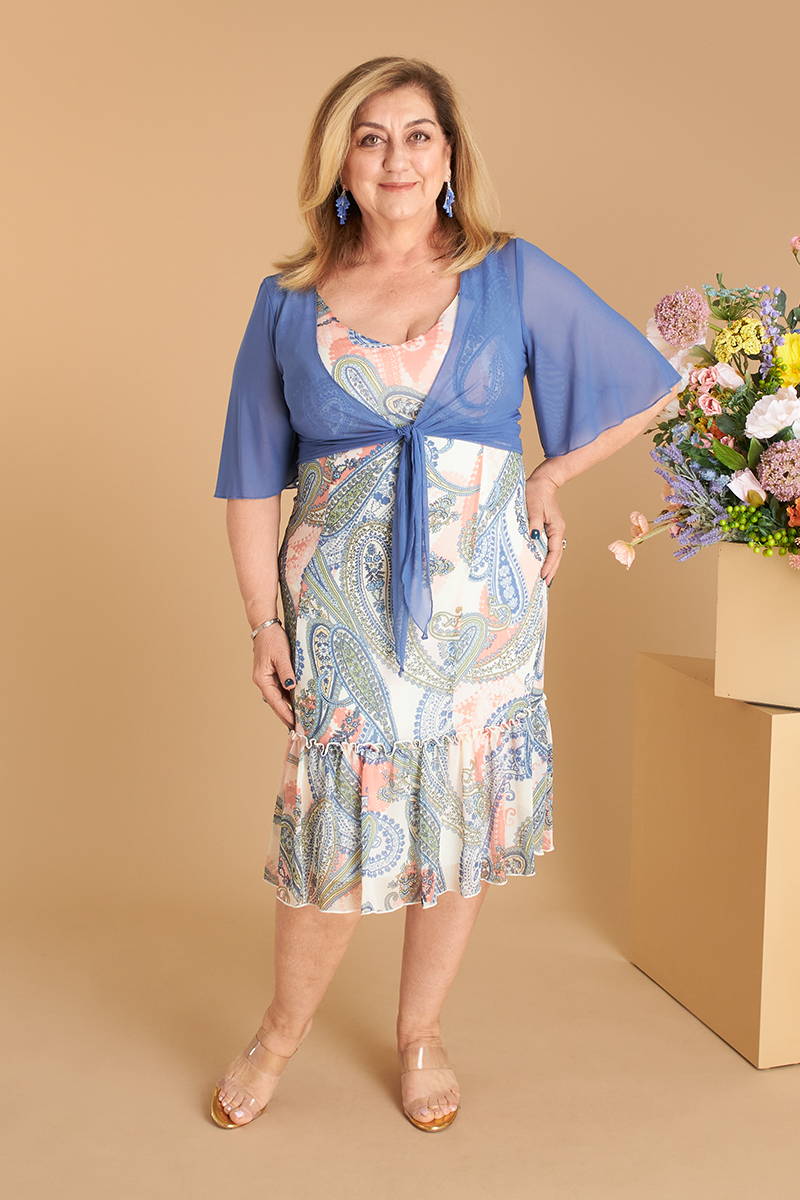 Modern and feminine, Cindy is the quintessential two-in-one Spring set. The all-over paisley print sleeveless dress has a delicately sewn ruffle hem.And the tie front, sheer shrug with butter fly sleeves adds a modern flare to this modest dress. And when worn without the color-matched shrug, Cindy is a stand out spring dress you'll find yourself dressing up and down this season.
Mary Peach Floral Tea Length Dress & Shrug
This all-in-one spring outfit is a showstopper that looks good on a variety of body shapes and sizes. Mary's fit and flare silhouette is figure flattering on all body shapes and sizes while the subtle water-color floral design is eye-catching. Remove the shrug and you'll notice that this spring dress features shirred straps for that extra feminine touch.
It's never too early to plan your Mother's Day brunch outfit. And this year, you'll find yourself reaching for feminine, floral dresses made from lightweight, beautiful fabrics. These spring dresses will keep you feeling as light and airy as you feel celebrating the most important women in your life!
Carly Pale Yellow Chiffon Floral Tea Length Dress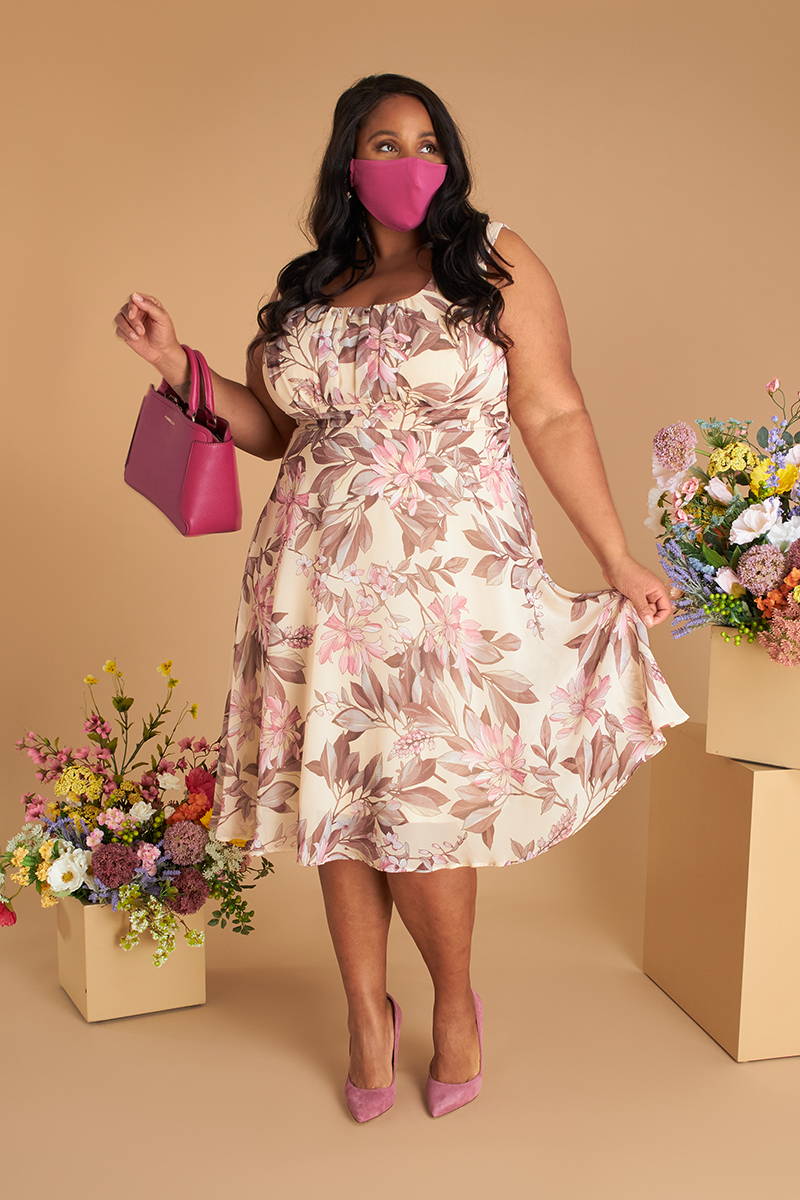 Mom, we made this fan-favorite tea length dress from lightweight, easy care machine-wash chiffon. So that you don't have to worry about adding "go to dry cleaners" to your list the day after you're celebrated. Carly features a classic empire waist, A-line skirt and multidimensional ruhching on the bodice for a figure flattering look. All eyes will be on you this mother's day.
Shayla Purple Floral Chiffon Bell Sleeve Dress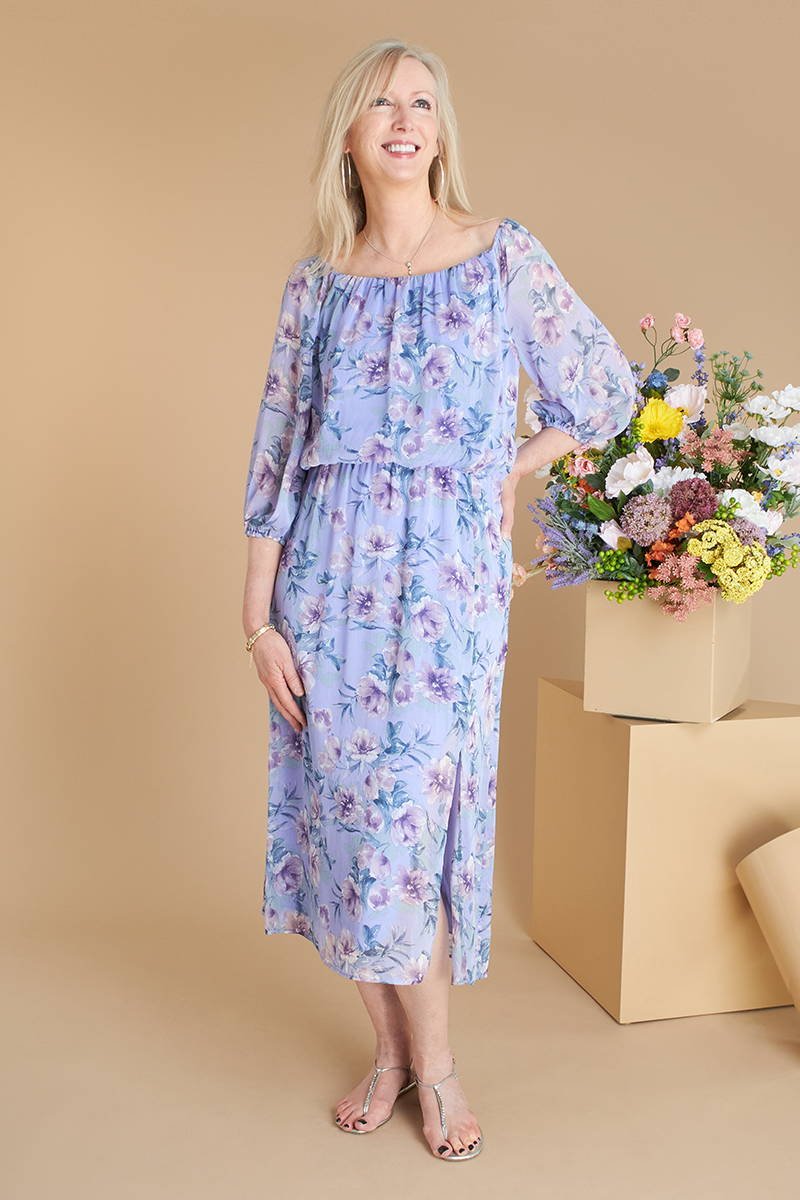 We love Shayla for Mother's Day brunch because she's both relaxed and chic. With feminine features like bell sleeves, a cinched waist and slid up the knee, this spring dress was made for brunching. If you want a more modest dress look, wear Shayla on the shoulder. But if you want to show off a little more skin, you can pull the shoulders down for a more flirty spring dress look.
Shop Mother's Day Looks ▷
After taking our style quiz, we hope we were able to answer some of your most pressing outfit questions for Spring like "What is my style?" and "What do I wear for this event?!"
Whatever spring outfits you choose, we know that you'll feel comfortable, confident and cute in Connected Apparel spring dresses. And if you're looking for something else, be sure to check out our other women's dresses and jumpsuits for more outfit ideas.
Leave a comment