The Woman Behind the Face Mask
For nearly a year, face masks have become an essential part of our lives.
What started as a confusing addition to our daily routine has now become our wardrobe staple. Embracing our new normal made us learn the importance of these essential accessories being both functional and fashionable. We felt inspired. Why can't we make face masks that match your favorite Connected Apparel dress or jumpsuit, so you can enjoy function and fashion too?
So we got to work! In April of 2020 we started designing our own non-medical face masks with the help of our patternmaker, Cin. Cin jumped at the opportunity to help! In Cin's own words, "It's nice to wear a coordinating outfit. You pick whichever petite, regular or plus size dress and there's a stylish face mask to go with. It's our way of dressing now. So why not have a cohesive outfit, right?" We couldn't agree more!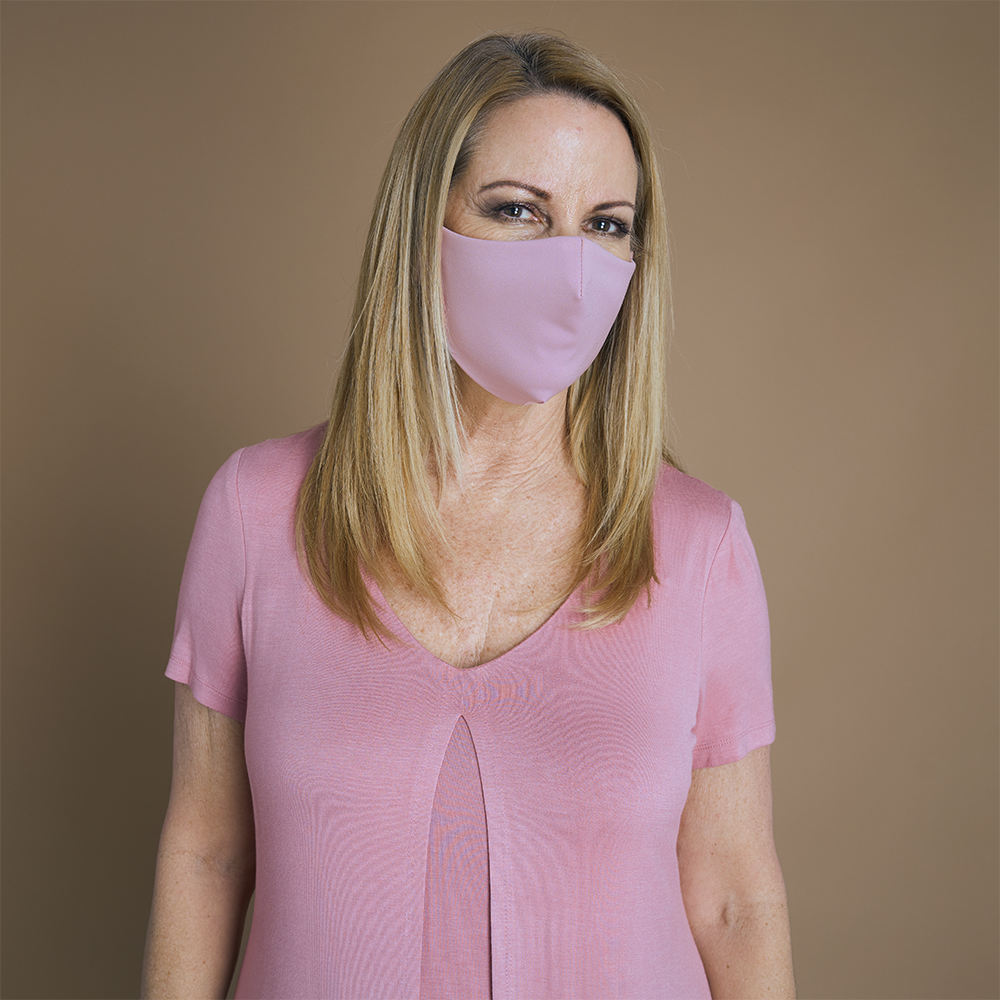 We also agreed that our new Connected Apparel face masks had to check four essential boxes:
Comfortable
Breathable
Machine-washable, and
Expert contouring to help minimize eyeglass fogging
These became our standards in which we'd create every Connected Apparel reusable face mask. It's the small part we can play to help make our CA family feel comfortable, confident and proactive when wearing Connected Apparel.
If you already own (& love) our reusable face masks, you've likely seen the Connected Apparel difference.
And we owe much of it to our dear Cin. Let's go behind the scenes to learn more about how high standards, vintage fashion history and a bit of expertise went into creating our CA face masks.
And for those yet to make a Connected Apparel face mask part of their essential accessory collection, you might just feel compelled to try one after.
So without further adieu, please meet Cin!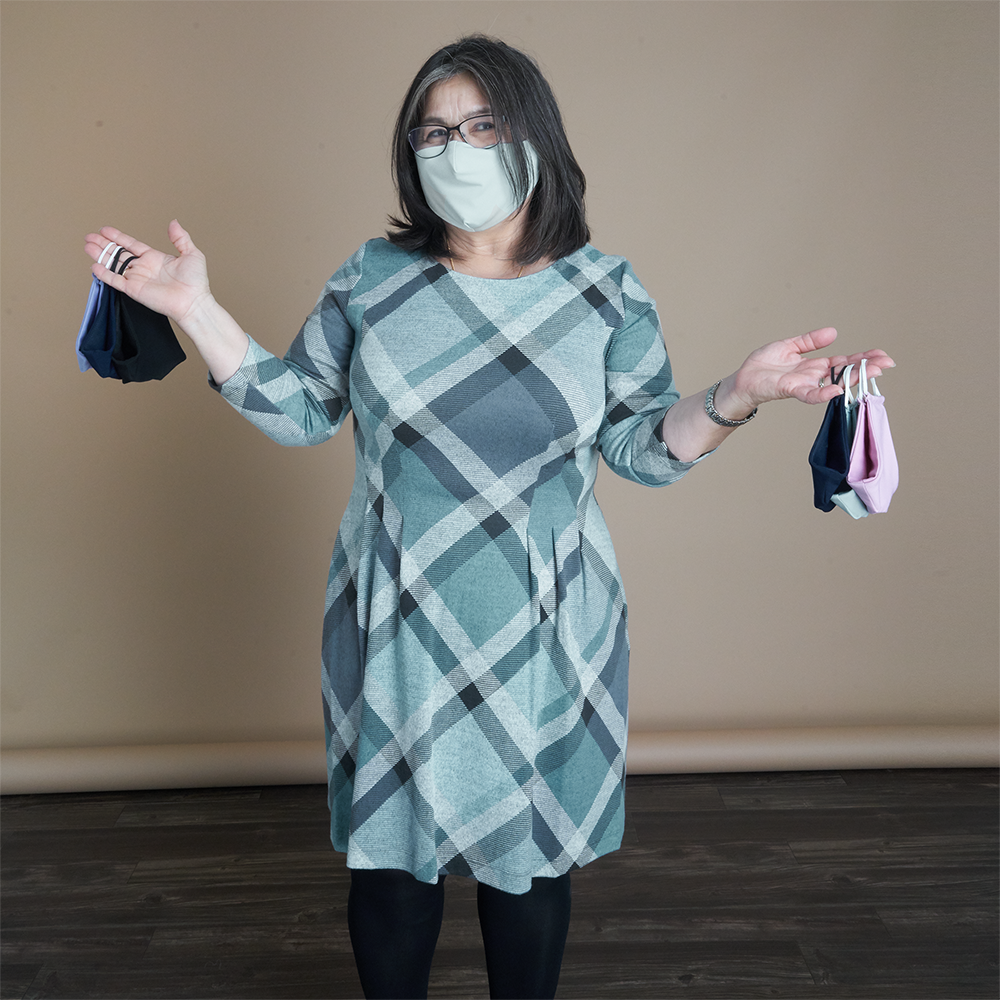 Cin's love for sewing began early on in life. As a child she'd create clothing for her dolls.
"I liked being able to put their outfits together." But Cin had no idea she could turn her love for crafting her doll's outfits into a career. It would take some time (& moving to the US!) before a special neighbor of Cin's, who worked in an apparel factory, would shed light onto the possibility of pattern making as a profession. That knowledge inspired Cin to begin working in that same factory during her summer breaks from high school.
After expressing an interest in the machinery at the factory one summer and noting which ones excited her most, the owner suggested that Cin take up pattern making. "He took me to Los Angeles Trade Tech and Sawyer College to check them out," she recalled. "Afterward, he thought LA trade tech suited me better. So that's where I went!"
Since she began her career as a pattern maker, Cin has worked for a number of companies. One of which was our CEO, Jay Balaban's, first company: All that Jazz. So it was an easy decision for her to make her way over to Connected Apparel in 2007 after leaving her previous post. About working at Connected Apparel, Cin noted that "This is the longest I've ever worked for one company. Here, it's more hands on, which is one thing I really like. Then time just flies before you realize you've been somewhere for 13 years."
Over the years, Cin has created hundreds if not thousands of different patterns. And making the pattern for our stylish face masks was no different than any other task. "I think we made five or six different patterns before we found the perfect face mask. We had to try each face mask on many different faces to make sure they would fit well on a range of customers. But, once we decided on a pattern, we only had to make small adjustments based on the fabric because all of it reacts differently and molds to the face differently."
When asked which face mask was her favorite Cin replied, "I think the Lace Sequin Face Masks in many colors are the cutest. I could tell they were going to be the ones that sell best. The sequin lace face masks remind me of the 50s when women would wear hats with mesh draping around their face. The sequin face masks give you a bit of elegant secrecy and are comfortable."
COVID-19 is not only the reason we're all wearing face masks, but also the reason many of us have developed new hobbies or spent more time doing things we love. So we had to know: What has been Cin's favorite thing to do during quarantine? "I love to read and have been doing a lot of that during quarantine. One of my favorite books I've read is 'The Sugar King of Cuba.' It was really intense and I had no idea that sugar was such a huge part of cuban agriculture or that they controlled the stock markets for Sugar trade! Highly recommend this book to any other fellow readers out there." Thanks for the tip, Cin!
During our discussion, we shared some of your reviews of our non-medical face masks with Cin. It delighted her to hear that you've been loving our face masks. It also made us all feel like we were fulfilling our goal to help you do your part in your community.
When we made the decision to make face masks, we also knew that we could take our help one step further. Which is why we continue donating a portion of the proceeds from our face masks to digitalundivided's micro investment efforts. This program provides direct and unrestricted financial support to Black and Latinx women entrepreneurs during this unprecedented time.
We have a variety of face masks from our CAxLZ sequin face masks to lace face masks to everyday essential black mask multipack.
FIND YOUR PERFECT Face Mask NOW!
No matter which face mask you choose, we made sure there was a cute, comfortable and machine-washable face mask that appeals to all women.
We hope you find a dress or jumpsuit from petite to plus sizes and a matching face mask that you love. A matching set that not only makes you feel confident, but also feel good knowing you're giving back and making an impact on the lives around you.

Leave a comment