Style Guide: How to Wear a Jumpsuit to a Wedding
We've noticed a lot of you asking how to wear a jumpsuit for a wedding and with wedding season back in full swing, we thought it was time to answer that question. We'll also give you a closer look at what makes our Uptown Jumpsuit one of our favorite options to wear to weddings.
So, you're probably wondering: Why choose a jumpsuit to wear to weddings? The answer is simple: ultimate comfort and coverage so you can dance the night away without fussing with your hemline!
What we especially love about choosing a jumpsuit for a wedding is that jumpsuits are wallet friendly. Because wedding appropriate jumpsuits are typically floor length, you'll be able to wear it over and over again for a variety of events, no matter the season.
When it comes to wearing jumpsuits for weddings, you have many options. Here are our go-to style choices:
Monochromatic Moment -- If you've chosen a jumpsuit that's one solid color, it's easy to create a monochromatic look that elongates your body and is oh-so chic. Simply adding shoes, jewelry and a purse in the same color. And if you want to add just a bit of color, choose a lip color that stands out.


Add Pops of Color -- Style your jumpsuit with shoes, earrings and a clutch in colors that are complementary to your jumpsuit color. This is a great way to really show off your unique sense of style!


Keep it Simple -- Sometimes less is more. If you're opting for a jumpsuit that stands out on its own, don't over do it. A simple earring and pump can go a long way!
If you're choosing to wear our Uptown Jumpsuit for a wedding, we'd recommend keeping it simple. The beautiful metallic brushed stretch jersey fabric is a show stopper. Don't worry though, you'll only be a side show to the main event… the bride! (We also have a matching gold foil face mask!)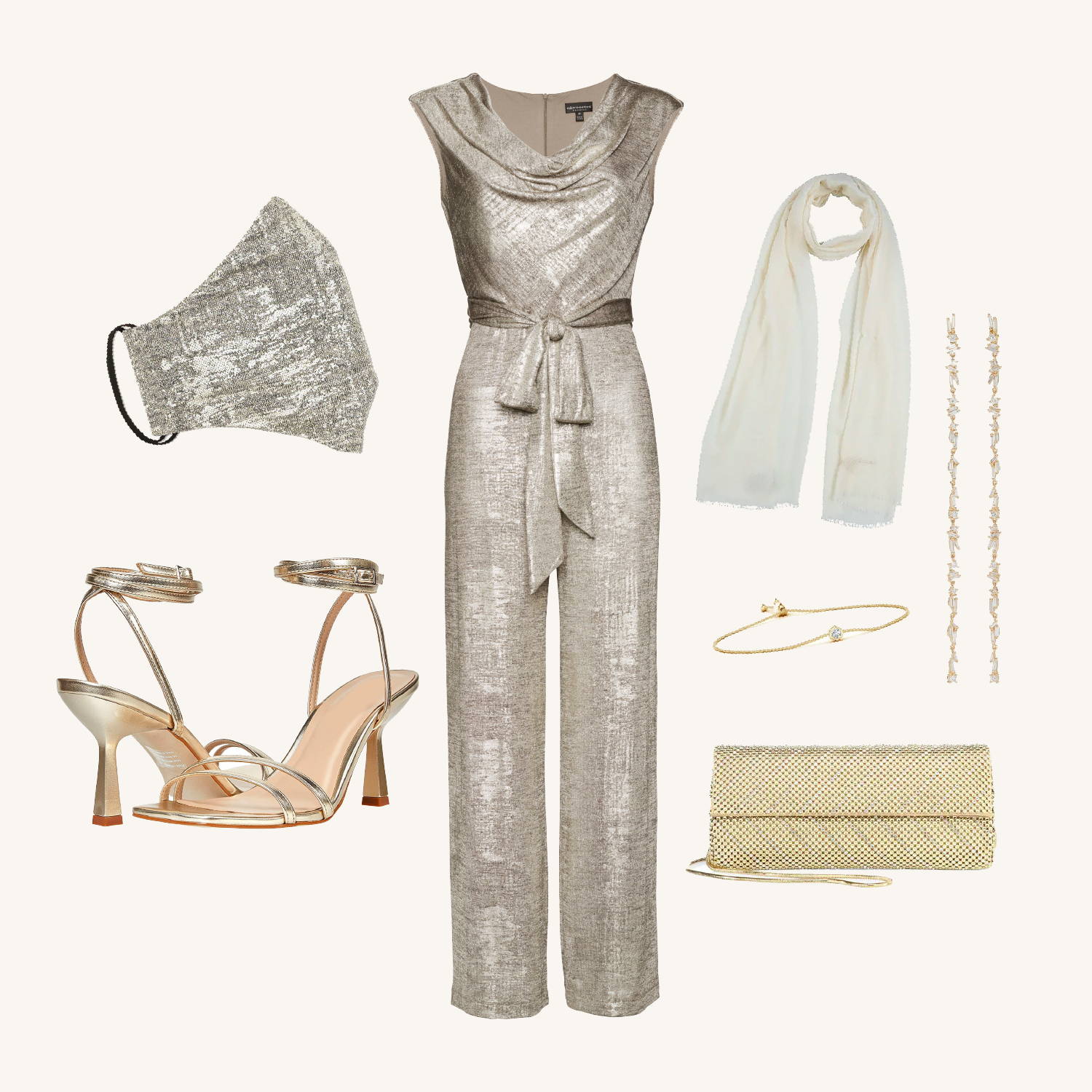 The Uptown Jumpsuit was named after our patternmaker, Cin. Perhaps you remember meeting her when we did our Behind the Mask blog! Cin is short for Ascensión, which means ascension in Spanish. And with Connected Apparel also having a connection to New York, we decided Uptown was a great way to blend the two.
Cin started making the pattern 4 years ago. When making the Uptown jumpsuit's pattern, she said, "because it's made of knit, I was able to work on the bias. There's no darts and my framework is the lining, which makes this an easy pattern. The only thing I worry about is if we're using fabric that has grown, but I just make minor adjustments here and there to account for that. No matter what, we make the Uptown fit just right."
When we asked Cin why she thinks the Uptown Jumpsuit is a good silhouette for our customer, she said, "I think the cowl neck is very flattering for women with any bust size. That detail really draws me to this silhouette. I also think the tie at the waist is great for a variety of shapes because you can accentuate or even create a natural waist." We have to agree!
These are the exact attributes that make the Uptown one of our favorite jumpsuits to wear to weddings. It's elegant, it's figure flattering and there are eye catching details that make you feel confident the moment you slip this jumpsuit on.
Cin's take on why Uptown is a great jumpsuit to wear to weddings? " It's a beautiful option for women of all different shapes and it can be styled to wear to a formal wedding or something less fancy. It's really a great piece and the metallic detailing on the fabric really stands out."
Now we understand that not everyone will want to wear our Uptown jumpsuit to a wedding. That's why we put together the below list of jumpsuits that we think work perfectly for a variety of wedding invites. From our CAxLZ Jennifer Sequin Jumpsuit to one of our staple Connected Apparel Black Jumpsuits, you can't go wrong with any of these options! There's even a jumpsuit that's perfect for the bride's engagement party or outfit change!
Leave a comment