Behind the Dress: Nora, Our Favorite Plaid Dress
The secret behind why the Nora dress is so loved!
The Nora dress is a Connected Apparel staple silhouette, and behind every amazing dress comes an even more amazing patternmaker. A classic sheath dress that features three-quarter sleeves, a flattering knee length, and unique details for added flair and dimension. There are so many reasons why you will LOVE the Nora dress just as much as we do!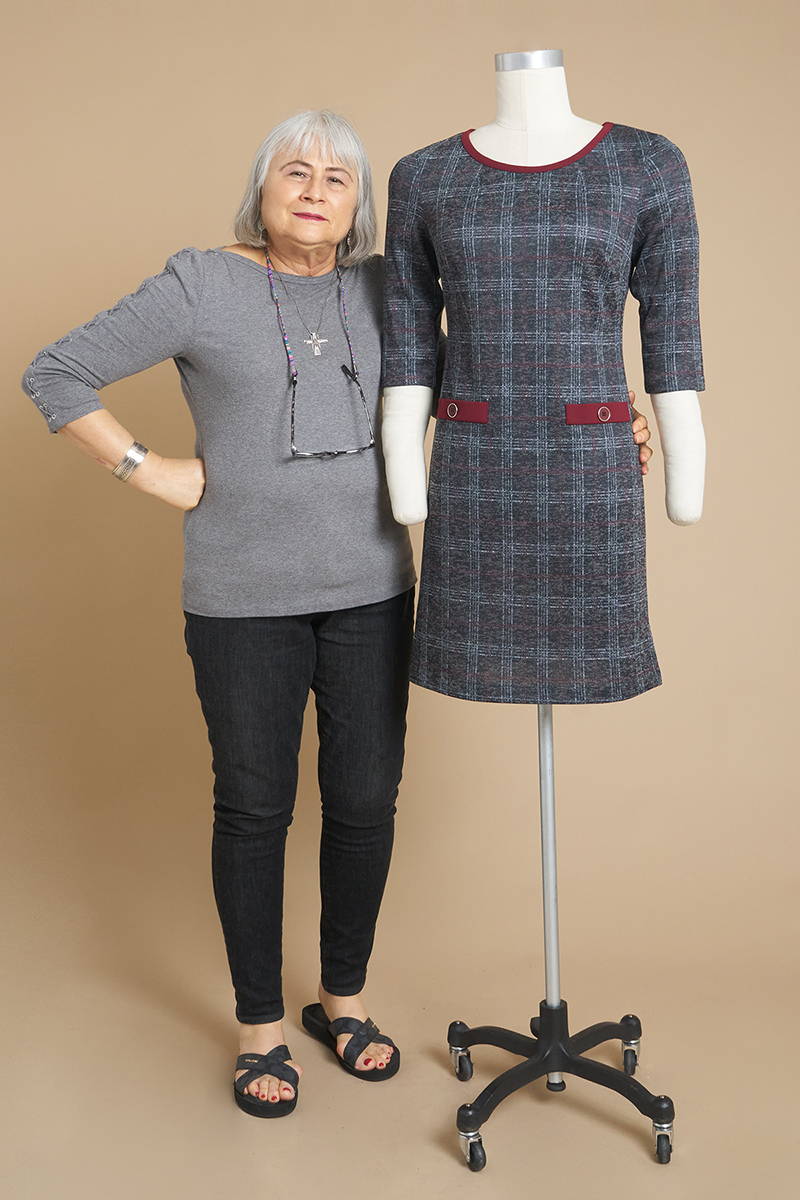 Worked on by one of our expert patternmakers, Sally!
Sally has seen the Nora silhouette from beginning until now and has been a huge part in the reason why the Nora dress is such a popular style. Sally has been a part of the Connected Apparel family since 2007 and has worked in the industry since 1971. She has been a part of hundreds, even thousands of dress patterns and says at this point, she has lost track! Sally is truly proud of the Nora silhouette for the main reason of it being perfect for many body shapes and sizes.
5 reasons why the Nora is your new favorite day-to-night sheath dress!
Forgiving Silhouette
For any age
Day-to-night
Easy to style
Flattering features
The Nora dress has been a customer favorite and we definitely understand why! The fabric and three-quarter sleeves make it a perfect piece for the Fall and Holiday season. From the plaid prints, to the forgiving silhouette, it will soon become your go-to holiday look. Continue reading to learn more about why the Nora dress is so special.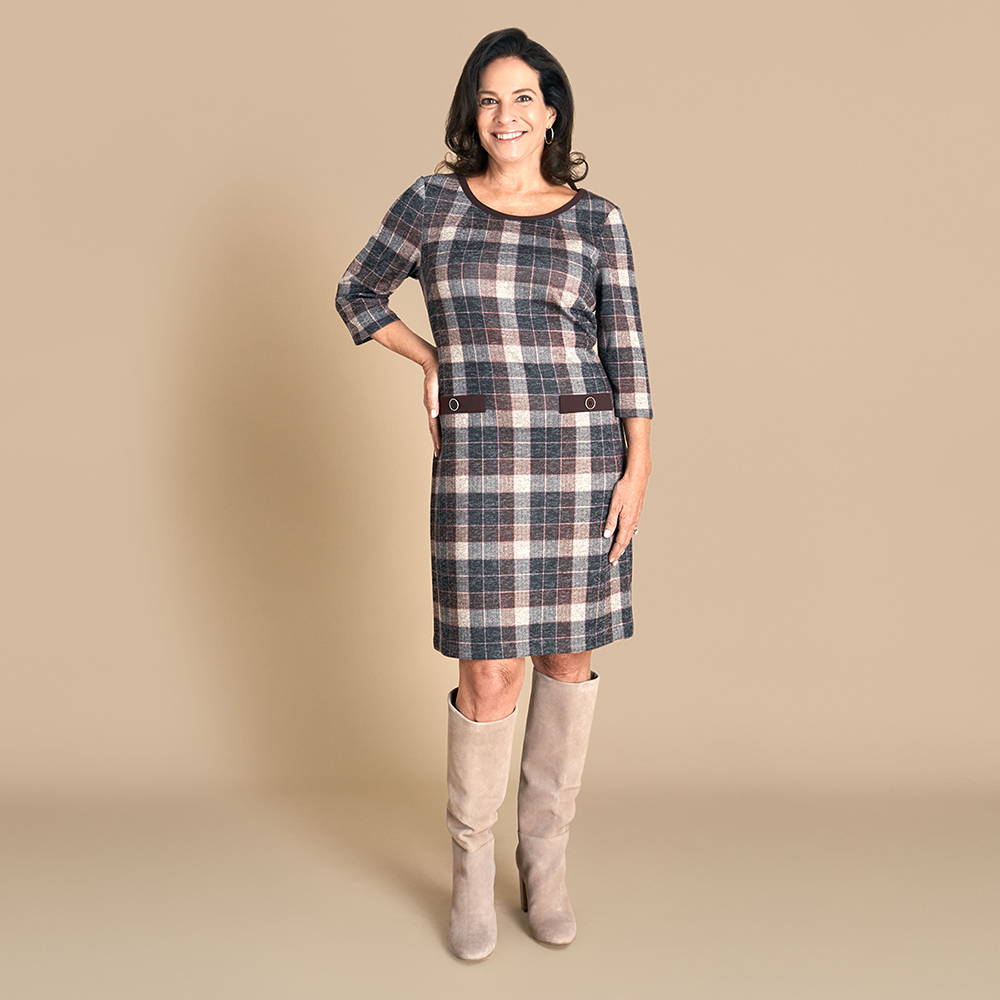 The Nora dress keeps you feeling comfortable and confident!
The Nora dress is a sheath silhouette that is extremely forgiving and comfortable. The three-quarter sleeves provide the right amount of arm coverage, and while the dress is knee length, the loose fitting feature makes the dress perfect for the Holiday season. While the fabric of the Nora dress is comfortable and cozy, it is structured enough to stay in all the right places without feeling too tight.
Nora is a Holiday staple.
Wear the Nora dress to your next Holiday party and feel comfortable and confident all night long. With the forgiving silhouette, you definitely can have that extra slice of pie!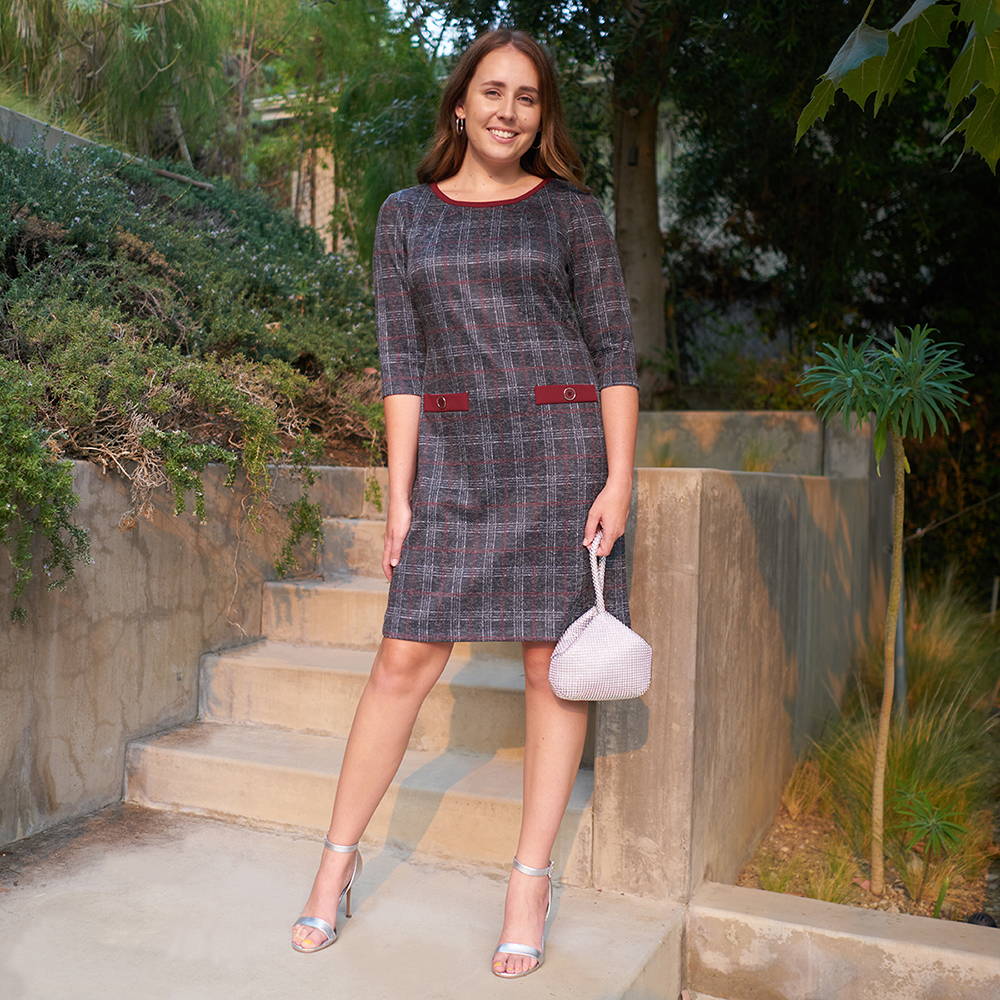 The Nora dress is for anyone!
Like many of our Connected Apparel staples, the Nora dress has no age limit. Style the Nora dress to fit your unique fashion sense. This silhouette was made for both young and mature women. The knee length shows off that extra skin, while her three-quarter sleeves add a little more coverage. It all comes down to how you style the dress. Make Nora your own by incorporating all of your favorite accessories.
Take the Nora dress from day-to-night, work to dinner, casual to fancy. Let your fashionista side come out and turn Nora into what makes you feel your very best.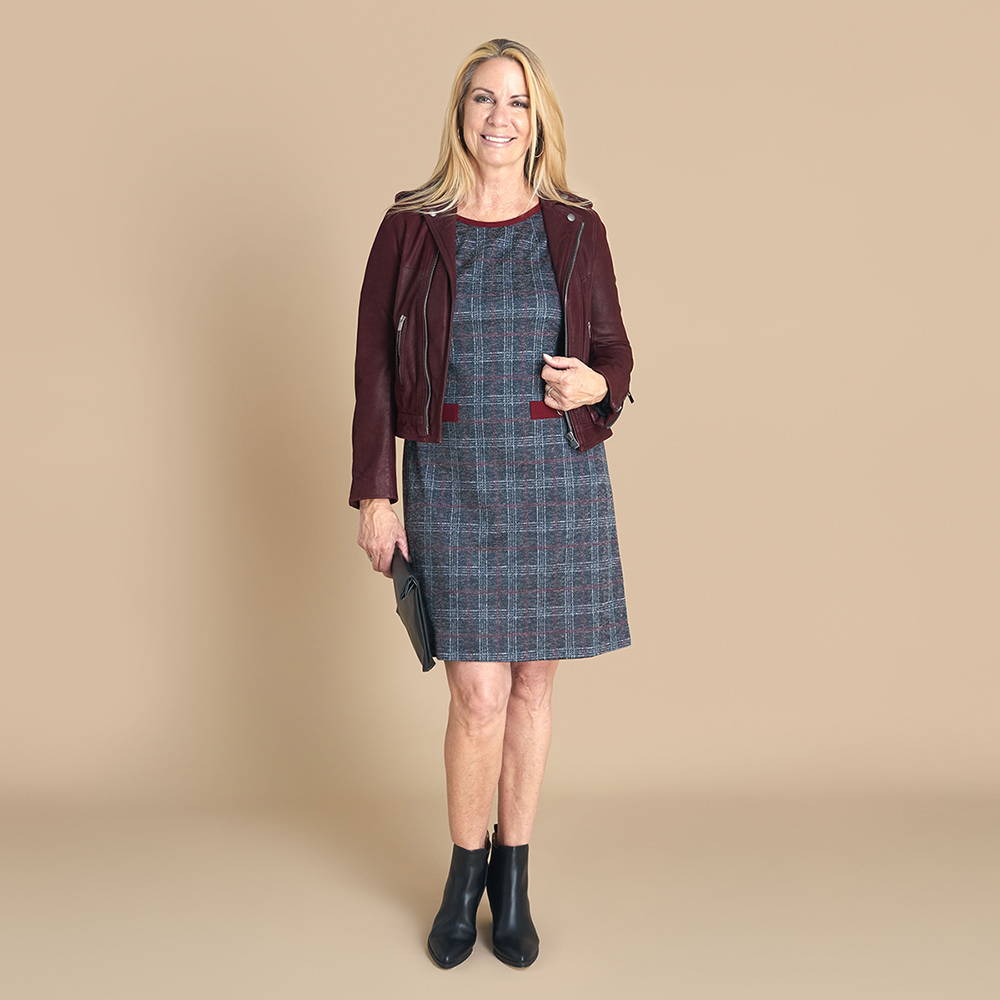 Take Nora from the office straight to dinner!
One of the things we love most about the Nora dress is the versatility. It can easily be styled into the perfect office look and then with a quick switch of accessories be a chic dinner date outfit. The plaid pattern is a seasonal and iconic staple that is sophisticated and also trendy and cute! The Nora dress makes a statement on its own, and all it needs is a few little accessory cherries on top.
Nora is versatility at its finest!
The Nora dress is ready for just about anything! Wear Nora to work with a close-toe heel then switch that out for a strappy one at night and look as chic as ever. If you're looking for day-to-night looks, shop our whole collection here.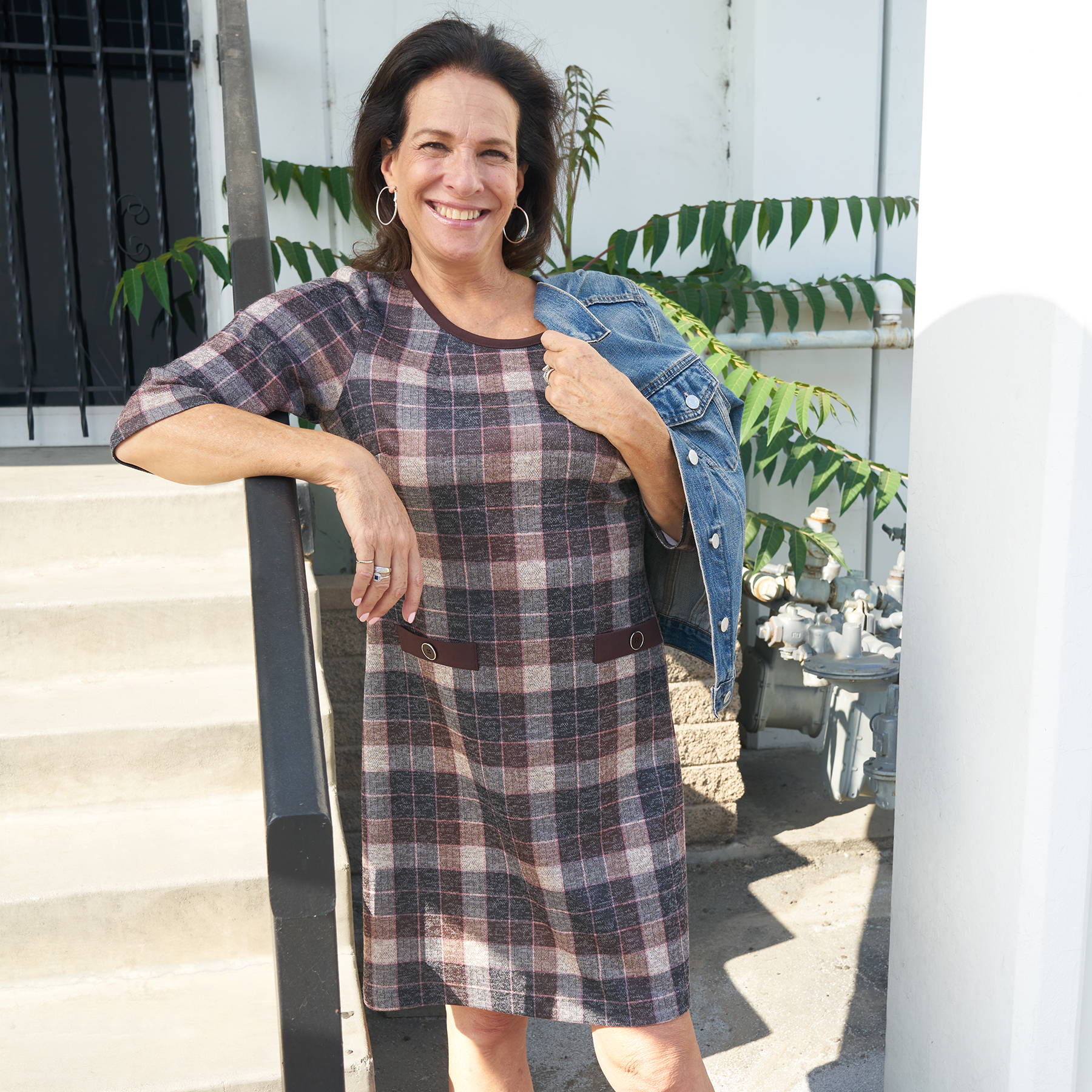 Accessories MAKE the look!
Like mentioned before, the Nora dress is the perfect outfit to take from day-to-night and just about anywhere in between! It really can be styled in a multitude of ways in order to make it the perfect look for your occasion. Going to work? Throw on a close-toe heel and your work bag. Going to date night? Add a coat, strappy heels, and a clutch. How about a daytime Holiday activity? Add an ankle bootie, crossbody bag, and denim jacket. The Nora dress takes you anywhere!
Nora is your new go-to dress for the Holidays!
The Nora dress incorporates a plaid pattern and a cozy stretch knit fabric that make it the perfect dress for the season. Nora can easily be worn just about anywhere while still keeping you cozy and chic.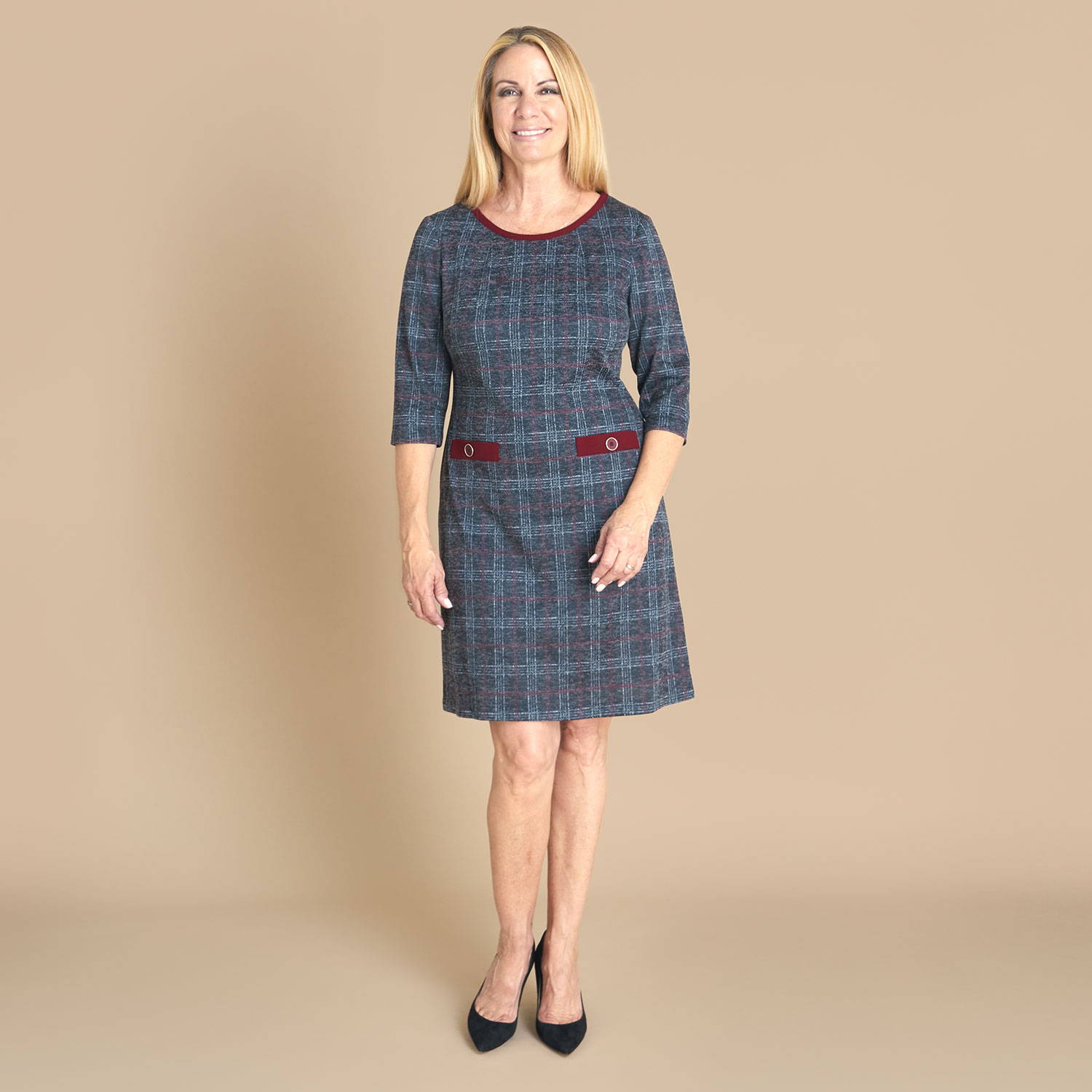 Slip on Nora for that added flair!
The Nora dress incorporates flattering features in all of the right places. The faux pockets in the center and the matching colored slim neckband add a unique touch that flatter the best features of your body. While style is not only about searching for the trendiest looks, it is also about finding styles that fit your body shape just right. The first step to finding a flattering dress for you is by identifying your own body shape. To figure out what silhouettes work best for you, read our determining your body shape guide.
Nora is a classic silhouette.
Wear Nora to any occasion and feel like the star of the show. The figure flattering details will have you feeling and looking your very best.
The Nora dress continues to come back time and time again and continues to wow us! It is a customer favorite and for good reason. The Nora dress is a Fall and Holiday staple. If you are looking for the perfect Fall and Holiday looks, shop our full Fall Collection and Jewel Collection.
Before doing your seasonal shopping, make sure you sign up for The Connection, and earn points for shopping that will quickly turn into rewards for future purchases!
Leave a comment