1 Dress, 3 Ways: Monica Jacket Dress
The jacket dress that can be worn three different ways!
The best way to maximize your wardrobe is to add versatile pieces that can be worn from desk to dinner, day to night, weekdays and weekends. One dress that checks off all those boxes is our Connected Apparel Monica Jacket Dress. Now you may ask, what is a jacket dress? It's simple! A jacket dress is a two-in-one style option where the jacket is attached to the actual dress. Regular to plus size jacket dresses take the fuss out of matching your dress to your cardigan!
Our favorite jacket dress is Monday. She's a slip on sheath dress with an attached jacket that is made from a stretch jersey fabric that glides over your body and is comfortable to wear all day. She is simple, yet sophisticated and will have you looking chic and feeling your very best in minutes!
But just because Monica has an attached jacket doesn't mean you can't have fun styling her in different ways to make her look like a whole new outfit. Whether you fall in love with Monica after reading this blog or get ideas on how to style other pieces from our Fall 2021 Collection, we're here to help you get ready for the season ahead!
Heading back to the office doesn't have to mean stressing over your work wardrobe.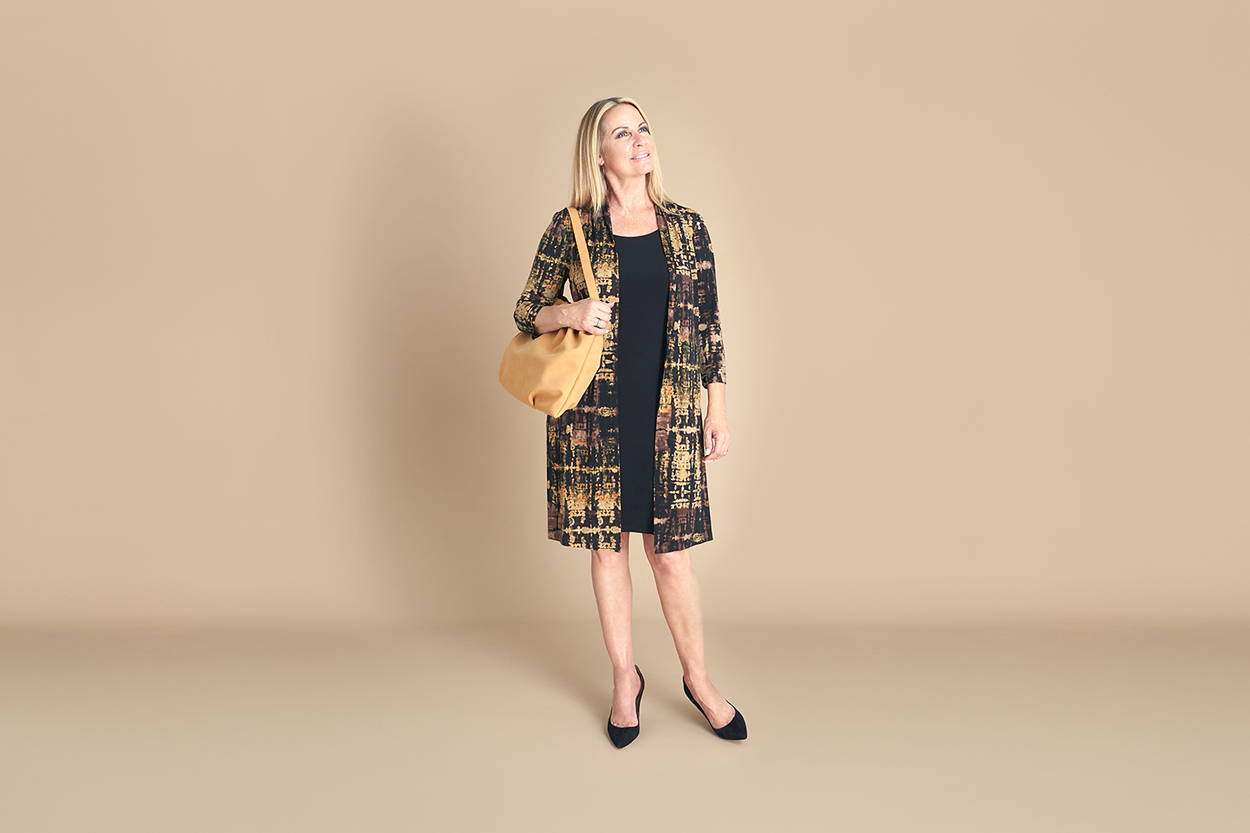 The key is to fill your wardrobe with staple pieces that can be worn multiple ways to make them feel fresh and new! This petite to plus size jacket dress helps you get back in the swing of things without the added stress in the morning that usually results in your bedroom floor piled with clothes!
Wear Monica to your 9-5 with the simple addition of a pointed heel and accent bag. The attached jacket is perfect for some added coverage and keeps you warm inside a chilly office. Take a simple dress, add a sophisticated shoe, your favorite work bag, and you're ready to take on the work day feeling comfortable and confident!
To make this dress even better, bring a strappy heel in your bag to switch out your look and be ready for some after work appetizers and drinks! For more ideas on dresses and jumpsuits that are perfect for the office, you can also read our Back to Work Style Guide.
A dress that can be worn to work and ALSO to a night out with the girls? Yes!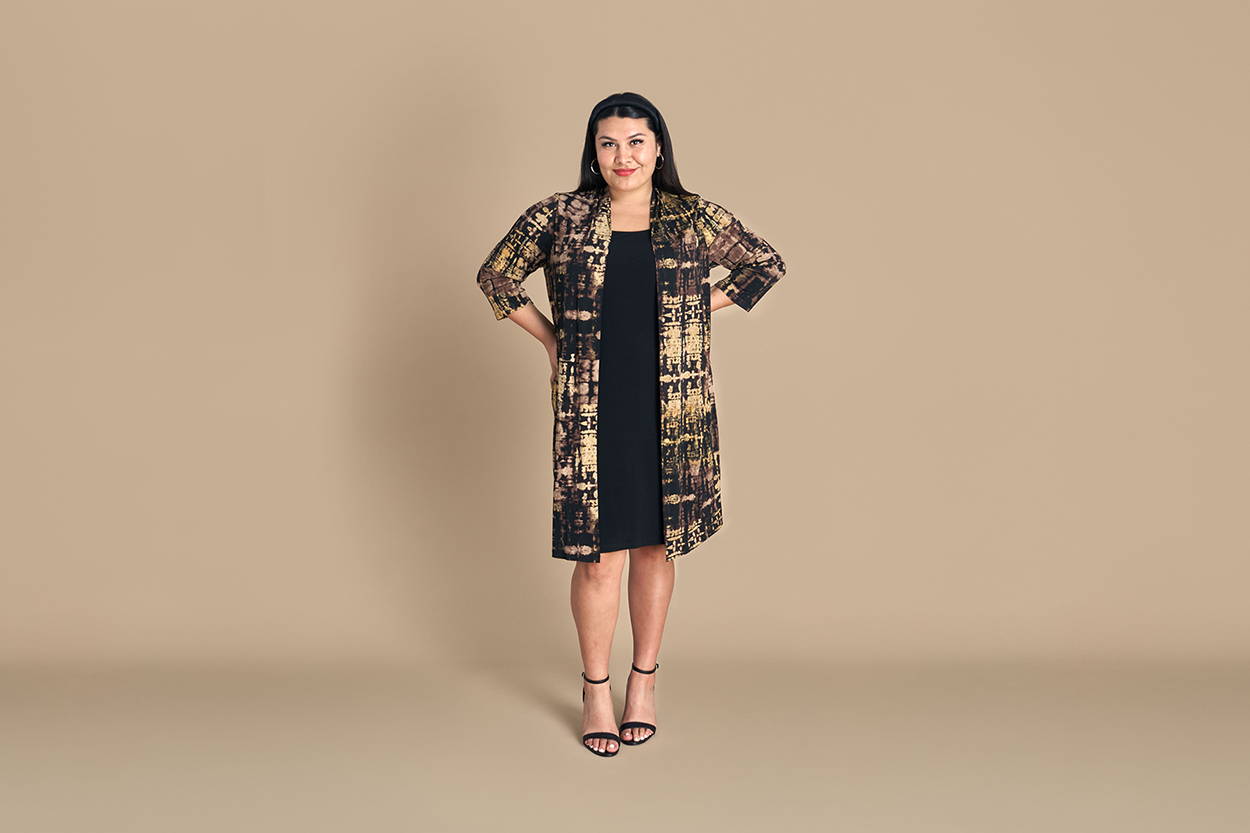 Switch up the accessories and take the night by storm feeling chic and confident. Filling your wardrobe with versatile pieces that can be worn day-to-night is essential in being a budget-friendly fashionista!
If you're looking for plus size jacket dresses, look no further than Monica. Take Monica from the office to a night out with your girls! Pair Monica with a strappy heel, a statement bag, a cute headband and staple jewelry pieces.
Monica can easily be dressed up with some added accessories and possibly a pop of color on the lips! While it can be more exciting to buy standout, statement pieces, sometimes it is more satisfying to find staple pieces that bring out your creative side when it comes to styling!
Weekends have never looked this good! Take advantage of them!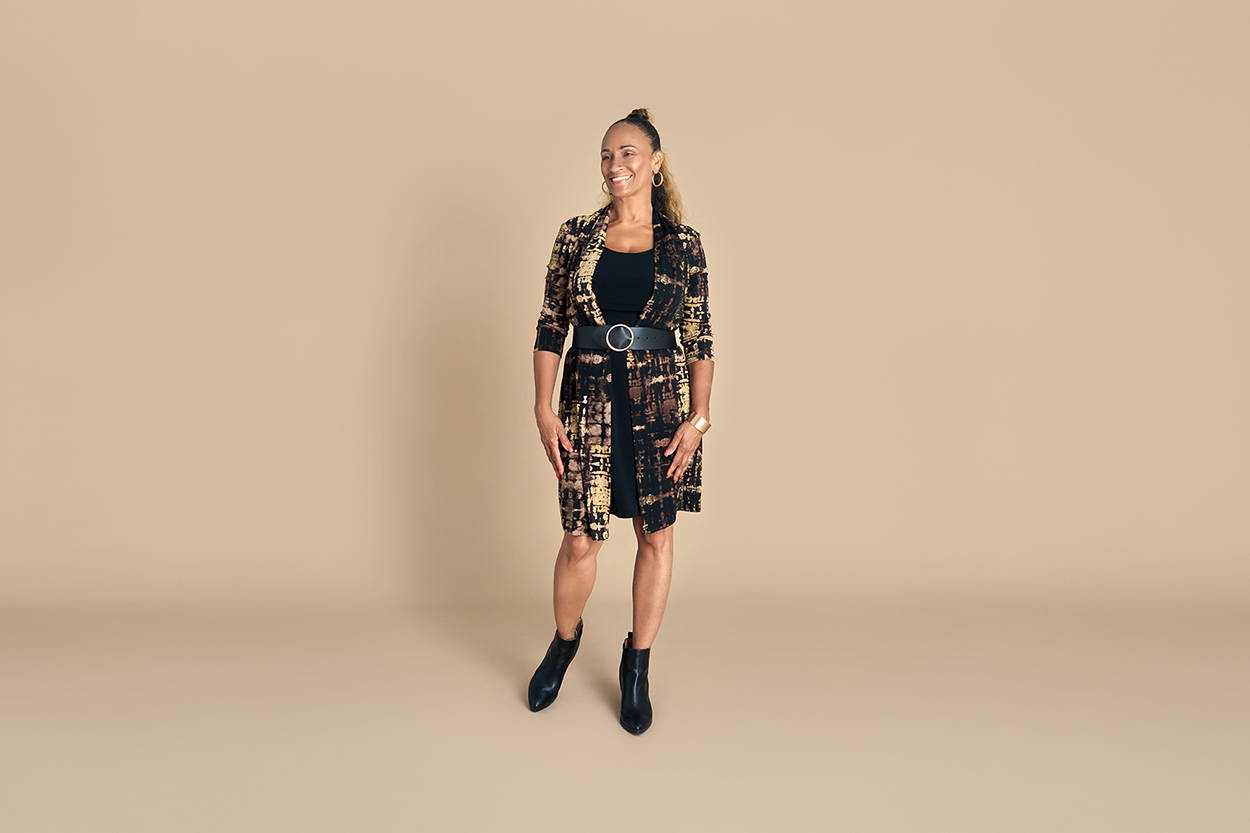 This season, we are all going to take advantage of the world slowly making its way back to normal. So spend your weekends with friends and family celebrating the season and taking in all of the Fall fun! Whether it be wine tasting, apple picking, or a day spending time with family, Monica fits the occasion.
Level up Monica with a belt and a pair of black booties. The belt adds a unique touch as well as creates a more defined waist. The black booties are a staple Fall accessory that will keep you warm and ready for any event this season has to offer. Add a crossbody bag and some dainty gold jewelry pieces to complete the look!
FROM PETITE TO PLUS SIZE JACKET DRESSES, WE HOPE YOU LOVE ALL THE LOOKS THAT MONICA HAS TO OFFER!
Of course she can be worn any way that makes you feel the most comfortable and confident. These simple tips can also be applied to many of the pieces we have in our Fall 2021 Collection. Just remember, the key to having a successful wardrobe is making sure you have pieces you love that can be worn multiple ways.
While it's always sad saying goodbye to Summer, we're so excited to start dressing for cooler weather!
With the Fall season approaching, it can be even easier to change up the look of a single dress since layering is key! Dress for the season and be ready for all of the spontaneous invites that may come your way with our Fall Style Guide.
Leave a comment