1 Dress, 3 Ways: Erika, Our Favorite Midi Dress
There's nothing we love more than a dress that can be dressed up or down.
Having versatile dresses that can go from day-to-evening is a wardrobe necessity. Not to mention: it's budget friendly!
Classic silhouettes like sheath dresses, fit & flare dresses and mixi dresses provide beautiful canvases for styling outfits season to season. But add one of these simple, iconic, figure flattering dresses in a moderate length (like a knee length dress, tea length dress or midi dress) to your closet and you'll have a 24/7 essential you can wear year-round! But the true secret to a perfectly versatile dress is all in the details. Whether you're in love with a cinched, accentuated waist, or want a bit of character like a sheath in a textured waffle fabric—that one visually striking design detail is where your personal style shines through!
This season, we can't think of a more textbook day to night dress than the versatile Erika Sweater Knit Midi Dress. With its architectural square neckline and subtly eye-catching ruching, Erika is our favorite dress for styling endless casual to chic outfits. Erika's buttery soft, stretch sweater knit material makes her ideal for lounging at home. And her elegant, contemporary design makes running from couch to office a one and done!
We asked Leanna Balaban, our Director of Marketing & E-Commerce, to style the Erika Midi Dress in three simple, comfortably chic looks that you could easily replicate at home. Here's what she did!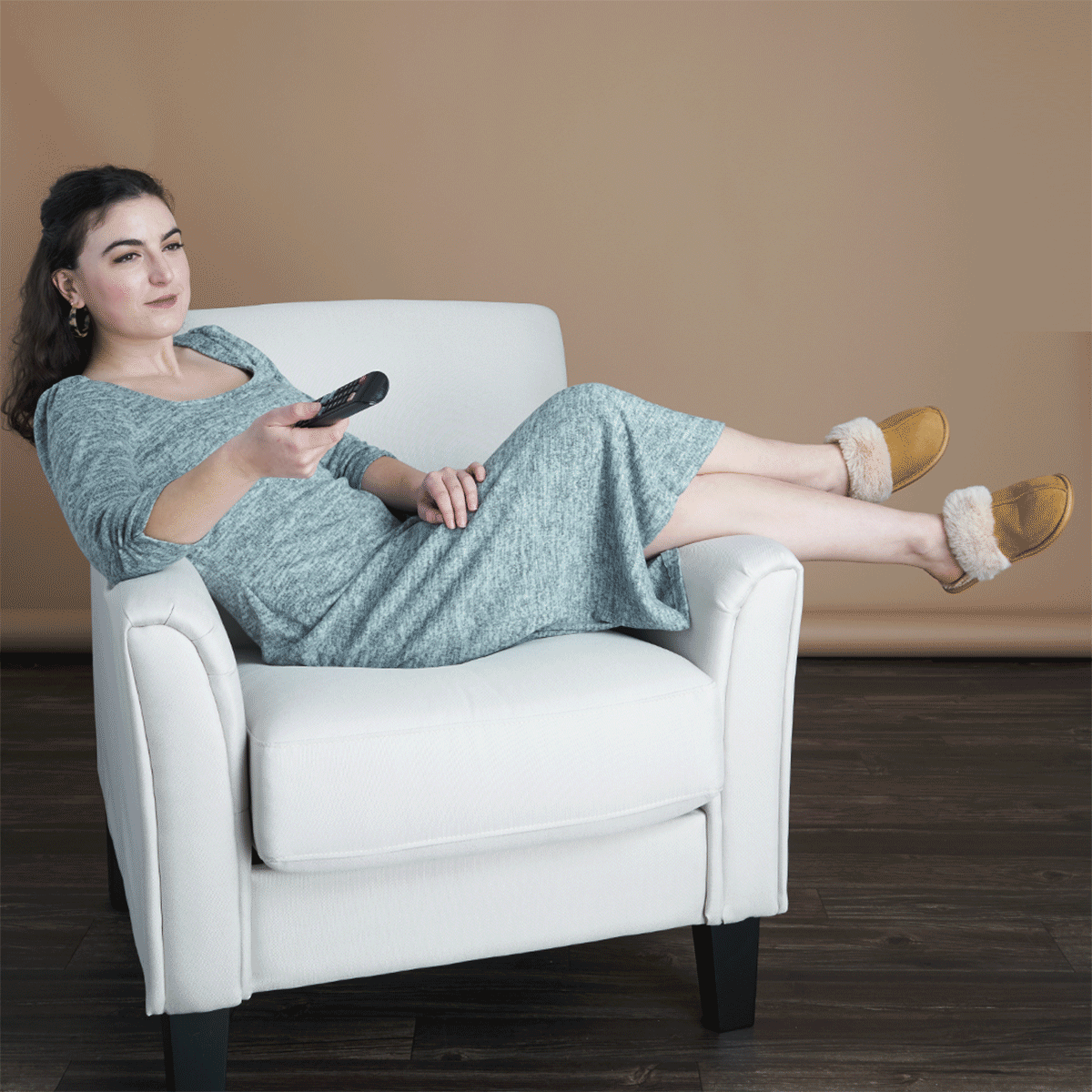 Let's be honest, we all have days where we don't want to leave our couch. And if you were at all like us, for most of last year you probably didn't. But if our 2020 couch time has taught us anything it's how important it is that what we wear makes us feel comfortable.
So perhaps the most important test of a dress's versatility is: does it feel natural just throwing it on? Is it truly the lounge dress you can cuddle up on the couch in, while still making you feel confident enough to answer an impromptu FaceTime (because you're wearing a dress that feels comfortable, but looks casually chic!)?
Does it have "at home" style?
Being a cinephile (meaning she REALLY loves film) Leanna's first look is inspired by a typical afternoon at home spent binge streaming the latest show (Spoiler Alert!...It's Bridgerton). As the ultimate cozy queen, Leanna's paired our cute casual Erika Sweater Dress with her favorite faux fur lined house slippers. While the soft fabric, midi dress length and ¾ sleeves of Erika keep her feeling warm and cozy, her luxe slippers finish off her own personal brand of "at home" style.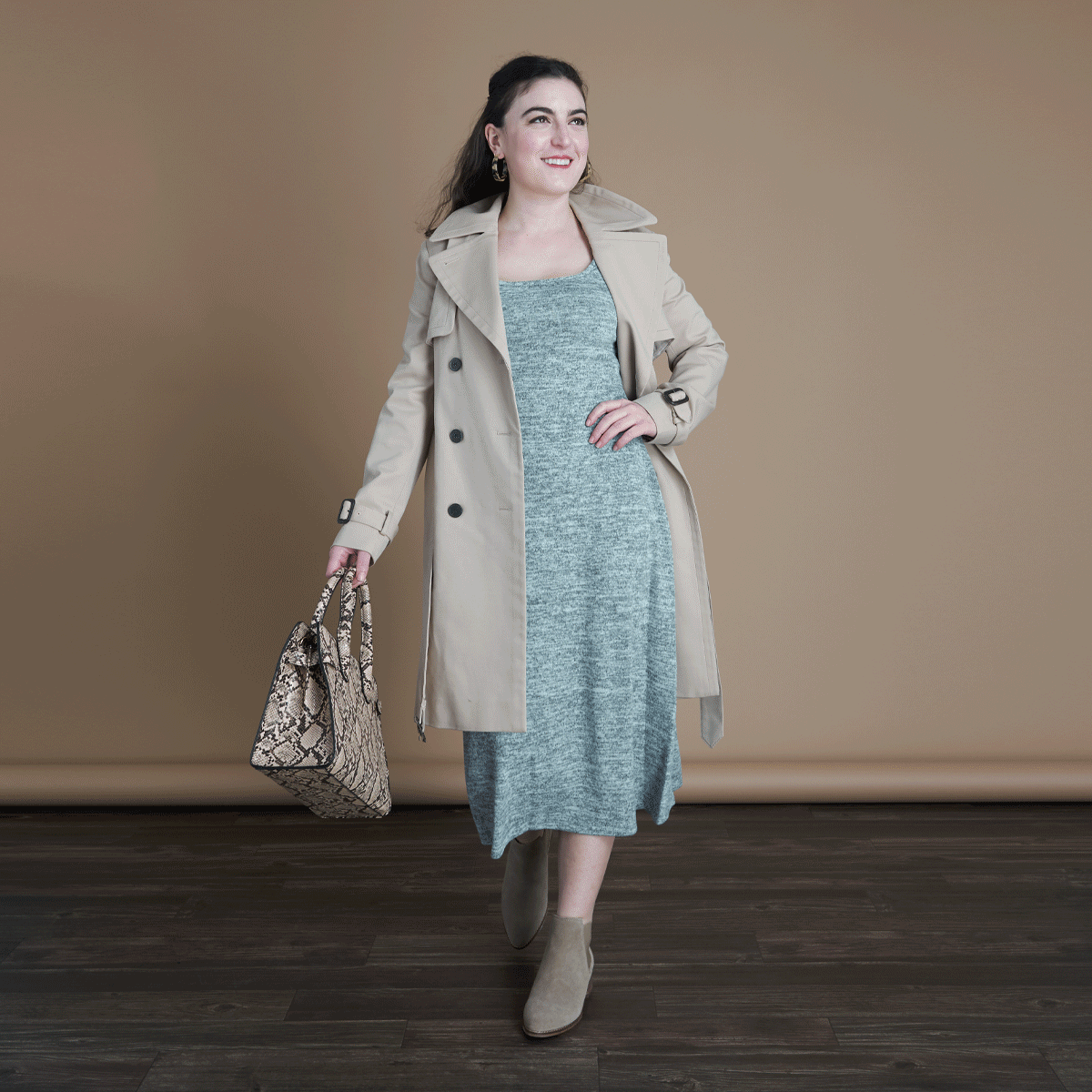 It's not easy to find flattering dresses that keep you comfortable day to night, from desk to dinner. But what about a work outfit that can transition from couch surfing to boardroom-ready in a pinch?
Styling the perfect 9-to-5 look requires a delicate balance of cute, job-appropriate pieces that secretly provide round-the-clock comfort. Look no further than our Erika Knit Sweater Dress. Combined with it's pajama-like comfort, Erika's fashionable silhouette and subdued pattern make her ideal for accessorizing a work outfit even your discerning boss may compliment!
Leanna styled her "I woke up like this" effortlessly flawless, ready for work outfit with accessories equally as understatedly cool. For her hip workwear look, Leanna paired her Erika Midi Dress with a practical tan trench coat, a statement-making animal print purse and a pair of cold-weather-appropriate taupe booties. Altogether it's an outfit as smart as it is chic. This #bossbabe went from couch cozy to ruling the office in a snap!
Before she heads out the door, Leanna makes sure to grab her final, and most important, casual cute outfit accessory: her matching, reusable seafoam colored face mask. Looking casual, cute and proactive, Leanna!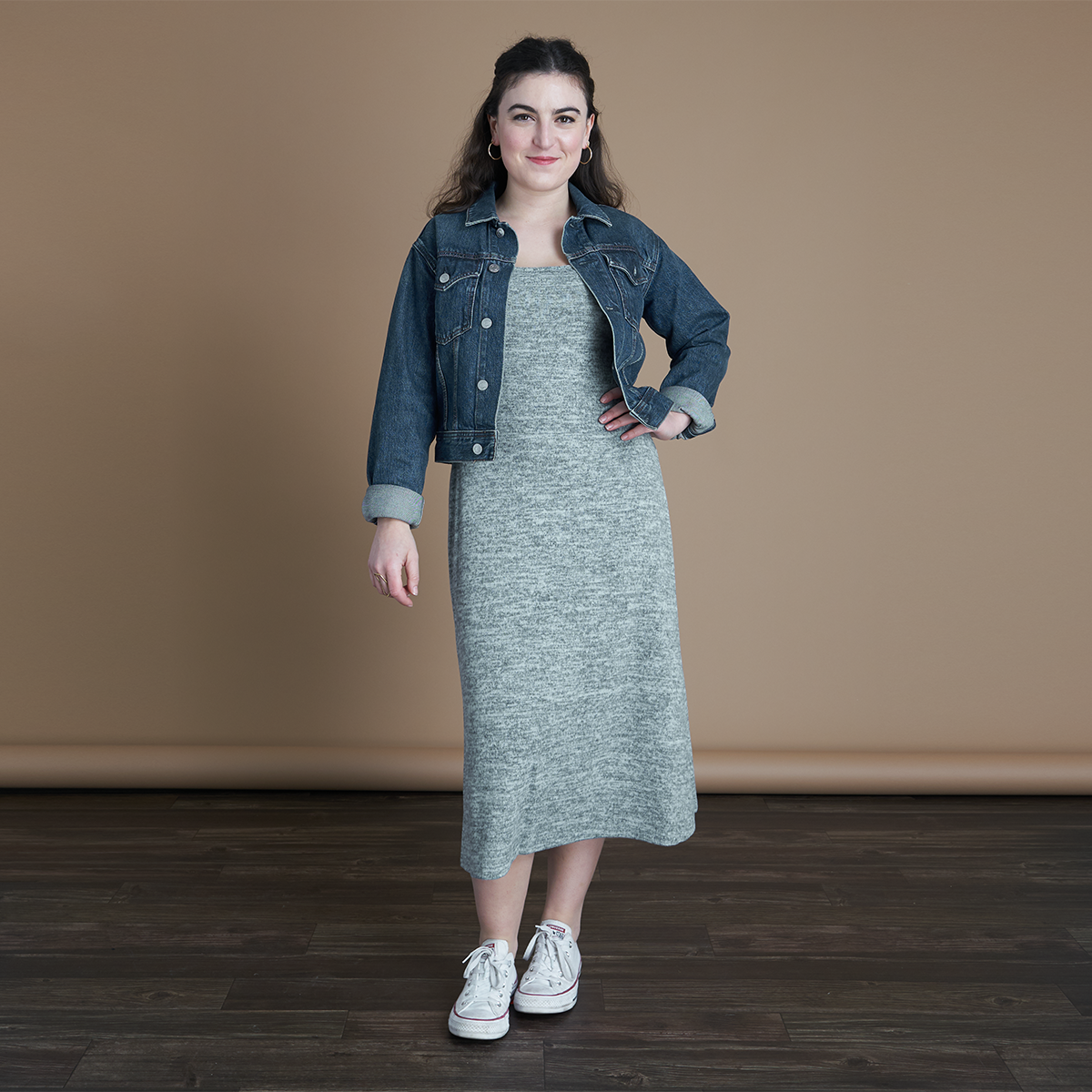 Aside from couch surfing and #bossbabe-ing, you may actually find yourself going out again in 2021. But with these get-togethers typically being last-minute and impromptu, what's a budget-friendly fashionista to wear?
You're sitting on the couch when your friend calls to go out. No worries! With an elegant square neckline and a simple seafoam blue color, the styling options for this versatile little knit Erika Midi Dress are endless. The form-fitting silhouette is figure flattering without feeling constricting. And creating an everyday outfit that's thrown-together coolness rivals your workwear outfit takes just seconds!
For Leanna's last-minute going out look, she's thrown on a dark washed denim jacket, a set of must-have gold hoop earrings and a pair of comfy white sneakers. Leanna's styling also shows how outwear pieces (like jackets) can transform the feeling and appropriateness of an essential dress in an instant! For a dash of expert styling, try rolling the cuffs of your long sleeved jacket.
Leanna created three stunning day to night outfits that showcased the versatility of our Erika Sweater Knit Midi Dress. But with the perfect amount of comfort, classic design and subtle personality, you can maximize your wardrobe and your budget with almost any essential everyday dress. The options are truly endless.
If you're ready to add an affordable dress that you can style year-round, comfortably chic outfits from just like Leanna, shop our latest Casual Dress Edit Collection. These cozy 24/7 essential dresses are the casual dresses we guarantee you'll be wearing season after season!

Leave a comment